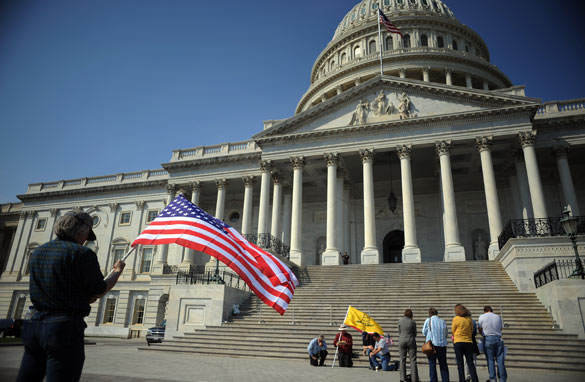 Federal officials said the spike in threats began around the debate over health care reform. (Photo Credit: Getty Images/File)
Washington (CNN) – Federal law enforcement and Congressional authorities are reporting a large increase in threats against lawmakers, a law enforcement official tells CNN. The officials said the spike in threats began around the debate over health care reform.
Since October, 50 threats against members of Congress have been reported to the FBI, said the official, who spoke only on the condition of anonymity. In the previous year, less than 20 were reported to federal law enforcement authorities. When threats are received by lawmakers, the U.S. Capitol Police and in some cases, the FBI, investigate.
Members of the House and Senate reported nearly three times as many threats in the first three months of this year, compared to the last three months of 2009, Senate Sergeant-at-Arms Terrance Gainer told The Washington Post. He said nearly all of the incidents appeared to have come from opponents of health care. Gainer did not respond to requests for comment from CNN.
"There has been a spike in threats against members of Congress since passage of the legislation," according to the law enforcement official, who was not authorized to speak on the record about the Congressional investigations.
The law enforcement official stressed to CNN that it's not usual to see spikes from time to time and while the level is up this year there have been previous times when it's been high but followed by a very low year.
Two people were arrested this week with making threats against lawmakers. Charles Alan Wilson is charged with making death threats against Sen. Patty Murray, D-Washington. Wilson allegedly stated that Murray "had a target on her back," according to a Justice Department statement. A judge has ruled Wilson can be released with strict conditions if he posts a $20,000 bond.
Gregory Giusti is charged with making obscene, threatening or harassment phone calls to the office and home of House Speaker Nancy Pelosi, D-California. During a court hearing Thursday, he was not asked to submit a plea and remained in custody pending a further hearing.
One of the lawmakers targeted was Rep. Bart Stupak, D-Michigan, who announced Friday he was not running for re-election. His office received several angry voice mails and a fax saying "We'll get you."
At a news conference Friday, Stupak and his wife acknowledged the messages, but he said they were not a major reason behind his decision.
"Those threats," he said. "The three o'clock in the morning phone calls threatening things like that. It is people outside the district. That is not my district."
His wife, Laurie, said they were deluged with messages. "Some of those calls were vulgar, cruel, profane and threatening. We were saddened and disappointed by the cruelty and hypocrisy of some of the callers."