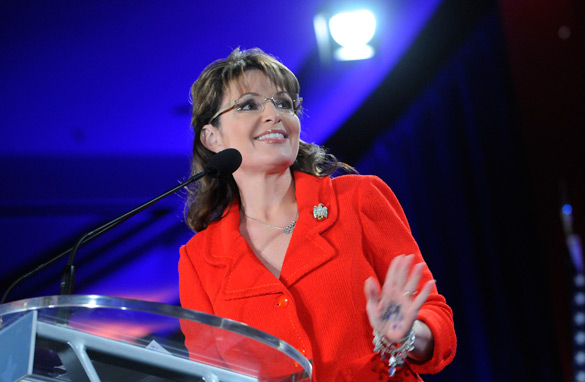 Sarah Palin delivered a speech Friday at the Southern Republican Leadership Conference. (PHOTO CREDIT: Getty Images)
New Orleans (CNN) - Her speeches are typically loaded with partisan zingers and Obama-bashing, but for the first time since the 2008 presidential campaign, Sarah Palin delivered a speech that focused as much on policy ideas as it did on political combat.
To be sure, her much-anticipated remarks Friday to the Southern Republican Leadership Conference were laced with a heavy dose of Republican cheerleading that drew cheers from the audience of party activists who had earlier stampeded into the speech venue to snag prime seating for her appearance.
"There is no shame in being the 'Party if No' if the other side is proposing an idea that violates our values, violates our conscience, violates the Constitution," she said, deviating from former House Speaker Newt Gingrich, who urged the SRLC crowd on Thursday to pivot to being the "Party of Yes."
But without shying away from heated partisan rhetoric, Palin spent the latter half of her talk expounding on differences between Democratic and Republican energy policies, a comfortable topic for the former Alaska governor and onetime chair of the state's Oil and Gas Conservation Commission.
She called President Obama's decision to expand offshore drilling "smoke and mirrors" - cover for a slate of more liberal energy policies that he and Democrats in Congress plan to enact.
She faulted the Obama administration for not opening up more areas to oil and gas drilling, particularly in her home state of Alaska. It's time to "stop ignoring" the National Petroluem Reserve Alaska and the Arctic National Wildlife Refuge, she said, even if a caribou has to "take one for the team."
"It's 'Drill, Baby, Drill,' not 'Stall, Baby, Stall,'" she said.
On foreign policy, Palin launched a volley of attacks against the White House that echoed some of the missives she has posted on her Facebook page over the last year. The Obama administration, she claimed, "alienates our friends."
"They treated Afghanistan President Hamid Karzai poorly and acted surprised when he reacted in kind," she said. "And they escalated a minor zoning decision into a major breach with Israel, our closest ally in the Middle East."
And acknowledging Thursday's headlines, Palin couldn't resist a mocking jab at President Obama after he charged in an ABC News interview that she is "not much of an expert" on nuclear weapons.
"And President Obama, with all that vast nuclear expertise he acquired as a community organizer, a part-time senator, and a candidate for president, has accomplished nothing to date with Iran or North Korea," she said.