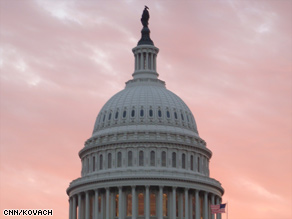 The CNN Washington Bureau's morning speed read of the top stories making news from around the country and the world.
WASHINGTON/POLITICAL
For the latest political news: www.CNNPolitics.com
CNN: U.S.-Russia arms treaty to face GOP scrutiny in Senate
President Obama and Russian President Dmitry Medvedev signed a major nuclear arms treaty Thursday, but critics in the Senate will have their say before anything is put in place. A Senate GOP leadership aide told CNN that as long as the administration can satisfactorily answer questions about verification, missile defense and the modernization of the existing U.S. stockpile, Republicans will likely support the new treaty.
Wall Street Journal: U.S., Russia Focus on Iran Sanctions
The presidents of the U.S. and Russia, meeting here to sign a major arms-control treaty Thursday, also began negotiating a specific package of sanctions against Iran that U.S. President Barack Obama confidently predicted would win United Nations passage this spring. But in extensive private talks, Russian President Dmitry Medvedev laid out clear limits on what Russia would accept in punishing Iran for its nuclear program. A senior Kremlin aide all but ruled out one of the most potent weapons that hawks in the U.S. want to include in any international sanctions: gasoline and other refined petroleum products.
New York Times: Disposal of Plutonium From U.S.-Russian Disarmament Is Likely to Take Decades
The plutonium that is the key ingredient in thousands of nuclear weapons sidelined in the new arms control treaty between the United States and Russia is likely to be around for decades at least, according to experts. They say the process for destroying plutonium has not yet started to whittle down the surplus already created by previous agreements. Plutonium can be consumed in nuclear power reactors, creating the possibility of a swords-to-plowshares conversion that would have the added benefit of making redeployment of the weapons impossible. But converting the weapons plutonium for civilian reactor use has proved much slower than expected.
CNN: Netanyahu to skip Obama's nuclear security summit
Israeli Prime Minister Benjamin Netanyahu has informed the Obama administration that he will not attend President Obama's nuclear security summit in Washington next week, according to a senior U.S. official familiar with the situation. The move could be a sign of further tension between the United States and Israel and may distract from the Obama administration's attempts to highlight the unprecedented nature of a 46-nation summit aimed at reducing nuclear weapons. The Israeli government is sending Deputy Prime Minister Dan Meridor in Netanyahu's place, U.S. National Security Council spokesman Mike Hammer announced Thursday.
CNN: Gingrich blames 'elite media' for Steele questions
As Michael Steele faces continued questions about his leadership of the Republican National Committee, Newt Gingrich is emerging as one of his most vocal defenders. The former House speaker – who has had a friendly relationship with Steele for years and even penned the introduction to Steele's book – told Republicans to lay off the chairman earlier this week, urging them to focus instead on defeating Democrats in November.
Las Vegas Sun: Gibbons sets up 'Constitution Defense Fund' to fight health reform
Gov. Jim Gibbons today announced the formation of a fund to raise money for Nevada's fight against the health care reform law signed by President Obama. Gibbons said his office has received inquiries from citizens who want to assist in the fight against what he called the "Reid/Pelosi/Obama Nationalized Health Care Plan." In response, Gibbons set up what his office is calling the "Constitution Defense Fund." The Republican governor has been publicly feuding with Attorney General Catherine Cortez Masto, who refused his directive to sue the federal government over the bill passed by Congress and signed last month by Obama.
Politico: Robert Rubin returns
Former Treasury Secretary Robert Rubin — who watched his reputation as an economic titan shatter after he left the Clinton White House — is decidedly out of favor in the nation's capital. Except for one place — the Obama administration. Behind the scenes, Rubin still wields enormous influence in Barack Obama's Washington, chatting regularly with a legion of former employees who dominate the ranks of the young administration's policy team. He speaks regularly to Treasury Secretary Timothy Geithner, who once worked for Rubin at Treasury.
Investors Business Daily: GOP's Road To Retaking House Must Go Through The Country
For House Republicans, political life begins at 40. That's the net number of seats the GOP will need to win back the majority. To get there, the GOP will have to win a lot of seats outside its geographical stronghold of the South. That's what Republicans did in 1994, when only 17 of the 54 seats won hailed from the region. But one prominent analyst says the landscape isn't shaping up to be a "wave" election like '94.
Hartford Courant: Gadsden Flag Will Not Be Flown Over State Capitol
Tea Party activists won't be permitted to fly the Gadsden Flag over the state Capitol after all. State Capitol police today reversed an earlier decision to allow the bright yellow "Don't Tread On Me" banner to flutter from the highly visible flagpole after learning that activists had planned a political rally following the flag-raising ceremony. But Tea Party activists said today they plan to go ahead with the flag-raising – they plan to bring their own flagpole.Tea Party activists view the flag as a historic symbol of American defiance, but critics say the familiar flag with the image of a coiled rattlesnake is now associated with the controversial political movement.
CNN: GOP gathering a 'jump-start' to 2012 race
Nearly 4,000 GOP insiders are descending Thursday on New Orleans for the start of the Southern Republican Leadership Conference, thought by many to be the unofficial kickoff to the 2012 presidential cycle. Along with speeches from party leaders, the conference's agenda includes strategy sessions and even a GOP-themed film festival - not to mention behind-the-scenes networking and a sampling of the city's abundant food and drink. The conference is taking place just steps from Bourbon Street.
Wall Street Journal: Romney Dogged by a Tale of Two Health Plans
Mitt Romney, along with some other Republicans likely to run for president in 2012, is raising money this year for congressional candidates who want to repeal President Barack Obama's sweeping health-care law. But as Mr. Romney tours to promote his new book, some people have been posing an uncomfortable question: If he opposes Mr. Obama's health-care policy, why did Mr. Romney shepherd a near-universal health-insurance system into law as governor of Massachusetts?
Detroit Free Press: Constituents split on Stupak
You can spend an hour in political discourse at Rosy's Diner on Ludington Street in Escanaba and hear every possible angle on the Bart Stupak question: Love him; hate him; throw the bum out, re-elect him.Welcome to Michigan's 1st Congressional District, in all its contradictions and complexities - bigger than the state of West Virginia, socially conservative (except where it's not), Democratic here, Republican there, labor-loving, Packers-or-Lions, keep-your-hands-off-my-gun and much, much too large to categorize simply. The Michigan 1st finds itself at the center of the post-health care reform debate, because if anyone's going to get thrown out of office because of his position on the bill, it might as well be U.S. Rep. Bart Stupak, say his opponents.
Philadelphia Inquirer: Poll has Specter looking past Sestak
U.S. Sen. Arlen Specter, D-Pa., cites an old axiom for political campaigns: "Run scared or unopposed." But Specter, running for a sixth six-year term, seems confident in his chances to beat U.S. Rep. Joe Sestak in the May 18 Democratic primary election. The latest Quinnipiac University Poll, released yesterday, may explain why. The poll shows the new Democrat holding a 53-32 percent lead over Sestak among likely Democratic voters. Sixty percent of those voters hold a favorable opinion of Specter while a similar percentage have not heard enough about Sestak to judge him. That had Specter looking ahead yesterday to the general-election challenge from former U.S. Rep. Pat Toomey, the man he barely beat in the 2004 Republican primary before switching to the Democratic Party last year.
Salt Lake Tribune: Chaffetz: Bennett may not survive convention fight
Sen. Bob Bennett might not make it out of a convention fight to see a primary election, said Rep. Jason Chaffetz, the last Utahn to knock an incumbent member out of Congress. Chaffetz, a Republican who toppled GOP Rep. Chris Cannon in 2008, said Wednesday he sees a similar environment this election cycle that could cost the three-term GOP senator re-election. Bennett faces seven Republican challengers as he heads into the final month before the state convention. The senator needs to get at least 60 percent of the delegate vote at the May 8 GOP state convention to secure the nomination without a primary and more than 40 percent of the vote to make sure he's in that primary.
CNN: Crist vows to run as a Republican
Charlie Crist's Senate campaign sought to squash rumors Thursday that he is considering running as an independent and accused GOP opponent Marco Rubio of promoting the idea.
Honolulu Advertiser: Djou slams Mainland group's new ads
Honolulu City Councilman Charles Djou said yesterday that new campaign advertisements against him by national Democrats are an "outside interference" in the special election for Congress and should be rejected by voters. The Democratic Congressional Campaign Committee, which helps elect Democrats nationally, has paid for ads in Hawai'i that criticize the Republican Djou for signing a pledge by an anti-tax group promising that he would not vote to raise taxes. The DCCC, concerned that former congressman Ed Case and state Senate President Colleen Hanabusa will split the Democratic vote in the May special election, is expected to spend heavily in Hawai'i to prevent a Djou victory.
NATIONAL
For the latest national news: www.CNN.com
CNN: Rescuers to make 'mad dash' to search for trapped West Virginia miners
Rescue workers will resume their search early Friday for four people trapped after a deadly explosion at a West Virginia coal mine, officials said. Kevin Stricklin of the U.S. Mine Safety and Health Administration said the air quality was safe enough for crews to make another rescue attempt. Rescue crews had been pulled from the Upper Big Branch coal mine Thursday morning because deteriorating air quality posed the threat of a new blast, officials said.
New York Times: Experienced in Calamity, as Governor and Mourner
Unfortunately, he has been here before. As coal mining families wait for a full accounting of the deaths in the explosion at the Upper Big Branch mine, the governor of West Virginia, Joe Manchin III, is again by their side, again consoling, again prodding for details much as he has twice before during his time in office. Monday's explosion was the third fatal mining accident since Mr. Manchin became governor in 2005.
CNNMoney: 33 states out of money to fund jobless benefits
With unemployment still at a severe high, a majority of states have drained their jobless benefit funds, forcing them to borrow billions from the federal government to help out-of-work Americans. A total of 33 states and the Virgin Islands have depleted their funds and borrowed more than $38.7 billion to provide a safety net, according to a report released Thursday by the National Employment Law Project. Four others are at the brink of insolvency.
CNN: Diplomat in flight disturbance released, won't face charges
A Qatari diplomat who was questioned by federal investigators after a disturbance on a flight to Colorado has been released without charges, officials said Thursday. Mohammed al-Madadi was en route to Colorado for a series of consular visits, including a visit with a convicted terrorist being held in a federal facility in Florence, Colorado, a spokeswoman for the Qatari Embassy told CNN. His flight was escorted into Denver, Colorado, by two F-16 fighter jets after initial reports that he may have attempted to set a shoe on fire - a report that may have stemmed from what one U.S. official called an "unfortunate comment" by the diplomat.
INTERNATIONAL
For the latest international news: http://edition.cnn.com
Washington Post: Debt burden weighs on developed nations
The debt crisis that has taken root in Greece, sparking an investor panic and talk of a national default in the heart of Europe, is at the leading edge of a problem expected to roll through the economically developed world as government borrowing rises into uncharted territory. This mounting government debt poses a painful choice for developed countries such as Britain, Japan and the United States: either a deep reordering of public expectations about everything from the retirement age to tax rates, or slower growth as record levels of borrowing crimp economic activity.
CNN: Pakistani assembly OKs measure to curb presidential powers
In what political pundits are hailing as a historic moment for the troubled nation, Pakistan is one step closer to restoring the balance of power envisioned by its founders. Pakistan's National Assembly voted unanimously Thursday to pass the 18th Amendment, a sweeping measure that includes stripping President Asif Ali Zardari of his ability to dissolve parliament. Zardari favors the measure.
BBC News: Nato aircraft crashes in Afghanistan
A Nato aircraft has crashed in southern Afghanistan, Nato officials say. Taliban and Afghan officials in the province of Zabul said a helicopter had been shot down near the provincial capital, Qalat, AP reported.
BBC News: Kyrgyzstan's President Bakiyev in talks offer
Kyrgyzstan's President Kurmanbek Bakiyev has offered to hold talks with what he called the temporary government that has replaced his administration. But Mr Bakiyev, who was forced to flee the capital Bishkek amid a bloody uprising, insisted he will not resign.
CNN: Picturesque, troubled Kyrgyzstan vital for U.S. interests
Before this week, most Americans had likely never heard of Kyrgyzstan and even fewer could place it on a map. But the central Asian nation, which is about the size of South Dakota, is important to U.S. foreign policy for one simple reason: a vital military base that about 50,000 troops pass through every month on their way in and out of Afghanistan. The fate of the Manas Transit Center was thrown into question Wednesday when Kyrgyz President Kurmanbek Bakiev was forced to flee the capital after angry mobs seized government headquarters. Fighting between police and protesters left 75 people dead and hundreds injured, authorities said Thursday.
CNN: 18 arrest warrants issued in Thai protests
At least 18 arrest warrants were issued Friday for leaders of anti-government protesters who have rallied for weeks, leaving the Thai capital paralyzed. Protesters defied a state of emergency Friday and held nationwide demonstrations to demand new elections, capping weeks of rallies that have affected the economy in Bangkok.
BUSINESS
For the latest business news: www.CNNMoney.com
Wall Street Journal: Greek Bond Crisis Spreads
Concern over a potential liquidity shortage at Greece's private-sector banks fueled a sharp selloff in Greek debt and equity markets Thursday, suggesting that the European Union's efforts to defuse the crisis with a vague promise for an International Monetary Fund-backed rescue have all but failed.
Bloomberg: China May Post Trade Deficit, Undermining Yuan Case
China may post its first trade deficit in six years after a surge in imports of commodities and consumer goods, weakening U.S. arguments that the nation is keeping its currency undervalued to gain an advantage. Imports probably exceeded exports by $390 million in March after a $7.6 billion trade surplus the previous month, according to the median estimate in a Bloomberg News survey of 26 economists. The customs bureau is scheduled to release the figures tomorrow. Part of the shift into deficit is likely due to rising commodity prices, economists said.
Wall Street Journal: Big Banks Mask Risk Levels
Major banks have masked their risk levels in the past five quarters by temporarily lowering their debt just before reporting it to the public, according to data from the Federal Reserve Bank of New York. A group of 18 banks—which includes Goldman Sachs Group Inc., Morgan Stanley, J.P. Morgan Chase & Co., Bank of America Corp. and Citigroup Inc.—understated the debt levels used to fund securities trades by lowering them an average of 42% at the end of each of the past five quarterly periods, the data show. The banks, which publicly release debt data each quarter, then boosted the debt levels in the middle of successive quarters.
New York Times: Bernanke, Pointing to 1930s, Credits Fed's Actions for Avoiding a Worse Downturn
The Federal Reserve artfully avoided a second Depression by being open to generating and testing new ideas, the central bank's chairman, Ben S. Bernanke, said Thursday evening. In an address here at the Center for the Study of the Presidency and Congress, Mr. Bernanke drew comparisons between the financial crisis of 2008 and the financial collapse of the 1930s with greater precision than he had in the past.
Los Angeles Times: Apple launches ad system for mobile devices in race with Google
In a direct attack on Silicon Valley rival Google Inc., Apple Inc. unveiled its new mobile advertising system Thursday and promised to deliver a new generation of compelling interactive ads to its devices.
Forbes: Glenn Beck Inc
Glenn Beck Inc., formally known as Mercury Radio Arts (after Orson Welles' Mercury Theatre on the Air), pulled in $32 million in revenue during the 12 months ended Mar. 1. You may love or hate him for his outlandish words, but that is how he gets an audience–and sometimes repels advertisers. He has managed to monetize virtually everything that comes out of his mouth. He gets $13 million a year from print (books plus the ten-issue-a-year magazine Fusion). Radio brings in $10 million. Digital (including a newsletter, the ad-supported Glennbeck.com and merchandise) pulls in $4 million. Speaking and events are good for $3 million and television for $2 million. With a deadpan, Beck insists that he is not political: "I could give a flying crap about the political process." Making money, on the other hand, is to be taken very seriously, and controversy is its own coinage.
In Case You Missed It
Robert Rubin faces grilling over Citigroup's financial problems. CNN's Jessica Yellin reports.
http://www.cnn.com/video/#/video/politics/2010/04/08/yellin.rubin.on.the.hot.seat.cnn
U.S. and Russian presidents sign a treaty to cut nuclear weapons. CNN's Nic Robertson reports from Prague.
http://www.cnn.com/video/#/video/world/2010/04/08/robertson.prague.reset.cnn
Subscribe to the CNN=Politics DAILY podcast at http://www.cnn.com/politicalpodcast
And now stay posted on the latest from the campaign trail by downloading the CNN=Politics SCREENSAVER at http://www.CNN.com/situationroom