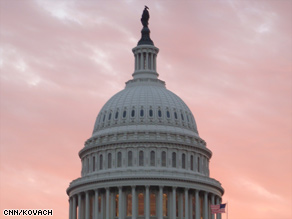 The CNN Washington Bureau's morning speed read of the top stories making news from around the country and the world.
WASHINGTON/POLITICAL
For the latest political news: www.CNNPolitics.com
CNN: Obama hosts two-day summit on nuclear security
President Obama hosts leaders from 46 countries for a two-day nuclear security summit starting Monday that will focus on how to better safeguard weapons materials, both old and new, to keep them out of the hands of terrorists. The gathering at the Walter E. Washington Convention Center in the nation's capital is considered an unprecedented effort to rally global action on securing vulnerable nuclear materials.
Wall Street Journal: Obama Presses Nuclear Issue
President Barack Obama demonstrated ahead of a two-day nuclear-security summit that starts Monday how much he would bend on issues like human rights to advance nuclear controls that have climbed to the top of his foreign-policy agenda. Meeting Sunday with world leaders with problematic nuclear records but vital roles in securing such weapons and materials, he pressed the heads of Kazakstan, India, Pakistan and South Africa on efforts to control nuclear materials and weapons.
CNN: Senators signal bruising confirmation battle on Supreme Court nominee
Two leading senators on the Judiciary Committee, which will consider President Obama's upcoming Supreme Court nominee, signaled Sunday that a bruising fight is likely. Committee chairman Sen. Pat Leahy, D-Vermont, called the current conservative-leaning Supreme Court the most activist he had seen, while ranking Republican Sen. Jeff Sessions of Alabama wouldn't rule out a filibuster if Obama nominates what the GOP perceives to be a liberal activist.
Wall Street Journal: Kagan Foes Cite Gay-Rights Stand
As talk of a possible Supreme Court nomination for Solicitor General Elena Kagan persists, conservative activists are homing in on a high-profile stand she took on gay rights as a centerpiece of their opposition, if she gets the nod. As dean of Harvard, Ms. Kagan cultivated good relations with conservatives, hiring several professors with right-leaning views and reaching out to the Federalist Society, a training ground for lawyers who often go on to populate Republican administrations. Such an unprovocative past has given pause to some liberal activists, who long to see a vibrant progressive voice join the Supreme Court. But some conservatives fear that once on the court, Ms. Kagan could emerge as heir to the liberal icon for whom she once clerked, Justice Thurgood Marshall, himself a former solicitor general.
Washington Post: Bill to extend jobless benefits faces Senate showdown
Congress is poised for another partisan showdown over extending unemployment insurance, as concerns about the growing budget deficit have complicated the path forward for an otherwise popular program.
Politico: Dems eager to take on Wall Street
Liberal Democrats see an opportunity to reassert their power in the Senate this spring on the Wall Street reform bill, after being forced to swallow a series of compromises on everything from health care reform to jobs legislation.
CNN: Romney nips Paul in Southern GOP straw poll
Former Massachusetts Gov. Mitt Romney defeated Texas Rep. Ron Paul by a single vote in the Southern Republican Leadership Conference's 2012 straw poll on Saturday. Romney did not appear at the New Orleans conference, but received 439 votes - or 24 percent - of the 1,806 ballots cast by delegates at the conference, held in New Orleans. Paul earned 438 votes.
Politico: For GOP, no frontrunner and no worries
Tim Pawlenty and Mitt Romney, the two Republicans taking the most obvious steps toward presidential bids, both skipped the Southern Republican Leadership Conference here this weekend. And the thousands of Republicans in attendance didn't seem to miss them. With GOP leaders and activists viewing the 2010 midterms as a unique, defining chance to stop the hated Obama agenda, the invisible primary appears to be largely on hold, and the presidential field remains wide open.
CNN: A son seeks a political rematch
Charles Rangel was first elected to Congress in 1970 after defeating Rep. Adam Clayton Powell Jr., a powerful lawmaker and civil rights icon in the Democratic primary. Forty years later, Rangel will face his son, Adam Clayton Powell IV, in the 2010 Democratic primary.
CNN: We're on a 'RINO' hunt, Tea Party Express leader says
A leader of the Tea Party movement has a warning for Republicans: the conservative grassroots movement intends to clean house in the Republican Party. "We need to purge the Republicans of the weaklings," Tea Party Express 3 Chairman Mark Williams told CNN.
New York Times: 1994 Republican Rout Is Casting Shadow in 2010
In many ways, the 1994 election has become the template both Republicans and Democrats are looking to as they set their strategies for the fall Congressional elections. Democratic campaign operatives, who are girding for big losses, began meeting quietly with party strategists involved in the 1994 contests last summer, looking for lessons on how to avoid another rout.
Dallas Morning News: Republicans Curnock and Flores finally jab at each other days before runoff
The two Republican finalists for the chance to take on Rep. Chet Edwards have been pounding away at the veteran Waco Democratic congressman for months. But with just days until their runoff, they've finally focused on each other.
Denver Post: Romanoff wins urban caucuses over Bennet
Democratic challenger Andrew Romanoff won more major caucus victories in Colorado's U.S. Senate race Saturday, taking large margins over incumbent Michael Bennet in urban county assemblies.
Philadelphia Inquirer: Sestak's tough fight for Senate seat
Sestak never stops thinking, never stops working, and never stops talking. He'll accept any interview request, from anywhere in the world. He'll drive from Washington to Pittsburgh overnight to squeeze in another campaign event, and then turn around to go back. He's trying so hard, and yet his Democratic primary challenge to Sen. Arlen Specter so far has all the traction of a car with four bald tires traversing an icy mountain road.
Las Vegas Sun: Sen. Harry Reid seeking votes on hostile turf
This is the political paradox the 70-year-old senator confronts as he begins to campaign for a fifth, and likely final, term in office: Though powerful in Washington, Reid is, to put it simply, widely despised back home. Reid's power and popularity have had an inverse relationship during his 30 years in politics.
St. Petersburg Times: Overshadowed by GOP primary feud, Democratic Senate candidate Meek works and waits
As the media obsesses over the Republican primary between Gov. Charlie Crist and former House Speaker Marco Rubio, the leading Democratic contender has been trudging across the state longer than any other major Senate candidate. The GOP bloodletting prompted one Capitol Hill newspaper to change the race's description from "lean Republican" to "toss­up." Still, Meek is expected to be overshadowed until after the Aug. 24 primary, leaving his campaign just 10 weeks to blanket the nation's fourth-largest state.
San Jose Mercury News: Political independents poised to help pick winners in GOP primary
Historically, California's independent voters don't swing primary elections. But with [Barbara] Boxer and Jerry Brown, the presumed Democratic candidate for governor, essentially running unopposed in the primary, Republican strategists are preparing for an influx of independent voters since the GOP primary is the only game in town for those who want their vote to make a difference in the top races in June. The independents could be key in the U.S. Senate race in which Republicans Carly Fiorina and Tom Campbell are running neck and neck in the polls. Additionally, Meg Whitman, the GOP front-runner in the gubernatorial primary, is expected to target independents now to try to lock up their votes through the fall through a direct mail campaign that encourages independents to request a Republican mail-in ballot or pick one up at the polls.
The Detroit News: Stupak's retirement cuts Michigan delegation clout
The departure of Rep. Bart Stupak, D-Menominee, reduces the clout of the 15-member Michigan House delegation at a time when the battered state continues to turn to Congress for help and faces losing at least one representative after the census. Michigan will end up with at least three freshmen House members after the November elections.
NATIONAL
For the latest national news: www.CNN.com
CNN: Obama urges probe into mine disaster after last bodies found
President Obama on Saturday urged a thorough investigation into a deadly explosion at a West Virginia coal mine that killed 29 people, hours after rescue efforts at the mine gave way to an operation to recover the dead. Obama's statement came just hours after rescue efforts came to a grim end after crews found the bodies of the last four miners unaccounted for in the explosion. Twenty-five people were previously announced dead.
Bloomberg: In-Flight Smokes Entice Hundreds 20 Years Following U.S. Ban
Passengers smoke on U.S. jetliners at least twice a week, according to authorities, breaking the law without creating an international incident like an episode this week. The Federal Aviation Administration has brought 696 cases, some for civil fines of thousands of dollars, against people caught smoking aboard airliners in the last five years, said Diane Spitaliere, an agency spokeswoman. Lighting a cigarette on a plane has been banned for 20 years.
INTERNATIONAL
For the latest international news: http://edition.cnn.com
CNN: Death toll from Bangkok protests climbs to 21
The death toll from the weekend's clashes between anti-government protesters and Thai security forces climbed to 21, authorities said. Of the dead, 17 are civilians and four are military, the Bangkok Emergency Medical Service said Sunday. The clashes on Saturday also left 858 injured, the service said.
CNN: Poland mourns as president's body arrives home
The body of Polish President Lech Kaczynski, who was killed in a plane crash in Russia over the weekend, returned to tributes in his homeland Sunday afternoon. Tens of thousands of Poles across the country observed a two-minute-long moment of silence to remember their president and 95 others killed in the plane crash. The plane carrying Kaczynski crashed Saturday morning while trying to land at an airport near Smolensk in Russia. Other Polish officials killed in the crash include Aleksander Szczyglo, the head of the National Security Office; Jerzy Szmajdzinski, the deputy parliament speaker; Andrzej Kremer, the deputy foreign minister; and Gen. Franciszek Gagor, the army chief of staff, according to Kaczynski's Law and Justice Party.
Wall Street Journal: U.S. Reaches Out to Kyrgyz Leaders
The U.S. scrambled to step up contacts with the new government of Kyrgyzstan on Sunday as the deposed president of the strategically important Central Asian nation, now taking refuge in the south, remained steadfast in his refusal to resign. The U.S. overtures come as some new Kyrgyz leaders have accused Washington of cozying up to ousted President Kurmanbek Bakiyev and ignoring his autocratic rule to win his support for a U.S. military base here.
New York Times: Jet Fuel Sales to U.S. Base Are an Issue in Kyrgyzstan
Back in 2005, the last time angry crowds toppled the government of Kyrgyzstan, the United States found itself in an awkward position: among the rallying cries was an allegation that the ruling family had benefited handsomely from Pentagon contracts. Now, substantially the same thing appears to be happening again. Senior leaders in the interim government that took power last week are accusing the United States of allowing family members of the ousted president, Kurmanbek Bakiyev, to enrich themselves with contracts supplying jet fuel to Manas Air Base outside Bishkek, the Kyrgyz capital.
CNN: Iranian leader: Obama administration 'wicked,' 'untrustworthy'
The administration of U.S. President Barack Obama "poses a threat to international peace" and is "wicked and untrustworthy," Iran's supreme leader said Sunday, according to Iranian media. Supreme Leader Ayatollah Ali Khamenei made the remarks Sunday in a meeting with the Armed Forces chief of staff and other top military officials, according to Iran's state-run Islamic Republic News Agency (IRNA). Khamenei said that Obama had recently threatened Iran with nuclear weapons.
Times of London: Afghan president, Hamid Karzai, threatens to block Nato offensive
The president of Afghanistan, Hamid Karzai, has cast doubt over Nato's planned summer offensive against the Taliban in the southern province of Kandahar, as more than 10,000 American troops pour in for the fight. Karzai threatened to delay or even cancel the operation — one of the biggest of the nine-year war — after being confronted in Kandahar by elders who said it would bring strife, not security, to his home province.
New York Times: Iraqi Alliance Questions Vote Count in Election
The political alliance led by Prime Minister Nuri Kamal al-Maliki said Sunday that fraud and irregularities during vote-counting after last month's Iraqi elections had affected as many as 20 seats in Parliament, suggesting that the two-seat losing margin was inaccurate. The he charge comes as Mr. Maliki's coalition, State of Law, and the Iraqiya alliance of former interim Prime Minister Ayad Allawi negotiate with smaller political groups, each seeking to form a government after the close vote in the March 7 parliamentary election.
CNN: Sudanese vote in landmark election
Voters in Sudan flocked to polling stations Sunday in the first multiparty elections in 24 years amid allegations of fraud and calls for a vote boycott.Up to 750 international and 18,000 domestic observers are assessing the election. One of them is former former U.S. President Jimmy Carter, who said monitors had received "varying reports" of problems at polling stations around the country's capital.
BUSINESS
For the latest business news: www.CNNMoney.com
Wall Street Journal: Europe Bankrolls Greece
Euro-zone finance ministers agreed Sunday that if heavily indebted Greece were to get a bailout, it could receive as much as €30 billion in loans this year at about 5% interest from fellow euro nations.
Wall Street Journal: Light At the End of the Bailout Tunnel
The U.S. government's rescue of wobbly companies and financial markets is starting to look far less expensive or long-lasting than once feared.As momentum grows at companies that looked like zombies just a few months ago to repay taxpayers for lifelines they got during the financial crisis, the projected cost of the bailout is shrinking to just a fraction of previous estimates. Treasury Department officials say the tab is likely to reach $89 billion, which includes the Troubled Asset Relief Program, capital injections into Fannie Mae and Freddie Mac, loan guarantees by the Federal Housing Administration and Federal Reserve moves such as buying mortgage-backed securities and propping up the commercial-paper market.
CNNMoney: Here come the profit reports
Investors return to work this week with the Dow just short of 11,000, the Nasdaq nearing a two-year high and the first-quarter reporting period set to take off. The blue-chip Dow crossed the 11,000 mark just before the close Friday, but ended short of that to finish at a new 18-month high. The S&P 500 also carved out another 18-month high. Meanwhile, the Nasdaq stands at its highest point since June of 2008.
USA Today: State Farm asks Toyota to repay acceleration claims
Armed with reports of accidents for which they've already paid claims, State Farm insurance has asked Toyota to repay them for any crashes related to unintended acceleration by its vehicles. Other companies are expected to follow and demands for repayment of claims — called "subrogation" in the insurance business — could end up costing Toyota from $20 million to $30 million, says Mark Bunim, an attorney with Closed Case, a mediation firm. Customers could see a bonus from any repayment: Insurance deductibles they paid could be refunded.
New York Times: Toyota Delayed a U.S. Recall, Documents Show
While Toyota's pattern of dragging its feet over the years on safety issues has drawn recent attention, the decision by transportation authorities last Monday to seek fines against Toyota provides an unusual close-up look at the company — well known for its opaque corporate culture — as it handled its biggest safety crisis since it started selling cars in the United States in 1957. New details about the company's actions — based on government timelines, 70,000 pages of Toyota documents and interviews — show the degree to which regulators say the company stalled in fulfilling its recall pledges and treated safety concerns in the United States differently from those in Europe and Canada.
Wall Street Journal: AIG, Goldman Unwind Soured Trades
The derivatives unit of American International Group Inc. has unwound most of its soured mortgage trades with Goldman Sachs Group Inc. still left after the insurer was bailed out by the U.S. government in 2008, according to people familiar with the matter.
In Case You Missed It
CNN's Sandra Endo talks to some anti-nuke protesters who've been camped out near the White House for nearly 30 years.
http://www.cnn.com/video/#/video/us/2010/04/11/endo.nuclear.protesters.cnn
CNN's Candy Crowley talks with Gov. Haley Barbour about the performance of RNC Chairman Michael Steele.
http://www.cnn.com/video/#/video/politics/2010/04/11/sotu.barbour.steele.cnn
Subscribe to the CNN=Politics DAILY podcast at http://www.cnn.com/politicalpodcast
And now stay posted on the latest from the campaign trail by downloading the CNN=Politics SCREENSAVER at http://www.CNN.com/situationroom