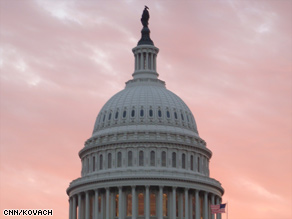 The CNN Washington Bureau's morning speed read of the top stories making news from around the country and the world.
WASHINGTON/POLITICAL
For the latest political news: www.CNNPolitics.com
CNN: Obama, Chinese leader discuss possible Iran sanctions
President Obama and Chinese President Hu Jintao held a private meeting Monday before the start of a nuclear security summit, with the focus on Iran - and its opposition to the nuclear nonproliferation agreement. The United States and its allies believe Iran is aiming to develop nuclear weapons. The Iranian government, meanwhile, indicates that it only wants a peaceful nuclear energy capability.
CNN: Turkish PM won't back Iran sanctions
Turkey's prime minister declined to support President Barack Obama's push for tough new sanctions against Iran but said his country was willing to act as a mediator in the diplomatic standoff over Tehran's nuclear ambitions. Turkey is a rotating member of the United Nations Security Council, which has demanded that Iran halt its nuclear fuel program. Iran has refused the demand and continued to produce enriched uranium, which in high concentrations can be used to produce a nuclear bomb.
CNN: Ukraine to remove uranium stockpile
Ukraine announced Monday that it will get rid of all its highly enriched uranium, which can be used in nuclear weapons, within the next two years. The announcement by Ukrainian President Viktor Yanukovich followed his meeting with President Obama before the start of a 47-nation summit on nuclear security. In an exclusive interview with CNN on Monday, Yanukovich said that most of his nation's highly enriched uranium would be gone by the end of 2010.
New York Times: Leaders Gather for Nuclear Talks as New Threat Is Seen
While Pakistan struggles to make sure its weapons and nuclear labs are not vulnerable to attack by Al Qaeda, the country is getting ready to greatly expand its production of weapons-grade fuel. The Pakistanis insist that they have no choice. A nuclear deal that India signed with the United States during the Bush administration ended a long moratorium on providing India with the fuel and technology for desperately needed nuclear power plants. Now, as critics of the arrangement point out, the agreement frees up older facilities that India can devote to making its own new generation of weapons, escalating one arms race even as President Obama and President Dmitri A. Medvedev of Russia sign accords to shrink arsenals built during the cold war.
CNN: Jobless benefits extension advances in Senate
Senate Democrats managed to get enough Republican support to take up a proposed extension of unemployment benefits Monday evening, but whether they have the votes to get past further GOP opposition remained uncertain, Democratic aides said. …Four Republicans – Scott Brown of Massachusetts,; Susan Collins and Olympia Snow, of Maine and George Voinovich of Ohio – joined 56 Democrats in voting to bring up the bill. But Democrats are less confident they will get the 60 votes they need to get the bill through the Senate later this week, two Democratic leadership aides told CNN.
New York Times: Baffled by Health Plan? So Are Some Lawmakers
It is often said that the new health care law will affect almost every American in some way. And, perhaps fittingly if unintentionally, no one may be more affected than members of Congress themselves. The law promises that people can keep coverage they like, largely unchanged. For members of Congress and their aides, the federal employees health program offers much to like. But, the report says, the men and women who wrote the law may find that the guarantee of stability does not apply to them.
The Hill: Boehner: Repealing healthcare law Republicans' 'No. 1 priority' in 2010
Repealing healthcare reform will be Republicans' "No. 1 priority," their House leader said Monday. House Minority Leader John Boehner (R-Ohio) said that repealing the healthcare legislation passed in Congress last month and signed into law by President Barack Obama would be the GOP's top priority if it wins back control of Congress this fall.
CNN: Names added to Supreme Court short list
A federal judge from Montana and the dean of Harvard's law school are among several names being added to the short list of potential nominees to the U.S. Supreme Court, a government source said. Sidney Thomas, a 14-year veteran on the U.S. Court of Appeals for the 9th Circuit, is being vetted by the White House, said the source, who has been regularly consulted in the selection process. Two women who were not on other published lists of potential candidates are now being seriously considered.
Washington Post: Obama spokesman Gibbs sounds eager for future strategist role
The Alabama native, who has been shaped by the Capitol Hill fhe Alabama native, who has been shaped by the Capitol Hill fray and campaign knife fights, is considered, along with Obama's presidential campaign manager, David Plouffe, a top candidate to take the place of senior strategist David Axelrod when the Washington-weary keeper of the Obama message leaves to focus on the 2012 reelection. That isn't happening anytime soon, which means Gibbs is stuck on double duty.
Wall Street Journal: Labor's Stern Said to Be Resigning
Andy Stern, president of the Service Employees International Union and one of the most prominent and powerful labor leaders in the country, is expected to resign his position with the union, according to an internal union email and one of the union's board members. Mr. Stern's departure would cause a major realignment of the balance of power within organized labor, from labor-management relations to Washington lobbying efforts.
Politico: SEIU works toward N.C. third party
The Service Employees International Union is laying the groundwork to create a new political party in North Carolina to field candidates who would be more supportive of labor interests than some in the state's current Democratic delegation.
Washington Post: Rahm Emanuel provides inspiration to Republicans
Rep. Kevin McCarthy (Calif.), one of the Republicans taking the lead in shaping the party's strategy for this fall's elections, has been calling GOP faithful all over the country for advice. But one of the more surprising sources he's mining for wisdom is White House Chief of Staff Rahm Emanuel. McCarthy isn't dialing up the West Wing for tips. But he admits to reading - and rereading - "The Thumpin', " a book that recounts how Emanuel, as chairman of the Democratic Congressional Campaign Committee, helped the party prevail in the 2006 elections.
Los Angeles Times: Prop. 8 repeal fails to qualify for November ballot
A measure to repeal Proposition 8, the anti-gay marriage initiative, has failed to qualify for the November ballot.John Henning, who heads a group that sponsored the repeal effort, declined to say how many signatures had been gathered since the all-volunteer campaign got underway in late November. He said 694,000 valid signatures were required by Monday.
New York Times: Racist E-Mail Tied to Candidate for Governor
Carl P. Paladino, a Republican candidate for governor from Buffalo, drew fire on Monday for racist and sexually explicit e-mail messages that a left-leaning Web site claimed he had sent to friends and business associates in recent years.
New York Times: Behind the Curtain, Cuomo Runs His Own P.R. Machine
In a way that is rare in an age of publicists, communications staff members and strategists, Mr. Cuomo is his own image shaper, relentlessly working the news media in a way that is unseen by the public and that is challenging for those trying to pin him down on any issue. His approach, and success at attracting favorable coverage, is about to be tested in coming weeks, as he announces his campaign for governor and confronts tougher scrutiny from an increasingly frustrated press corps.
Boston Globe: A GOP divide on Palin's Hub rally
Unsure where they fit in among the restive masses of the "tea party movement,'' leading figures in the Massachusetts Republican Party are split over whether to join a rally tomorrow with Sarah Palin and several thousand activists on Boston Common.Three of the party's leading lights — gubernatorial candidate Charles D. Baker, conservative congressional candidate Jeffrey D. Perry, and US Senator Scott P. Brown, who was personally invited by the organizers to attend — say they will not participate.
Chicago Tribune: Giannoulias tries to shake bank issue
Democratic Senate candidate Alexi Giannoulias tried Monday to shift the focus of the campaign from his family's controversial bank, sidestepping new questions about his role in loans made to crime figures. Instead, Giannoulias used a luncheon speech to about 300 people at the City Club of Chicago to attack Republican rival Mark Kirk for focusing on the bank rather than explaining what he would do if elected Illinois' junior senator.
Miami Herald: Rubio hopping on political tour bus to cruise for votes
After Twittering, YouTubing and Facebooking his way to near-celebrity status on the national political scene, U.S. Senate candidate Marco Rubio is going old school this week with a statewide bus tour. Rubio's rival for the Republican nomination, Gov. Charlie Crist, sought to sap the momentum Monday with a new television ad tethering the former House speaker to his disgraced successor, Ray Sansom. The spot is the second attack ad aired by the Crist campaign in the last three weeks.
St. Petersburg Times: U.S. House race in Florida to test GOP's theory on upsets
The GOP challenger in today's special election to replace former U.S. Rep. Robert Wexler says he's banking on public disdain for President Barack Obama's health care bill and low congressional approval ratings to deliver an upset to his Democratic opponent, widely seen as the front-runner. The contest between Democratic state Sen. Ted Deutch and Republican Ed Lynch will be the country's first U.S. House race of 2010.
CBS News: Could Obama's Hometown Hawaii District Go GOP?
Republican heavyweight Mitt Romney is getting behind the GOP candidate in an upcoming special election in Hawaii, giving yet another indicator of a close House race in a heavily Democratic district.
NATIONAL
For the latest national news: www.CNN.com
CNNMoney: Post Office needs to cut deeper
The U.S. Postal Service is laboring under an outdated business model and needs to cut salaries, close facilities and take other steps to to aggressively slash costs, the Government Accountability Office said Monday.
CNN: Source: Terror plot targeted Times Square, Grand Central stations
The three men accused of plotting to bomb the New York City subway last year planned to attack trains at Times Square and Grand Central stations, a federal law enforcement source said Monday. Najibullah Zazi and his two co-defendants wanted to inflict maximum casualties around the anniversary of the September 11 terrorist attacks, the source said. Since his arrest, Zazi has given authorities information about the plot.
USA Today: 'Growing concern' over marketing tainted beef
Beef containing harmful pesticides, veterinary antibiotics and heavy metals is being sold to the public because federal agencies have failed to set limits for the contaminants or adequately test for them, a federal audit finds. A program set up to test beef for chemical residues "is not accomplishing its mission of monitoring the food supply for … dangerous substances, which has resulted in meat with these substances being distributed in commerce," says the audit by the U.S. Department of Agriculture's Office of Inspector General.
INTERNATIONAL
For the latest international news: http://edition.cnn.com
USA Today: Afghans protest after NATO shooting
The strafing of a bus by NATO troops that killed four passengers Monday prompted protests and harsh words from Afghans whom the U.S. is courting for help in defeating the Taliban. NATO's International Security Assistance Force, which has been trying to minimize civilian casualties as it battles the Taliban for the support of ordinary Afghans, said it "deeply regrets the tragic loss of life."
Bloomberg: Gilani Says He Opposes Afghan Talks With Taliban
Pakistani Prime Minister Yousuf Raza Gilani said he opposes the Afghan government's efforts to engage Taliban leaders in talks to promote national reconciliation. Afghan President Hamid Karzai has campaigned for inviting Taliban leaders to negotiations to broker an end to an almost nine-year conflict that has 89,000 U.S. troops and 44,000 allied forces stationed in Afghanistan. The U.S. hasn't endorsed such talks, advocating instead for job creation for low-level fighters rather than reconciliation with top militants.
CNN: Ousted Kyrgyz leader challenges
Ousted Kyrgyz President Kurmanbek Bakiev, who hadn't appeared in public since last week's anti-government riots in the capital, is calling on his supporters to mobilize, a major Russian network reported. Bakiev addressed a rally of supporters Monday in his native village near the city of Jalal-Abad in the country's south, Russia's Channel One TV reported. The deposed leader fled there after demonstrators in Bishkek took over the main government offices in the capital, including the presidential palace, burning and looting along their path.
CNN: Thai holiday canceled amid protests, violence
Bangkok's local government canceled major Thai holiday festivities that were to begin Monday, with officials citing the deadly anti-government protests as the reason. Festivities related to the three-day Thai New Year's holiday Songkran were dropped, the Bangkok Metropolitan Administration announced. Clashes between anti-government protesters, known as "Red Shirts" for their clothing, and Thai security forces intensified during the weekend, leaving 21 people dead.
Washington Post: IMF widens pool for crisis funds to include emerging economies
The International Monetary Fund on Monday tripled the amount of money it can deploy in a crisis, drawing more heavily on commitments from emerging economies such as China and Brazil to establish a pool of more than half a trillion dollars that officials hope will help deter future problems.
Times of London: Grieving twin may decide to step into Polish President's shoes
President Kaczynski rang his brother Jaroslaw from the cabin of his official Tupolev 154 jet. "It's all going according to plan," he said. "We'll be landing in a few minutes." A little over 30 minutes later, at 8.56am, the aircraft crashed in Smolensk. None of the 96 passengers and crew survived. Jaroslaw, the older of the twins by 45 seconds, has been wrenched out of one of Europe's strangest political partnerships. Now he has to decide whether to continue their work by standing for the now-vacant presidency.
The Guardian: Language barrier and a president determined to land – theories swirl over Polish air disaster
As investigators continued to probe the cause of the accident, an increasing number of Poles were asking how so many senior figures – including the country's entire military chiefs of staff, the head of national security, the head of the national bank, many of the government's top advisers and 18 MPs – had been allowed to travel on a single aircraft.
CNN: Vatican overhauls sex abuse case procedures
The Vatican is overhauling its rules on how it handles accusations of sexual abuse by priests, it said Monday, without giving any details. The powerful Catholic Church body that handles such allegations has been working on updating the 2001 rules "for some time," the Vatican said.
BBC News: Mexico drug cartels 'close ranks' against rival
Mexico's authorities say that two of the country's most powerful drugs cartels have overcome their rivalry to form an alliance against a third. Ramon Pequeno, head of the Mexican anti-narcotics police, said the Gulf and La Familia cartels were now fighting a group called the Zetas.
BUSINESS
For the latest business news: www.CNNMoney.com
Bloomberg: Hu Tells Obama China Will Follow Its Own Path on Yuan
President Barack Obama urged China to move toward a "more market-oriented exchange rate" and President Hu Jintao told him the country wouldn't yield to "external pressure" in deciding when to adjust the yuan. Any currency revaluation by China must be "based on its own economic and social-development needs," China's official Xinhua news agency cited Hu as saying in yesterday's meeting with Obama in Washington.
CNNMoney: Economists: Too soon to say recession is over
The panel of economists responsible for officially deciding the length of recessions said Monday that it's "premature" to say when the recent downturn ended. The National Bureau of Economic Research said the panel met Thursday in the hopes of determining when the economy, which slipped into recession in December 2007, hit bottom.
CNNMoney: Getting a loan will be pricier
As the economy begins to mend, the cost of borrowing money for a big purchase could start to increase. Mortgages, in particular, have flirted with record lows during the recession. Credit card rates have been bouncing upward and, while auto loan rates are expected to stay low for a little while longer, they can't stay low forever.
CNNMoney: Dow: 11,000 at the finish line
Stocks managed gains Monday, with the Dow industrials closing above 11,000 for the first time in 18 months, after European leaders made loans available to Greece, tempering fears that the nation might have to default on its debt. But lingering concerns ahead of the start of the quarterly reporting period limited the gains.
New York Times: Lehman Channeled Risks Through 'Alter Ego' Firm
In the years before its collapse, Lehman used a small company — its "alter ego," in the words of a former Lehman trader — to shift investments off its books. The firm, called Hudson Castle, played a crucial, behind-the-scenes role at Lehman, according to an internal Lehman document and interviews with former employees. The relationship raises new questions about the extent to which Lehman obscured its financial condition before it plunged into bankruptcy.
In Case You Missed It
President Obama hosts a two-day summit aimed at preventing terrorists from acquiring nuclear weapons.
http://www.cnn.com/video/#/video/us/2010/04/12/nr.dougherty.nuclear.summit.cnn
New details emerge surrounding a plot to blow up New York's busiest subways. CNN's Jeanne Meserve reports.
http://www.cnn.com/video/#/video/us/2010/04/12/meserve.ny.terrorists.cnn
Subscribe to the CNN=Politics DAILY podcast at http://www.cnn.com/politicalpodcast
And now stay posted on the latest from the campaign trail by downloading the CNN=Politics SCREENSAVER at http://www.CNN.com/situationroom