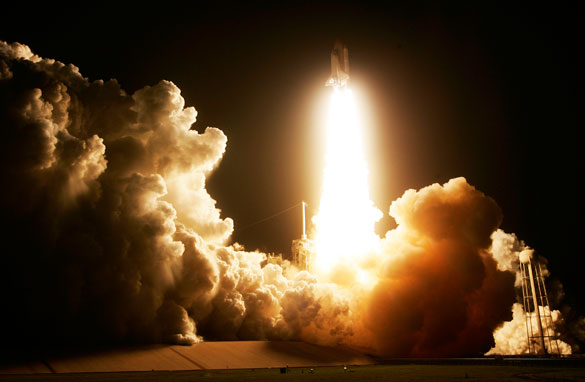 Space Shuttle Discovery blasts off from Kennedy Space Center in April. (PHOTO CREDIT: GETTY IMAGES)

Kennedy Space Center, Florida (CNN) - Tim Keyser and Dan Quinn, who work on the space shuttle in the vehicle shop at Florida's Kennedy Space Center, are eager to welcome President Barack Obama when he meets Thursday with NASA workers and officials on America's future in space.
Changes are coming to NASA.
The space shuttle has long been scheduled for retirement at year's end - there are just three scheduled launches remaining - and the president has cancelled NASA's follow-on program, Constellation. The space agency has already spent about $9.5 billion on that project to develop a next-generation rocket, Ares, and the crew capsule, Orion.
"I'd advise him to go back and reconsider on the Constellation program," space shuttle mechanic Keyser told CNN.
Keyser works on the space shuttle's mid-body and payload bay, "We change the tires every time we come back from space," he said.
He and his co-workers were shocked to hear of the president's plans to cancel Constellation, a program that would have ensured jobs for many of those currently working in the space shuttle program, he said.
"We didn't expect that," he said. "We're still hoping that maybe we'll get an extension on the shuttle program. We're going to hope that till the
end."
Keyser and Quinn are both employed by United Space Alliance (USA), a private NASA contractor jointly owned by the Boeing Company and Lockheed Martin Corporation. USA works on the space shuttle program in Florida, Texas and Alabama and has also been working on Ares and Orion.
Quinn, a shuttle technician who works amid the complex plumbing and wiring of the shuttle's three main engines, said he's hoping the visit will convince the president "to maintain the leadership role that the United States has always had in manned spaceflight technology."
For Quinn, the space program is all in the family. His father worked for Grumman during NASA's Apollo moon program in the 1960s, and two brothers also work at the Kennedy Space Center.
"The region would be hit hard if we should lose the shuttle program ... hopefully everyone's prepared," said Quinn adding that he's hoping the
president's visit might inspire "a revisit of the situation."
But just three days before the visit, USA notified its workforce that the company will lay off about 175 employees, most in Florida and some at the Johnson Space Center in Houston, on June 4.
And, layoffs in the space shuttle program are just getting underway.
Allard Beutel, news chief at the Kennedy Space Center told CNN layoffs at the center will likely reach "the 7,000 range" with the end of the shuttle and the cancellation of Constellation.
Friends and neighbors of those who work at the Kennedy Space Center are also worried about what the future holds for central Florida's space coast, once the shuttle stops flying and NASA no longer has a rocket to launch people into space.
"We're just concerned about property values," Orlando-based real estate agent Kimberly Campbell told CNN while enjoying the sun and surf at nearby Cocoa Beach. "We're afraid a lot of people will just walk away from their properties," she said. "If they lose their jobs what are they going to do?"
Dennis Krolsch manages the Cocoa Beach Pier, an array of restaurants and bars within eyesight of the space center's launch pads.
Krolsch, who says he's seen each of NASA's 131 space shuttle launchings since 1981, says the space shuttle "is a huge economic boost for the community," and when the shuttle stops flying, Krolsch said, "everyone in the area is going to feel the impact of that."
The president has proposed increasing NASA's budget by $6 billion over five years. But the president is asking Congress to shift funding away from NASA's costly human spaceflight program to NASA's scientific programs, including robotic missions to other planets.
The president's budget would also provide funding to private launch companies to develop spacecraft to ferry astronauts.
Under current plans, when the space shuttle is retired, U.S. astronauts will need to ride Russian Soyuz rockets to reach and return from the
International Space Station. It's expected to take several years or more before commercial launch companies are capable of carrying astronauts into orbit.
The curtain coming down on the space shuttle and Constellation's shut-down are not just a matter of dollars and cents for residents of central
Florida who've grown accustomed to watching space shuttles thunder into space.
"The tears are starting to flow and people are starting to get nervous because there aren't too many shuttle flight lefts," said Lou Patino of
Kissimmee, Florida. "We've suffered through the accidents," Patino said, "If it were up to me I'd have the president build four more of those shuttles."