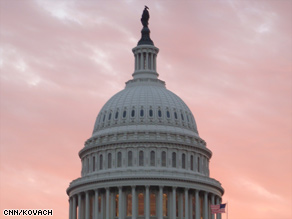 The CNN Washington Bureau's morning speed read of the top stories making news from around the country and the world.
WASHINGTON/POLITICAL
For the latest political news: www.CNNPolitics.com
CNN: Obama: 'Real progress' at nuclear summit
President Obama said Tuesday that the 47-nation nuclear security summit he convened raised global awareness of the threat of nuclear terrorism and yielded commitments to better secure nuclear arsenals and materials. At a news conference wrapping up the two-day summit, Obama cited steps taken by countries including Russia and other former Soviet states to eliminate some of the vulnerable vestiges of nuclear stockpiles from the Cold War era. Obama said the summit's final statement acknowledges the urgency and seriousness of the threat of nuclear terrorism and sets a goal for securing all the world's vulnerable nuclear materials in the next four years.
CNN: Michelle Obama, Jill Biden visit Mexico
Michelle Obama arrived in Mexico City Tuesday night at the start of her first solo official trip as first lady. Obama, fresh off an unannounced stop in Haiti, was greeted at Benito Juarez International Airport by Carlos Pascual, the U.S. ambassador to Mexico; and Arturo Sarukhan, the Mexican ambassador to the United States.
CNN: Obama to unveil vision for space program
President Obama will announce his administration's vision for America's space program during a visit to Florida on Thursday, according to documents provided to CNN by a White House official. The president's announcement will come during what have been uncertain times surrounding the agency. The space shuttle is scheduled for retirement at year's end, with just three scheduled launches remaining. The president has cancelled the Bush administration's Constellation moon program. Allard Beutel, news chief at the Kennedy Space Center, told CNN that layoffs at the center will likely reach "the 7,000 range" with the end of the shuttle and the cancellation of the Constellation program.
The Arizona Republic: Arizona House passes wide-ranging immigration bill
The Arizona House of Representatives has passed a wide-ranging bill that would put the state at the forefront of state control of immigration policy. Senate Bill 1070, among other things, makes it a crime to be in the country illegally and bars what its proponents call "sanctuary city" policies. It passed on a 35-21 vote, along party lines. All 35 Republicans supported the bill; all the Democrats present voted "no." Four Democrats were absent. The vote caps a hotly debated path through the Legislature and puts Arizona on the verge of having some of the toughest immigration laws in the nation.
CNN: McConnell tells GOP: Vote no on Wall Street bill
The Senate's top Republican on Tuesday called on Republicans to oppose the Democratic Wall Street reform bill because it does not adequately safeguard against the government's power to bail out massive banks in the future. The 1,300-page bill, sponsored by Senate Banking Committee Chairman Chris Dodd, D-Connecticut, aims to create a new consumer regulator housed inside the Federal Reserve to ensure consumers get a fair shake with mortgages and credit cards. It would also push banks and financial firms to strengthen capital cushions and create a new process for taking down giant failing companies and preventing future Wall Street bailouts.
Wall Street Journal: Banks Falter in Rules Fight
Senate Democrats, resisting a last-ditch lobbying push from big Wall Street firms, are moving toward a sweeping revamp of financial regulation that would squeeze banks' lucrative derivatives-trading business. Wall Street giants Goldman Sachs Group Inc., J.P. Morgan Chase & Co. and Morgan Stanley had been pressing hard in recent days to dilute provisions of the bill that would change the rules for derivatives trading. The bankers' lobbying has focused on the Senate Agriculture Committee, which Wall Street hoped would produce a friendlier bill than an alternative from the Senate Banking Committee. But it became clear Tuesday that the Agriculture Committee's chairman, Arkansas Democrat Blanche Lincoln, is now expected to introduce a bill with provisions that bankers oppose and the White House supports.
Washington Post: At the peak of his influence, SEIU chief set to leave a mixed legacy
As he prepares to turn over the reins of the Service Employees International Union, Andrew L. Stern is at the apex of his political influence. He helped lead the push for the health-care overhaul that became law last month. He has visited the White House 38 times in President Obama's tenure, far more than other labor leaders. Obama named him to a new deficit commission. But underlying Stern's glittering profile - a well-connected visionary seeking to revive organized labor and lead the liberal vanguard - is the complicated reality surrounding his departure, which he is expected to make official at a meeting Wednesday.
ABC News: Sarah Palin Has Earned an Estimated $12 Million Since July
Pundits can debate the political costs and benefits of Sarah Palin's decision to step down as Alaska governor, but the monetary advantages of leaving her $125,000-a-year public service post are beyond dispute. Since leaving office at the end of July 2009, the 2008 Republican vice presidential nominee has brought in at least 100 times her old salary – a haul now estimated at more than $12 million - through television and book deals and a heavy schedule of speaking appearances worth five and six figure.
San Francisco Chronicle: CSU students find Palin papers in garbage
Students at Cal State Stanislaus discovered evidence that documents related to an upcoming speaking engagement by Sarah Palin were shredded and dumped after the university claimed that no public documents existed, a state senator said on Tuesday. On Tuesday afternoon, Attorney General Jerry Brown said he was launching a "broad investigation" into the alleged dumping of documents and to examine finances of the CSU Stanislaus Foundation, which is hosting the June 25 event featuring the former governor of Alaska and vice presidential candidate.
CNN: CNN Poll: 1 in 10 say they're Tea Party activists
Ten percent of Americans say they have actively supported the Tea Party movement, and those Tea Party activists are older, better educated and more religious than the general public, according to a new national poll.
CQ Politics: Pawlenty Quietly Begins Hill Outreach
When it comes to greasing the wheels and opening doors on Capitol Hill, Minnesota Gov. Tim Pawlenty (R) has tapped Rep. John Kline (R-Minn.) to lead his outreach to members ahead of his prospective 2012 White House campaign. With the unofficial kickoff of the next presidential cycle some eight months away, Pawlenty's outreach to Republicans on Capitol Hill so far has been organized but minimal. But compared to some of the other potential candidates, including presumed GOP frontrunner and former Massachusetts Gov. Mitt Romney, Pawlenty could also have the furthest to travel when it comes to ingratiating himself with Members of Congress.
Politico: Boehner for Speaker effort launches
John Boehner has officially begun his campaign for speaker of the House, according to campaign filings. Boehner's political team Tuesday filed paperwork with the Federal Election Commission to create the "Boehner for Speaker" joint fundraising committee with the National Republican Congressional Committee. Now all Republicans have to do is grab 40-plus seats in November to actually win the House. Then Boehner can take that gavel away from Speaker Nancy Pelosi.
CNN: Democrat wins special election in Florida
Democrat Ted Deutch won a special election Tuesday for a Florida congressional seat in the nation's first federal election since the passage of the Democrats' health care plan. Deutch held a sizable lead over Republican Ed Lynch late Tuesday night in the Palm Beach-area 19th District, prompting Lynch to concede. The controversial health care reforms may have played a large role in the election results.
Wall Street Journal: Pataki Isn't Joining New York Senate Race
Former New York Republican Gov. George E. Pataki has decided not to mount an election challenge against Democratic Sen. Kirsten Gillibrand this fall. Instead, he said in an interview Tuesday that he would create a new national organization aimed at building support to repeal the recently enacted health-care overhaul. Mr. Pataki's decision to bypass the Senate race marks another major coup for Ms. Gillibrand, who has been enormously successful in knocking out competition on both sides of the aisle despite appearing to be vulnerable politically.
Los Angeles Times: Boxer tops potential challengers in fundraising
Democrat Barbara Boxer outdistanced her Republican challengers in raising money during the first quarter of the year, and her two leading GOP would-be opponents were nearly tied in income over the period, according to financial reports. Boxer, a three-term incumbent who faces no serious primary challenge but is anticipating her toughest general election battle yet, raised $2.4 million in the first three months of 2010. She now has $8.7 million on hand, and is due to raise more next week with a visit from President Obama.
CNN: Fundraising figures spell trouble for Arkansas incumbent
Arkansas Sen. Blanche Lincoln raised $1.3 million in the first three months of 2010 and has $4.3 million cash on hand, her campaign said Tuesday. But Lincoln's numbers indicate she has been unable to match the pace set by Lieutenant Gov. Bill Halter, who will face off against Lincoln in the Democratic senatorial primary – now only five weeks away.
Chicago Tribune: Giannoulias raised $1 million less than Kirk in U.S. Senate contest
Democratic U.S. Senate candidate Alexi Giannoulias announced today that he raised $1.2 million from January through March - about $1 million less than his Republican opponent, U.S. Rep. Mark Kirk. Giannoulias and Kirk are vying to replace U.S. Sen. Roland Burris, who was appointed by ex-Gov. Rod Blagojevich to the seat Barack Obama left after he was elected president. Burris did not run for election. Giannoulias' campaign said it has $1.2 million on hand, compared to $3 million for Kirk, at the start of April.
Pittsburgh Post-Gazette: Democrat removed from Senate ballot
In his challenge to Sen. Arlen Specter, Rep. Joe Sestak will get the one-on-one matchup he wanted after knocking another Democratic Senate contender off the primary ballot. Commonwealth Court Judge Mary Hannah Leavitt ruled Tuesday that Joseph Vod Varka, a retired machinist from Robinson, was ineligible for the May 18 primary after finding that he had not submitted enough valid signatures.
Miami Herald: Garcia plans 2nd run for Congress
Former Miami-Dade Democratic party chief Joe Garcia resigned Tuesday from the Obama administration to jump into a hotly contested race for a congressional seat in Miami.Garcia, who landed a job at the Energy Department after coming within six points of ousting Republican Rep. Mario Diaz-Balart in 2008, will announce Wednesday that he is making a second run for the seat. The race for a rare open seat promises to be among the most closely watched in the country. Miami Republican state Rep. David Rivera, who announced his candidacy last month, said last week he's raised $700,0000 and will be the beneficiary of a fundraiser April 26 hosted by top Republicans, including House Republican leader John Boehner.
Washington Post: Staffers' accounts paint more detailed, troubling picture of Massa's office
Just three months after Eric Massa was elected to Congress, his young male employees on Capitol Hill began complaining to supervisors that the lawmaker was making aggressive, sexual overtures toward them, according to new interviews and internal documents.
NATIONAL
For the latest national news: www.CNN.com
CNN: Government agencies rely on contractors to oversee contractors
It may seem like putting the rooster in charge of the hen house, but the U.S. Departments of Defense and State spend hundreds of millions of dollars a year on contracts for work in the United States and oversees, and then spend some more to have contractors – not government employees – oversee those contracts.
CNN: Sago investigator will look at West Virginia mine disaster
West Virginia's governor on Tuesday named a former head of the federal Mine Safety and Health Administration to lead a state investigation into last week's coal mine explosion that left 29 miners dead. Davitt McAteer has overseen investigations into two previous mine accidents, the Sago disaster that killed 12 miners in 2006 and the fire at the Aracoma Alma No. 2 mine that left two workers dead. The West Virginia native served as the Clinton administration's assistant labor secretary for mine safety in the 1990s and is vice president of Wheeling Jesuit University.
CNN: Jury holds Boy Scouts negligent in sex-abuse case
Jurors in Portland, Oregon, awarded a former Boy Scout $1.4 million after finding Tuesday that the organization was negligent in allowing a Scout leader who was a sex offender to have contact with him.
INTERNATIONAL
For the latest international news: http://edition.cnn.com
Washington Post: Israel's Peres accuses Syria of delivering Scud missiles to Hezbollah militia
Israeli President Shimon Peres on Tuesday accused Syria of transferring long-range Scud missiles to the Lebanese militia Hezbollah, appearing to confirm rumors that have swirled in the region in recent weeks. Syria denied the charge, calling it a bid by Israel to divert attention from its policies in the Palestinian territories. A transfer of Scud missiles, which have a range of 430 miles, would sharply shift the military balance in the region. Reports of the transfer have also begun to complicate the Obama administration's plans to appoint an ambassador to Damascus, Syria, for the first time in five years.
Washington Post: Iranians wary of deeper ties with China
In what looks like a strong, budding friendship, China is increasingly buying Iranian oil and gas, participating in Iranian infrastructure projects, and selling vast amounts of exports to Iran while warning the West against tougher sanctions over the country's nuclear program. China also increasingly shares Iran's anti-Western rhetoric and demands for more influence for non-Western nations. Yet, according to politicians, businessmen and analysts, few Iranians expect the growing ties to turn into a new, lasting political axis. And there is mounting concern that Iran is becoming too dependent on China, both economically and politically.
Wall Street Journal: Gates Says Civilian Deaths Test War Strategy
Defense Secretary Robert Gates said civilian casualties in Afghanistan were posing a strategic challenge to U.S. battlefield success there, a sign of the mounting American concern that civilian deaths are leading ordinary Afghans to turn against the coalition and shift their support to the Taliban.
New York Times: Poland's Unity Is Disrupted by Plans for President's Interment
Public discontent erupted on Tuesday for the first time in the grievous aftermath of the plane crash that claimed the lives of Poland's president and dozens of top politicians and military leaders, as hundreds of people in Krakow protested the decision to inter the president and his wife in a crypt holding the remains of many Polish kings.
CNN: Thai PM faces challenge from election commission
Prime Minster Abhisit Vejjajiva's ruling Democrat Party says it will fight a recommendation by the country's election commission that it be dissolved, as Thailand's political crisis showed no signs of abating Wednesday. The Bangkok Emergency Medical Service updated the fatality count from Saturday's deadly police-protester clashes to 23 - up from 21 on Tuesday..
CNN: Sources: Kyrgyz president willing to resign, with conditions
The ousted Kyrgyz president is willing to resign if he and his relatives are allowed safe passage out of the country, according to sources in southern Kyrgyzstan. But there are sticking points in forging a deal that would allow Kurmanbek Bakiev to leave the central Asian country, engulfed by instability after fiery and deadly demonstrations raged in the capital of Bishkek last week.
CNN: Hundreds dead in China quake, state media reports
Some 300 people are feared dead after a rapid series of strong earthquakes hit a mountainous and impoverished area of China's Qinghai province early Wednesday, state-run media said.
Los Angeles Times: Mexico death toll in drug war higher than previously reported
The death toll from the Mexican government's three-year war on drug cartels is far higher than previously reported - more than 22,000, according to news reports published Tuesday that cited confidential government figures.
BUSINESS
For the latest business news: www.CNNMoney.com
Washington Post: Greece raises $2 billion, signaling investor relief
In a test of investor confidence, Greece on Tuesday successfully raised $2 billion, but at interest rates still considered too costly for the government in Athens to pay in the long run. Nevertheless, the strong market demand for Greek bonds appeared to underscore a measure of investor relief after key details were released Sunday of a standby aid deal from the European Union. With the promise of a lifeline of at least $40 billion if it cannot raise cash on international markets, the debt-laden Mediterranean nation is now operating with a safety net that has eased some fears of a default there.
Financial Times: Obama calms row with China over renminbi
Barack Obama sought to defuse the US-China confrontation over the renminbi yesterday by ack-now-ledging Chinese sensitivities about the US -campaign for currency appreciation. Speaking at the end of the nuclear security summit he hosted in Washington, the US president depicted the relationship with China as increasingly productive – a sign of his administration's growing confidence that Beijing is moving the way the US wants on the renmimbi and sanctions on Iran. The two issues are among Mr Obama's international priorities.
Fortune: WaMu's Killinger: The forgotten goat
Kerry Killinger, the forgotten villain of the financial crisis, finally has his appointment to get fitted for goat's horns. The former Washington Mutual CEO testified Tuesday afternoon before the Senate Permanent Subcommittee on Investigations. Killinger ran the Seattle-based thrift for 18 years until he was forced out just weeks before WaMu was seized by regulators in the biggest U.S. bank failure.
CNNMoney: Toyota suspends sales of Lexus GX 460
Toyota asked dealers to temporarily suspend sales of the new 2010 Lexus GX 460 after Consumer Reports issued a safety warning on the SUV.
In Case You Missed It
CNN's John Vause looks at the highs and lows in the relationship between the U.S. and China.
http://www.cnn.com/video/#/video/world/2010/04/13/vause.us.china.nuclear.summit.cnn
CNN's Brian Todd reports on the USDA inspector-general's finding on vulnerability of U.S. beef to chemical residues.
http://www.cnn.com/video/#/video/us/2010/04/13/pkg.todd.tainted.beef.cnn
Subscribe to the CNN=Politics DAILY podcast at http://www.cnn.com/politicalpodcast
And now stay posted on the latest from the campaign trail by downloading the CNN=Politics SCREENSAVER at http://www.CNN.com/situationroom