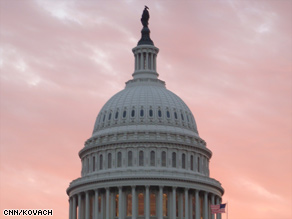 The CNN Washington Bureau's morning speed read of the top stories making news from around the country and the world.
WASHINGTON/POLITICAL
For the latest political news: www.CNNPolitics.com
CNN: Holder says decision on where to hold 9/11 trial weeks away
Attorney General Eric Holder said Wednesday that the Obama administration would likely decide within weeks where the accused 9/11 conspirators will go on trial.
New York Times: Officials Say Iran Could Make Bomb Fuel in a Year
Two of the nation's top military officials said Wednesday that Iran could produce bomb-grade fuel for at least one nuclear weapon within a year, but would most likely need two to five years to manufacture a workable atomic bomb. The carefully worded testimony to the Senate Armed Services Committee provided the most complete recent public assessment of how much time President Obama and his allies have to head off an Iranian nuclear weapons capability.
Orlando Sentinel: Obama to offer hope to local space workers during KSC visit
When President Barack Obama speaks at Kennedy Space Center on Thursday, he'll offer its 15,000 workers something that's been in short supply lately: hope, or at least a chance that their future won't be as dire as expected. Facing the loss of 9,000 jobs after the space shuttle completes its final three launches, KSC employees have lived for years with a nagging sense of doom because of the uncertainty surrounding the Constellation moon rocket program that was supposed to replace the shuttle.
Washington Times: Bill seeks Afghan pullout timetable
Bipartisan legislation introduced in both houses of Congress on Wednesday would require President Obama to develop a timetable for withdrawal of U.S. troops from Afghanistan and increase oversight of private contractors by the inspector-general for Afghan reconstruction. The legislation aims to "enhance our national security and reduce the burden on our armed forces and on taxpayers," the bill's co-sponsors said in a statement.
Bloomberg: China 'Power' Over Metals for Smart Bombs Prompts U.S. Hearing
U.S. lawmakers called for a hearing after a government report exposed potential "vulnerabilities" for the American military because of its extensive use of Chinese metals in smart bombs, night-vision goggles and radar. China controls 97 percent of production of materials known as rare earth oxides, giving it "market power" over the U.S., the Government Accountability Office said in the report obtained by Bloomberg News before its public release on April 14.
CNN: Sources: Obama expected to make high court pick by early May
The White House search for a new Supreme Court justice is progressing smoothly, say government sources close to the selection process, who expect President Obama to make a decision by early May. The three favorites for the seat continue to receive the most attention among the small group of officials in charge of narrowing a "short list" of about ten names. Solicitor General Elena Kagan, and federal appeals judges Diane Wood and Merrick Garland currently have the edge over others being considered, said those sources.
CNNMoney: Wall Street reform: Washington's next battle
With the health care fight and two weeks at home behind it, Congress is taking on proposals to reform Wall Street and prevent future financial collapses. Nothing has really changed since the Senate Banking panel passed an overhaul measure along party lines in late March – except that the rhetoric on both sides has sharpened.
CNN Poll: Most Americans say their tax dollars are wasted
Nearly three-quarters of Americans say that the government wastes their tax dollars, according to a new national poll. A CNN/Opinion Research Corporation survey released Thursday morning also indicates that roughly half the public believes the tax system is unfair, and as a result, four in ten say they're angry about the amount of taxes that they pay.
Salt Lake Tribune: Hatch opposes new D.C.-Utah House seat bill
Democrats are breathing new life into a bill that would give the nation's capital its first voting House member and Utah a fourth congressional seat, but most Utah leaders have already soured on the political compromise that has crept through Congress. Sen. Orrin Hatch, who has backed it in the past, is now standing in opposition. Washington, D.C.'s non-voting member Eleanor Holmes Norton announced a plan Wednesday to move the bill to the House floor by the end of next week, despite a pro-gun amendment that some District leaders oppose. Utah is included to give the bill partisan balance, since D.C. is heavily Democratic. The Republican-dominated Beehive State narrowly missed out on a fourth seat in the 2000 Census and is in line to add one regardless of what happens with this bill starting in 2012.
Wall Street Journal: Obama Revs Up Fund-Raising Machine
The president is entering the political season in earnest this month, hoping to energize Democratic voters, raise truckloads of cash and stave off potentially dramatic Democratic losses in the fall. After holding no DNC fund-raisers in March, he will appear at three in April, and more are in the planning stage, a senior White House aide said.
New York Times: Rough Start for Big Name in Conn. Senate Race
Richard Blumenthal's campaign for the Senate was supposed to be a glide. Nothing and no one could stop him. No politician in the state had anything close to Mr. Blumenthal's popularity. So when he jumped into the race to succeed Senator Christopher J. Dodd, Democrats in Washington immediately crossed the seat off their list of ones to worry about. But signs of trouble have quickly emerged. Mr. Blumenthal flopped in his first televised debate against an obscure primary opponent, and he is ruling out any possibility of a rematch.
Kansas City Star: In final months in office, Sen. Bond still relishes political combat
The calendar says spring, but for Sen. Kit Bond, it's autumn. But Bond is no lame duck heading south. The Missouri Republican — equal parts national security watchdog, partisan brawler and master of political pork — has some unfinished business and knows the clock is ticking. Retirement comes at the end of the year after nearly a quarter-century running around Capitol Hill, so he might be excused for taking a victory lap.
NY Post: Malpass announces challenge to Gillibrand
If Scott Brown did it in Massachusetts, economist David Malpass said he can do it in New York. Banking on the same anti-incumbent, anti-Democratic sentiment that sent Republican Scott Brown to Washington this year to replace the late Ted Kennedy, Malpass announced his challenge to Sen. Kirsten Gillibrand this morning.
Wall Street Journal: Crist Advisers See Path to Senate Outside GOP
Hounded by conservative activists as too liberal, Florida Gov. Charlie Crist is being advised by some close supporters to abandon his lagging Republican primary bid for a U.S. Senate seat and run instead as an independent. Mr. Crist's campaign issued a statement last week saying the governor would run in the Republican primary and describing the talk of an independent bid as "baseless rumors." Still, some advisers see room for him to take another course. Mr. Crist is trailing badly in public-opinion surveys against state House Speaker Marco Rubio, who has become a darling of conservative activists nationally.
CNN: Bunning endorses Paul in Kentucky Senate race
Republican Senate candidate Rand Paul got an endorsement Wednesday from the man he is hoping to replace: Sen. Jim Bunning, R-Kentucky. In a swipe at Paul's Republican primary opponent, Secretary of State Trey Grayson, Bunning said Paul is the only conservative running in Kentucky who will take a principled stand against "the liberals and establishment politicians that run Washington" and "who believes in traditional values and the rights of the unborn."
CQ Politics: Storming the Castle: Democrats Believe Coons Can Win
This year's Senate race in Delaware has been an afterthought ever since state Attorney General Beau Biden (D) announced in January that he would not run. What would have been a marquee titanic battle between Vice President Joseph R. Biden Jr.'s eldest son and Rep. Michael N. Castle, the First State's most prominent Republican, seemed to turn instead into a lopsided contest in Castle's favor. But Democrats are pushing back against that conventional wisdom and insist the race will be highly competitive with New Castle County Executive Chris Coons, the new presumptive nominee.
Denver Post: Long-shot Senate candidate Buck hits bull's-eye in Colo.
Ken Buck, once thought to be a dead-in-the-water Republican U.S. Senate candidate with laughable fundraising totals and little establishment GOP support, has surged to life in a matter of days thanks to a handful of prominent endorsements pulling in big cash and — more important — national distinction. With almost $600,000 in a television advertising campaign from the Virginia-based Americans for Job Security, a nod Wednesday from conservative lion Sen. Jim DeMint of South Carolina, and his straw-poll win at the state party's March caucuses, Buck is suddenly the candidate that party chatterboxes are talking about.
The Hill: Tea Party organizers snub top GOPs
The Tea Party is hosting a Tax Day rally on Thursday in Washington, but the Republicans leaders in the House and Senate are not invited. Senate Minority Leader Mitch McConnell (Ky.), Senate Minority Whip Jon Kyl (Ariz.), House Minority Leader John Boehner (Ohio) and House Minority Whip Eric Cantor (Va.) were not asked to speak at the April 15 rally in front of the Washington Monument. According to officials with Freedom Works, the organization coordinating the event, the leaders haven't redeemed themselves since backing the 2008 Wall Street bailout bill.
Albany Times-Union: Tea Party leader shuns Palladino
Paladino has been dogged since WNYMedia.net published racist and pornographic e-mails that Paladino forwarded to supporters and friends. Paladino has defended his actions as being true to his blunt, politically incorrect style. The leader of the Tea Party Express said his organization is unlikely to support Carl Paladino, a Buffalo real estate mogul running for governor.
Austin American-Statesman: A year later, Tea Party has evolved into a political force
The Tea Party movement made its first big Texas splash a year ago today when thousands gathered in Austin and elsewhere to showcase their unhappiness with the nascent presidency of Barack Obama. There were signs, speeches and, yes, a few calls for Texas to leave the United States. A year later, the rallies and protests continue. But Tea Party activists have also shown they can win elections. Several questions remain about their leadership and long-term viability, but the conservative activists broadly defined as the Tea Party movement have undoubtedly caught the attention of Texas voters and politicians.
NATIONAL
For the latest national news: www.CNN.com
CNN: Details of prosecution case against Blagojevich revealed
Former Illinois Gov. Rod Blagojevich and his inner circle engaged in a near-constant conspiracy of extortion and kickbacks after his 2002 election, according to a court document released Wednesday that reveals details of the allegations against him.
CNN: Gov. Manchin: Let's honor miners Friday with safety review
West Virginia Gov. Joe Manchin asked his state's miners to put down their tools on Friday and use the day to re-evaluate safety procedures rather than to produce coal. Manchin made his plea nine days after an explosion in the Upper Big Branch Mine in Naoma killed 29 miners in the worst such accident in the United States since 1972, when 91 miners died in a fire at the Sunshine Mine in Kellogg, Idaho.
INTERNATIONAL
For the latest international news: http://edition.cnn.com
NYT: U.S. Forces Close Post in Afghan 'Valley of Death'
The last American soldier left here Wednesday, abandoning a base surrounded by tall cedar trees and high mountains, in a place that came to be called the Valley of Death. Closing Korangal Outpost in Kunar Province, a powerful symbol of some of the Afghan war's most ferocious fights, and a potential harbinger of America's retreat, is a tacit admission that putting the base there in the first place was a costly mistake. It is also part of an effort by Gen. Stanley A. McChrystal, commander of forces here since last summer, to consolidate and refocus forces where they might change the momentum of what had become a losing contest.
Los Angeles Times: U.S. doubles anti-Taliban special forces
The Pentagon has increased its use of the military's most elite special operations teams in Afghanistan, more than doubling the number of the highly trained teams assigned to hunt down Taliban leaders, according to senior officials. The secretive buildup reflects the view of the Obama administration and senior military leaders that the U.S. has only a limited amount of time to degrade the capabilities of the Taliban. U.S. forces are in the midst of an overall increase that will add 30,000 troops this year and plan to begin reducing the force in mid-2011.
London Telegraph: Major powers resume Iran sanctions talk as Ahmadinejad threatens US
Six major powers resumed talks last night on possible new sanctions against Iran over its nuclear ambitions. The resumption of talks came as Mahmoud Ahmadinejad, the Iranian president warned that he could scupper America's Middle East policy if the US continued to confront his government. The closed door meeting at the US mission to the United Nations in New York included envoys from the five veto-wielding members of the UN Security Council – the United States, Britain, France, Russia and China – plus Germany.
It was the second meeting in a week since China, which has close economic ties with Iran, agreed to join the talks.
CNN: Grieving Poland eyes June vote for new president
Polish legislators were planning Wednesday to hold a June election to choose a successor to President Lech Kaczynski, whose death in an air crash is generating unprecedented scenes of public grief. However, amid national unity in the wake of the disaster, there were the first signs of discord with protests reported over a decision to bury the late president and his wife in a crypt previously reserved for monarchs and saints.
Wall Street Journal: Polish Flight Skirted Military Protocol
Two weeks before last weekend's tragic plane crash, Poland's top military commanders got individual invitations from President Lech Kaczynski to fly with him to Western Russia to commemorate Stalin's 1940 massacre of Polish intellectuals and officers. Because the invitations came from the president, rather than within the Defense Ministry, and the flight was civilian, not military, the flight was outside military procedures—developed in the wake of an air disaster two years ago—that restrict which and how many senior military officers can fly on the same plane. The result was tragic.
CNN: Ousted Kyrgyz president unhurt in gunfire
Ousted Kyrgyz President Kurmanbek Bakiev was shot at during a rally in the southern Kyrgyzstan city of Osh on Thursday but was not hurt, witnesses said. Bakiev was speaking to about 5,000 supporters at the rally when gunfire broke out. Thursday was the second day of competing pro- and anti-Bakiev rallies in the south, where the deposed president has been holed up since last week's fiery and deadly anti-government demonstrations in the capital, Bishkek, forced him to flee.
Washington Post: As election approaches, U.S.-style politics catching hold in Britain
When the cameras start rolling on a Manchester stage Thursday night, the British will enter a new political era: the age of the U.S.-style televised debate. For the first time in British history, the candidates will confront one another on prime-time television. Observers are calling it a pivotal change to a storied political process, one that is altering the nature of the most hotly contested prime minister's race in generations. The British media are positioning the three debates as a cliffhanger: Will the May 6 elections be decided by a Kennedy vs. Nixon moment?
Washington Post: Academic experts clear scientists in 'climate-gate'
In the second of three investigations of the scandal known as "climate-gate," a panel of academic experts said Wednesday that several prominent climate scientists did not engage in deliberate malpractice but did not use the best statistical tools available to produce their findings.
CNN: Volcano ash shuts many airports in U.K.
Many airports were shut and flights were grounded across the United Kingdom on Thursday because of ash from a volcanic eruption in Iceland, airport authorities said. Ash from Iceland has prompted aviation officials to restrict flights over parts of Norway and the United Kingdom. The ash also caused delays in some flights leaving the United States, the Federal Aviation Administration said.
CNN: Chinese rescuers impeded by earthquake damage
Unstable bridges and collapsed roadways kept rescuers and their heavy equipment away Thursday from Jiegu, China - the town nearest the epicenter of a 6.9 magnitude earthquake that killed nearly 600 people and injured thousands more. Twenty-four hours after the Wednesday quake, most of Jiegu's dead were in the dusty rubble of a hotel that crumbled under the strain of the initial quake and a series of strong aftershocks. Residents painstakingly picked through the debris with shovels and ropes, ever mindful that time is a formidable obstacle to finding survivors.
BUSINESS
For the latest business news: www.CNNMoney.com
CNNMoney: Fed sees signs of improvement
The economy showed modest signs of life in recent weeks, the Federal Reserve said Wednesday in its latest summary of regional economic conditions. Economic activity expanded "somewhat" in 11 of the central bank's 12 districts, according to the latest edition of the Fed's Beige Book, released Wednesday. St. Louis was the exception, reporting "softened" economic conditions.
CNNMoney: Just when you thought it was safe: Foreclosures spike
The housing market has seen some positive signs recently, such as stabilizing home prices and increased sales, but foreclosures continue to haunt the market. In the first three months of 2010 foreclosure filings rose 7%, to more than 930,000, compared with the previous quarter, according to the online foreclosure marketing firm RealtyTrac. That is a 16% jump over the first three months of 2009.
Bloomberg: China GDP Grows 11.9%, Highlighting Overheating Risk
China's economic growth accelerated to the fastest pace in almost three years in the first quarter, highlighting overheating risks that may prompt the government to scrap the yuan's peg to the dollar. Gross domestic product rose 11.9 percent from a year earlier, the statistics bureau said at a briefing in Beijing today. That was more than the median 11.7 percent estimate in a Bloomberg News survey of 24 economists.
CNNMoney: JPMorgan Chase reports $3.3 billion profit
Profits at JPMorgan Chase jumped 55% from a year ago to $3.3 billion on the back of the bank's Wall Street business and an improvement in the overall economy. The first of the nation's top banks to report first-quarter results, JPMorgan Chase said Wednesday it earned 74 cents a share during the first quarter, easily topping what investors were anticipating.
In Case You Missed It
A watchdog group releases the annual pig book, full of examples of congressional "pork." CNN's Brianna Keilar reports.
http://www.cnn.com/video/#/video/politics/2010/04/14/keilar.dc.2010.pig.book.cnn
Julie Schmit-Albin, executive director of Nebraska Right to Life, and NOW President Terry O'Neill talk about new law.
http://www.cnn.com/video/#/video/bestoftv/2010/04/14/jk.ne.exec.dir.right.to.life.cnn
Subscribe to the CNN=Politics DAILY podcast at http://www.cnn.com/politicalpodcast
And now stay posted on the latest from the campaign trail by downloading the CNN=Politics SCREENSAVER at http://www.CNN.com/situationroom