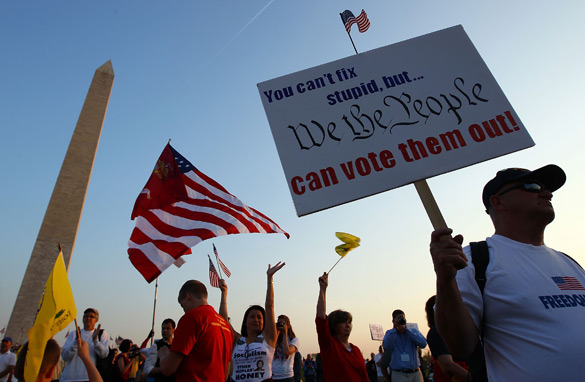 Experts say that as anger heightens, fringe messages are crossing into the mainstream. (PHOTO CREDIT: Getty Images)
(CNN) - Letting disgruntled citizens vent is important to national security, experts say, but some messages emanating from angry Americans in recent weeks have pressed the boundaries of free speech.
Politicians have reported slurs as well as threatening letters and phone calls. Congressmen have reported vandalism to their offices. One said he was spit on. Another said his brother's gas line was cut after a Tea Party member posted his address online.
Tea Party leaders denounce the threats and deny involvement, pointing to fringe elements - not Tea Party members, per se, but groups with degrees of overlapping ideologies.
But the angry rhetoric is not isolated to fringe groups. Both mainstream liberal and conservative camps have joined the chorus, and while some of the language sounds threatening, most of it is protected.