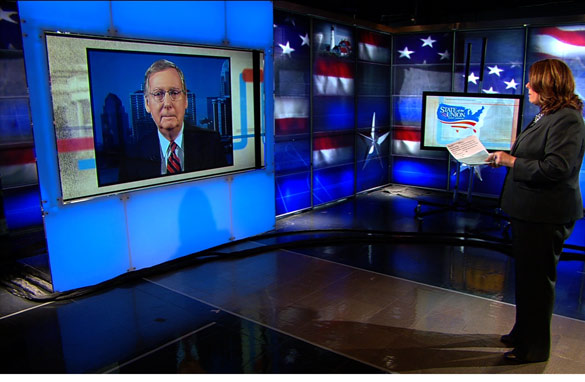 Sen. Mitch McConnell responded Sunday to a personal attack directed at him by President Obama. (Photo Credit: CNN)
Washington (CNN) – A day after President Obama singled him out for personal criticism, the top Republican in the Senate defended his party's claim that the current version of a financial regulatory reform bill contains a mechanism to initiate a bailout of faltering Wall Street giants.
Obama used his weekly Internet and radio address to take a rare personal shot at Senate Minority Leader Mitch McConnell, R-Kentucky. McConnell "made the cynical and deceptive assertion that reform would somehow enable future bailouts – when he knows that it would do just the opposite," the president said.

Related: Obama touts financial reform, says GOP stance 'deceptive'
Appearing on CNN's State of the Union Sunday, McConnell defended the position Senate Republicans have taken on the bill.
"There is a bailout fund in the bill that was reported out of the [Senate] Banking Committee," McConnell said, "the partisan bill that came out of committee on a party line vote. I don't think that's in dispute."

Watch: McConnell responds to Obama
When reminded by CNN Chief Political Correspondent Candy Crowley that the money in the disputed fund would be provided by banks themselves rather than taxpayers, McConnell responded, "Regardless of where the – how the money is produced, it is a bailout fund that sort of guarantees in perpetuity that we'll be intervening once again to bail out these big firms."

McConnell also noted that the administration itself has signaled its willingness late last week to remove the $50 billion from the final version of the legislation. On Friday, all 41 Republican senators sent a letter to Senate Majority Leader Harry Reid, D-Nevada, asking that the current version of the legislation be set aside and that Democrats again initiate bipartisan negotiations with the Republicans. The letter did not threaten a Republican filibuster but suggested that one could be in the offing.

Related: WH scrutinizes liquidation fund in Senate bill
McConnell said his party wants financial regulatory reform.
"I don't know anybody in the Senate who thinks we ought not to pass a bill. The question is: What's it going to look like? We want to make sure that we don't set up a system where whereby we empower the government to continue to do what it's been doing – running banks, car companies . . .The American people are saying we don't want another bailout but they also don't want a kind of perpetual, government massive interventions across the board running private businesses."