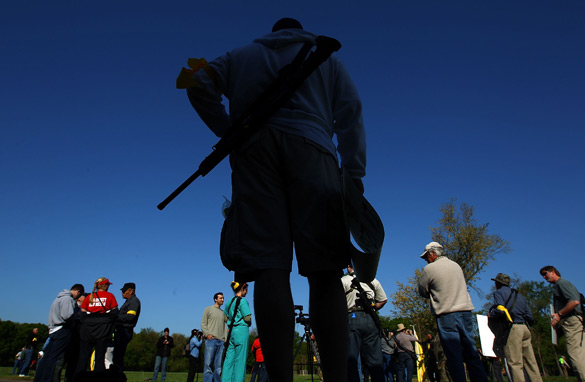 Gun rights groups gather at Fort Hunt Park for an 'Open Carry Rally' April 19 in Alexandria, Virginia. (PHOTO CREDIT: Getty Images)

Washington (CNN) - They're angry at the government and are taking to the Washington area to protest what they see as the trampling of the U.S. Constitution. Their specific fear: Americans' right to bear arms under the Second Amendment will be taken away.
"We're in a war. The other side knows they are at war, because they started it," said Larry Pratt, president of the Gun Owners of America. "They are coming for our freedom, for our money, for our kids, for our property. They are coming for everything because they are a bunch of socialists."
Pratt was one of the speakers at the Second Amendment March in Washington on Monday. The crowd - made up almost entirely of men - used language about war and fighting. But when pressed, they are quick to point out they don't mean actual armed violence.
Pratt said they'll be able to get rid of their opponents and "get some fighters" - election fighters.
"That's why we have some primaries this year, and we need to send them a message that we are coming for the Republican RINOS [Republicans In Name Only], not just the Democrats ... that's the second event in November," he said, referring to midterm elections.