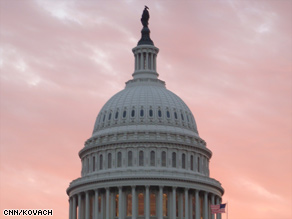 The CNN Washington Bureau's morning speed read of the top stories making news from around the country and the world.
WASHINGTON/POLITICAL
For the latest political news: www.CNNPolitics.com
CNN: Congress divided over financial reform bill
Congress appeared headed for a major partisan showdown over financial regulation reform, with Senate Republicans reiterating their opposition Sunday to a bill that Democrats say will prevent another Wall Street meltdown like the one that precipitated the U.S. recession.
New York Daily News: Who can Wall St. bank on? Schumer and Bloomberg don't play nice over proposed reforms
It's a street fight – Wall Street, that is. Mayor Bloomberg and Sen. Chuck Schumer, the two most powerful pols in New York, are squaring off over how best to protect the city's Golden Goose, its financial services industry. In one corner is Bloomberg, a former bond trader who brands New York's congressional delegation wimps when it comes to publicly sticking up for Wall Street. On the other side is Schumer, the Senate's No. 3 Democrat, who has apparently decided that cheerleading for Wall Street – at a time of extreme voter disgust with the big banks – is a foolish investment of his political capital.

The Hill: Geithner to meet with Collins on reform
Treasury Secretary Tim Geithner will meet with a key centrist Republican on Monday on financial regulatory reform. Geithner will meet Monday afternoon with Sen. Susan Collins (R-Maine) to discuss regulatory reform, which is beginning to advance its way through the Senate. Collins, who is not a member of the Senate Banking Committee, but who is the top Republican on the Appropriations committee's subcommittee on Financial Services and General Government, has been a target of Democratic overtures on financial reform.
Washington Post: Don't be too quick to mistake tea party for Perot movement
The Perot movement is an obvious starting point to try to understand the tea party movement. Both movements began during times of economic distress and were built on growing distrust of, and even anger with, Washington and the federal government. Each shook up the established political order, forcing the two major parties to adapt. Many of the tea party activists are new to politics, as were many of those who supported Perot. But although they share some attitudes and attributes, the tea partiers are not natural descendants of the followers of the quirky billionaire from Texas.
Bloomberg: Oboe-Playing Judicial Artist Diane Wood Eyed for High Court
[Diane] Wood has demonstrated a willingness to challenge her fellow jurists without offending, say lawyers and clerks who have observed her in court. Those attributes may be an asset as President Barack Obama considers her to replace retiring Justice John Paul Stevens on an often-divided U.S. Supreme Court. While Wood's opinions supported abortion rights and separation of church and state, her rulings on business matters aren't easy to pigeonhole.
Investors Business Daily: Democrats May Tax Wall Street To Pay For Fresh Aid To States
The Goldman Sachs (GS) fraud charges Friday may provide timely support to Democrats trying to find the budgetary means for another shot of stimulus for state schools. In a political climate in which battles are erupting over extending unemployment benefits, the Senate is unlikely to find the votes to deficit-finance another dose of funds for schools, even amid warning that state budget crises will trigger widespread teacher layoffs. The most likely funding sources appear to be proposed tax hikes on hedge funds and large financial institutions.

CNN: McCain weighs in on Florida GOP race
Sen. John McCain on Sunday joined a cast of former presidential candidates and high-ranking Republicans to weigh in on Florida's August GOP senatorial primary between Florida Gov. Charlie Crist and former Florida House Speaker Marco Rubio. "I hope that Charlie Crist will remain a Republican," McCain said. Crist has remained vehement that he would not bow out of the Republican primary race and run as an Independent, despite trailing Rubio by as many as 23 points in a recent Quinnipiac University poll.
Philadelphia Inquirer: Pa. primary has become a road show
Never in memory of even the most veteran political observers have candidates for governor spent so much time together on the road in Pennsylvania. With the May 18 primary still a month away, the Democrats – often joined by the two Republicans running for governor – have gathered to discuss campaign issues about a dozen and a half times, with none establishing a clear edge.
San Jose Mercury News: Jerry Brown's call for debate creates fresh buzz in campaign for governor
Jerry Brown accomplished what he set out to do at the state Democratic Party's annual convention this past weekend: He created a fresh buzz around his candidacy for governor. Even at this early stage of the campaign season, Brown was feeling some heat to reassure activists that he was in the game — that he had a plan for addressing the massive wealth advantage held by his likely Republican opponent, Meg Whitman, billionaire ex-CEO of eBay. He did so with a challenge to Whitman and her Republican rival, state Insurance Commissioner Steve Poizner, to hold a series of three-way debates before the June 8 primary — quickly and predictably declined by Whitman and embraced by Poizner, mired deeply behind Whitman in polls.
Los Angeles Times: California Democrats close convention with eye on tough races ahead
California Democrats closed their annual convention in Los Angeles on Sunday in a dour frame of mind, with the country's economic troubles - and resulting voter antagonism - presenting some unusually sharp challenges ahead of November's midterm elections. In California, where Democrats have controlled state politics for a generation, the party faces the additional problem of having to contend with challenges from wealthy Republicans.
Boston Globe: Baker romps, Mihos is out
Massachusetts Republicans gave an overwhelming endorsement to gubernatorial candidate Charles D. Baker at their state convention yesterday, giving him a massive margin that forces GOP rival Christy Mihos out of the race and frees him from what could have been a bitterly divisive primary battle. In an impressive display of support among party leaders and activists, Baker won 89 percent of the delegate votes, while Mihos got 11 percent, falling well short of the 15 percent threshold needed to qualify for the September primary ballot. GOP leaders said Baker's margin was the biggest in recent convention history.
Boston Globe: Brown gets a hero's welcome
Scott Brown has been a US senator for 73 days, but he was greeted by the Republican faithful gathered here yesterday as if he were the prophet who would lead them to the promised land — or at least a return to political relevance on Democratic-dominated Beacon Hill. As his appearance yesterday showed, Brown appears comfortable wearing the mantle of titular party leader in the state as he occupies a unique niche in the nation's political consciousness: a self-described independent Republican from a liberal Democratic state, and a potential swing vote on some issues.
Des Moines Register: Pawlenty in Iowa: Republican party must unite to take power from Democrats
In his second visit to Iowa in six months, Minnesota Gov. Tim Pawlenty said Republican party unity is essential to wrest away power from Democrats who have dangerously expanded the role of federal government. Pawlenty spoke to about 600 people at an Iowans for Tax Relief event in Urbandale on Saturday. Pawlenty is weighing a run for president in 2012, and last visited the state in November.
Seattle Times: Will Rossi run against Murray? Other Senate hopefuls want to know
Among the people Republican Don Benton consulted before announcing his candidacy for the U.S. Senate in early February was Dino Rossi. Rossi, a friend of Benton's and arguably Washington's most prominent Republican, gave no hint that he might have designs on running himself. Then came a spate of polls suggesting that Rossi could be competitive in a race against incumbent Sen. Patty Murray. That in turn prompted national Democrats to dust off the Rossi dossier and even launch a mock campaign Web site depicting him as a financial opportunist who consorts with shady businessmen.
With the Aug. 17 primary looming closer, perhaps no one is more eager for Rossi to make up his mind than the 11 Republicans vying for the opportunity to oust Murray.
Denver Post: Raising money an "unholy" quest in Colorado Senate races
Colorado's next U.S. senator is a job requiring an application fee estimated at up to $15 million. With an eight-figure tab just to get serious consideration for the opening, candidates spend much of each day holed up hustling for money. An underdog like Democrat Andrew Romanoff might spend six hours a day on the phone seeking donations. One fundraising consultant said that before they join a campaign, the candidates must answer a key question: How comfortable are they hounding people for donations? The price of Senate campaigns in Colorado and nationally is soaring.
Washington Post: Massa alleges fraud in campaign payment, salary increase
Former congressman Eric Massa on Saturday denied authorizing a $40,000 payment from his campaign account to a top aide, and he accused the aide of tricking campaign staff to get the money. The New York Democrat also said that someone forged his signature on paperwork in recent months to increase the congressional salary of the aide, Chief of Staff Joe Racalto, from $120,000 to $160,000. Through his attorney, Massa said he would provide information "to the proper authorities."
Lexington Herald Leader: For Grayson, label of 'Republican rising star' now a burden
On one of Republican U.S. Senate candidate Trey Grayson's recent campaign trips, what was supposed to be a meet-and-greet stop at a soda bottling plant quickly became a formal job interview. Suddenly, Grayson and his label of "Republican rising star" seemed out of style. [Rand] Paul's surge in the polls and the popularity of his shrink-the-government philosophy has forced Grayson for the first time in his career to be the aggressive challenger, an unnatural role for him. And it has wedged Grayson into an awkward spot when trying to argue for restrained spending, as opposed to Paul's calls for dramatic cuts and program eliminations to immediately reduce the nation's debt.
NATIONAL
For the latest national news: www.CNN.com
CNN: U.S. military plans against Iran being updated
The Pentagon and U.S. Central Command are updating military plans to strike Iran's nuclear sites, preparing up-to-date options for the president in the event he decides to take such action, an Obama administration official told CNN Sunday. The effort has been underway for several weeks and comes as there is growing concern across the administration's national security team that the president needs fresh options ready for his approval if he were to decide on a military strike, according to the official who is familiar with the effort. In January, Defense Secretary Robert Gates wrote a classified memo to the White House raising concerns about whether the administration had a sufficient policy in place, along with military options, for stopping Iran's progress in getting a nuclear weapon, the official confirmed.
CNN: Schumer: Five major airlines commit to no carry-on fees
Sen. Charles Schumer announced Sunday that several major airlines have promised not to charge passengers for carry-on baggage. Schumer, D-New York, said he personally contacted officials at American Airlines, Delta Airlines, JetBlue, United Airlines and US Airways, and secured commitments from all five companies. Two weeks ago, local carrier Spirit Airlines became the first in the United States to propose charging passengers $45 to store luggage in overhead bins.
INTERNATIONAL
For the latest international news: http://edition.cnn.com


CNN: Officials: Test flights show European skies may be safe
A few dozen test flights Sunday offered hope that the skies over much of Europe may be safe for air travel, but officials made no promises that the massive disruptions due to volcanic ash are about to go away. EU Transport Commissioner Siim Kallas said if the ash cloud continues "moving as it moves, then tomorrow almost 50 percent of European [Union] space will be risk free." That would allow more flights to resume, he said. "But we'll see [Monday] what the picture shows."
BBC News: EU emergency talks called on volcanic ash air chaos
EU transport ministers are to hold emergency talks by video conference on easing the air travel crisis caused by a volcanic ash cloud in Europe's skies. More than 6.8 million passengers have been affected so far, as the crisis enters its fifth day.
New York Times: Poland Mourns, but Some Look Ahead to Elections
About 150,000 mourners bade farewell to President Lech Kaczynski and his wife, Maria, on Sunday in an emotional funeral service here marked by solemnity and a determination never to forget. As the period of mourning and reflection came to a close, the political repercussions began to move to the foreground. Still unclear was whether Mr. Kaczynski's twin brother and former Prime Minister, Jaroslaw, would declare his candidacy in the coming elections.
New York Times: Before Kyrgyz Uprising, Dose of Russian Soft Power
Shortly before the uprising in Kyrgyzstan two weeks ago, online news sites posted a series of hard-hitting exposés accusing the family of President Kurmanbek Bakiyev of skimming money from the public coffers, an allegation that touched a nerve in this poor country and galvanized opposition to his government. When the authorities responded by blocking the Web sites on local servers, complaints came in from the usual places — the Committee to Protect Journalists and Freedom House — but also from an unlikely advocate for free media in the wired world: the Russian Foreign Ministry.
Wall Street Journal: China's $20 Billion Bolsters Chávez
China has promised to lend $20 billion to Venezuela, the country's President Hugo Chávez said over the weekend, underscoring the Asian giant's push to deepen ties to oil-rich nations in the developing world. The credit—which Mr. Chávez said ranks among China's biggest foreign loans ever—shows the growing importance of oil in China's energy mix, and the lengths the fast-growing nation is willing to go to secure it. Once a net oil exporter, China is now the world's third biggest oil importer.
CNN: Second deadly attack in 2 days in Pakistan
A suicide bomber killed seven people Sunday at a police station in Kohat - the same northwest Pakistani town where attackers targeted a camp for displaced people and killed at least 41 a day earlier. Kohat is a town in the North West Frontier Province where the Pakistan military has stepped up its offensive against the Taliban in recent weeks. The fighting has caused a flood of displaced people to pour into camps. More than 250,000 people are registered as internally displaced people in the towns of Kohat and Hangu after fleeing the fighting between government troops and the Taliban in Orakzai and Kurram, two districts in the country's tribal region.
Los Angeles Times: Secret prison for Sunnis revealed in Baghdad
Hundreds of Sunni men disappeared for months into a secret Baghdad prison under the jurisdiction of Prime Minister Nouri Maliki's military office, where many were routinely tortured until the country's Human Rights Ministry gained access to the facility, Iraqi officials say. The men were detained by the Iraqi army in October in sweeps targeting Sunni groups in Nineveh province, a stronghold of Al Qaeda in Iraq other militant groups in northern Iraq. The provincial governor alleged at the time that ordinary citizens had been detained as well, often without a warrant.

CNN: Thai troops tighten security in Bangkok ahead of protest
Amid anticipation of renewed clashes with protesters demanding that the prime minister dissolve the government, hold new elections and leave the country, the Thai military stationed about 1,500 troops along a Bangkok road early Monday, military sources told CNN.
BUSINESS
For the latest business news: www.CNNMoney.com
CNN: U.S. official: Toyota indicates it will pay $16.4 million fine
The Toyota Motor Corp. has indicated to the U.S. government it will pay a $16.4 million fine - the largest ever against an automaker - for failing to notify the Department of Transportation of a "sticky pedal" defect in its cars for at least four months, according to a senior Transportation Department official.
New York Times: Top Goldman Leaders Said to Have Overseen Mortgage Unit
Pressure on Goldman mounted on Sunday as two members of Congress and Gordon Brown, Britain's prime minister, called for investigations into the bank's role in the mortgage market. Germany also said it was considering legal action against the bank. According to these people, executives up to and including Lloyd C. Blankfein, the chairman and chief executive, took an active role in overseeing the mortgage unit as the tremors in the housing market began to reverberate through the nation's economy. It was Goldman's top leadership, these people say, that finally ended the dispute on the mortgage desk by siding with those who, like Mr. [Fabrice P.] Tourre and Mr. [Fabrice P.] Egol, believed home prices would decline.
Wall Street Journal: SEC Probes Other Soured Deals
The Securities and Exchange Commission, after having hit Goldman Sachs Group Inc. with a civil fraud charge, is investigating whether other mortgage deals arranged by some of Wall Street's biggest firms may have crossed the line into misleading investors. The SEC's case against Goldman Friday has exposed an open secret on Wall Street: As the housing market began to wobble a few years back, some big financial firms designed products aimed at allowing key clients, such as hedge funds, to bet on a sharp housing downturn.
CNNMoney: Big week on Wall Street
The first-quarter reporting period kicks into high gear this week, even as investors continue to mull the ramifications of Goldman Sachs' fraud charge and the latest batch of readings on the recovery. News that the Securities and Exchange Commission (SEC) has charged Goldman Sachs (GS, Fortune 500) with fraud involving the way it marketed mortgage-backed securities sent stocks tumbling Friday at the end of a mixed week.
In Case You Missed It
A new "Sesame Street" video helps kids in military families cope with a loved one's death. CNN's Barbara Starr reports.

CNN's Chris Lawrence recaps his embed with U.S. troops in Afghanistan's Helmand province.
Subscribe to the CNN=Politics DAILY podcast at http://www.cnn.com/politicalpodcast
And now stay posted on the latest from the campaign trail by downloading the CNN=Politics SCREENSAVER at http://www.CNN.com/situationroom