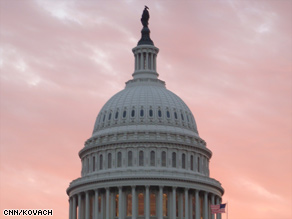 The CNN Washington Bureau's morning speed read of the top stories making news from around the country and the world.
WASHINGTON/POLITICAL
For the latest political news: www.CNNPolitics.com
New York Times: A Finance Overhaul Fight Draws a Swarm of Lobbyists
Assessing the battle to overhaul the nation's financial regulations recently, Jamie Dimon, the chief executive of JPMorgan Chase, left no doubt about the consequences if Congress cracked down on his bank's immense business in derivatives. "It will be negative," he said. "Depending on the real detail, it could be $700 million or a couple billion dollars." With so much money at stake, it is not surprising that more than 1,500 lobbyists, executives, bankers and others have made their way to the Senate committee that on Wednesday will take up legislation to rein in derivatives, the complex securities at the heart of the financial crisis, the billion-dollar bank bailouts and the fraud case filed last week against Goldman Sachs.
Investors Business Daily: Unions Target Moderate Dems For Defeat In Ideological Purge
The 2010 election was already shaping up to be a bloody battle for Democratic incumbents but some now have to worry about friendly fire as well: Big Labor is trying to purge Democrats they don't like. Some unions are backing primary challenges in Colorado and Arkansas. In North Carolina, a union actually is trying to create its own third party. In all cases, unions brush off charges that this would just split the vote. They're fed up with these moderate Democrats.
Cincinnati Enquirer: Tea party activists call foul on GOP
Tea party activists in Ohio are angry at the Ohio Republican Party, saying it is using its resources to keep them from winning seats on the state GOP's 66-member central committee in the May 4 primary. The fight has repercussions not just for the direction of the GOP, but for the hotly contested fall elections for Congress, the General Assembly, and governor.
Dallas Morning News: Wooing Latinos proves tricky for GOP
Political experts say the GOP has had two recurring problems: inconsistency in its courtship of Hispanics and occasional setbacks from problems such as inflammatory rhetoric on immigration. A majority of Hispanics, particularly in the Southwest, have long voted for and identified with the Democratic Party. Exit polls from the 2008 presidential election showed that about two-thirds of Latinos in the country voted for Barack Obama, and polling by the Pew Hispanic Center shows consistent majority Hispanic support for Democrats over the last decade.
CNN: Senate committee subpoenas gov't over Fort Hood shooting
Two top senators on the Homeland Security Committee served the government with subpoenas Monday for witnesses and documents involving the 2009 shooting attack at Fort Hood, Texas, that killed 13 people. Committee chairman Sen. Joseph Lieberman, I-Connecticut, and ranking Republican Sen. Susan Collins of Maine said the Defense Department and Justice Department had so far failed to provide information about the shootings sought by the panel.
CNN: Evangelical leader backs Coats in Indiana
Dr. James Dobson, the influential evangelical and founder of Focus on the Family, is endorsing Republican Dan Coats in the race for Senate in Indiana, the Coats campaign said Monday. In addition to the endorsement, Dobson cut a radio ad on Coats' behalf that is set to run starting on Tuesday.
CNN: Ex-RNC member knocks Republicans in launching House bid
The former Republican National Committee member who resigned his post in protest after a high-profile spending scandal is embarking on a run for Congress in New Hampshire – and he's attacking his own party in the process. Though his entry into the race against Democratic Rep. Carol Shea-Porter was expected, Portsmouth businessman Sean Mahoney officially joined the crowded GOP field on Monday with a Web video attacking not just Shea-Porter, but also the Republican Party that he claims "abandoned" him.
New Orleans Times Picayune: Campaign spokesmen for David Vitter, Charlie Melancon both have Iowa ties
The U.S. Senate race between incumbent Republican David Vitter and Democratic challenger Charlie Melancon promises to be a brutal bayou classic. But beneath the surface, the contest also has the makings of an Iowa smackdown. The campaign spokesmen for both Vitter and Melancon cut their political teeth in the Hawkeye state.
Lexington Herald Leader: Grayson nabs endorsement from Giuliani
Republican Trey Grayson's campaign for U.S. Senate has picked up the endorsement of former New York City Mayor Rudy Giuliani, who said Grayson will keep America safe. David Adams, campaign manager for Paul, who is the son of U.S. Rep. Ron Paul, R-Texas, dismissed the Giuliani endorsement. Grayson is trailing Paul by double digits in public opinion polls.
Los Angeles Times: Obama visits L.A. for Boxer fundraiser; trip denounced by GOP
In a foray that underscored the tough reelection battle facing Sen. Barbara Boxer, President Obama visited Los Angeles on Monday for a set of fundraisers expected to raise nearly $3.5 million for the three-term senator and the Democratic National Committee. Obama mixed support for Boxer with defense of his own leadership, arguing that although there would be "some hard days ahead" for the nation, signs of progress abound: The economy is expanding, businesses have begun hiring and tax revenue is edging up.
The Hill: Gay rights protesters interrupt Obama speech at fundraiser
Gay rights protesters interrupted President Barack Obama's speech at a fundraiser for California Sen. Barbara Boxer (D) Monday night in Los Angeles. Activists from a group called GetEQUAL began shouting at Obama while he was speaking at the podium. They expressed frustration over the slow progress of repealing the ban on openly gay people serving in the military.
CNN: National Republicans preparing to back Rubio
The top political strategist for Senate Republicans urged key GOP consultants Monday to persuade Florida Gov. Charlie Crist to forgo an independent bid for Senate if he withdraws from the Republican primary, CNN has learned. Crist, the onetime frontrunner for the Republican Senate nomination, trails Rubio by double-digits in recent polls and must decide by the end of the month whether to run as an independent. The Florida primary is scheduled for August 24.

New York Post: Bloomberg learned of Obama visit from the news
Mayor Bloomberg learned from reading about - not from the White House - that President Obama is heading to the Big Apple on Thursday to talk about Wall Street reform at Cooper Union. The whole thing suggests that City Hall wasn't given a heads-up about the visit. Bloomberg has been less than warm and fuzzy about the proposed Wall Street crackdown by the Obama administration - saying it could hurt the city disproportionately.
CNN: Rubio: Obamacare different than Romneycare
With Mitt Romney in Florida Monday to endorse his Senate bid, Marco Rubio spoke charitably about the health care plan that Romney passed as governor of Massachusetts – a plan many conservatives have called a blueprint for the health care bill recently signed into law by President Obama.
Chicago Tribune: Mayor Emanuel?
He has been equivocal on the subject in the past, but on Monday night White House chief of staff and native Chicagoan Rahm Emanuel made no bones about it: He wants to be the mayor of Chicago.
NATIONAL
For the latest national news: http://www.CNN.com
CNN: Arizona bill tells police to check immigration status
The Arizona state Senate on Monday passed an extensive immigration bill that is widely considered to be some of the toughest immigration legislation in the nation, requiring police officers to determine whether a person is in the United States legally. Currently, officers can only take that route if a person is suspected in another crime.
Arizona Republic: Presidential 'birther bill' advances in state House
The so-called "birther bill" won initial approval from the House of Representatives on Monday, advancing legislation that would require presidential candidates to produce a birth certificate before they can make the ballot in Arizona. The legislation originated from a fringe group that believes President Barack Obama is not a natural-born citizen of the United States and therefore ineligible to be president. Similar laws have been proposed in Oklahoma, Florida and Missouri. None have been signed into law.
CNN: Obama to eulogize 29 lost miners
President Barack Obama and Vice President Joe Biden will travel to West Virginia Sunday for a memorial service for the 29 miners who perished at Upper Branch mine, the White House Press spokesman said Monday. Obama will deliver a eulogy at the memorial "honoring the lives of those who perished and offering his deepest condolences to the loved ones they left behind," Robert Gibbs said in a statement.

CNN: Gun rights advocates rally in Washington, Virginia
They're angry at the government and are demonstrating in the Washington area against what they see as the trampling of the Constitution. Their specific fear: Americans' right to bear arms under the Second Amendment will be taken away. In Virginia, it is legal to openly carry certain weapons. But it is illegal to openly carry a weapon in the District of Columbia.
CNN: Poll cites rising distrust of government in America
Most Americans distrust the government these days, and the reasons have more to do with current economic and political conditions than personal ideology, according to polling by the Pew Research Center. The results posted Sunday on the Pew Web site were similar to a CNN poll in February that found about one in four Americans trust the federal government to do what's right.
INTERNATIONAL
For the latest international news: http://edition.cnn.com
CNN: Officials: Al Qaeda in Iraq leaders killed
The two most senior leaders of al Qaeda in Iraq have been killed in a joint Iraqi-U.S. operation, officials announced Monday. The deaths of Abu Ayyub al-Masri and Abu Omar al-Baghdadi deal "a potentially devastating blow" to the terrorist group, the U.S. military said. "The death of these terrorists is potentially the most significant blow to al Qaeda in Iraq since the beginning of the insurgency," the commander of U.S. Forces-Iraq, Gen. Raymond Odierno, said in a news release.
BBC News: US summons Syrian envoy over Hezbollah
The US has summoned Syria's most senior diplomat to review its "provocative behaviour" concerning the potential transfer of weapons to Hezbollah. The state department told the deputy chief of mission in Washington, Zouheir Jabbour, that it condemned the arming of the Lebanese Shia Islamist group. Particular concern was raised about the possible transfer of Scud missiles.
CNN: 10-year-old's pregnancy fuels Mexican abortion debate
A pregnant 10-year-old, allegedly raped by her stepfather, has become the latest lightning rod in the country's heated abortion debate. The girl's stepfather has been arrested. But advocates on both sides of the issue say their battle is just beginning. Abortion is legal in Mexico's capital city, but prohibited or significantly restricted in most of the country's states.
Times of London: Former Thai Prime Minister begs king to intervene as impasse continues
A senior Thai politician pleaded with the country's king to intervene in the political crisis yesterday, as the Army warned that soldiers were prepared to use live rounds against anti-government demonstrators. Chavalit Yongchaiyudh, a retired general and former Prime Minister, called for 82-year old Bhumibol Adulyadej to step in to bring an end to the impasse, which has paralysed central Bangkok and led to the deaths of 23 people.
CNN: New ash cloud could extend air travel threat
The eruption of an Icelandic volcano, which had slowed in recent days, strengthened Monday, spewing a new cloud of ash that officials said was heading toward the United Kingdom, possibly posing a renewed threat to air travel. Authorities warned that Tuesday's reopening will not bring air traffic to its usual levels. European Union officials agreed to a plan involving three zones: one that remains closed, one open to all flights and one open only to certain flights.
Bloomberg: India Raises Interest Rates Second Time in a Month
India's central bank raised interest rates for the second time in a month and ordered lenders to set aside more cash as reserves, seeking to slow the highest inflation rate among Group of 20 nations. The Reserve Bank of India increased its three policy rates by a quarter point each, it said in a statement in Mumbai today.
CNN: Ousted Kyrgyz president on the move
Four days after fleeing his country to neighboring Kazakhstan, Kyrgyzstan's deposed president Kurmanbek Bakiev is once again on the move, this time to an undisclosed location. "He [Bakiev] left on Sunday. I can't say where he went," said Ilyas Omarov, a spokesman for Kazakhstan's foreign ministry. Bakiyev was overthrown earlier this month after a day of bloody clashes between police and protesters in the Kyrgyz capital Bishkek left scores of people dead.
BUSINESS
For the latest business news: www.CNNMoney.com
New York Times: A Difficult Path in Goldman Case
In accusing Goldman Sachs of defrauding investors, regulators are not only taking aim at a company with deep pockets and a will to fight — they are also pursuing an unusual claim that could be difficult to prove in court, legal experts said. Rather than asserting that Goldman misrepresented a product it was selling, the most commonly used grounds for securities fraud, the Securities and Exchange Commission said in a civil suit filed Friday that the investment bank misled customers about how that product was created.
CNNMoney: Toyota recalls Lexus GX 460 SUVs
Toyota Motor Corp. has announced a recall of 2010 model year Lexus GX 460 SUVs related to an increased risk of rollover. The recall covers about 9,400 SUVs in the United States. Worldwide, about 34,000 vehicles are covered - including about 21,000 Land Cruiser Prados, a model not sold in the United States.
CNNMoney: Iceland volcano ash costing U.S. airlines $20 million a day
The enormous ash cloud from an Icelandic volcano that has shut down European air space is costing U.S.-based airlines tens of millions of dollars per day, according to an analysis from an airline expert. The five largest U.S.-based international carriers - Delta Air Lines (DAL, Fortune 500), UAL Corp.'s (UAUA, Fortune 500) United Airlines, AMR Corp.'s (AMR, Fortune 500) American Airlines, Continental Airlines (CAL, Fortune 500) and US Airways (LCC, Fortune 500) - are collectively losing $21.9 million per day, according to Robert Herbst, analyst and founder of AirlineFinancials.com.
Wall Street Journal: Google Attackers Gained Access to Computer Code
Attackers who breached Google Inc.'s systems last year gained access to computer code for the software that authenticates users of Google's email, calendar and other online programs, according to a person familiar with the matter. The code was contained in a repository that contained code for Google's online applications and was also breached, this person said. The disclosure comes as much about the nature of the attacks and the perpetrators behind it remain unclear.
Politico: Goldman Sachs taps ex-W.H. counsel
Goldman Sachs is launching an aggressive response to its political and legal challenges with an unlikely ally at its side — President Barack Obama's former White House counsel, Gregory Craig. The beleaguered Wall Street bank hired Craig — now in private practice at Skadden, Arps, Slate, Meagher & Flom — in recent weeks to help in navigate the halls of power in Washington, a source familiar with the firm told POLITICO.
In Case You Missed It
CNN's Barbara Starr looks at the hurdles the U.S. military faces flying wounded troops out of Afghanistan and Iraq.
Former Governor Frank Keating talks about anger in America 15 years after the Oklahoma City Bombing with CNN's John King.
Subscribe to the CNN=Politics DAILY podcast at http://www.cnn.com/politicalpodcast
And now stay posted on the latest from the campaign trail by downloading the CNN=Politics SCREENSAVER at http://www.CNN.com/situationroom