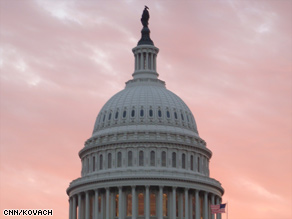 The CNN Washington Bureau's morning speed read of the top stories making news from around the country and the world.
WASHINGTON/POLITICAL
For the latest political news: www.CNNPolitics.com
CNN: Goldman Sachs was a top Obama donor
For Goldman Sachs, a large financial investment in President Obama does not appear to be paying off. Wall Street's top investment bank was a generous contributor to Obama's presidential campaign.
The Hill: GOP probes whether Goldman charges were politically timed
A top House Republican wrote the Securities and Exchange Commission (SEC) on Tuesday to request documents on whether the commission deliberately timed filing its charges against Goldman Sachs. Rep. Darrell Issa (Calif.), the top Republican member of the House Oversight and Government Reform Committee, wrote SEC Chairwoman Mary Schapiro, asking for evidence as to whether the SEC timed announcing their fraud case against the Wall Street giant to coincide with congressional Democrats' bid to overhaul the nation's financial regulatory infrastructure.
Washington Post: Once critical of financial regulation bill, Republicans change their tone
Key Senate Republicans on Tuesday began to back away from their sharp criticism of proposed new financial regulations and expressed optimism that a bipartisan deal on a bill that would drastically change the way Wall Street operates could emerge in the coming days. After a week of attacking the proposals as paving the way for new taxpayer "bailouts," Minority Leader Mitch McConnell (R-Ky.) said on the Senate floor that he was "heartened to hear that bipartisan talks have resumed in earnest." The change in tone came as the Security and Exchange Commission's lawsuit against Goldman Sachs for allegedly defrauding investors continued to dominate headlines, underscoring public anger at Wall Street and reminding lawmakers of the potential consequences of inaction.
CNN: GOP to unveil campaign pledge after Labor Day
House Republican candidates will be encouraged, but not forced, to sign on to the policy blueprint being crafted by GOP leaders for the midterm elections that's being compared to the 1994 "Contract with America." That set of promises and principles from 16 years ago is widely seen as one of the reasons Republicans succeeded in knocking entrenched Congressional Democrats out of power.
CNN: Stevens gets presidential birthday note
President Obama penned a birthday letter to retiring Supreme Court Justice John Paul Stevens on Tuesday. Obama, who is reportedly reaching out this week to possible candidates to succeed Stevens, wished the high court judge much happiness moving forward.
CNN: Source: Obama having informal talks with Supreme Court candidates
President Obama has been privately reaching out this week to candidates for the Supreme Court vacancy, an administration source told CNN on Tuesday. The source, who is involved in the ongoing selection process, characterized the talks as "conversations," not formal in-person interviews that are often the last step before a nominee is chosen and announced.
Los Angeles Times: Obama falters on immigration reform promises
A White House commitment to overhaul the nation's immigration system this year is collapsing, with the Obama administration undecided about the best way to proceed on an issue the president had identified as a top priority. Immigration advocates fear the White House is doing the bare minimum needed to appease Latino voters before the midterm elections in November, while concentrating its efforts on issues it considers more urgent.
CNN: Obama calls Scott Brown to start immigration reform push
President Obama called Sen. Scott Brown, R-Massachusetts, on Tuesday afternoon to try to get him on board with Democrats hoping to pass immigration reform, Brown's spokeswoman Gail Gitcho told CNN. Gitcho said Brown told the president he would review the proposal, but made no commitment.
Los Angeles Times: Hewlett-Packard probe roils California U.S. Senate race
An international investigation of alleged misdeeds by Hewlett-Packard executives while the company was headed by Carly Fiorina is roiling the U.S. Senate race in California, where Fiorina is among the front-runners for the Republican nomination. The actions are alleged to have taken place while Fiorina was Hewlett-Packard's chief executive. Fiorina, who along with former Rep. Tom Campbell has been at the top of pre-primary polls, denied knowledge of wrongdoing.
Lexington Herald-Leader: Lesser-known GOP candidates for U.S. Senate struggle for recognition
One sings at unexpected times. One promises to be out of the U.S. Senate before his 103rd birthday. And another says he's been waterboarded. This off-beat trio of Republican U.S. Senate candidates, who haven't had luck raising millions of dollars for their campaigns, struggled until a forum earlier this month in Knox County to even get on the same stage with the front-runners. Gurley L. Martin, an 86-year-old World War II veteran, made such a fuss at being excluded from participating in a February candidates' forum in Paducah that he was escorted out by a sheriff's deputy.
Pittsburg Post-Gazette: Specter, Sestak debut dueling TV ads in Senate race
The campaign for the Senate opened on a new front on Tuesday as Rep. Joe Sestak, the Democratic challenger, introduced himself to Pennsylvania viewers in the face of a barbed attack by incumbent U.S. Sen. Arlen Specter. The dueling messages made it clear that in the next month, Mr. Sestak would be competing with his well-known opponent to define himself among a majority of Democratic voters still unfamiliar with him.
Indianapolis Star: GOP debate finds agreement on values
Searching for the candidate who's against new taxes and liberal activists on the Supreme Court, who's ready to slash the federal budget and fight for the right to bear arms? Take your pick. The five Republicans who want to be Indiana's next U.S. senator showed in Tuesday night's debate that the biggest differences among them lie more in their resumes than their similar conservative views.
Detroit Free Press: Ad targets Cox in Manoogian probe
A radio attack ad targeting Attorney General Mike Cox for his role in the investigation of the alleged stripper party at the Manoogian Mansion was launched this morning in several markets across Michigan by a shadowy nonprofit organization based in Washington, D.C. There has been wide speculation in Michigan political circles about what effect Cox's association with the Kilpatrick scandal would have on his campaign for governor. Cox himself as likened it to "gum on my shoe." But the radio ad is the first direct attack to make the link, asking, "Urban legend? Or an Urban coverup?"
Chicago Tribune: Ex-Gov. Rod Blagojevich challenges U.S. Attorney Patrick Fitzgerald to court showdown
Former Gov. Rod Blagojevich strutted up to a bank of microphones outside his lawyers' offices in jeans, a blazer and television makeup Tuesday and all but challenged U.S. Attorney Patrick Fitzgerald to a duel at 10 paces. Fitzgerald lied about him engaging in a crime spree, Blagojevich steamed, promising to appear in federal court Wednesday at high noon to push a renewed defense bid to play every tape secretly made of his conversations during the corruption investigation of his administration.
Palm Beach Post: Another Crist pal jumps campaign ship
Rep. Tom Grady resigned as Gov. Charlie Crist's regional campaign chairman today and quit his finance team. Grady, a Naples Republican who was elected to the House in 2008 at Crist's urging, is the latest GOP ally to distance himself from Crist and his U.S. Senate campaign after Crist admitted he is considering abandoning the Republican primary race against former House Speaker Marco Rubio and running instead in the general election in November with no party affiliation.
Politico: Charlie Crist's dilemma: Fight, bail or bolt
Facing a gaping deficit in the polls, a clock ticking ever closer to the filing deadline, and a rush to the exits by donors and onetime allies, the gilded political career of Florida Gov. Charlie Crist is dangerously close to expiration. One day after pulling his TV advertising and declaring that he was actively considering athird-party Senate bid, Crist now faces only disagreeable options: soldier on in a GOP Senate primary that he very likely cannot win, drop out in an attempt to salvage his future prospects or bolt the party to run as an independent.
Washington Post: Both national party committees spend big chunks on fancy meals, hotels, travel
Both the national Democratic and Republican party committees spend about two-thirds of the money they take in on the care and comfort of committee staffs and on efforts to raise more funds, with lavish spending on limousines, expensive hotels, meals and tips, an analysis of the latest financial disclosure data shows. Neither committee appears to have clear internal spending guidelines, and their reports do not explain hefty expenditures in categories such as "office supplies" and "tips" that consume tax-exempt party funds.
Hotline On Call: RNC Spent $340K On Hawaii Meeting
The RNC spent more than $340K at a semi-annual meeting in Honolulu in Jan., the latest example of the party spending lavishly on itself while GOP officials worry they won't have enough money to take advantage of a promising national landscape this fall.
St. Petersburg Times: U.S. attorney, IRS and FBI investigating Florida GOP credit card use
Federal law enforcement agencies have launched a criminal investigation into the use of American Express cards issued by the Republican Party of Florida to elected officials and staff, according to sources familiar with the inquiry. The U.S. Attorney's Office in Tallahassee, the FBI and the Internal Revenue Service are all involved in the inquiry, which grew out of the state investigation into former House Speaker Ray Sansom.
NATIONAL
For the latest national news: www.CNN.com
CNN: Ex-military leaders: Young adults 'too fat to fight'
More than a quarter of young adults are unable to meet physical requirements to join the military, creating a potential threat to national security, a group of retired armed forces leaders said Tuesday. About 27 percent of young adults are medically ineligible for the military, according to Mission: Readiness, a group of retired admirals, generals, and other senior military leaders.
New York Times: Texas Town Adjusts to Life Without Bush
The first thing you see when you arrive in this minuscule town is a defunct curio store where people once bought souvenirs of their visit to President George W. Bush's adopted hometown. Long gone are the days when this town of 750 people played host to foreign heads of state or teemed with journalists, protesters and White House officials. And as Mr. Bush has settled into a quiet retirement in Dallas, appearing rarely and seldom speaking about politics, so too has this town near which he spent his vacations in office.
Investors Business Daily: Cash-Poor States Betting Gaming Will Help Fill Empty Treasuries
Forget recent losing streaks in Las Vegas and Atlantic City. Bets are on for new gambling ventures in many states. New measures have recently been approved or are being mulled in Pennsylvania, Ohio, Delaware, Massachusetts, New Hampshire and many others. Gambling is often seen as more palatable than raising taxes or cutting services, something states are also doing. And new jobs are created. But the industry may be reaching saturation, observers say.
CNN: Supreme Court strikes down law banning dogfight videos
The Supreme Court has struck down a federal law designed to stop the sale and marketing of videos showing dogfights and other acts of animal cruelty, saying it is an unconstitutional violation of free speech. The 8-1 decision was a defeat for animal rights groups and congressional sponsors of the unusual legislation.
CNN: Woman, children make rare appearance in Gambino indictment
New York's Gambino crime family might have hit a new low by allegedly introducing underage prostitution into its operations, authorities say, but just as shocking to some was the appearance of a female among the list of defendants in a federal indictment unsealed Tuesday. Suzanne Porcelli, 43, was the only female among 14 reputed Gambino crime family members and associates indicted on charges including racketeering, murder, sex trafficking of a minor, extortion and drug trafficking. Thirteen defendants including Porcelli entered not guilty pleas on Tuesday, according to the U.S. attorney's office, and they are expected to appear Wednesday before a federal judge who has been appointed to the case.
INTERNATIONAL
For the latest international news: http://edition.cnn.com
BBC News: Chaos persists as Europe flights resume
Hopes that UK flights would soon return to normal have been undermined by a second volcanic ash cloud in Iceland. Chances to operate planes at many UK airports have been short-lived, and only a few flights have taken place. Airlines said the restrictions were an overreaction, but the government said safety was its absolute priority.
Bloomberg: Greece Aid Talks to Begin; IMF Signals Threat From Rising Debt
Greece begins talks today on activating a 45 billion-euro ($61 billion) emergency aid package as the International Monetary Fund called the country's fiscal crisis a "wake-up call" on sovereign-debt risks. Greek officials will join counterparts from the euro- region, the IMF and the European Central Bank to begin hammering out the deficit-cutting measures Greece will have to accept to be able to tap the funds. The government needs to raise about 10 billion Euros before the end of May, and its soaring financing costs are lending urgency to the talks.
CNN: China pays tribute to quake victims
China lowered flags to half staff and pulled all entertainment programming from the airwaves Wednesday to mourn more than 2,000 people killed during last week's earthquake in the country's northwest, Chinese media reported. The death toll has risen to 2,064 from the quake that struck the impoverished county of Yushu last week. Another 175 people remain missing and 12,135 were injured, rescue headquarters said, according to the newspaper.
Times of London: Pakistan military fails to woo tribal allies under grip of Taleban
The region has been described by the US President as the most dangerous place in the world. No one who lives here would disagree. Pakistan's rugged tribal areas are now in the fourth year of a fierce struggle that shows little sign of ebbing and every indication that the daily toll in lives will continue to grow. The impact is starting to show on the deeply conservative Pashtun population that straddles the mountainous frontier between Pakistan and Afghanistan. Which way they turn could decide the future of the American campaign and ultimately the fate of this country.
CNN: Youths in terror trial allege mistreatment in Pakistan
Pakistani authorities are denying a renewed claim that five Americans being held on terrorism charges were tortured into confessing. Amal Khalifa, the mother of one of the suspects, said her son Ramy Zamzam detailed his claims during her recent visit to him in a Pakistani prison and in a letter. In January, the deputy superintendent of the district jail in Pakistan, Aftab Hanif, told CNN that nobody had touched the suspects, and their allegations of mistreatment were false.
BBC News: Argentina ex-dictator Gen Bignone jailed for 25 years
Argentina's former military ruler Reynaldo Bignone has been sentenced to 25 years for human rights abuses committed almost three decades ago. Gen Bignone, 82, ordered abductions and torture while second in command of the country's largest torture centre between 1978 and 1979.
BUSINESS
For the latest business news: www.CNNMoney.com
Wall Street Journal: Debt 'Masking' Under Fire
The Securities and Exchange Commission is considering new rules that would prevent financial firms from masking the risks they take by temporarily lowering their debt levels before quarterly reports to the public are due. The SEC is weighing requiring stricter disclosure and a clearer rationale from firms about their quarter-end borrowing activities. The agency may also extend these rules to all companies, not just banks. Excessive borrowing by banks is widely considered to be one of the causes of the financial crisis, leading to bank runs in 2008 on firms including Bear Stearns Cos. and Lehman Brothers.
CNNMoney: Apple delivers blowout quarter as iPhone sales surge
Buyers just can't get enough of Apple's gadgets. The company sold almost 11 million iPods last quarter and doubled its iPhone sales from this time last year, selling a record 8.8 million smartphones during the quarter ended March 27. Those sales helped Apple on Tuesday report a profit of $3.1 billion on revenue of $13.5 billion, blowing past Wall Street's expectations. And analysts think there's more record-breaking to come.
USA Today: Yahoo profit nearly triples, tops analyst views
Yahoo's (YHOO) first-quarter earnings nearly tripled as the Internet company's revenue edged up for the first time in more than a year. The results released Tuesday represented Yahoo's best quarterly performance since it hired CEO Carol Bartz to engineer a turnaround 15 months ago. The performance reflected an upturn in online advertising, the main source of Yahoo's income. Advertisers have been spending more freely in recent months amid signs that the U.S. economy has emerged from its worst recession in more than 70 years.
CNNMoney: Ash cloud grounds U.S. produce, fish and parts
From California produce to New England seafood, the ash cloud from the Iceland volcano is taking its toll on U.S. businesses. Air traffic to and from Europe has been disrupted for days, and that is keeping goods grounded.
In Case You Missed It
The U.S. steps up its military planning should President Obama order strikes against Iran. CNN's Barbara Starr reports.
CNN's Dana Bash asks Sen. Harry Reid about reports of a fund-raiser he held for Wall Street executives.
Subscribe to the CNN=Politics DAILY podcast at http://www.cnn.com/politicalpodcast
And now stay posted on the latest from the campaign trail by downloading the CNN=Politics SCREENSAVER at http://www.CNN.com/situationroom