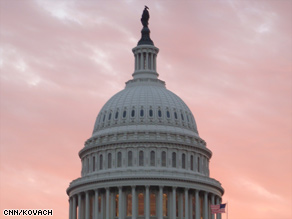 The CNN Washington Bureau's morning speed read of the top stories making news from around the country and the world.
WASHINGTON/POLITICAL
For the latest political news: www.CNNPolitics.com
CNN: Senate panel approves Wall Street reform bill
A Senate committee on Wednesday passed a proposal aimed at helping protect the economy from future meltdowns and taxpayers from more Wall Street bailouts. The Senate Agriculture Committee voted 13-8 in favor of the bill, which would impose regulations on the complex system of Wall Street trades known as derivatives.
CNN: Stronger role by Obama on reform may be yielding results
President Barack Obama appears to have learned one lesson from the bruising fight over health care reform. Now pushing the second major reform initiative of his presidency – this time to strengthen regulations on the financial industry – Obama is taking a more visible leadership role. In recent days, the president has pushed hard for the measure by backing specific provisions and criticizing the Senate's top Republican for what Obama called spreading misinformation. On Thursday, Obama heads to New York for a speech at historic Cooper Union to call for quick congressional approval of financial regulation reforms to prevent another Wall Street meltdown like the one in 2008 that helped cause the widespread recession.
CNN: House ethics panel launches formal Massa investigation
The House ethics committee launched a formal investigation Wednesday into sexual harassment allegations involving former Democratic Rep. Eric Massa, D-New York, elevating the preliminary investigation the committee began in March. House Majority Leader Steny Hoyer was interviewed on Wednesday by the committee, according to his spokeswoman, Katie Grant, who told CNN that Hoyer's testimony was voluntary.
CNN: 'Chickens for Checkups' website mocks GOP candidate
Nevada Senate candidate Sue Lowden has been blasted by critics and become the butt of a joke by late-night host Jay Leno. Now Democrats in Washington are mocking her recent proposal – that patients should "barter" with doctors to lower their health care costs – with a new website.
Las Vegas Sun: They said it and they meant it — really
The U.S. Senate race is sure to be long and entertaining, if this week is any guide. Both Republican front-runner Sue Lowden, a wealthy casino owner, and Senate Majority Leader Harry Reid are making life easy for each other's press shops.
CNN: Sen. Blanche Lincoln cancels Goldman fundraiser in works for Monday
Senator Blanche Lincoln, D-Arkansas, has cancelled a New York fundraiser that had been works for Monday with Goldman Sachs executives, and is now vowing not to take any more campaign cash from the embattled Wall Street giant. However, Lincoln still has no plans to give back campaign money she has already raised from Goldman Sachs. Lincoln told CNN Tuesday she would not return $4,500 dollars her re-election campaign has already received from Goldman Sachs' political action committee.
CNN Poll: Will Obama name a liberal to Supreme Court?
A majority of Americans expect President Obama to appoint a liberal to the Supreme Court, but only one in four want that to happen, according to a new national poll. A CNN/Opinion Research Corporation survey released Wednesday indicates that 61 percent of the public expect the president to nominate a liberal to replace John Paul Stevens on the Supreme Court. Meanwhile, 21 percent said the president will name a moderate and 16 percent predicted that Obama will nominate a conservative.
CNN: Sessions walks fine line about diversity on the Supreme Court
The Ranking Republican on the Senate Judiciary Committee said Wednesday that racial or ethnic background can be a "positive factor" for the next Supreme Court nominee but it should not be a "primary" consideration. Sen. Jeff Sessions, R-Alabama, met earlier in the day with President Obama and other Senate leaders at the White House to discuss replacing retiring Supreme Court Justice John Paul Stevens.
Chicago Sun Times: GOP chairman: African-Americans not given good reason to vote for party
Why should an African-American vote Republican? "You really don't have a reason to, to be honest - we haven't done a very good job of really giving you one. True? True," Republican National Chairman Michael Steele told 200 DePaul University students Tuesday night. Steele - a former Maryland lieutenant governor and seminarian serving as the first African-American head of the Republican Party - offered a frank assessment of the American political system.


CQ Politics: Reeding the Tea Leaves in Minnesota's 6th District
Physician Maureen Reed (D) has devoted a whole section of her campaign website to explaining how she can defeat Rep. Michele Bachmann (R-Minn.) in November. But the more immediate question is how she can get through a Democratic primary against state Sen. Tarryl Clark, who has been embraced by virtually all segments of the party's establishment. Reed, the well-connected former chairwoman of the University of Minnesota's Board of Regents, insists she is the only one who can beat Bachmann, which she is making her central pitch to primary voters.
St. Petersburg Times: Jim Greer charged big on Florida GOP credit card
Reeling from a criminal probe into the Florida GOP's finances, Republican leaders finally got a peek Wednesday at the spending habits of the man at the center of the long-running scandal: Jim Greer. Board members of the scandal-rocked state GOP are scheduled to meet behind closed doors Friday, where they will likely discuss not only the ongoing IRS and federal criminal investigations but also whether to release the credit card statements of all party leaders and staffers. Board members this week received only Greer's statements.
Miami Herald: Ethical question forces Rep. Ileana Ros-Lehtinen to cancel fundraiser
Rep. Ileana Ros-Lehtinen, the top Republican on the House Foreign Affairs Committee, scrapped an upcoming fundraiser after a Capitol Hill newspaper questioned the invite that asked participants to join an advisory council - for a $2,500 campaign contribution. Watchdog groups say the offer appears to violate House ethics rules that say a lawmaker should not "sponsor or participate in any solicitation that offers donors any special access to the member in the member's official capacity."
Lexington Herald-Leader: Conway embracing role of 'real Democrat'
[Attorney General Jack] Conway's odds in the U.S. Senate race are not as long as Stately Victor's will be in the Derby. He thinks he'll win because Kentucky voters want a "real Democrat" in the race, someone who stands up for better health care and more jobs without splitting Kentucky in an urban versus rural divide, which he accuses Mongiardo of doing. Still, the question remains whether he has the political skills to overcome Mongiardo's "silver spoon" rhetoric and more conservative voters outside the Golden Triangle who seem increasingly skeptical about President Barack Obama and the direction of the Democratic Party.
Washington Post: Prominent Republicans making more endorsements in primary races
You might think that no sensible Republican with presidential ambitions would wander into a blood feud within the party. This year, you would be wrong. The likely contenders for the 2012 GOP nomination have been sprinkling their marquee-worthy endorsements in an unusually large number of bitter primary contests across the country. This is turning out to be a year when any association with Washington and the political establishment can be toxic.
CNN: GOP candidate in battle to succeed Murtha gets more support
FreedomWorks announced Wednesday that it's backing Tim Burns, the Republican candidate running in the May 18 special election for the House seat of the late Rep. John Murtha. FreedomWorks' political action committee and the organization's chairman, former top House Republican Dick Armey, officially endorsed Burns. FreedomWorks is a nonprofit conservative organization that helps train volunteer activists and has provided much of the organizational heft behind the Tea Party movement.
NATIONAL
For the latest national news: www.CNN.com
Arizona Republic: Arizona immigration bill: Police chiefs criticize measure
Police chiefs from across the nation jumped into Arizona's immigration battle Wednesday. During a telephone press conference, four chiefs – including former Mesa Chief George Gascón – criticized the proposed immigration law
the state Legislature passed. The bill now awaits Gov. Jan Brewer's signature. Brewer has until the end of the day Saturday to decide if she'll sign Senate Bill 1070, veto it or do nothing and allow it to become law. Gascón said the bill would have "catastrophic impacts" on policing in Arizona and beyond.
CNN: At least 11 missing after blast on oil rig in Gulf
The U.S. Coast Guard launched a major search effort Wednesday for 11 people missing after a "catastrophic" explosion aboard an oil rig in the Gulf of Mexico engulfed the drilling platform in flames. Another 17 people were injured - three critically - in the blast aboard the Deepwater Horizon, which occurred about 10 p.m. Tuesday. As of late afternoon Wednesday as many as six firefighting vessels were working to contain the massive fire caused by the explosion.
CNN: Black farmers call on Congress to pay racial bias settlement
African-American farmers hoping for government settlement money in a racial bias case met with lawmakers Wednesday and called on Congress to come up with a way to fund the $1 billion deal. Litigation known as the Pigford Case established a longstanding pattern of discrimination at the U.S. Agriculture Department against African-American farmers who had applied for farm loans and support from federal programs.
INTERNATIONAL
For the latest international news: http://edition.cnn.com
CNN: Iran begins military drill in Persian Gulf
Iran began a massive air, land and sea exercise Thursday in the Persian Gulf aimed at showcasing the Islamic regime's military strength, state-run media reported. Dubbed the "Great Prophet 5," the military maneuvers conducted by the Islamic Revolution Guards Corps fall on the 31st anniversary of the elite force and are designed to demonstrate new weapons systems.
CNN: Russia, Ukraine agree on naval-base-for-gas deal
Russia's president and the newly elected president of Ukraine signed a landmark agreement on Wednesday that signals an end to years of enmity between the two former Soviet republics. Russia agreed to a 30 percent drop in the price of natural gas sold to Ukraine, in exchange for permission to extend Russia's lease of a major naval base in the Black Sea port of Sevastopol, Ukraine, for 25 years.
CNN: Tense standoff continues in Thailand
Tensions spiked in the commercial center of the Thai capital as a volatile standoff continued Thursday between anti-government protesters and large numbers of combat-gear-clad troops on the streets. The protesters, known as the "Red Shirts," used tires and sharpened bamboo canes as barricades and taunted soldiers. The Red Shirts are supporters of former Prime Minister Thaksin Shinawatra, who was ousted in a bloodless military coup in 2006. They are demanding that Prime Minister Abhisit Vejjajiva dissolve the government, hold new elections and leave the country.
BBC News: US warning over India 'terror attacks'
The US has issued a travel alert saying that there are "increased indications" that "terrorists" are planning attacks in the Indian capital, Delhi. The alert listed some popular shopping areas and advised Americans travelling or residing in India to be vigilant. The alert came after bombs exploded at the weekend outside a cricket stadium in the southern city of Bangalore.
Jerusalem Post: Report: Netanyahu rejects freeze
Prime Minister Binyamin Netanyahu rejected White House requests for a freeze on Jewish construction in east Jerusalem, The Wall Street Journal reported on Thursday. Over the weekend, Netanyahu's government gave the Obama administration a response to the demands made in a March 23 meeting between the two heads of state. Although the exact details of the meeting were not made public, it has been widely reported that Obama's main request was to freeze all construction in the Jewish neighborhoods of east Jerusalem, which Netanyahu has refused.
Financial Times: Brazil and India add to China pressure
China is facing growing pressure from other developing countries to begin appreciating its currency, providing unexpected allies for the US in the diplomatic tussle over Beijing's exchange rate policy. Speaking ahead of a meeting of finance ministers and central bank heads from the Group of 20 countries which starts on Thursday in Washington, Indian and Brazilian central bank presidents have made the most forceful statements yet by their countries about case for a stronger Chinese currency. While most of the public pressure on China has come from the US, the comments underline that a number of developing economies feel that China's dollar peg has imposed costs on their economies.
CNN: Belgium considers ban on Islamic face coverings
The latest round in the battle of the burqa kicks off Thursday in Belgium, which could become the first country in Europe to ban face coverings worn by observant Muslim women. Lawmakers are considering a ban in all public places on niqabs, veils that cover the face, as well as burqas, which cover the face and everything else from head to toe. They're motivated both by security and morality, they say.
Der Spiegel: Anger Mounts over Volcano Crisis Response
Airports are open again, but the critical questions about Europe's handling of the crisis created by the eruption of an Icelandic volcano are stewing. The air travel chaos of the past week has underscored a serious problem in the 27-member European Union's crisis management. It is so deep that even officials in Brussels are angry.
BUSINESS
For the latest business news: www.CNNMoney.com
Wall Street Journal: Tourre Expected Before Senate Panel
Goldman Sachs Group Inc. executive Fabrice Tourre, charged last week by the Securities and Exchange Commission, is expected to appear at a high-profile Senate hearing next week, a person familiar with the situation said. Mr. Tourre was invited to testify and accepted before the SEC's civil fraud case was filed last week, the person said. Other Goldman executives, including CEO Lloyd Blankfein, also are expected to testify.
CNNMoney: Untangling Wall Street's tricky bets
One of the key pieces of the Wall Street reform puzzle in Washington is regulating the complicated financial bets that fueled the mess of the past three years. The Senate Agriculture Committee passed a bill Wednesday, on a 13-8 vote, to impose new rules on derivatives. One Republican - Sen. Chuck Grassley, R-Iowa - joined Democrats in passing the bill, which is expected to be combined into a bigger Wall Street reform bill shepherded by Sen. Christopher Dodd, D-Conn.
Investors Business Daily: Obama Has Itch For VAT Scratch Fever
After White House aides repeatedly denied any plans for a European-style value-added tax, President Obama told CNBC today he is open to the idea. …It would be hard to square Obama's vow not to hike taxes on those making less than $200,000 with a European-style VAT, which taxes goods at every stage of production. The Senate voted 85-13 for an anti-VAT resolution last week. But the math is clear. The federal government cannot balance the budget at projected spending levels solely on the backs of the rich. Taxes on the wealthy are already set to rise significantly in the next few years, while nearly half of Americans pay no federal income tax. So the bulk of future revenue increases would have to come from the middle class and working poor.
CNNMoney: Starbucks profit soars as customers come back
There may not be a Starbucks on every corner any more, but Americans are finding their way back into the upscale coffee retailer's stores. Over the past two years, Starbucks cut costs by closing hundreds of stores, trimming its workforce, overhauling its food menu and adjusting drink prices. The changes finally took hold last quarter, when the company reported a profit that quadrupled its earnings from a year earlier.
Wall Street Journal: Moody's Cuts Toyota Credit Rating
Moody's Investors Service Thursday cut its credit rating on Toyota Motor Corp. by a notch, matching its lowest-ever level, saying the auto maker's multimillion vehicle recalls and safety issues raise questions about its profitability and ability to stay ahead of rivals on pricing power until 2012 at the earliest. Moody's warned its outlook for the rating remains negative.


CNNMoney: GM pays off its bailout loans
General Motors has made a final payment of $5.8 billion to the U.S. and Canadian governments, paying off the last of its $6.7 billion in loans, the company said Wednesday. But the loan money is only a fraction of the financial support that the federal government gave to GM over the past 12 months to stop it from going out of business. A White House report issued shortly after GM's announcement was upbeat on the progress that both General Motors and Chrysler have made since coming out of bankruptcy but noted that the government would likely not make a profit on the funds it had invested.
In Case You Missed It
Arizona's proposed crackdown on illegal immigration has renewed calls for reform on the national level.
CNN's John King explains how the government is trying to foil counterfeiters with the new $100 bill.
Subscribe to the CNN=Politics DAILY podcast at  http://www.cnn.com/politicalpodcast
And now stay posted on the latest from the campaign trail by downloading the CNN=Politics SCREENSAVER at http://www.CNN.com/situationroom