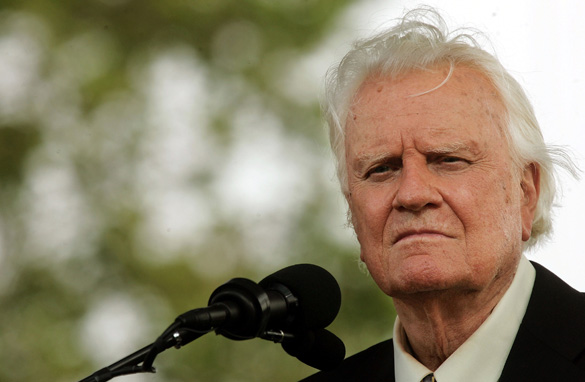 Before leaving North Carolina Sunday, the president will met with the Rev. Billy Graham, shown here in a 2005 file photo. (Photo Credit: Getty Images/File)
ASHEVILLE, North Carolina (CNN) - President Barack Obama met Sunday with the Rev. Billy Graham before leaving North Carolina to attend the memorial service for 29 West Virginia coal miners killed in a recent explosion.
White House spokesman Bill Burton said the visit was a follow-up to Obama's telephone call to Graham on the evangelist's 91st birthday last November. At that time, Burton said, the two agreed to meet as soon as possible.
Before Sunday's meeting, Burton described Graham as an important spiritual leader and national treasure.
Obama had a private prayer and conversation with Graham, Burton said, adding that Obama was "extraordinarily gratified" for the meeting. Graham's son, Franklin, also was there, Burton said.
Updated: 2:04 p.m.