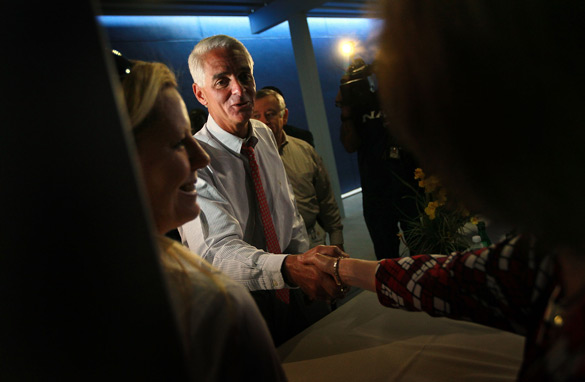 Florida Gov. Charlie Crist will run for senator as an independent candidate. (PHOTO CREDIT: Getty Images)

(CNN) - Florida Gov. Charlie Crist has decided to run as an independent rather than compete for the Republican Party nomination in his bid for the Senate, multiple sources tell CNN.
One of the sources, a fundraiser, who spoke on the condition of anonymity, said that Crist has begun contacting financial supporters to tell them that he is running as a non-party affiliated candidate and to ask for their continued support.
Once the overwhelming favorite in the battle for the Republican Senate nomination, Crist is now trailing former Florida House Speaker Marco Rubio by more than 20 points, according to a Quinnipiac University poll released earlier this month.
But the survey offered hope Crist could win in November if he ran as an independent. In this scenario, Crist would have a slight edge over Rubio and a larger lead over Rep. Kendrick Meek, the likely Democratic nominee, in a three-way general election match up.
Crist is expected to officially declare his intentions during an event Thursday afternoon in his hometown of St. Petersburg. Crist's campaign is calling it "a candidate qualifying event." Crist has until Friday to declare his intentions.
If Crist does decide to launch an independent bid, a source tells CNN that one of his main GOP consultants, Public Opinion Strategies, will leave the campaign.
–CNN Senior Political Analyst Gloria Borger and CNN Political Producer Peter Hamby contributed to this report