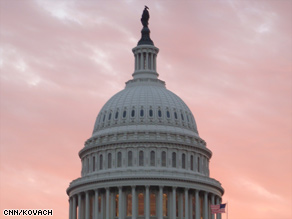 The CNN Washington Bureau's morning speed read of the top stories making news from around the country and the world.
WASHINGTON/POLITICAL
For the latest political news: www.CNNPolitics.com
CNNMoney: Wall Street reform: Let the debate begin
The Senate officially kicked off debate of Wall Street reform on Wednesday evening. Republicans waived their right to block the bill, as it became clear Democrats had clinched the 60 votes needed to end the filibuster. There had been three days of standoff, and three failed votes to move forward. But on Wednesday evening the chamber agreed by unanimous consent to debate the bill.
CNN: Dems hope to be seen as 'party of results'
When voters head to the polls in November, the Democratic National Committee would like them to remember Democrats with one word: results. On Wednesday at the Democratic National Committee headquarters in Washington, chairman Tim Kaine revealed his party's new message and strategy months ahead of the midterm elections. The DNC chairman said that while the economy still needs improvements, it's moved from recession to recovery.
Washington Post: Republicans hope to win three symbolic Senate seats
Every now and then, there comes a congressional race so fraught with history and symbolism that it becomes as much about sending a message as winning a seat. This year, Republicans are looking to hit the trifecta in the Senate. As things stand now, they are well within striking distance of winning President Obama's old seat in Illinois and Vice President Biden's former perch in Delaware, and of toppling Majority Leader Harry M. Reid in Nevada.
CNN: Crist to run for Senate as nonaligned candidate, source says
Florida Gov. Charlie Crist has decided to run as a nonaligned candidate rather than compete for the Republican Party nomination in his bid for the Senate, a GOP fundraiser tells CNN. The fundraiser, who spoke on the condition of anonymity, said that Crist has begun contacting financial supporters to tell them that he is running as a non-party affiliated candidate and to ask for their continued support.
CNN: Steele: Crist win 'a real possibility' in three-way race
Republican National Committee Chairman Michael Steele acknowledged Wednesday that an independent run for Senate by Republican Gov. Charlie Crist could jeopardize the GOP's ability to hold onto the Florida Senate seat. Crist, the one-time frontrunner to win the seat in November, is now trailing Republican primary opponent Marco Rubio by more than 20 points. Multiple sources tell CNN that Crist will announce Thursday afternoon that he will leave the GOP primary and run as a nonaligned candidate.
CNN: Kaine: GOP 'civil war' pushing moderate Republicans 'overboard'
The chairman of the Democratic National Committee suggested Wednesday that Florida Republican Gov. Charlie Crist could become a political victim of a "corrosive civil war" among Republicans. And Tim Kaine said that as moderate Republicans are pushed "overboard," some of them will become Democrats. Kaine suggested that if Crist announces Thursday that he will run as an independent, as expected, it will be the result of an internal war within the GOP.
Miami Herald: 4 Haitians jockeying to make history
Four Haitian Americans, all big names with deep roots in the community, are candidates in a crowded field vying for the congressional seat being vacated by U.S. Rep. Kendrick Meek, who is making a bid for the U.S. Senate. But behind the pride of this historic race that could result in the first member of Congress born in Haiti, leaders are working to manage egos and good intentions to winnow the number of candidates down and avoid splintering the vote. So far, no one is budging. All four have paid the $10,440 qualifying fee, each convinced he or she is the best person to represent the community and district, each with a bankable political base.
CQ Politics: Marshall, Cunningham Are Likely Headed to Runoff
The two leading Democratic candidates in the North Carolina Senate race are entering the final weekend before the primary with more of a whimper than a roar, while party operatives are coming to terms with the prospect that a resource-draining runoff appears likely. The questions now are whether [former state Sen. Cal] Cunningham will surge over the top on primary day and whether either candidate can break the 40 percent threshold, which would keep the election from going to a runoff in late June. The winner will face incumbent Republican Sen. Richard M. Burr in November.
Cleveland Plain Dealer: Gov. Ted Strickland goes on the attack against challenger John Kasich by releasing tax returns; Kasich calls move "dirty politics"
Gov. Ted Strickland slipped into campaign mode on Wednesday and went on the attack against his Republican rival, former Congressman John Kasich. Strickland, up for re-election in November, said he didn't intend to make the race about class warfare. But he firmly focused the election on Kasich's millionaire status and Wall Street connections while painting himself as a working class earner like most voters.
Strickland has now voluntarily coughed up a decade's worth of tax records. He challenged Kasich to do the same.
St. Paul Star Tribune: GOP race pits insider vs. outsider
Marty Seifert and Tom Emmer epitomize the dueling forces raging within the Republican Party. These two powerful figures, who have battled over legislative leadership positions, will collide Friday in the hand-to-hand political combat of the Republican state convention in Minneapolis. The stakes could not be higher. Republicans have had a two-term winning streak under departing Gov. Tim Pawlenty, and many Republican operatives believe a wave of conservative activism across the country could help usher another of their candidates into the governor's mansion.
The Hill: Reid: Despite activist uproar, climate comes before immigration
Senate Majority Leader Harry Reid (D-Nev.) ended a week of indecision Wednesday about the Senate agenda by stating that climate change legislation will come to the floor before immigration reform. "I am going to move forward on energy first," Reid said at a press conference Wednesday. Reid, who for a week has said both issues are vitally important to the country, said he remains committed to passing immigration reform this year and Sen. Charles Schumer (D-N.Y.) has drafted an outline that could serve as the basis for legislation to be debated on the Senate floor.
Politico: Republicans fume over Reid rhetoric
Kentucky Sen. Jim Bunning called Harry Reid an "idiot" during a lunch meeting with other Republican senators this week — the latest sign that the Senate majority leader is getting under the skin of his GOP counterparts. Bunning's harsh words — confirmed by several people in the room — came in the midst of Tennessee Sen. Lamar Alexander's presentation about Reid's handling of the Senate floor. Bunning rose from his seat and, speaking loudly, read fundraising data that singled out Reid and other Senate Democrats for taking more money from Goldman Sachs and other Wall Street firms than Republicans had.
Dallas Morning News: Biden blames fiscal mess on Bush in talk to Texas Democrats
Vice President Joe Biden, meeting with a few dozen Texas Democrats on Wednesday night, blamed the country's fiscal mess on irresponsible habits by the last president – a fellow Texan, as if they forgot. Biden predicted that the Democrats' losses in the November midterm elections will be no worse than average for a first-term president. He offered dark humor to cheer up Texas Democrats, whose ranks have dwindled in Congress and who have struggled to win statewide contests.
Idaho Statesman: Marines tell Idaho congressional candidate Vaughn Ward to pull campaign ad
Congressional candidate Vaughn Ward has violated a Pentagon directive prohibiting the impression that his campaign is supported by the military, according to the Marine Corps. Ward is a Marine major assigned to 28 days of annual reserve duty at the Office of Legislative Affairs in Washington, D.C. Ward won a Bronze Star with Combat V for valor for leading a Marine company in Iraq from April to October 2006. Ward and state Rep. Raul Labrador are the top candidates in the May 25 Republican primary. The winner will challenge Democratic Rep. Walt Minnick in November.
CNN: Democrats call for elimination of Arizona's new immigration law
Democrats made an impassioned plea on the steps of the U.S. Capitol on Wednesday for Arizona's new immigration law to be overturned, citing constitutional concerns and other implications for the country. The request comes amid a heated debate on Capitol Hill of a comprehensive immigration reform bill - one of President Obama's top domestic priorities.
Arizona Republic: Referendum could delay Arizona immigration law to 2012
A group calling itself One Arizona filed petitions with the state Wednesday to refer Arizona's new immigration law to the November ballot. It's the second referendum drive announced this week. If organizers fail to make the November ballot, the measure would go before voters in the November 2012 general election. However, the mere filing of the petitions would put the law on hold until it could get before voters in November 2012.
NATIONAL
For the latest national news: www.CNN.com
CNN: Oil spill from rig explosion at 5,000 barrels a day
The estimated amount of oil spilling in an underwater leak from last week's oil rig explosion in the Gulf of Mexico has increased to 5,000 barrels a day, five times more than what was originally believed, a Coast Guard official said late Wednesday. Rear Adm. Mary Landry said the increased estimate is based on analysis from the federal National Oceanic and Atmospheric Administration. She noted that there are "a lot of variables" in calculating the rate of the spill.

CNN: Townsend: Bush illness investigated, poisoning unlikely
A top aide to former President George W. Bush confirmed Wednesday that he became ill while attending a 2007 meeting with world leaders, but noted that the sickness was likely the result of a virus, and not intentionally poisoned food. Former first lady Laura Bush suggests in a new memoir that she, her husband, and several aides may have been poisoned during a 2007 visit to Germany for the G8 summit.
CNN: Preliminary census numbers achieve goal, bureau says
America mailed it back, the U.S. Census Bureau said Wednesday, announcing that slightly more than 72 percent of households completed this year's nationwide survey – the same rate achieved during the last census in 2000. The return rate matched the goal set by the bureau to achieve the same numbers as the 2000 survey.
Washington Post: Offshore wind farm near Cape Cod, first in U.S., gets federal approval
Ending a nearly decade-long political battle over installing wind turbines in the waters just off Cape Cod, the federal government approved the first offshore wind farm in the United States on Wednesday, a move that could pave the way for significant offshore wind development elsewhere in the nation. In approving the Cape Wind project, a group of 130 modern windmills in Nantucket Sound that would start generating electricity by the end of 2012, Interior Secretary Ken Salazar said he would "strike the right balance" between energy development and protecting the area.
INTERNATIONAL
For the latest international news: http://edition.cnn.com
CNN: Report: Encouraging trends in Afghanistan despite rise in violence
Violence in Afghanistan is up nearly 90 percent from this time last year, according to a new Pentagon report submitted to Congress Wednesday. Despite that increase and a 240 percent spike in roadside bomb attacks - a major factor in overall violence statistics - and increasing Taliban tactics to discredit President Hamid Karzai's government with shadow governments, some officials said they are seeing encouraging trends.
Daily Telegraph: Gordon Brown's Gillian Duffy 'bigot' gaffe may cost Labour
Mrs. Duffy, a lifelong Labour supporter, had the temerity to tackle Gordon Brown on the national debt, education and his party's immigration policy. In return, the Prime Minister branded her a "bigoted woman" in an ill-tempered aside which was caught on a microphone still on his lapel as he was chauffeured away. Mr. Brown's visit to Rochdale, had been the latest salvo in a new Labour strategy to put him in front of real voters. It ended with the most disastrous gaffe of the campaign and his party's election strategy in turmoil. Within hours, Mr. Brown had interrupted his schedule to return to Rochdale, Greater Manchester, where he was forced to make a personal apology to Mrs. Duffy.
CNN: South Korea holds funeral for 46 sailors
The South Korean navy held a funeral Thursday for 46 sailors killed or left missing when a ship sank in waters near North Korea, South Korea's Yonhap news agency reported. The March 26 incident has sparked tensions between the two Koreas, as some have wondered if North Korea had a hand in the sinking of the ship. North Korea has denied any involvement.
Financial Times: Eyes on Germany as debt crisis spreads
Angela Merkel, German chancellor, pledged on Wednesday to step up efforts to overcome the Greek fiscal crisis as Standard & Poor's downgraded Spain and investors sold bonds in Europe's most indebted nations. Eurozone governments, especially Germany's, have been under fire for delaying approval of a rescue plan for Athens that experts said should have been launched several months ago.
CNN: Iranian navy plane flies near USS Eisenhower in Gulf of Oman
An Iranian navy plane that approached a U.S. aircraft carrier last week was flying as low as 300 feet as it neared the USS Eisenhower, U.S. military officials said Wednesday. The incident, first reported by CNN on Tuesday, came as Iran was beginning a series of military exercises last week meant to show off their military prowess. While the encounter was not threatening, it was unusual.
BBC News: Australia plans plain-packaging rule for cigarettes
Australia is to announce new rules which will force tobacco companies to use plain packaging, reports say. Manufacturers will be required to drop all colour and branding logos from cigarette packets within two years. The move, which is being billed as a world-first, comes after recommendations were made by the World Health Organisation.
CNN: Jerusalem mayor touts construction
Local politics could once again throw U.S.-Israeli relations into turmoil and complicate efforts to restart peace talks. The mayor of Jerusalem visited Washington this week with a tough stance on the future of his city and indicated the freeze on construction in east Jerusalem that the United States demanded of Israel is not going to happen. Over dinner with a group of reporters, organized by the pro-Israel group The Israel Project, Mayor Nir Barkat denied any freeze in construction in his city and said he could never accept Palestinian control of any part of Jerusalem.
New York Times: U.N. Chief Seeks to Strengthen Nuclear Pact
With the international treaty seeking to prevent the proliferation of nuclear weapons already wobbly, Secretary General Ban Ki-moon on Wednesday called for it to be buttressed with renewed commitments toward disarmament and for tackling the knotty issue of a Middle East free of nuclear weapons. An international conference on the treaty will convene [in New York City] on Monday.
BBC News: Man stabs 28 children in China kindergarten attack
Twenty-eight children and three adults have been injured by a man with a knife at a kindergarten in eastern China, the third such attack in a month. Officials said five of the injured were in a critical condition in hospital after the incident in Jiangsu province. It follows a knife attack on Wednesday in the south of the country, in which 16 pupils and one teacher were injured.
BUSINESS
For the latest business news: www.CNNMoney.com
CNNMoney: Obama to nominate 3 new Fed governors
President Obama plans to nominate three new governors to the Federal Reserve on Thursday, according to sources familiar with the matter. San Francisco Federal Reserve Bank President Janet Yellen is expected to be nominated as vice chairman of the central bank. And the two vacancies on the seven-member board would be filled by Sarah Raskin, the Maryland Commissioner of Financial Regulation, and Peter Diamond, a professor at the Massachusetts Institute of Technology.
CNNMoney: S&P slashes Spain's debt rating
Standard and Poor's downgraded the sovereign debt ratings of Spain to a lower investment grade status Wednesday, citing "risks to budgetary position" for the troubled European nation. The downgrade primarily reflects S&P's revision of the country's economic outlook. The ratings agency reduced Spain's 2010-2016 economic growth forecast to an annualized rate of 0.7% from a previous 1%.
Investors Business Daily: Baidu's Profit Jumps As More Advertisers Transition To Search
China search king Baidu late Wednesday reported a profit that smashed analyst views as it continued to add online advertisers, sending shares up 14% in after-hours trading. Baidu has also benefited thanks to its biggest rival, Google, which closed its search service in China last month over government censorship issues. Investors lately had seemed unsure whether Google's withdrawal from China was permanent or temporary, says Michael Sansoterra, co-portfolio manager of the RidgeWorth Large Cap Growth Fund, a unit of RidgeWorth Capital, which owns shares in both Baidu and Google.
CNNMoney: HP to buy Palm for $1.2 billion
Hewlett-Packard announced Wednesday that it would buy struggling smart phone maker Palm for $1.2 billion. HP, which is known more for its computers, notebooks and printers than its smart phones - will buy Palm for $5.70 a share in cash, a 23% premium over Palm's closing price of $4.64 on Wednesday. After hours, shares of Palm soared 28%, while shares of HP fell less than 1%. Palm was the subject of takeover rumors for months, as the company has struggled to sell its Pre and Pixi smart phones.
Bloomberg: Asia Risks Overheating on Capital Inflows, IMF Says
Asia's economic recovery that's outpacing the rest of the world is attracting capital inflows that may cause the region to overheat and lead to the formation of asset bubbles, the International Monetary Fund said. Expectations of Asian exchange-rate appreciation may be boosting carry trade flows, where investors borrow cheaply in one currency and use the funds to invest in others, the Washington-based lender said in a report today. More flexible currencies and some capital controls can help limit the impact of investment flows, it said.
CNNMoney: Fed: Economy better, rates to stay low
The Federal Reserve said Wednesday it sees further signs of improvement in the U.S. economy, but not enough to start raising its key interest rate from near 0% anytime soon. The Fed's statement Wednesday once again spoke of a U.S. economy now in recovery, stating that "economic activity has continued to strengthen and that the labor market is beginning to improve." But the central bank made little change in its language used to describe the outlook for its policy, saying it expects that economic conditions will "warrant exceptionally low levels of the federal funds rate for an extended period," as it has at every meeting since June of last year.

CNNMoney: WellPoint to stop canceling health policies
Health insurer WellPoint will implement reforms preventing cancellation of policies except for incidents of fraud, effective May 1 – just one week after coming under fire for allegedly rescinding coverage of customers with breast cancer. The recently enacted health care reform law disallows the cancellation of policies - with the exception of cases of fraud or intentional misrepresentation - starting Sept. 1.
In Case You Missed It
CNN's Diana Magnay hits the streets of Athens, Greece, to talk about the economy.
Civil rights icon Dorothy Height left an indelible mark through her work, her kindness and a stylish supply of hats.
Subscribe to the CNN=Politics DAILY podcast at http://www.cnn.com/politicalpodcast
And now stay posted on the latest from the campaign trail by downloading the CNN=Politics SCREENSAVER at http://www.CNN.com/situationroom