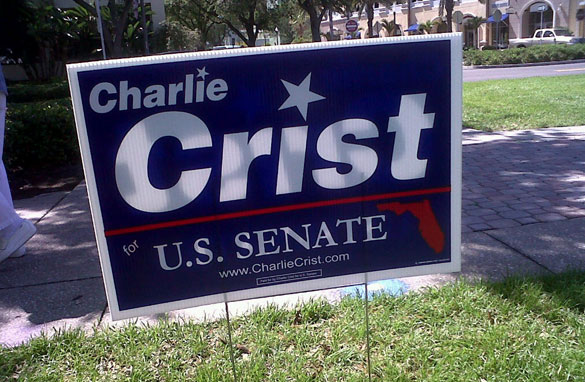 Charlie Crist campaign volunteers are passing out signs and stickers Wednesday in St. Petersburg (PHOTO CREDIT: Peter Hamby/CNN)

St. Petersburg, Florida (CNN) - Despite strong evidence that Florida Gov. Charlie Crist will run for Senate as an independent, people close to Crist have stressed in recent days that the governor could still change his mind at the last minute.
But if the signs and stickers being handed out by campaign volunteers at Crist's much-anticipated event in St. Petersburg on Thursday are any indication, Crist is not dropping out of the race.
Volunteers are carrying around sign-up sheets to collect e-mail addresses and phone numbers from potential campaign supporters. Crist's campaign is also conducting on camera interviews with supporters, possibly collecting material for use in future campaign videos.
Several of Crist's Republican campaign staffers are also in attendance, though many are expected to quit if the governor abandons his party.