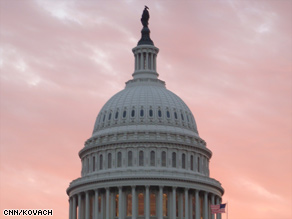 The CNN Washington Bureau's morning speed read of the top stories making news from around the country and the world.
WASHINGTON/POLITICAL
For the latest political news: www.CNNPolitics.com
CNN: Obama meets with Supreme Court candidate Sidney Thomas
President Obama has started meeting with possible Supreme Court nominees, including talks Thursday with federal Judge Sidney Thomas, a senior administration official told CNN. The senior official would not disclose the other recent meetings, but acknowledged the activity is a sign the process has reached an important phase and Obama is edging closer to a selection. Obama has said he intends to nominate a candidate to succeed retiring Justice John Paul Stevens by the end of May, so the Senate can complete the confirmation process in time for the new Supreme Court session in the fall.
CNN: Campaign finance proposal targets corporations
Congressional Democrats unveiled legislation Thursday that would ban foreign-controlled companies and most firms receiving either government contracts or federal bailout funds from spending money on U.S. elections. The measure is designed to mitigate the impact of a controversial Supreme Court campaign finance ruling this year that overturned a longstanding ban on corporations and unions using their treasury funds to run presidential and congressional election ads.
CNN: Dems to attend fundraiser with donors who have ties to Wall St.
As many Americans rail against big banks and lawmakers push for financial reform, Democratic Sens. Kirsten Gillibrand of New York and Chris Dodd of Connecticut will attend a New York fundraiser with some top Democratic donors who also have ties to Wall Street. Politicians have long rubbed elbows with Wall Street executives, who have traditionally been an important source of campaign dollars. But Gillibrand and Dodd's attendance at the event could prove politically embarrassing.
The Hill: Democrats pledge to move toward 2010 vote on immigration reform
Senate Democratic leaders said Thursday they are serious about having a vote on immigration this year. Majority Leader Harry Reid (D-Nev.) and other Democrats made that pledge as they unveiled their outline of an immigration reform plan, which has been widely viewed as a political exercise to help Reid and other Democrats with Hispanic voters, a growing electoral bloc.
Wall Street Journal: Republicans Might Want to Rent, not Own, the House
President Barack Obama went on a campaign-style barnstorming tour of the Midwest this week, a reminder that this is a big political year posing a big political question: Can Republicans take back control of the House of Representatives? It's an interesting question. Here's a more interesting one: Why would they want to? A good case could be made that a Republican takeover would only make life more difficult politically for the GOP, and easier in some ways for President Obama.
CNN: Crist quits GOP primary, stage set for three-way race
Declaring that his only loyalty is to the people of his state, Florida Gov. Charlie Crist announced Thursday that he will run for the United States Senate as an independent rather than a Republican. The move sets the stage for an unprecedented three-way race in which Crist will test whether he can win federal office without the formal backing of a political party.
CNN: Meek lays out planned attacks against Rubio, Crist
Rep. Kendrick Meek, D-Florida, wasted no time Thursday detailing his campaign strategy on how he will approach an expected three-way general election contest for Florida's open Senate seat. Meek said he intends to attack both candidates on their records, arguing that Rubio is too conservative to win in Florida and claiming Crist is inconsistent.
CNN: Rubio on Crist decision: it won't change my election strategy
Florida Republican Senate candidate Marco Rubio reacted Thursday to Gov. Charlie Crist's decision to leave the GOP senate primary and run as an independent. Rubio will now face-off against Crist and Democratic Rep. Kendrick Meek in a three-way race. While Rubio called Crist and Meek "good people," he accused the governor and congressman of being wrong on the issues.
CQ Politics: West Virginia: Minear Reaches Further Into Deep Pockets
The May 11 Republican primary in West Virginia's 1st district is getting heated - and expensive. Former state Sen. Sarah Minear loaned her campaign $250,000 this month, according to a pre-primary report her campaign filed Thursday. That brings her loan total to $502,000 so far - or 96 percent of her campaign's total receipts. Because of her personal largess, Minear is now slightly better-funded than former state Rep. David McKinley, another deep-pocketed candidate who kicked in $250,000 of his campaign's $454,000 in total receipts.
Chicago Tribune: Obama embrace makes his day
Dogged for weeks by his family bank's implosion, Democratic U.S. Senate candidate Alexi Giannoulias finally got something he has sought since winning the Feb. 2 primary - a warm embrace from the White House. During his visit to the weathered riverfront of Quincy, President Barack Obama offered a shout-out in his speech and later a departing good-luck hug to Giannoulias, the former basketball-playing buddy he helped get elected state treasurer four years ago. Officially, both the White House and Giannoulias downplayed the political importance of Obama's appearance.
Albany Times Union: Parnell, Samuels spar over spending
Legislators met with Gov. Sean Parnell this week, asking him not to veto their hometown projects from a multibillion-dollar construction budget he calls way too big. But Ralph Samuels, one of Parnell's opponents in the Republican primary for governor, is telling voters it's Parnell who let spending balloon in Juneau. Samuels is swinging hard at Parnell going into the Aug. 24 party primary. He's telling voters that the governor failed to show leadership and control overspending by legislators during the legislative session that ended this month.
St. Paul Star Tribune: Emmer gets GOP buzzing via Palin nod
Supporters rushed into the Republican state convention Thursday to plaster walls with posters and prepare for battle over whom they will endorse Friday for governor. Into that frenetic swirl, one of the two top candidates - Rep. Tom Emmer - dropped a last-minute political bombshell: An endorsement by former Alaska Gov. Sarah Palin. He walked breezily around the Minneapolis Convention Center, touting the trophy he hopes will embellish his standing as a "true, independent conservative" and push him ahead of Rep. Marty Seifert, his main competition.
Dallas Morning News: Winning over GOP is Bill White's grand old plan in Texas governor's race
Democrat Bill White must appeal to an unlikely source to win the race for governor: the Grand Old Party. In one of the most conservative states in the country, White is hoping to peel off enough Republicans and independents to beat incumbent Rick Perry, the poster boy of the conservative movement in Texas and, perhaps, the rest of the nation. White's task is complicated by the fact that Perry is an entrenched incumbent popular with his party's re-energized base.
Pittsburgh Post-Gazette: Specter rips Sestak over pay given to election staff
The latest attack ad from Sen. Arlen Specter in his increasingly heated Democratic primary fight with Rep. Joe Sestak targets the Delaware County congressman on how much he pays his employees. The pay is indisputably low, but whether it's criminal, as the Specter campaign claims, is questionable.
Honolulu Advertiser: Hawaii Legislature OKs historic civil unions bill; governor now must decide
By a vote of 31-20, the Hawaii House today approved a civil unions bill just hours before the end of this year's legislative session. The measure would give unmarried same-sex and heterosexual couples the same rights as married couples under state law. The bill passed the Senate in January by a vote of 18-7 and now goes to the governor for her consideration. Gov. Linda Lingle had urged lawmakers against taking up civil unions this session and to instead focus on the state's budget deficit. She has not said whether she would sign or veto the bill.
NATIONAL
For the latest national news: www.CNN.com
CNN: Stopping Gulf Coast oil leak could take weeks
Experts still hope to close a stuck valve that's let oil flow into the Gulf of Mexico for more than a week. But if those efforts fail, the next-best plans will take weeks more to stop the flow, officials say. The undersea oil well, following a drilling rig's April 20 explosion 50 miles off Louisiana's coast, is spewing up to 210,000 gallons of light sweet crude a day into the Gulf, officials say. Part of the Gulf Coast was bracing for oily water to reach shore late Thursday.
Arizona Republic: Arizona immigration law hit with its first 3 lawsuits
The first three lawsuits challenging the constitutionality of Arizona's new illegal immigration law were filed in federal court [Thursday], and another group is promising theirs will come soon. The National Coalition of Latino Clergy and Christian Leaders filed a suit in the U.S. District Court in downtown Phoenix, alleging that the law is illegal because it usurps federal authority in immigration enforcement and because of concerns the law may lead to racial profiling. An attorney representing a Tucson police officer has filed suit in U.S. District Court in Tucson to block the law. And on Thursday afternoon, Officer David Salgado, a 19-year-veteran with the Phoenix Police Department, filed a lawsuit, alleging that it violates his 14th Amendment rights.
Washington Post: FDA approves prostate cancer 'vaccine' from Dendreon called Provenge
The first cancer treatment that harnesses the power of a patient's immune system to fight tumors won government approval Thursday, a step scientists and patient groups hailed as what could be the beginning of a new era in cancer therapies. The Food and Drug Administration approved Provenge, sometimes called a "cancer vaccine" because it stimulates the immune systems of men with advanced prostate cancer to attack their malignancies. While the benefit of the approach is modest - extending the lives of patients by a few months - it was welcomed by researchers and patient advocates who had fought for years for the approval.
CNN: Women to begin serving on Navy subs in 2011, officials say
The first women to serve on U.S. Navy submarines are expected to be on the job by fall of 2011, Navy officials said Thursday, ushering in a policy change to what has been an elite service open only to men since the start of the modern Navy's submarine program. While Defense Secretary Robert Gates announced the change last month, the Navy had to wait for Congress to review and approve the policy change over a 30-day period which ended at midnight Thursday morning.
INTERNATIONAL
For the latest international news: http://edition.cnn.com
CNN: Belgium's lower house votes to ban burqa
Lawmakers in Belgium on Thursday approved a ban on the wearing of burqas and other Islamic garb that covers a woman's face but the bill must still be approved by the upper house of parliament before it becomes law. If the Senate approves it, Belgium would become the first country in Europe to ban the burqa. The vote in the Chamber of Deputies was 136 in favor, none opposed and two abstentions, according to Dominiq van Dendossche, a press officer for the Belgian parliament.
BBC News: Greece crisis: EU 'nears end' of Greece rescue talks
The European Union is on the verge of agreeing the details of an emergency plan to rescue Greece's economy, a senior official has said. EU Commissioner for Economic and Monetary Affairs Olli Rehn said leaders were "about to conclude talks" on the package. His comments came as European markets rose after two days of sharp falls on concerns about Greece's debt crisis.
Der Spiegel: Euro Fears Force Merkel To Act
Knowing a bailout for Athens would be unpopular, Chancellor Angela Merkel wanted to postpone taking action on the Greek crisis until a key state election on May 9. But financial markets don't care about domestic German politics. Her delay could end up costing the country billions. After weeks of hesitation over the German response to the Greek crisis, Chancellor Angela Merkel is suddenly calling for swift action. Observers were surprised by Merkel's strong words. Until now, the chancellor has not exactly come across as a driving force when it comes to action on the Greek crisis.
CNN: Clinton blasts Iran, Syria in appearance before Jewish group
As the United States prepares for a visit next week by Iranian President Mahmoud Ahmadinejad, Secretary of State Hillary Clinton condemned his regime in some of the Obama administration's strongest language to date in a speech Thursday night. Ahmadinejad is expected to be in New York for a United Nations conference on nuclear nonproliferation that opens Monday. The United States has said it will likely grant the Iranian leader's request for a visa.
BBC News: Japan seeks to arrest Sea Shepherd activist
The Japanese coastguard has obtained an arrest warrant for Canadian environmental activist Paul Watson for disrupting whale hunts, reports say. Mr. Watson's Sea Shepherd conservation society shadowed the annual Japanese whaling fleet through the Antarctic. Mr. Watson advocates direct action and has faced charges in Canada and Norway.
Jerusalem Post: Big PM win in crucial Likud vote
Prime Minister Binyamin Netanyahu triumphed overwhelmingly Thursday in a contest that had turned into a power struggle for the future of his Likud party. As final votes were counted close to midnight, officials said he had secured 76 percent support in the central committee for his proposal to delay internal party elections by more than a year. Netanyahu had branded success in the vote as crucial to his capacity to pursue "a responsible peace process."
Washington Post: At Expo 2010 Shanghai, China thinks big
Take the crowd that attended Woodstock in 1969, multiply it by 175 and dump the result in the middle of the world's most populous city. That is, in effect, what China plans to do at Expo 2010 Shanghai, an elephantine world's fair that opens Friday evening on the banks of the Huangpu River. For China, money has been no object. Unlike the United States, which has begged for private money to fund expos since 1991, when Congress made government funding difficult, China dipped into the deep pockets of the state. It is spending $4.2 billion on the six-month Expo - and 10 times that if new roads, rail lines and other infrastructure projects are included in the bill.
BUSINESS
For the latest business news: www.CNNMoney.com
Wall Street Journal: Criminal Probe Looks Into Goldman Trading
Federal prosecutors are conducting a criminal investigation into whether Goldman Sachs Group Inc. or its employees committed securities fraud in connection with its mortgage trading, people familiar with the probe say. The investigation from the Manhattan U.S. Attorney's Office, which is at a preliminary stage, stemmed from a referral from the Securities and Exchange Commission, these people say. The SEC recently filed civil securities-fraud charges against the big Wall Street firm and a trader in its mortgage group. Goldman and the trader say they have done nothing wrong and are fighting the civil charges.
Wall Street Journal: Airlines Approach Final Deal to Merge
Continental Airlines Inc. and UAL Corp.'s United Airlines are expected to announce Monday that they are merging to form the world's largest airline, people familiar with the matter said. UAL's board of directors is meeting Friday, while Continental's board is meeting Friday and Sunday to discuss the deal, these people said. These people cautioned that negotiations could still fall apart as they did in 2008, when Continental backed away. But after a hiccup over pricing, the talks appear on track, they said.
New York Times: Oil Spill's Blow to BP's Image May Eclipse Costs
BP says that the offshore drilling accident that is spewing thousands of barrels of oil a day into the Gulf of Mexico could cost the company several hundred million dollars. Nobody really knows whether the London-based oil giant is being too conservative about the cost for the April 20 accident, which some experts say could end up as the biggest oil spill in history. The 1989 grounding of the Exxon Valdez off Alaska, for example, cost Exxon Mobil more than $4.3 billion, including compensatory payments, cleanup costs, settlements and fines.
CNNMoney: Turnaround for Big Three automakers? Not so fast
One year ago, the U.S. auto industry faced the worst crisis in its history. Chrysler Group filed for bankruptcy on April 30, the same week that GM announced a plan that put it on the path toward its own bankruptcy a month later. Ford Motor (F, Fortune 500) had just reported huge losses. So by comparison, conditions for Detroit's Big Three today represent an almost shocking turnaround.
CNNMoney: Jobless claims fall for 2nd straight week
The number of Americans filing initial claims for unemployment insurance fell for the second straight week, according to weekly government data released Thursday. There were 448,000 initial jobless claims filed in the week ended April 24, down 11,000 from an upwardly revised 459,000 the previous week, according to the Labor Department's weekly report.
Financial Times: India bans Chinese telecoms imports
The Indian government is blocking purchases of telecoms equipment from Chinese vendors on national security grounds, ratcheting up trade tensions between Asia's fastest-growing large economies. The practice has prompted complaints from Beijing and is causing havoc for mobile operators in India, which need enormous amounts of equipment to sustain an industry that is adding 20m new users a month. India's mobile market has become an important source of revenue for Chinese companies, accounting for about 11 per cent of 2008 turnover at Shenzhen-based Huawei Technologies, one of the world's leading telecoms equipment makers.
Bloomberg Business Week: Best Buy Finally Opens First British Store
The world's largest electricals retailer, Best Buy (BBY), will open its first UK store in Essex to a fanfare tomorrow, but consumers will have to wait until the autumn to buy anything online. Given that Best Buy will only have five stores in the UK by the autumn, the delay in launching e-commerce will not make a significant difference to its revenues over the coming year.
In Case You Missed It
Louisiana Gov. Bobby Jindal asks BP and the U.S. Coast Guard to reach out to fishermen to assist with the oil cleanup.
Iowa high school teacher Sarah Brown Wessling earns 2010's Teacher of the Year award.
Subscribe to the CNN=Politics DAILY podcast at http://www.cnn.com/politicalpodcast
And now stay posted on the latest from the campaign trail by downloading the CNN=Politics SCREENSAVER at http://www.CNN.com/situationroom