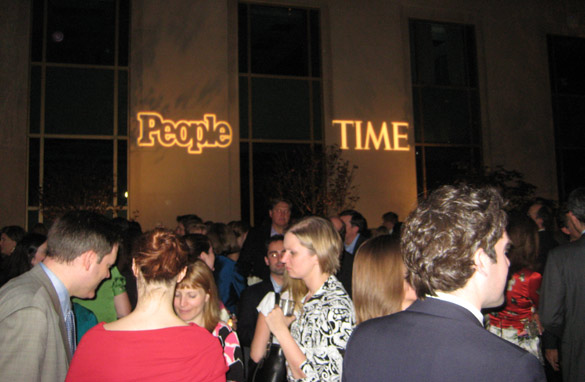 Hollywood celebrities mingled with Washington pols and reporters at Friday night's People/Time Magazine party, part of the festivities leading up to Saturday night's annual White House Correspondents Association dinner featuring remarks by President Obama. (Photo Credit: Xuan Thai/CNN)
Washington (CNN) - Beauties and brains, pop stars and pols, hotties and notties - there are lots of ways to describe what happened at the People/Time Magazine party Friday evening ahead of the big White House Correspondents Association's annual dinner, but the biggest thing at the party was the swag bag.
Worlds collided Friday night when the stars of Hollywood met the stars of Washington. Events around the city celebrated the meeting. At the People/Time Magazine Party stars like Tim Daly, Gayle King, Cheryl Hines, Gabourey Sidibe, Matthew Morrison, and more mixed and mingled with the politicos and the journalists who cover them.
Some engaged more than others. Sitting separately in a corner away from the Washington players of Dan Pfeiffer, Bill Burton, Anne Compton, Andrea Mitchell, and CNN's Dan Lothian, was Dallas quarterback Tony Romo and actor Chace Crawford being 'handled" by a stern handler.
Most of the celebrities attending the party at the St. Regis Hotel, located blocks away from the White House, were thrilled to be part of the event. They posed for pictures with fans, talked about previous "nerd prom" dinners, and the possibility of meeting the president.
At an earlier more intimate event hosted by Rosario Dawson, the focus was on multiculturalism in the media. Journalists gathered on a rooftop overlooking Pennsylvania Avenue to celebrate diversity in news. Former "Bachelor" star Andy Baldwin, was spotted at the event.