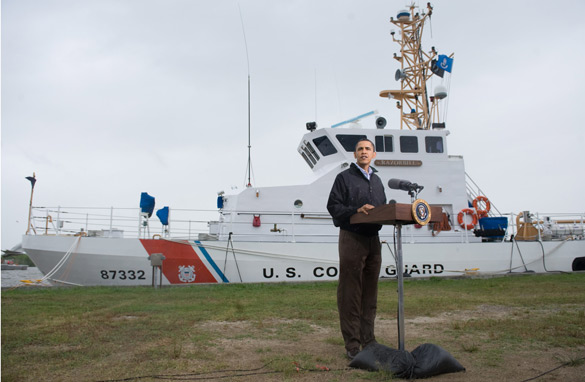 After touring a Louisiana coastal area, President Obama spoke about his administration's response to the massive oil spill in the Gulf of Mexico. (Photo Credit: Getty Images)
Venice, Louisiana (CNN) - President Barack Obama said Sunday his administration has mounted a "relentless response" to the oil spill unleashed by the sinking of an offshore drill rig in late April.
"We will spare no resource to clean up whatever damage is caused," Obama said after a briefing with state, local and federal officials in Louisiana.
Watch: Spill is a 'massive and potentially unprecedented environmental disaster,' Obama says
Obama met with the commandant of the Coast Guard, Adm. Thad Allen; EPA administrator Lisa Jackson; Louisiana Gov. Bobby Jindal; and the presidents of several parish governments after arriving, White House spokesman Robert Gibbs said. The president's briefing included an update on the procedures being attempted to cap the well and the economic and environmental impact of the spill, Gibbs said.