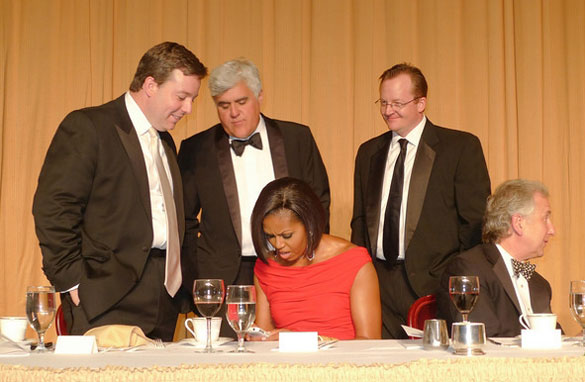 CNN's Ed Henry helps first lady Michelle Obama - with Jay Leno and Robert Gibbs - send out her first tweet. (PHOTO CREDIT: Erika Dimmler/CNN)

Washington (CNN) - It was my first chance to spend some quality time at dinner with First Lady Michelle Obama, so I decided to do what my pal Ali Velshi would probably do in the same situation: get her hooked on Twitter.
I was sitting with the first lady and Jay Leno at the head table for Saturday night's White House Correspondents Association Dinner because I'm a member of the association's board, a front-row seat to the slew of celebrities who walked up to gawk at Mrs. Obama and the president, who was a few seats from me.
Teen sensation Justin Beiber, famous-for-being-famous Kim Kardashian, comedian Chevy Chase and actor Morgan Freeman all walked up to the rope line separating the head table from the rest of the ballroom to send the first couple a shout-out.
I was snapping pics of the celebrity parade on my iPhone and posting them to my Twitter account, @edhenrycnn, during dessert, just a few minutes before the president and Leno would take their turns at telling some jokes.
Leno, a social media skeptic, finally turned to me with squinted eyes and said in a conspiratorial tone, "Are you tweeting right now?"
I confessed to Leno that I was, sparking Mrs. Obama to ask me whether journalists find value in social media or whether it's mostly trivial. I said I find it helpful to get feedback, good and bad, from people who follow my tweets.
When Mrs. Obama mentioned that she had never tweeted, I noted that the president had sent out his first tweet a few months ago from a Red Cross account to promote relief to Haiti and wondered aloud: "Why don't you send out your first tweet on my iPhone?"