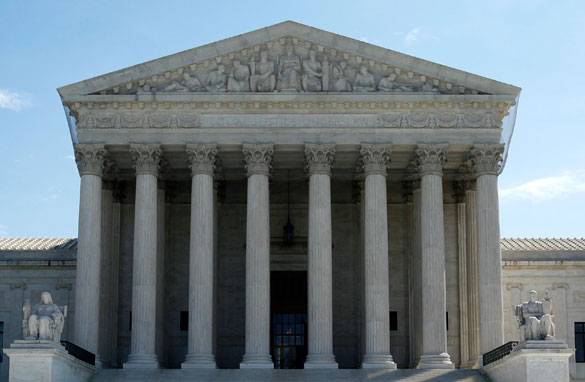 The closure of the main entrance to the Supreme Court is part of an ongoing modernization program. (PHOTO CREDIT: GETTY IMAGES/FILE)

Washington (CNN) - Two Supreme Court justices have labeled as "unfortunate" plans to permanently close the court's front entrance, where visitors have for decades passed under the famous words "Equal Justice Under Law."
The court announced that starting Tuesday, the primary entry for most visitors will be through two ground-level doors on each side of the marble front steps. Those wanting to enter the building could until now walk up the steps and enter through the magnificent Great Hall, with its vaulted ceilings and massive columns, leading the public to the first-floor courtroom. Those who did so included lawyers coming to argue cases and tourists wanting to observe how the highest court in the United States operates.
The change is part of the court's ongoing modernization program for the 75-year-old building. The court said the new entrances will provide a "secure, reinforced area to screen for weapons, explosives, and chemical and biological hazards."

The move came after recommendations from two independent security studies conducted last year and in 2001– after the building was closed for several days over fears the deadly anthrax bacteria had arrived through the mailroom in the court's basement.
But Justice Stephen Breyer, in a written memo, said the change does a disservice to the original design and symbolism of the courthouse.
"Writers and artists regularly use the steps to represent the ideal that anyone in this country may obtain meaningful justice through application to this court," said Breyer, who has been on the court since 1994. "Time has proven the success of [architect Cass] Gilbert's vision: to many members of the public this court's main entrance and front steps are not only a means to, but also a metaphor for, access to the court itself."
The 71-year-old justice labeled as "dispiriting" the decision to refuse entry through the front steps, although visitors may still leave the building that way. Breyer was supported by Justice Ruth Bader Ginsburg, and both expressed hope that one day more money or reduced threats could mean a change in policy, "to restore the Supreme Court's main entrance as a symbol of dignified openness and meaningful access to equal justice under law."