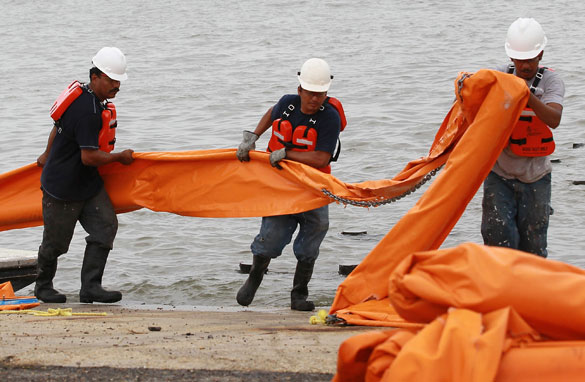 The Obama administration is assisting efforts to combat the massive oil spill threatening the Gulf Coast. (PHOTO CREDIT: GETTY IMAGES)

(CNN) - A month after announcing plans to expand offshore drilling, President Obama visited ground zero of the Gulf Coast oil disaster and warned that residents could be facing a "potentially unprecedented environmental disaster."
"The oil that is still leaking from the well could seriously damage the economy and the environment of our Gulf states and it could extend for a long time. It could jeopardize the livelihoods of thousands of Americans who call this place home," Obama said Sunday in Venice, Louisiana.
The president reiterated that oil company BP is responsible for the leak and will foot the cost of the cleanup. He pledged to "spare no effort to respond to this crisis for as long as it continues."
Obama's remarks were a stark contrast from his late March proposal to open swaths of U.S. coastal waters in the Atlantic Ocean and the Gulf of Mexico to oil and natural gas drilling.