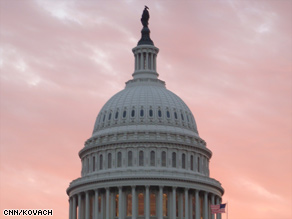 The CNN Washington Bureau's morning speed read of the top stories making news from around the country and the world.
WASHINGTON/POLITICAL
For the latest political news: www.CNNPolitics.com
CNN: Political fallout for Obama amid oil spill disaster?
As the oil slick from the recent offshore oil rig disaster makes its way to Gulf Coast shores - expected to devastate the precious ecosystem and hurt struggling businesses - the seeds of political fallout for the Obama administration are beginning to sprout.
CNN: 'This is an ecological disaster,' Rubio says of oil spill
Republican Marco Rubio called the massive oil slick headed toward the Gulf Coast "a crisis" but the Senate hopeful refused to criticize the Obama administration's response to the oil spill.
CNN: Napolitano calls Arizona immigration law a 'cry of frustration'
Arizona's controversial immigration law is a "cry of frustration" by state and local officials who need comprehensive federal immigration reform, Homeland Security Secretary Janet Napolitano said Sunday. In appearances on morning talk shows, Napolitano criticized the law as a hindrance to law enforcement and said only an overall approach will work.
CNN: 'I'm much happier now,' Crist says
Florida Gov. Charlie Crist told the National Review Online that he is much happier now that he has decided to skip the Republican primary as he campaigns to become the state's next senator. In a separate interview broadcast Sunday, Crist left open the possibility that he would align himself with Democrats in the Senate, if elected in November.
St. Petersburg Times: Legislature's proposed amendments offer referendum on GOP agenda
When voters head to the polls Nov. 2 [in Florida], they'll be judging the handiwork of the Republican-led Legislature: six proposed constitutional amendments and one straw poll. Add in citizens' initiatives and the total number of ballot issues stands at 10. When considered together, the seven new measures offer an unofficial vote of confidence on the Republican political agenda.
Cincinnati Enquirer: Paul hope it's the year of the outsider
A year ago, few people outside of Bowling Green or Frankfort knew the name Rand Paul. But that, he says, is one of his greatest strengths as he seeks the Republican nomination for U.S. Senate. Paul has stunned the political establishment by turning a double-digit deficit in the polls into a double-digit lead in a matter of months by effectively tapping into the growing tea party movement and its anti-establishment sentiment. Paul faces Secretary of State Trey Grayson of Boone County and three others in the May 18 Republican primary for U.S. Senate.
Washington Post: Scott Brown backs Hawaii, Pennsylvania Republicans in House special elections
Sen. Scott Brown (R-Mass.) knows a little something about special elections. After chalking up a stunning win in the race to replace the late senator Edward M. Kennedy (D) earlier this year, he is hoping to use his star power to help House Republicans bring home two special-election victories this month. National Republicans view the Pennsylvania race on May 18 and the Hawaii contest four days later as ripe opportunities to capture two seats held by Democrats and build momentum for the November midterm elections.
Honolulu Advertiser: Hawaii Poll: Djou leads Democratic rivals in congressional race
Councilman Charles Djou has the advantage in the special election for Congress, a new Hawai'i Poll has found, giving Republicans the best opportunity in two decades to claim the urban Honolulu district. The poll, taken for The Advertiser and Hawai'i News Now, confirms fears among Democrats that Case and Hanabusa could split the Democratic vote in the winner-take-all election and help Djou score a rare Republican upset.
Law Vegas Sun: Harry Reid delivers when it comes to federal aid
The heart of Senate Majority Leader Harry Reid's argument for re-election is that he is a powerhouse who delivers for Nevada like no one else. Reid brings home more money than the state's other four Washington lawmakers combined. But that fact may be lost in neighborhoods ripped by joblessness and foreclosures. Indeed, in a state laid low by the Great Recession, Republicans are trying to find currency in asking: What has Reid done for Nevada lately? It's a question Reid has only awkwardly addressed.
San Jose Mercury News: How Senate Republican contenders stack up against Boxer
With the economy sputtering, unemployment stuck in double digits and anxiety running high over the nation's staggering debt, this is not a good year for an incumbent U.S. senator to be up for re-election. That's certainly the case for California's three-term Sen. Barbara Boxer, a polarizing Democrat whose approval ratings rarely have topped 50 percent even in the best of times. But if the opportunity appears ripe for a Republican takeover of a seat Boxer has held for almost two decades, less clear is which GOP candidate has the best chance of pulling it off.
New York Times: Political Test May Loom for Father-Son Bond
For decades, Mario Cuomo's relationship with his son has been close, intense and dominated by the former governor, who is a lover of ideas and argument, and is an often overpowering presence. Across three elections for governor, young Andrew stood at the campaign helm for him, yelling at the deckhands, trying to steer his father to victory. In return, his father put his team of advisers and his own political talents at his son's disposal, helping him gain a Clinton administration appointment and embark on a political career. Now 52, Andrew M. Cuomo has his eyes fixed on claiming his father's old job in Albany, and, perhaps, finally emerging from his considerable shadow.
Washington Post: McDonnell strikes a balance, conservatives rethink support
After eight years of Democratic rule, Virginia Gov. Robert F. McDonnell was seen by conservatives as a political savior, someone who would restore the state's right-leaning policies and traditions. But less than four months into his term, many conservatives have grown disenchanted, even as he has made direct appeals to causes they care about. Two recent high-profile efforts to cater to parts of the conservative coalition - declaring April as Confederate History Month and slashing funding for Planned Parenthood - only further agitated many.
Los Angeles Times: Immigration a hot topic in Whitman and Poizner's last debate
Debating for the final time before next month's primary election, GOP gubernatorial candidates Meg Whitman and Steve Poizner on Sunday engaged in a lively and personal joust, attacking each other's business dealings, political affiliations and consistency on policy issues. Much of the event consisted of thrusts and parries, with front-runner Whitman defending herself against Poizner's attacks and launching several of her own as the pair addressed topics including immigration, the environment and California's public pension system. Few sharp policy differences emerged amid the accusations of poor character that were a departure from the general gentility of their one previous debate.
Pittsburgh Post-Gazette: Pennsylvania hosts more seriously contested congressional races than any other state
In Pennsylvania's 2008 congressional elections, Republicans weren't clamoring to take on Democratic incumbents. Across the state two years ago, there was just one contested Republican primary in a district held by a Democrat. Now, GOP primary competitors are throwing elbows at one another all over the state. Nurtured by grassroots conservatives such as the tea party movement, the May 18 ballots will be crowded with the names of GOP House hopefuls. The . . . ballot rosters are a harbinger of what is expected to be the state's most competitive general election for Congress in years, with as many as 10 of the state's 19 congressional districts hosting seriously contested races - more, by most analysts' reckoning, than in any other state. The GOP competition reflects the sense within that party that it's going to be a Republican year.
NATIONAL
For the latest national news: www.CNN.com
CNN: Police scour latest evidence in Times Square bombing attempt
Law enforcement officials early Monday pored through evidence, including a 20-second video, after a failed car bombing attempt in Times Square over the weekend. The video released by authorities showed an image of a man, who police say is possibly connected to the attempted bombing, changing his shirt along a New York street. A balding man with dark hair is seen removing a shirt and putting it in a bag before walking out of the camera's view from inside a restaurant.
CNN: U.S. curtails fishing in stricken Gulf
Federal officials closed a portion of the northern Gulf of Mexico to fishing Sunday, curtailing a billion-dollar business as high winds and choppy seas hampered efforts to corral a rapidly growing oil spill. The spill cast a pall over the annual Blessing of the Fleet in Bayou La Batre, Alabama, one of many towns that make their living from the Gulf. In Venice, Louisiana, a rain-spattered President Obama told reporters his administration has launched a "relentless response" to the spill, but said the problem might not be solved for "many days."
CNN: Obama vows 'relentless' response to oil spill
President Obama said Sunday his administration has mounted a "relentless response" to the oil spill unleashed by the sinking of an offshore drill rig in the Gulf of Mexico. Obama met with local, state and federal officials involved in the cleanup in southeastern Louisiana, the closest stretch of coastline threatened by the massive spill. Afterward, he said that despite "the most advanced technology available," the spill may not be stopped for many days.
CNN: At least 11 dead as record flooding engulfs Tennessee
Some of the worst flooding the mid-South has seen in decades is thought to be responsible for at least 11 deaths in Tennessee, the Nashville and state emergency management offices said Sunday. The rains have closed interstate highways, displaced thousands from their homes, prompted evacuations of hotels and nursing homes and turned city streets and parking lots into raging rivers.
Arizona Republic: Violence is not up on Arizona border despite Mexican drug war
Assistant Police Chief Roy Bermudez shakes his head and smiles when he hears politicians and pundits declaring that Mexican cartel violence is overrunning his Arizona border town. FBI Uniform Crime Reports and statistics provided by police agencies, in fact, show that the crime rates in Nogales, Douglas, Yuma and other Arizona border towns have remained essentially flat for the past decade, even as drug-related violence has spiraled out of control on the other side of the international line. Statewide, rates of violent crime also are down. While smugglers have become more aggressive in their encounters with authorities, as evidenced by the shooting of a Pinal County deputy on Friday, allegedly by illegal-immigrant drug runners, they do not routinely target residents of border towns.
INTERNATIONAL
For the latest international news: http://edition.cnn.com
CNN: Pakistani Taliban threatens U.S. in new video
A nearly nine-minute video released Sunday by the Pakistani Taliban group Tehrik-e-Taliban Pakistan features a statement from a speaker claiming to be leader Hakimullah Mehsud - his first appearance since reports of his death in a drone strike - warning of imminent attacks on major American cities, according to IntelCenter, a think tank that specializes in tracking terrorist groups. The video came to light less than 24 hours after an attempted car bombing in New York's Times Square.
CNN: Report: North Korean leader may be in China
North Korean leader Kim Jong-il is believed to be in China, according to the South Korean news agency Yonhap. Quoting unnamed sources in Seoul and Beijing, Yonhap said Kim is believed to have arrived in the Chinese border city of Dandong early Monday by train and to be heading to the port city of Dalian. A visit by Kim to China has long been anticipated in Seoul and Washington, according to Yonhap, with the hope that the visit would be followed by a North Korean announcement that it would be returning to the so-called six-party talks on denuclearization.
CNNMoney: Greece accepts bailout package
Greece has accepted a bailout deal including tough austerity measures, Finance Minister George Papaconstantinou announced Sunday. The international aid package, negotiated with the European Central Bank, European Commission and the International Monetary Fund, will be worth 110 billion euros (US $146 billion) over three years, Eurogroup President Jean-Claude Juncker said in announcing the agreement Sunday evening from Brussels, Belgium. Of the overall amount, 80 billion euros will be made available through euro-area members, with up to 30 billion available in the first year, Juncker said.
CNN: Iran's Ahmadinejad heads for U.S.
Iranian President Mahmoud Ahmadinejad left Sunday for the United States to take part in a conference on nuclear nonproliferation, a Foreign Ministry spokesman told state television. Ahmadinejad will address the United Nations Nuclear Non-Proliferation Treaty review conference in New York on Monday, spokesman Ramin Mehmanparast told Iran's News Network. Ahmadinejad told reporters in Tehran before his departure that the NPT has failed.
CNN: Talks could restart between Israel, Palestinians
Israeli Prime Minister Benjamin Netanyahu over the weekend welcomed the Arab League's endorsement of peace talks with the Palestinians. While still waiting for a formal approval from the Palestinian Authority, Netanyahu stressed "that Israel wishes to resume the peace talks with the Palestinians at any time and at any place." Netanyahu said the talks are to be held "without preconditions." Members of the Arab League met Saturday in Cairo, Egypt, where they gave their conditional approval for the resumption of the indirect talks that have been stalled for over a year now.
Wall Street Journal: Australia Plans New Resources Tax
Australia's government plans to reap billions of additional dollars in tax from the country's booming resource industry and use the extra revenue to cut corporate taxes to a more globally competitive level and offer more-generous tax concessions for smaller companies. Unveiling a broad tax-system proposal Sunday, the government also said it will raise the mandatory pension-fund contribution to 12% of workers' salaries, from 9% now. Most of the tax-system changes will take years to implement, it said.
Times of London: Cameron outlines plans for first days in power
David Cameron has thrown caution aside by spelling out his first acts in government with three days still to go until polling day. In his first big gamble of the campaign, the Tory leader risked charges of taking the result for granted as he sketched out the style and early decisions of his would-be administration — and warned they would be jeopardized by an uncertain result on Thursday. He said that he wanted to roll up his sleeves on Friday to lead a government of "quiet effectiveness" that would turn its back on headline-chasing.
BBC News: Mumbai attacks trial verdict due for Ajmal Amir Qasab
An Indian court is set to deliver its verdict on the man alleged to be the sole surviving gunman of the 2008 Mumbai (Bombay) attacks. Pakistani national Mohammad Ajmal Amir Qasab, 22, faces 86 charges, including waging war on India, murder and possessing explosives. In all, 610 witnesses testified during the case, which began last March.
CNN: Execution does not stop Chinese knife attacks
On Friday, the Ministry of Education on its website issued an urgent circular ordering kindergartens, elementary and secondary schools to beef up security and restrict strangers from entering the campuses. The ministry instructed schools across the country to hire security guards, install security facilities, and ensure that pupils are escorted home. Schools are also urged to teach pupils to how to protect themselves. Guns are strictly controlled in China, but until recently possession of large knives were not. Chinese authorities have recently issued a regulation requiring people to register with their national ID cards when they buy knives longer than 15 centimeters. This series of school attacks are blamed on people with personal grievances or suffering from mental illness.
BBC News: Somali Islamist insurgents seize pirate haven
Somali insurgents have taken control of one of the main pirate havens in the centre of the country. Residents said several hundred rebels of the group Hizbul Islam had taken over the coastal town of Haradhere and that the pirates had fled. Hizbul Islam wants to establish Sharia law and order and put an end to the pirate trade in the town, the leader of the insurgents told the BBC. Somalia has not had an effective government for nearly 20 years.
BUSINESS
For the latest business news: www.CNNMoney.com
Wall Street Journal: BP's Worsening Spill Crisis Undermines CEO's Reforms
When [Tony] Hayward took over BP's leadership from John Browne three years ago this week, the company was at one of the lowest points in its history: badly run, accident-prone and accused in the aftermath of a deadly explosion at its Texas City refinery of putting profits before safety. Mr. Hayward turned BP around, boosting production, cutting costs and significantly reducing on-the-job injuries. Last month, he was confident enough to talk of an irreversible "change of culture" at BP. None of that seems to matter now, as BP heads into the crisis grinder that has chewed up big names like Toyota and Goldman Sachs. And with about 5,000 barrels of oil leaking from the damaged well each day, Mr. Hayward knows it.
CNNMoney: United and Continental to merge
UAL Corp.'s United Airlines will announce a deal to merge with Continental Airlines for more than $3 billion on Monday, a source familiar with the situation said Sunday. The board of directors at both airlines approved the deal Sunday. The deal will be a merger of equals, valuing Continental at around its current market capitalization of $3.1 billion, the source said. A merger between the two would create the world's largest airline, overtaking Delta Air Lines, which merged with Northwest Airlines in 2008.
CNNMoney: Buffett backs Goldman Sachs
Warren Buffett offered his strongest defense yet of Goldman Sachs, saying he doesn't believe the investment bank acted improperly in a sale of subprime-related securities at the heart of a Securities and Exchange Commission fraud case. "I do not hold against Goldman at all that an allegation has been made," Buffett said Saturday at Berkshire's annual shareholder meeting in Omaha. He adds that he "loves" Berkshire's lucrative investment in Goldman preferred stock and believes the firm remains the best investment bank in the world.
Financial Times: Goldman plans to overhaul practices
Goldman Sachs is planning to change some of its practices in dealing with institutional clients, a step that could help it settle charges filed last month by US securities regulators. The internal policy revisions come as the US Securities and Exchange Commission steps up demands for corporate governance changes as part of any negotiated settlement. While talks are not under way to resolve the SEC's allegations that Goldman misled investors during the financial crisis over the sale of mortgage-backed securities, people familiar with each side of the dispute concede a settlement would be in the best interests of both parties. A former top SEC official said the regulator needed to demonstrate there had been real change, while the bank needed to put the uncertainty behind it.
CNNMoney: Markets at a turning point
The Dow Jones industrial average broke its 8-week winning streak last week, ending its longest run of gains in six years and setting stocks up for what could be a bigger pullback. Sheer momentum and bets that a bigger economic recovery is taking hold drove markets higher for two months. But the pace began to slow in mid-April and the tone turned negative. With a variety of headwinds on the horizon and the Dow and S&P 500 at 18-month highs, the short-term direction looks to be down.
Bloomberg: Banks Buying Treasuries Help Keep Borrowing Rates Low
Bank are increasing purchases of U.S. government securities to pump up profits while lending to businesses languishes near the lowest levels since credit markets started to freeze almost three years ago. Holdings of Treasuries rose each of the past five weeks, an increase of $63.2 billion to $1.5 trillion, according to Federal Reserve data. At the same time, commercial and industrial loans climbed less than 1 percent to $1.27 trillion and are down 23 percent from the record high level in October 2008.
Washington Post: More tech firms setting up offices in Washington area to get federal business
In general, high-tech jobs in the region have been multiplying at a disproportionately high rate. According to statistics from industry advocate TechAmerica, the high-tech industry in Washington, Maryland and Virginia has added close to 100,000 jobs over the past decade. The software services area particularly has flourished, growing from about 140,000 jobs to nearly 220,000. Though the data include all of Maryland and Virginia, Josh James, director of research and industry analysis at TechAmerica's nonprofit educational foundation, said the vast majority of that growth was in the capital region.
In Case You Missed It
NYPD surveillance video from Times Square shows person of interest changing shirts before walking away.

Police arrested Illinois Rep. Luis Gutierrez with a group of protesters Saturday at a rally outside the White House.
Subscribe to the CNN=Politics DAILY podcast at http://www.cnn.com/politicalpodcast
And now stay posted on the latest from the campaign trail by downloading the CNN=Politics SCREENSAVER at http://www.CNN.com/situationroom