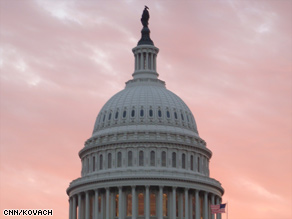 The CNN Washington Bureau's morning speed read of the top stories making news from around the country and the world.
WASHINGTON/POLITICAL
For the latest political news: www.CNNPolitics.com
CNN: BP is active player in DC money game
Congress is demanding answers in its investigation of the Gulf of Mexico oil spill – and the BP executives likely to be grilled in the weeks ahead are no strangers to the ways of Washington. The company spent almost $16 million lobbying Congress in 2009 and over $3.5 million so far this year, according to the non-partisan Center for Responsive Politics (CRP). Fifty-seven percent of BP's contributions went to Republicans, while 43 percent went to Democrats.
CNN: Durbin: New safety standards likely for offshore drilling
Senate Democratic Whip Dick Durbin said Monday that because of the oil spill in the Gulf of Mexico, he is "sure that this administration will come out with new standards for safety when it comes to any offshore drilling in the future."
CNN: Senator: Can't leave BP 'off the hook' for spill
Lawmakers will meet with environmental groups Tuesday to gauge the impact from an explosion aboard a BP oil rig that uncorked a gusher of oil off the coast of Louisiana. Democratic senators Frank Lautenberg and Robert Menendez of New Jersey along with Bill Nelson of Florida will talk to officials from the Sierra Club and Environment America to discuss courses of action as the impact of a potential disaster continues to unfold.
CNN: Tuesday primary showdowns in three states
The battle for Congress picks up steam Tuesday as three states hold primaries. Among the most interesting contests are a Republican Senate nomination fight in Indiana and Democratic Senate primary battles in Ohio and North Carolina.
Indianapolis Star: Hoosier voters get to have their say today
After weeks of candidates talking, today voters speak. They'll go to polls across Indiana to pick Republican or Democratic nominees for offices that include the U.S. Senate, the state legislature, and county prosecutor and judge. If the numbers of early voters are an indication, turnout could be relatively strong.
Charlotte Observer: Primary today
Incumbent Richard Burr is expected to easily win the Republican primary, but recent polls indicate the Democratic race could be tight. Secretary of State Elaine Marshall and former state Sen. Cal Cunningham will try to scramble up enough votes to avoid a runoff, while Chapel Hill attorney Ken Lewis has the endorsement of some prominent African-Americans.
Cincinnati Enquirer: Low key primary set for Tuesday
Voters across Ohio go to the polls Tuesday to decide a number of local tax issues and determine which political party candidates for some federal, state and local offices will run in the November general election. Statewide, voters will choose either Lt. Gov. Lee Fisher or Secretary of State Jennifer Brunner as the Democratic candidate to run for U.S. Senate against Republican, Socialist and Constitution party nominees in November. Only the Democrats had a primary runoff election. Primaries are also being held for some seats in Congress and the state legislature, along with several state offices and some judgeships.
Philadelphia Inquirer: Williams fires first salvo at Onorato
Fifteen days ahead of the primary election, State Sen. Anthony Hardy Williams has launched the first negative TV ad in the campaign for Pennsylvania governor. The ad is aimed at Democratic front-runner Dan Onorato and attempts to undermine the main theme of Onorato's campaign – that he has transformed the Pittsburgh area in his role as the elected Allegheny County executive. Williams' 30-second spot, running in much of the state but not in Philadelphia, disputes Onorato's claims about the jobless rate in his county and says he raised various taxes there. Onorato, in a statement, struck back by assailing Williams as an anti-reform legislator who twice voted to increase his state salary and once voted to sweeten his government pension.
Denver Post: Hickenlooper outraises McInnis in gubernatorial race
Denver Mayor John Hickenlooper raised twice as much in campaign funds as his chief opponent, Scott McInnis, in the past four months and has considerably more cash on hand. Campaign-finance reports filed Monday show Hickenlooper has nearly $890,000 in campaign funds. McInnis has about $500,000. Hickenlooper, the Democratic candidate, has more cash on hand despite jumping into the fray late. McInnis had been campaigning for months when Hickenlooper launched his bid in January after Gov. Bill Ritter decided against running for re-election.
New York Times: Paterson Move May Help Immigrants Facing Deportation
Gov. David A. Paterson announced on Monday that the state would accelerate consideration and granting of pardons to legal immigrants for old or minor criminal convictions, in an effort to prevent them from being deported. The move sets up a confrontation between the governor and federal immigration officials, who have taken more aggressive action to increase deportations in recent years. Immigration lawyers on both sides called the step extraordinary and said it could ultimately affect thousands of people in New York.
Charleston Post and Courier: Sanford avoids criminal charges
Gov. Mark Sanford's nearly yearlong nightmare has come to an official end. Sanford was cleared Monday of any criminal wrongdoing alleged in the months after he confessed to an extramarital affair last June. The lame-duck governor said he wants to move past the distraction and focus on economic development, job creation and government restructuring before he leaves office in January. Attorney General Henry McMaster, a Republican candidate for governor, said Sanford violated the spirit of the law in some instances but that his office could not find evidence that Sanford committed any crimes.
CNN: Florida GOP auctions Crist painting on eBay
The Republican Party of Florida has followed through on its promise to auction off an oil painting of Gov. Charlie Crist, who bolted from the party last week to run for Senate as an independent. The state party took to eBay Monday afternoon to sell off the framed portrait under the banner "Help the Republican Party of FL Get Our Money Back!"
Investors Business Daily: Unions, Liberal Groups Grumble About Dems' Campaign Ad Bill
Liberal groups are experiencing buyer's remorse over Democrats' proposed campaign finance bill. Restrictions they thought would hit only corporations are broad enough to include them too. Those groups, led by Big Labor, had clamored for new legislation. While still publicly supportive, they are quietly lobbying lawmakers to have themselves excluded from the bill.
Politico: Obama deflects tough calls to Senate
A day after highlighting the need for immigration reform at an Iowa town hall meeting, President Barack Obama last week raised doubts about whether Congress really had "an appetite immediately to dive into another controversial issue." Immigration activists were shocked, to say the least — "pissed" is how Frank Sharry, executive director of America's Voice, described his reaction — and the remarks undercut the next day's unveiling of an immigration reform framework, while providing Republicans more leeway to accuse Democrats of demagoguing on the issue.
CNN: White House posts 1,000th video
Last week, the White House hit a social media milestone when it posted their 1,000th video on YouTube and WhiteHouse.gov. Since President Obama took office, the White House new media team has worked to ensure that he has a robust presence on social networking sites such as Twitter and Facebook. But video content has also been a strong tool in their portfolio to get the president's message out.
NATIONAL
For the latest national news: www.CNN.com
CNN: Bomb plot suspect arrested trying to catch flight to Dubai
A U.S. citizen has been arrested in the Times Square bombing probe, U.S. Attorney General Eric Holder announced early Tuesday. Faisal Shahzad was arrested at JFK airport in New York as he prepared to board a flight to Dubai, Holder said. "It is clear the intent behind this terrorist act was to kill Americans," Holder said. "We will not rest until we bring everyone responsible to justice." Law enforcement officials said the suspect is the person who bought the Nissan Pathfinder used in the bombing attempt.
CNN: Gulf Coast residents brace for slow-motion oil disaster
Nearly two weeks after an explosion aboard an oil rig caused a leak from an undersea oil well off Louisiana, the impact is just beginning to unfold. Though the widening pool of oil remained offshore Monday, it was already a presence for some coastal areas. John Kelly, administrator of Gulfport, Mississippi, said he had been able to smell it since Friday. BP's ruptured undersea well continues to spew about 210,000 gallons - or 5,000 barrels - of crude per day into the Gulf of Mexico. Efforts to contain or curtail the spill have been unsuccessful.
Washington Post: 18 states refuse to run insurance pools for those with preexisting conditions
Eighteen states have said they will not administer a stopgap program to provide insurance coverage to people whose preexisting conditions have left them uninsured, forcing the federal government to do the work. The states' decisions increase the challenge the government faces as it sets out to translate the far-reaching health-care legislation into action, and they hint at the complexities to come. Health and Human Services Secretary Kathleen Sebelius told state officials last month that she wanted to build on state programs, and she asked state governments to let her know by April 30 whether they would run the pools at the state level.
CNN: U.S. reveals it has 5,113 nuclear warheads
The United States has 5,113 nuclear warheads in its stockpile and many thousands more that have been retired and are awaiting dismantling, according to a senior defense official. The release of the number of warheads marks only the second time in U.S. history the government has released the once top secret information. The Pentagon statistics show the nuclear stockpile was reduced by 75 percent between the fall of the Berlin Wall in 1989 and September 30, 2009, and 84 percent since its peak of more than 31,255 in 1967. The 5,113 warheads include active and inactive ones, according to the senior defense official.
CNN: University of Virginia athlete charged in lacrosse player's death
A male University of Virginia lacrosse player was charged with first degree murder Monday after a member of the school's women's lacrosse team was found dead in her apartment, police said. Police were initially called to the off-campus apartment by a roommate who reported "a possible alcohol overdose," said Tim Longo, chief of police in Charlottesville, Virginia. Police identified the dead student as Yeardley Love, 22, a senior from Cockeysville, Maryland.
INTERNATIONAL
For the latest international news: http://edition.cnn.com
CNN: Clinton faces off with Iran's leader at UN nuclear conference
Secretary of State Hillary Clinton faced off with Iranian President Mahmoud Ahmadinejad at the United Nations on Monday, accusing Tehran of "flouting the rules" of the Nuclear Non-proliferation Treaty and calling for "a strong international response." Iran "will do whatever it can to divert attention from its own record and to attempt to evade accountability," Clinton said at the opening of a month long conference on nuclear nonproliferation.
CNN: Greeks strike over austerity measures
Greek workers went on strike Monday, marching to parliament to protest cuts in government spending demanded by international funders. Garbage collectors, cleaners, municipal office workers and other local government staff gathered Monday morning, waving banners with slogans like "Get your hands off our rights." A €110 billion ($146 billion) aid package for Greece was announced Sunday, but Athens is introducing tough austerity measures to meet European Union and International Monetary Fund conditions on the deal.
CNN: U.S. official: Russia still allowing adoptions by Americans
A senior State Department official said Monday that Russian authorities continue to approve U.S. adoptions despite some public sentiment there to call a complete halt. "There are several different moods, I think, in Russia. There is some popular opinion for ending all adoptions to the United States," the official said. The official, who insisted on anonymity because of the sensitivity of U.S.-Russian talks, participated in a conference call with journalists to discuss his meeting in Moscow last week. A follow-up session is set for Moscow a week from Wednesday.
New York Times: Thai Prime Minister Offers New Deal to Protesters That Includes Early Elections
Thailand's Prime Minister, Abhisit Vejjajiva, sought to break the country's debilitating political deadlock on Monday by offering a "reconciliation plan" that included elections in November. Antigovernment protesters who for seven weeks have shut down a major commercial district in Bangkok, the capital, had been demanding that Mr. Abhisit dissolve Parliament within a month. But amid some signs of weariness among protesters, leaders of the movement, which is known as the red shirts, responded positively to the prime minister's offer and said they would meet Tuesday to formulate a response.
Los Angeles Times: North Korean leader in China seeking cash, clout
When North Korea's reclusive leader, Kim Jong Il, ventures outside his hermit kingdom, he must be in need of something, and for his current trip to China, the wish list is especially long. From his last real ally, the 68-year-old dictator is seeking protection from international sanctions and the nod to install his twenty-something son as his successor, as well as money to prop up a faltering economy. Famously phobic about flying, Kim reportedly arrived in China on Monday, in a style befitting one of the world's last Cold War dictators: on an armored train and in what was supposed to be complete state secrecy. He and his retinue crossed the Yalu River separating North Korea and China and arrived at 5:20 a.m. in the border city of Dandong.
Daily Telegraph: General Election 2010: David Cameron needs just 14 more seats
With momentum building behind the Tories, party strategists believe Mr Cameron is "on the cusp" of being able to form a government by the weekend. The Conservatives are on course to seize at least 103 seats from Labour – 14 shy of the 117 needed to secure an overall majority, the poll shows. It found a swing of 7.5 per cent to the Tories in the Labour seats they are targeting. Mr. Cameron's personal poll rating has been improving since last week's leaders' debate and the incident in which Gordon Brown called a Rochdale pensioner "bigoted". The Tory leader's "net favourability" rating is up by nine percentage points, the survey shows. Mr. Cameron today will begin a frantic final 48 hours of campaigning in an attempt to convince undecided voters ahead of the election.
BBC News: Flights banned in Ireland and parts of UK over ash risk
All flights in and out of Northern Ireland and the Irish Republic have been grounded from 0700 BST because of fresh risks from volcanic ash. Airspace over Scotland's Outer Hebrides was closed, affecting Stornoway, Tiree, Barra and Benbecula airports, with Campeltown in Argyll also closed. Flights in the rest of the UK are operating as normal.
BBC News: Japan PM scraps plan to move US base from Okinawa
Japan's Prime Minister Yukio Hatoyama has said it will not be feasible to entirely remove a controversial US base from the island of Okinawa. The US Marines' Futenma base is deeply unpopular with Japanese and removing it had been a key election pledge of the prime minister. But on a visit to the island, Mr. Hatoyama said "realistically speaking, it is impossible" to fully relocate it. The base is home to more than half the 47,000 American troops based in Japan.
BUSINESS
For the latest business news: www.CNNMoney.com
CNNMoney: FDIC chief: Bill to limit risky trades goes too far
One of the nation's top banking regulators has taken a swipe at what has become a signature piece of Senate Democrats' Wall Street reform package: cracking down on complex financial products. Federal Deposit of Insurance Corp. Chair Sheila Bair said she's concerned that the Senate bill goes too far, in a letter sent Friday to the authors of the measure, Sens. Christopher Dodd, D-Conn., and Sen. Blanche Lincoln, D-Ark.
Bair is taking aim at a provision that blocks all banks from trading complex financial contracts called derivatives. The bill would force banks to spin off the desks that trade derivatives, known as swaps desks.
CNNMoney: Tylenol maker scrambles to fix quality problem
The maker of several over-the-counter drugs, including Tylenol, Motrin and Benadryl, said Monday that it is taking "corrective actions" at its U.S. plant after some 40 children's versions of those drugs were recalled for quality concerns. McNeil-PPC, the division of Johnson & Johnson (JNJ, Fortune 500) that manufactured the recalled products, has been hit with a string of major recalls. The latest one is its fourth in the past seven months.
CNNMoney: Auto sales: Up for the year, down for the month
Major automakers posted double-digit gains in U.S. sales in April compared to the battered sales of a year ago, but the overall pace of sales fell short of March results. Industry wide U.S. sales came in just short of 1 million vehicles, up 20% from a year ago, according to sales tracker Autodata, but a bit shy of forecasts of between a 21% to 23% gain. And sales were down 8% from March. The sales were another sign that conditions for the industry have improved significantly from the near apocalypse of a year ago, but that the recovery is still modest at best.
CNNMoney: Airline industry made billions off added fees
Those baggage fees really add up: The airline industry raked in nearly $8 billion from fees last year, according to a government report. The revenue from so-called ancillary fees totaled $7.8 billion in 2009, according to U.S. Department of Transportation's Bureau of Transportation Statistics. That's a 40% increase from 2008, when the revenue from ancillary fees totaled $5.5 billion, the bureau said. The tally does not include air fares. It's made up of the plethora of extra fees that airlines have tacked on over the last few years, including fees to transport checked bags, pets, and musical instruments. The fees are also applied to other services, such as curbside check-in or ordering tickets over the phone. The fees vary from airline to airline.
Wall Street Journal: Manufacturing Shows Broad Signs of Growth
Manufacturing activity grew stronger in April, pointing to sustained growth in the sector, as both business and consumer spending rebounded. A separate report by the Commerce Department confirmed that consumers opened their wallets in March, dipping into savings to increase spending faster than their incomes rose. The Institute for Supply Management survey of factory purchasing managers shows the expansion was broad-based, with 17 out of 18 industries surveyed experiencing growth. The overall index for manufacturing activity climbed to 60.4 in April, up from 59.6 in March, and reflected underlying increases in production, new orders and employment. Any index reading above 50 shows manufacturing is expanding.
Financial Times: Apple faces US antitrust scrutiny
US authorities have signaled an interest in a potential antitrust probe into whether the software underpinning Apple's groundbreaking iPhone unfairly locks out competitors, according to a person familiar with the matter. The regulators' interest comes in the wake of a dispute that broke out between Apple and Adobe, a software maker, over the latest version of the iPhone software, which was unveiled last month. Steve Jobs, Apple chief executive, last week took the unusual step of writing a public letter explaining his decision to bar Adobe's software from his company's devices.
In Case You Missed It
U.S. Attorney General Eric Holder makes a statement announcing the arrest of a suspect in the Times Square bomb plot.
CNN's Brian Todd looks at the tough questions BP is facing as it scrambles to contain the Gulf oil spill.
Subscribe to the CNN=Politics DAILY podcast at http://www.cnn.com/politicalpodcast
And now stay posted on the latest from the campaign trail by downloading the CNN=Politics SCREENSAVER at http://www.CNN.com/situationroom