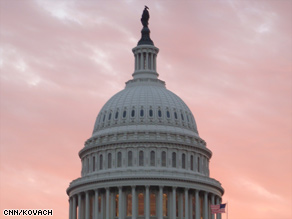 The CNN Washington Bureau's morning speed read of the top stories making news from around the country and the world.
WASHINGTON/POLITICAL
For the latest political news: www.CNNPolitics.com
CNN: Landrieu won't say if she'll return BP money
Despite receiving nearly $1.8 million in campaign donations from BP over the last ten years, Sen. Mary Landrieu, D-Louisiana, avoided saying Tuesday whether she will give the money back in the wake of the company's devastating oil spill in the Gulf of Mexico. The Democrat dismissed claims that the energy industry is poorly regulated.
The Hill: McCain: 'Serious mistake' if car bombing suspect was Mirandized
It would have been a serious mistake to have read the suspect in the attempted Times Square car bombing his Miranda rights, Sen. John McCain said Tuesday. McCain, the ranking member of the Senate Armed Services Committee and a longtime leading Republican on national security issues, said he expected the suspect in the case could face charges that might warrant a death sentence if convicted.
CNN: Controversial memo sends financial giant backtracking
A JPMorgan Chase spokesperson is apologizing Tuesday after a top executive at the firm authored a note implying that senators displayed a "low level of economic literacy" at last week's Goldman Sachs hearings. JPMorgan Chase spokesperson Jennifer Zuccarelli, in a statement to CNN, distanced the company from Glassman's May 3 analysis.
Indianapolis Star: GOP turns to Dan Coats
Even as former Sen. Dan Coats celebrated his victory Tuesday in the Republican primary election, the battle lines were being drawn in what is shaping up as a bruising fight for U.S. Senate. Coats overcame four Republican opponents and the antipathy of many in the tea party movement to win the GOP nomination for the Senate seat he held from 1988 to 1998. With 98 percent of the precincts tallied, Coats had won with 39 percent of the vote. Democrats won't officially pick U.S. Rep. Brad Ellsworth as their nominee until May 15, when the party's state central committee votes on a replacement to succeed Sen. Evan Bayh. But the intensity of the coming election between Coats and Ellsworth was immediately apparent.
Charlotte Observer: House, Senate races headed for runoffs
At least two primaries are headed for runoffs as N.C. voters set up fall showdowns that could become referendums on Washington and change the balance of power in Raleigh. In a year of disaffection with establishment politics, voters renominated every congressional incumbent. But they toppled four state legislators, including Democratic Rep. Nick Mackey of Charlotte. In the Democratic U.S. Senate race, Secretary of State Elaine Marshall fell just short of the 40 percent needed to avoid a runoff. She faces former state Sen. Cal Cunningham of Lexington in the runoff.
Cleveland Plain Dealer: Lee Fisher, Third Frontier winning big in Ohio, Tea Party effect minimal and voters deny many local school taxes
In an Election Day where in Cuyahoga County, at least, more voters cast their ballots by mail over the last few weeks than showed up at the polls, there were some big winners and some disappointed losers. Lt. Gov. Lee Fisher handily defeated his primary challenger, Secretary of State Jennifer Brunner, in Democratic primary race for the U.S. Senate seat now held by two-term Republican Sen. George Voinovich, who is retiring. Fisher will face Republican Rob Portman, a former Cincinnati congressman, who was unopposed in Tuesday's GOP primary.
Lexington Herald-Leader: McConnell endorsement of Grayson highlights GOP rift
Senate Minority Leader Mitch McConnell took sides in Kentucky's GOP primary for U.S. Senate on Tuesday and endorsed Secretary of State Trey Grayson, highlighting a growing uneasiness between the Republican Party establishment and grass-roots conservatives. Most polling shows Grayson significantly trailing Tea Party movement favorite Rand Paul, who also has the backing of retiring Republican Sen. Jim Bunning, the lawmaker Grayson and Paul hope to replace. Aside from trying to breathe new life into Grayson's foundering campaign, the endorsement is a sign of just how much McConnell, the Senate minority leader, has riding on the election.
The Hill: Obama urges Hawaii voters to pick 'a Democrat' in May 22 special elections
President Barack Obama urged voters to support "a Democrat" in a Hawaii special election, though he didn't get more specific than that. The president recorded a robocall for voters in the state's 1st congressional district, where Democratic primary voters are split between former Rep. Ed Case (D) and state Sen. Colleen Hanabusa (D). The Republican candidate in the race, Charles Djou, has benefited from a split field ahead of the May 22 special election to fill the vacancy left by Rep. Neil Abercrombie (D), who resigned.
The Hill: Endorsement not offered or sought in Pa.
Less than two weeks before voters head to the polls, President Barack Obama has not endorsed the Democratic candidate who is looking to succeed the late Rep. John Murtha. And Mark Critz, a former aide to Murtha, won't say whether he wants Obama's formal backing in a district Sen. John McCain narrowly won in the 2008 presidential contest. It would be unusual if Obama were not to back Critz officially. He endorsed the Democratic candidates in all three gubernatorial contests last year.
CNN: Analysis: Florida's Rubio, an outsider, avoids establishment label
Marco Rubio said Tuesday he would welcome Republican leaders to Florida to campaign on his behalf, but emphasized that he is not embracing the ways of Washington even though he is now the GOP establishment's favorite son.
CNN: Billionaire Florida Senate candidate defends investments
Jeff Greene, the billionaire real estate investor running for Senate in Florida, is rebuffing his Democratic primary opponent's charges that he made his fortune on the backs of the Sunshine State's suffering homeowners. Greene, who joined the Senate race last Friday, has promised to spend whatever it takes to win the seat. He made hundreds of millions of dollars by speculating against the real estate market before it collapsed. His primary opponent, Rep. Kendrick Meek, has dismissed Greene's candidacy as a novelty act and accused him of profiting off the many foreclosures dragging down Florida's housing market.
Los Angeles Times: Healthcare is a headache for GOP candidates in California
Republican candidates across the nation are confident that opposition to President Obama's healthcare law will deliver them electoral victories. But in California, the three GOP Senate candidates vying to take on Sen. Barbara Boxer face a much more daunting task: convincing a majority of Californians who support the bill that they are wrong. The issue is a stark reminder of the difficulties facing Republican candidates in this highly partisan state, even in a year when the political winds are at their backs. The primary voters Republicans are courting are a conservative lot who fiercely oppose the new law. But in November, the winner of the June primary will have to sway voters who by and large support the plan, and who continue to hold Obama, its architect, in high regard.
CNNMoney: 'Bush-ama' tax cuts: The $2.2 trillion decision
They're often called the "Bush" tax cuts. But at this point they might as well be called the Bush-ama tax cuts. That's because President Obama has embraced the tax relief measures introduced in 2001 and 2003, proposing they be extended indefinitely for most Americans. If lawmakers do nothing, the measures expire Dec. 31. The tax cuts lowered income and investment tax rates, boosted the child credit, reduced the estate tax, and narrowed inequalities affecting married taxpayers.
Washington Post: Tea party groups battling perceptions of racism
As several states with active "tea party" groups prepare to hold important primary elections this month, the movement is struggling to overcome accusations of racism that are tinting perceptions of this loose network of conservatives. The challenge is made tougher by one of the defining elements of the tea party movement: No one person controls it. And incidents of racist slogans and derisive depictions of President Obama continue to crop up, providing fuel for critics who say the president's skin color is a powerful reason behind the movement's existence. In a new Washington Post-ABC News poll, most Americans see the movement as motivated by distrust of government, opposition to the policies of Obama and the Democratic Party, and broad concern about the economy. But nearly three in 10 see racial prejudice as underlying the tea party.
New York Times: Black Hopefuls Pick This Year in G.O.P. Races
Among the many reverberations of President Obama's election, here is one he probably never anticipated: at least 32 African-Americans are running for Congress this year as Republicans, the biggest surge since Reconstruction, according to party officials. The House has not had a black Republican since 2003, when J. C. Watts of Oklahoma left after eight years.
NATIONAL
For the latest national news: www.CNN.com
CNN: Times Square suspect had explosives training, documents say
Charges filed Tuesday against Times Square car bombing suspect Faisal Shahzad paint him as a would-be terrorist who sought explosives training in Pakistan's volatile Waziristan region, where government forces have been working to root out Taliban militants. The court documents show Shahzad apparently continued to have contact with Pakistan upon his return to the United States, receiving a series of 12 phone calls originating from his country of birth in the days leading up to the incident - five of which were made on the same day he bought the Nissan Pathfinder used in the attempted attack Saturday night.
CNN: Obama Interviews Wood for Supreme Court Vacancy
With senior officials saying he's edging closer to announcing his pick for the Supreme Court, President Obama interviewed federal judge Diane Wood at the White House on Tuesday, according to two sources familiar with the process. Vice President Biden also conducted a separate one-on-one interview with Wood on Tuesday, according to the sources familiar with the process. A source close to Wood told CNN she had abruptly canceled her Tuesday afternoon class at the University of Chicago.
CNN: Oil laps barrier islands; BP grilled about oil spill at Capitol
The edges of the massive Gulf Coast oil slick grazed the barrier islands off Louisiana's Chandeleur and Breton sounds Tuesday as the company responsible for cleaning up the spill faced tough questions from members of Congress. With a damaged undersea well still spewing crude oil into the Gulf of Mexico, Louisiana's coastal parishes made new plans to keep the oil from moving into Lake Borgne and Lake Pontchartrain, which flank New Orleans. Winds that complicated efforts to fight the spill died down Tuesday, making cleanup work easier, Coast Guard Rear Adm. Mary Landry said.
CNN: Anger over Arizona immigration law will be on basketball court
Anger over Arizona's controversial immigration law is entering a new arena. The sports arena, to be precise. The Phoenix Suns will wear special basketball jerseys in Game Two of their Western Conference Playoff Series on Wednesday against the San Antonio Spurs. The jerseys will be emblazoned with the words, "Los Suns." Team officials decided to express their frustration with the new law in conjunction with Wednesday's celebration of Mexican heritage on the Cinco de Mayo holiday.
USA Today: Inmates aid Nashville in 'incredible effort'
When the flood-beleaguered people of Nashville open kitchen faucets and get fresh water today, they might want to raise their glasses in a toast to some men behind bars. Without a Herculean effort by 400 Davidson County inmates on Monday, Nashville's lone working water treatment plant most likely would have been overrun with muddy overflow from the Cumberland River. "It was an incredible effort," Nashville Mayor Karl Dean said of the rush to bag 500 tons of sand on the grounds of a county jail and then transport it to form a wall around the Omohundro Water Treatment Plant.
INTERNATIONAL
For the latest international news: http://edition.cnn.com
CNNMoney: Fear index spikes on Greek woes
Wall Street's key index of volatility hit its highest level in more than two months Tuesday as worries about Greece's spreading debt crisis topped the already long list of investors' concerns. Markets were rattled Tuesday as investors worried that the $146 billion aid package for Greece, announced over the weekend, would not prevent debt problems from spreading to other euro zone countries.
CNN: Thai Red Shirts 'reach deal to end protests'
Anti-government protesters who have been blocking off central Bangkok appear to have reached a deal with the government, their leaders told demonstrators Tuesday. Leaders of the protest movement told supporters they are prepared to accept a five-point deal being offered by the government, including a call for new elections in November. But they will not end their demonstrations until the prime minister announces when he will dissolve parliament, they said.
BBC News: Sri Lanka emergency laws relaxed
The Sri Lankan government has announced the relaxation of some of the emergency regulations which have been in place for the past four years. There will be no further restrictions on the right to hold meetings or distribute certain literature. But other measures, like the right to detain suspects without trial, remain, officials said.
Der Spiegel: 'Knife-Edge' State Election Could Curb Merkel's Power
An election on May 9 in Germany's most populous state, North Rhine-Westphalia, could transform the country's political landscape and weaken Chancellor Angela Merkel, whose conservative Christian Democrats have been hit by revelations of funding irregularities. Chancellor Angela Merkel's government has effectively been on hold for months pending a regional election on Sunday, May 9, in Germany's most populous state, North Rhine-Westphalia.
New York Times: President's Quiet Birthday Leaves Egyptians Anxious
President Hosni Mubarak, still recuperating from gall bladder surgery, celebrated his 82nd birthday on Tuesday at his secluded estate in the Red Sea resort town of Sharm el Sheik. The president's continued convalescence far from the capital underscored the frailty not just of the man but of a nation with no clear political plan for who will govern should he die or step down, political scientists here said.
Jerusalem Post: Axelrod: J'lem last item on agenda
White House senior adviser David Axelrod told The Jerusalem Post on Tuesday that Jerusalem will likely be the final issue addressed in Israeli-Palestinian negotiations. "Jerusalem as an issue can't be the first issue for negotiations. It probably will be the last," Axelrod said, characterizing the position of US President Barack Obama and the message he understood Obama to have conveyed during a lunch meeting with Nobel laureate Elie Wiesel. The issue of Jerusalem derailed the expected start of indirect negotiations in March, when the Interior Ministry approved additional Jewish housing in east Jerusalem during a visit to Israel by Vice President Joe Biden meant to launch the process, a move that infuriated the Americans and the Palestinians.
Times of London: Brown to voters: the best tactic is to back Labour
Gordon Brown calls today for the "maximum Labour vote" as he seeks to strengthen his hand in post-election bargaining. The Prime Minister has rebuffed Cabinet colleagues who suggested that Labour supporters could back Liberal Democrat candidates where such a vote would keep out a Conservative.
BBC News: Honduras launches commission into Zelaya's overthrow
A commission has begun investigating last year's military-backed overthrow of Honduran President Manuel Zelaya. It was set up by newly-elected President Porfirio Lobo in an attempt to restore some of the country's international standing. US President Barack Obama and UN Secretary-General Ban Ki-moon have praised Mr. Lobo for the move.
BUSINESS
For the latest business news: www.CNNMoney.com
Wall Street Journal: SEC Investigates Firms Doing Business in Terror Hubs
The Securities and Exchange Commission is conducting a broad investigation into companies doing business in nations designated as state sponsors of terrorism, as the U.S. government seeks to determine whether any operations were used to support terrorist activities, people familiar with the matter said. The SEC's enforcement division has sent letters to several companies in the pharmaceutical and energy industries, these people said. The State Department currently designates four countries—Cuba, Iran, Sudan and Syria—as state sponsors of terrorism. The letters, which were sent within the past two months, are part of an investigation by the SEC division that looks into potential violations of the Foreign Corrupt Practices Act. It isn't clear which companies received the letters.
CNNMoney: The risks and rewards of offshore drilling
The spilled oil lapping at Gulf Coast beaches and wetlands is one tragic result of offshore drilling. As the administration's plans to expand drilling proceed, what do we get in exchange for putting more of our coastal environment, and the fishing and tourism economies that depend on it, at risk?
Wall Street Journal: Prudential Delays Rights Prospectus
British insurer Prudential PLC on Wednesday delayed the release of its much-awaited $20 billion rights prospectus due to unresolved discussions with the United Kingdom's Financial Services Authority regarding Prudential's capital position. The prospectus was supposed to be released Wednesday, but Prudential didn't give a new date on when it will be released. The $20 billion rights issue is meant to help fund the $35.5 billion acquisition of AIA Group Ltd, the Asian arm of debt-laden American International Group Inc. If approved, this would be the biggest acquisition on record in the insurance industry.
Bloomberg: Mortgage Bond Spreads at Widest in Five Months: Credit Markets
Yields on Fannie Mae and Freddie Mac mortgage securities that guide home-loan rates climbed to the highest in five months relative to Treasuries as Europe's worsening government finances led investors to shun all but the safest assets. Even with the U.S. promising to pump unlimited capital into the two agencies through 2012 to ensure they can meet $4.6 trillion of guarantees on housing debt, speculation Greece's debt crisis will infect Portugal, Spain and the rest of the European Union and make interest rates more volatile is sending investors fleeing to the safety of Treasuries.
CNNMoney: Google to start selling digital books
Google will begin selling digital books through an online bookstore in the middle of the year, according to a company spokesman. Google announced last month that it is partnering with Taiwan's HTC to develop a new tablet computer to rival the iPad, and having its own digital bookstore could help goose Google's tablet sales. But with its new service, which is to be called Google Editions, Google has its sights set beyond just its own tablet. Unlike some of its rivals, Google plans to allow its digital books to be read on any device.
CNNMoney: Children's Tylenol recall: FDA slams factory conditions
A scathing report released Tuesday by the Food and Drug Administration slammed conditions at the factory that produced the children's Tylenol, Motrin, Benadryl and other over-the-counter drugs that were recalled over the weekend. The 17-page FDA inspection report conducted in late April detailed quality and security lapses at the Fort Washington, PA-based facility, which is owned by Johnson & Johnson's McNeil PPC drug manufacturing division. The agency said it is considering a wide range of actions including possible criminal penalties. Johnson & Johnson said it has temporarily suspended production at the plant. It is the company's only plant that manufactures all of its liquid pediatric drugs.
Business Week: 'Frugal Fatigue' Spurs Specialty Apparel Retailers
It's been a great spring so far for specialty apparel retailers, which are enjoying higher sales and wider margins, but April sales could temper investor enthusiasm. For all the worries about a jobless recovery and unemployment remaining above 9 percent for an extended period of time, consumer spending has rebounded more strongly than expected, with retail sales rising 1.6 percent in March. Marshal Cohen, a fashion industry analyst at research firm NPD Group in Port Washington, N.Y., attributes the bounce to something he calls "frugal fatigue."
In Case You Missed It
The Minerals Management Service is under scrutiny because of its relationship with big oil. CNN's Brian Todd reports.
Tom Foreman describes the chain of events surrounding the attempted Times Square bombing.
Subscribe to the CNN=Politics DAILY podcast at http://www.cnn.com/politicalpodcast
And now stay posted on the latest from the campaign trail by downloading the CNN=Politics SCREENSAVER at http://www.CNN.com/situationroom