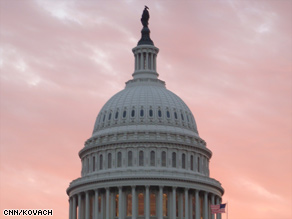 The CNN Washington Bureau's morning speed read of the top stories making news from around the country and the world.
WASHINGTON/POLITICAL
For the latest political news: www.CNNPolitics.com
CNN: Obama calls for Congress to work now on immigration reform
President Barack Obama said Wednesday he wants Congress to work on comprehensive immigration reform this year because that would be the best way to fix the nation's broken immigration system. Speaking at a Cinco de Mayo celebration at the White House, Obama again criticized the recently enacted Arizona immigration law as the wrong approach.
CNN: Obama was top recipient of BP-related dollars in 2008
As petroleum giant BP comes under congressional scrutiny as its ruptured oil rig pumps thousands of barrels of oil into the Gulf of Mexico, its political contributions are being scrutinized, too. The top recipient of BP-related donations during the 2008 presidential election was Barack Obama, who collected $71,000, according to the nonpartisan Center for Responsive Politics. When questioned about the donations Wednesday, White House Press Secretary Robert Gibbs made a point of noting that the money came from employees and not the company itself.
CNN: Reid says Republicans 'making love to Wall Street'
Senate Majority Leader Harry Reid lobbed an unusual accusation at his Republicans colleagues Wednesday, saying they are looking for a way to "continue making love to Wall Street." While Democrats and Republicans have accused each other of being to cozy with Wall Street, Reid's remarks went a step too far for the GOP.
CNN: Retiring congressman: 'Frankly, I am bone tired'
House Appropriations Committee Chairman David Obey, a senior member of the congressional Democratic leadership, announced Wednesday that he is not seeking re-election this November. Obey, 71, represents Wisconsin's 7th Congressional District. He was the youngest member of Congress when he was elected to his first of 21 terms in 1969. He is the fourth-longest-serving House member, serving behind Democratic Reps. John Dingell and John Conyers, both of Michigan, and Florida Republican Rep. Bill Young.
Seattle Times: U.S. Rep. Norm Dicks eyes chairmanship of House committee
For the second time in three months, an unexpected event has opened up a plum job for U.S. Rep. Norm Dicks. But this time, the Bremerton Democrat may have to vanquish at least one rival to get it. The surprise announcement Wednesday by Rep. David Obey, D-Wis., that he will retire at the end of this term immediately launched a contest for the chairmanship of the powerful House Appropriations Committee. Obey's departure would make Dicks the committee's most senior Democrat.
Politico: Sources: Energy bill next week
In a high-stakes move, Sen. John Kerry (D-Mass.) and Sen. Joe Lieberman (I-Conn.) are planning to forge ahead with or without Sen. Lindsey Graham (R-S.C.) and introduce an energy bill next week, according to sources familiar with the planning. In addition to the uncertainty about Graham's status on the bill, Kerry and Lieberman are gambling that the dramatic oil spill in the Gulf of Mexico will help, rather than hurt, momentum for the legislation.
CNN: Cornyn: 'Thank goodness I'm not running this time'
Just how bad is the political environment for incumbents? Even the GOP Senator in charge of electing Republicans to the U.S. Senate admitted to CNN he's glad he's not on the ballot. "Thank goodness I'm not running this time," said Senator John Cornyn, R-Texas, Chairman of the National Republican Senatorial Committee.
The Hill: Incumbents feel primary nerves
Election-year fear is spreading through the halls of Congress. For more than a year, liberal and conservative lawmakers have been concerned about the low approval ratings of Congress. And Tuesday's primary-election results have them more worried about their political futures. House GOP leaders have predicted that Republicans have a good shot at regaining control of the lower chamber.
CQ Politics: Inglis Prepares To Drop Another TV Ad
Rep. Bob Inglis (R-S.C.) is getting set to drop his third television ad in less than two weeks. Inglis' latest 30 second commercial, which will begin running Monday in his conservative northwest South Carolina district, discusses government spending. The heavy volume of television ads at this point in the campaign is certainly a sign that the incumbent's taking his primary challenge from Spartanburg County Solicitor Trey Gowdy very seriously.
Lexington Herald-Leader: DeMint endorses Paul over Grayson
South Carolina Republican Sen. Jim DeMint endorsed Tea Party movement favorite Rand Paul in the Kentucky U.S. Senate race on Wednesday, just one day after the senator's colleague, Minority Leader Mitch McConnell, endorsed Paul's opponent, Secretary of State Trey Grayson. DeMint, a staunch conservative, has been mentioned as a challenger to McConnell for the Senate GOP leadership position. DeMint has said he is uninterested in the post.
Las Vegas Sun: GOP Senate hopefuls unleash closing-time ad barrage
With less than three weeks until early voting begins, Republicans seeking to unseat Senate Majority Leader Harry Reid are taking to the airwaves in a closing-time ad blitz, seeking to influence Nevada conservatives and catch the GOP front-runner, Sue Lowden, as polls show her pulling away from the pack. At the same time, Reid is appealing to a general-election audience, and an outside group called Patriot Majority is spending $200,000 to run statewide TV ads against Lowden, highlighting the biggest gaffe of the campaign — her suggestion that bartering with doctors is an effective way to cut health care costs.
Indianapolis Star: Coats goes on attack in Senate race
Dan Coats took a victory lap Wednesday in Evansville - the hometown of the man he'll face in the November general election. A day after winning the Republican nomination for Senate, Coats was at a real estate office in the southwestern Indiana city arguing that the vote cast by Democratic U.S. Rep. Brad Ellsworth for health-care reform is a potentially job-killing burden on such businesses. Ellsworth won't officially become his party's nominee until the Democrats' state central committee votes May 15 on its nominee to replace Sen. Evan Bayh, who isn't seeking re-election. But no one is waiting until then to start the general election campaigning - barbs and all.
Palm Beach Post: Crist owes no money to 13 of 20 Republicans who asked for their cash back
Twenty Republican fund-raisers signed a letter today calling on newly independent Gov. Charlie Crist to return campaign contributions he received from GOP donors. "As part of your transition into this new phase of your political career, we respectfully request that you return every penny of donor money from every donor who asks for a refund. For those of us who have donated to your Senate campaign, you can start by refunding in full the contributions we have made," the letter reads. But just seven of the 20 have any money sitting in Crist's campaign coffers, records show.
Arizona Republic: Al Sharpton vows protests if law isn't repealed
The Rev. Al Sharpton vowed Wednesday to bring "freedom walkers" to Arizona this summer to engage in non-violent civil disobedience if the state's strict new immigration law goes into effect. The New York-based civil-rights activist made his promise during a news conference attended by Maricopa County Supervisor Mary Rose Wilcox and other activists opposed to the implementation of Senate Bill 1070, approved by lawmakers and signed into law by Gov. Jan Brewer on April 23.
CNN: First congressional committee iPhone app launched
With Republicans on Capitol Hill eyeing the next two elections, strategists have been aggressively gearing up on the digital front. Much of the focus has been on the campaign side, with a focus on social media sites like Twitter, Facebook and YouTube. On Thursday, Republicans will launch the first Congressional committee iPhone app in an effort to expand how Congress uses mobile technology.
NATIONAL
For the latest national news: www.CNN.com
CNN: Day before bombing, Shahzad made a dry run in Manhattan, source says
Faisal Shahzad made a practice run in Manhattan the day before he allegedly tried to blow up a car bomb in Times Square, according to a law enforcement source with knowledge of his questioning. Last Friday, Shahzad drove his white Isuzu from Connecticut through Times Square, where he staked out potential locations for the following night's planned attack, the source said. He then parked the Isuzu several blocks away from Times Square, though the precise location was unclear, and took a train back to Connecticut, the source said.
New York Times: Evidence Mounts for Taliban Role in Car Bomb Plot
American officials said Wednesday that it was very likely that a radical group once thought unable to attack the United States had played a role in the bombing attempt in Times Square, elevating concerns about whether other militant groups could deliver at least a glancing blow on American soil. Officials said that after two days of intense questioning of the bombing suspect, Faisal Shahzad, evidence was mounting that the group, the Pakistani Taliban, had helped inspire and train Mr. Shahzad in the months before he is alleged to have parked an explosives-filled sport utility vehicle in a busy Manhattan intersection on Saturday night. Officials said Mr. Shahzad had discussed his contacts with the group, and investigators had accumulated other evidence that they would not disclose.
CNN: Huge containment vessel heads to oil gusher
A four-story containment vessel left Port Fourchon, Louisiana, on a barge Wednesday en route to the Gulf of Mexico's gushing oil well, where BP will attempt to lower the container onto a ruptured deep-water pipe in an unprecedented operation. The hope is that the container will collect the leaking oil, which would be sucked up to a drill ship on the surface. If the operation is successful, BP plans to deploy a second, smaller dome to deal with a second leak in the ruptured pipe, the company has said.
Indianapolis Star: States urged to recheck WellPoint rate hikes
U.S. Health and Human Services Secretary Kathleen Sebelius wants Indiana and other states to double-check WellPoint's math when it comes to rate increases on health insurance plans. Indiana Gov. Mitch Daniels is giving the request a cool reception. Sebelius - in a letter sent this week to governors and state insurance commissioners - pointed to the recent withdrawal of rate increases as high as 39 percent by WellPoint's Anthem Blue Cross in California. An independent review performed for the California Department of Insurance found substantial errors in how WellPoint was projecting medical costs, according to regulators in the Golden State.
INTERNATIONAL
For the latest international news: http://edition.cnn.com
CNN: Nigerian President Yar'Adua has died
Nigeria's ailing President Umaru Yar'Adua, who gave amnesty to armed militants in the troubled oil-rich Niger Delta region, died Wednesday, the country's information minister said. He was 58. Yar'Adua had not been seen in public since November, when he went to Saudi Arabia for treatment of an inflammation of tissue around his heart. He was diagnosed with that condition, acute pericarditis, last fall after he complained of chest pain.
The Guardian: General election 2010: David Cameron eyes the prize
The Conservatives appear to be on the brink of regaining power at the end of one of the most tumultuous and tightly fought general election campaigns since the second world war. There is no sign of Labour or the Lib Dems closing the gap on the Tories – and at least three other polls have come up with similar results. Only one of the four polls projected Labour gaining the largest number of seats.
Investors Business Daily: Deadly Greek Riots Stoke Worries Crisis Will Spread, Deepen
Deadly riots and nationwide strikes in Greece on Wednesday stoked investor fears that Europe's debt crisis will drag on and spread, with the region's political unity and shared currency at stake. A pregnant woman and two others choked to death when protesters set an Athens bank ablaze. Police used tear gas to disperse demonstrators near parliament. Inside, the government tried to advance $24 billion in spending cuts and tax hikes — the price for a 110 billion euro ($146 billion) bailout. Meanwhile in Berlin, German Chancellor Angela Merkel urged her parliament to approve Germany's $29 billion share of that aid, saying Europe's fate was at stake.
CNN: Report: N. Korea's Kim, China's Hu to meet
North Korean leader Kim Jong-Il is expected to meet with Chinese President Hu Jintao in Beijing on Thursday in a move that some hope will trigger the return of six-party denuclearization talks, South Korea's Yonhap News Agency reported. Kim is believed to have arrived in China early Monday by train via the border city of Dandong, Yonhap reported earlier this week, citing unnamed sources in Seoul and Beijing.
Washington Post: U.S. to send Pakistan detailed request for help in Times Square bomb probe
As investigators continued questioning Times Square bombing suspect Faisal Shahzad on Wednesday, the Obama administration was preparing to deliver to Pakistan a detailed request for urgent and specific assistance on the case. U.S. officials said that they had reached no firm conclusion about whether Shahzad had ties to any domestic militant group in Pakistan but that information gathered thus far continued to point to the Pakistani Taliban, which has asserted responsibility for the bombing attempt. The question of which group, if any, was involved is an important one for the future of the uneasy counterterrorism alliance between the United States and Pakistan.
BBC News: Thai PM suggests date for house dissolution and polls
The Thai government has suggested that parliament could be dissolved in September in line with its offer of holding elections two months later. The offer of elections on 14 November was made earlier this week by Prime Minister Abhisit Vejajjiva. The question then is whether the date will be enough to satisfy the protesters who remain entrenched in their fortified encampment, despite mounting refuse and the start of monsoon rains.
CNN: Severe weather kills 23 in central China
Severe wind and rain in central China killed at least 23 people and injured 161 others early Thursday morning, the state-run Xinhua news agency reported. Liangping County was hit by a tornado and a hailstorm that left six people dead and another 34 injured, Xinhua reported. An additional 17 people died and 127 people were injured in neighboring Dianjiang County due to severe weather, the news agency said, though it did not give the exact nature of the storm.
BBC News: Egyptian anger at Islamist call to ban Arabian Nights
Egyptian writers have condemned a call by a group of Islamic lawyers for the classic book Arabian Nights to be banned because it is "obscene". The group, Lawyers Without Shackles, filed a complaint with Egypt's prosecutor general after the collection of folk tales was republished. They called for the new edition to be pulped and the stories to be banned. But the country's writers union has said it will fight the group in the courts if they try to proceed.
BUSINESS
For the latest business news: www.CNNMoney.com
CNNMoney: Freddie Mac needs another $10.6 billion
Freddie Mac on Wednesday requested another $10.6 billion handout from the federal government. The housing finance company, which reported an $8 billion quarterly loss, was put into conservatorship by the government during the height of the financial panic in September 2008 along with its twin Fannie Mae. Freddie has already received $50.7 billion from the Treasury Department. Fannie Mae has so far gotten $76.2 billion.
Fortune: Documents reveal AT&T, Verizon, others, thought about dropping employer-sponsored benefits
AT&T, Deere, and other big companies are weighing to deal with the new [health care] legislation. Internal documents recently reviewed by Fortune, originally requested by Congress, show what the bill's critics predicted, and what its champions dreaded: many large companies are examining a course that was heretofore unthinkable, dumping the health care coverage they provide to their workers in exchange for paying penalty fees to the government.
CNNMoney: Bacteria identified in Tylenol recall
The Food and Drug Administration confirmed Wednesday that the bacteria found at the Johnson & Johnson plant that produced the recalled children's medicines was Burkholderia cepacia, a bacteria often resistant to common antibiotics. Johnson & Johnson first identified the bacteria to CNNMoney.com earlier in the day. The company said that although the bacterium was found on some drums used by its vendor to transport the raw materials, those contaminated drums never reached the Fort-Washington, PA-plant that made the recalled drugs.
Wall Street Journal: New U.S. Push to Regulate Internet
In a move that will stoke a battle over the future of the Internet, the federal government plans to propose regulating broadband lines under decades-old rules designed for traditional phone networks. The decision, by Federal Communications Commission Chairman Julius Genachowski, is likely to trigger a vigorous lobbying battle, arraying big phone and cable companies and their allies on Capitol Hill against Silicon Valley giants and consumer advocates.
CNNMoney: Senate OKs 'too big to fail' bank amendment
The Senate overwhelmingly passed its first major change to the Wall Street reform package Wednesday, approving a bipartisan deal to unwind big financial firms that are considered too big to fail. The Senate vote, 93-5, signaled that Republicans are working with Democrats to move forward on the financial overhaul package, after agreeing last week to let debate begin. Among the more significant changes, senators dropped a tax on banks that would have funded a $50 billion pot of money that regulators could tap to help take down failing banks. Now the bill stipulates that banks will be taxed to pay for unwinding banks after a collapse.
CNNMoney: Facebook glitch revealed private chats
Facebook said on Wednesday it has found a bug that made some instant message conversation visible to a user's entire list of friends. The site shut down its chat service to fix the problem. The problem emerged from what was intended to be an enhanced privacy feature. The new tool allows users to preview how their profile appears to other users. About an hour after announcing the bug, Facebook said it fixed the problem and restored the chat function.
In Case You Missed It
Police and bomb squads responded to an abandoned truck on a New York bridge, but no threat was found.
CNN's Jeanne Meserve explains what's known about the Times Square bomb suspect and how he was tracked down.
Subscribe to the CNN=Politics DAILY podcast at http://www.cnn.com/politicalpodcast
And now stay posted on the latest from the campaign trail by downloading the CNN=Politics SCREENSAVER at http://www.CNN.com/situationroom