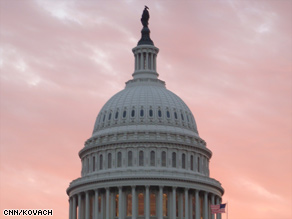 The CNN Washington Bureau's morning speed read of the top stories making news from around the country and the world.
WASHINGTON/POLITICAL
For the latest political news: www.CNNPolitics.com
CNN: Democrats press Republicans to stop secret holds in Senate
Frustrated Democrats plan to go to the Senate floor Friday to seek Republican approval of 53 administration nominees they say are currently blocked by the secret holds placed by GOP senators. Democrats are especially upset because they think Republicans are getting around a Senate rule adopted three years ago that requires senators to make public their holds once they've had them in place for six legislative days.
CNN: Bill aims to strip certain Americans of their citizenship
A bipartisan group of legislators on Thursday introduced legislation in Congress to strip citizenship from any American found to be involved in terrorism. If the Terrorist Expatriation Act passes, an American would lose citizenship if found to have provided material support or resources to a foreign terrorist organization - as designated by the secretary of state - or participated in actions against the United States.
CNN: Public anger is 'why I am in trouble,' Bennett says
Sen. Bob Bennett, R-Utah, told CNN Thursday that he is working hard to overcome the anti-Washington, anti-incumbent political mood gripping the nation as the midterm election approaches. The Republican senator faces his first re-election challenge on Saturday, when he must finish first or second in the balloting at the state GOP convention in order to get a spot on the primary ballot.
CQ Politics: Mollohan's Harbingers in West Virginia
There are abundant signs Rep. Alan B. Mollohan (D-W.Va.) is in the fight of his political life. As he campaigns for a 15th term in the northern 1st district, Mollohan is airing television ads sharply critical of state Sen. Mike Oliverio (D), whose quest for the Democratic nomination on May 11 is the congressman's most serious intraparty challenge in many years. Mollohan, who is accusing his competitor of having a right-wing agenda, wouldn't be criticizing Oliverio if he didn't think he was a threat.
Washington Post: In Hawaii, intraparty feud may cost Democrats a seat in Congress
Across the country, Democrats are on the defense, laboring to put out political fires sparked by angry voters and emboldened Republicans. Even Hawaii, the bluest of blue states, where a Democratic machine has controlled politics for the five decades since statehood, has become a dangerous hot spot for the party in power. But here's the catch: The Democrats started this fire themselves.
Los Angeles Times: GOP Senate candidates spar in first face-to-face debate
The three major Republican candidates for U.S. Senate jousted Thursday over which would be the most effective steward of conservative principles, covering territory from Afghanistan to gun rights in their first face-to-face debate of the primary season.
Lexington Herald-Leader: Kentucky Poll: More voters unhappy with McConnell
About half of Kentucky voters frown on the job done by Kentucky's two U.S. senators — figures that track a national trend of voter dissatisfaction with Washington incumbents and the federal government, according to a new Kentucky poll. It has been a tough year for Washington incumbents and lawmakers across the country are experiencing similar drops in approval ratings, said Jennifer Duffy, senior editor at the Cook Political Report. In McConnell's case, his position as senate minority leader makes him a large target for a disgruntled electorate.
CQ Politics: Nelson Predicts Crist-Meek Matchup
Sen. Bill Nelson (D-Fla.) on Thursday predicted the three-way race for Senate in Florida would boil down to a contest between Democratic Rep. Kendrick B. Meek and Gov. Charlie Crist, who last week defected from the GOP to run as an Independent. Nelson speculated that the presumptive Republican nominee, former state Speaker Marco Rubio, would fade down the stretch.
Pittsburgh Post-Gazette: Sestak ad criticizes Specter's party switch
Challenger Joe Sestak spotlights Sen. Arlen Specter's decades as a Republican in a new ad that attempts to undermine Mr. Specter's standing with Democratic voters with his own tactical analysis of his Democratic conversion. The 30-second commercial seeks to convey Mr. Sestak's central argument against the veteran senator - that he is a political opportunist exploiting Democratic voters for his own gain. The new ad followed earlier Sestak commercials in which he had introduced himself to voters, and responded to the incumbent's charges about the circumstances surrounding the retired admiral's removal from a senior position in the Pentagon.
Lincoln Journal Star: Gubernatorial candidate Mark Lakers says he'll reaffirm all pledges
Democratic gubernatorial candidate Mark Lakers said Thursday he believes his campaign finance report is accurate, but he'll check with donors to reaffirm all pledges. In the meantime, Lakers said, Nebraska Attorney General Jon Bruning owes him an explanation as to why he chose to create "a media circus" rather than seek answers to concerns he may have had about the veracity of the report.
CNN: Palin irks her supporters with California endorsement
Sarah Palin broke ranks with the conservative movement on Thursday and endorsed former Hewlett-Packard CEO Carly Fiorina in California's Republican Senate primary, prompting a flurry of criticism from many of her loyal supporters. Though a handful of readers agreed with Palin's decision, most were upset.
Arizona Republic: Senator asks Arizona to put immigration law for 1 year
A prominent Senate Democrat is asking Republican Arizona Gov. Jan Brewer to put off her state's controversial new immigration law for a year to give Congress a chance to pass a federal law – a long-shot request on a bill that even the White House says is nearly dead. But among Democrats, there's plenty of support for trying – in public – during this year of midterm elections. The party's control of Congress depends in part on keeping a key constituency – Hispanics – voting Democratic.
CNN: Pro-Obama labor group urges Dems to defy his Arkansas wish
It's not often that one of President Obama's major backers expresses support for him, but openly works against a candidate he is backing. But that is what's happening in the Arkansas Democratic Senate primary. The Service Employees International Union released a new television ad on Thursday, complimenting a radio spot put out on Wednesday, that call for Sen. Blanche Lincoln's defeat. Earlier in the week, the Lincoln campaign released a radio ad featuring Obama.
CNNMoney: House approves $6 billion 'cash for caulkers'
House lawmakers on Thursday approved a $6 billion measure that aims to provide rebates to homeowners who invest in energy efficiency improvements - but not without a fight from Republicans. The bill, officially known as the Home Star Energy Retrofit Act but better known as "cash for caulkers," has been touted by President Obama since December as one of the signature pieces of his administration's larger job-creation strategy.
CNNMoney: Obama suspends new Virginia offshore drilling bid
The Obama administration took the first concrete steps Thursday to make good on its pledge to halt new offshore drilling projects, suspending the approval process for new wells off of the Virginia coast. The Minerals Management Service, part of the Interior Department and the agency charged with issuing new drilling leases, had scheduled three public hearings in Virginia this month to solicit public comment about new wells off of the state's coast. The agency said on Thursday that these meetings are now suspended indefinitely, pending a government safety review of offshore drilling.
Politico: New bulls strengthen Speaker's stable
The fiercest old bulls who roamed the House when Nancy Pelosi came to power will be gone by the beginning of next year — replaced by new bulls who more clearly owe their positions to the powerful speaker. While Dingell, Rangel, Murtha and Obey were powerful House veterans long before Pelosi picked up the speaker's gavel, each of the new bulls will owe his rise in part to the speaker's good graces — and, in some cases, her political muscle. It amounts to a subtle but striking natural consolidation of authority for a speaker who by any measure already wields historic levels of institutional and personal power within Congress
New York Times: In Washington, a Renewed Taste for Auto Safety
In the new world of auto regulation, cars could be required to have "black boxes" to record crash data and be able to stop even with the engine at full power. Automakers could be ordered to recall defective vehicles immediately and pay safety fees to cover the costs of federal oversight. For the first time since Firestone tires were exploding on Ford Explorers a decade ago, Congress on Thursday began working on legislation that would impose far-reaching safety standards on the auto industry, including some steps that advocates have been seeking for years.
NATIONAL
For the latest national news: www.CNN.com
CNN: Official: Times Square suspect had Taliban ties
Investigators believe that Times Square bombing suspect Faisal Shahzad had ties to TTP, a Pakistani Taliban group, a senior law enforcement official and a U.S. intelligence official said Thursday. The law enforcement official said the extent of Shahzad's involvement with TTP has not been determined and could range from communications to training, and does not necessarily mean that TTP directed the attack.
CNN: Containment dome lowered at oil leak site
A massive dome began its descent into the Gulf of Mexico to cap a gushing oil leak about 5,000 feet below the surface, a BP official said Friday. The arduous process of lowering the four-story containment dome and getting it in place is expected to continue into the weekend. The technique has never been attempted at the depth of the leak spewing from the sunken oil rig, officials said. Oil washed ashore on Louisiana's barrier islands and drifted west past the mouth of the Mississippi River on Thursday. An ominous pinkish-orange foam mixture of seawater and crude oil streaked across large stretches of water in the northern Gulf and turned up on the shores of the Chandeleur Islands, off southeastern Louisiana.
INTERNATIONAL
For the latest international news: http://edition.cnn.com
CNN: Cameron: Labour has lost its mandate to govern
Conservative Party leader David Cameron said it was "clear that the Labour government has lost its mandate to govern this country," as exit-poll predictions put his party on course to win more seats than it had for 80 years. Exit polls suggest the Conservatives are on pace to win 305 seats - though this would be 21 short of a majority in the 650-seat House of Commons.
Times of London: Voters declare their anger as thousands are turned back at polling station door
Thousands of people were deprived of the right to vote last night as polling stations were unable to cope with demand. Election chiefs told The Times that the widespread failures to deal with high voter turnout may lead to re-runs in the next few weeks, which could be critical to the overall outcome. The Electoral Commission said it would be conducting a "thorough review" to determine what went wrong.
CNN: Violence in Athens after Greek austerity vote
Violence broke out briefly between police and demonstrators here Thursday night, hours after Greek lawmakers approved an unpopular package of budget-cutting measures. The government is cutting public-sector salaries, raising the retirement age for women in the public sector and imposing new taxes in order to secure billions of euros in loans from the European Union and International Monetary Fund.
CNN: North Korea, China hold talks
North Korean leader Kim Jong Il has held talks with Chinese President Hu Jintao in Beijing, Chinese state-run media reported. The meetings took place during Kim's "unofficial" visit to China that began Monday and concluded Friday, according to the Xinhua news agency. No other details were available. Kim's trip to China comes as North Korea is seeking a conditional return to the six-party talks, South Korea's Yonhap news agency said, citing the terms as a peace treaty with the United States to end what North Korea considers a state of war on the Korean Peninsula and the lifting of U.N. sanctions against North Korea.
Wall Street Journal: Merkel's Party Seen Sliding In State Vote, New Poll Says
Just three days before Germany's most populous state elects a new government, a new opinion poll showed Chancellor Angela Merkel's center-right alliance is falling behind left-leaning opposition parties. Sunday's election in the state of North Rhine-Westphalia is seen partly as a referendum on Germany's federal government, a conservative-led coalition, and Ms. Merkel, who has come under fire for her handling of the economic crisis in the euro zone.
Wall Street Journal: New Phase Begins for Nigeria
The death of long-ailing Nigerian President Umaru Yar'Adua appears to end a prolonged period of political uncertainty in Africa's most-populous nation—even as it lays the groundwork for a new stage of political jockeying. Goodluck Jonathan, the vice president under Mr. Yar'Adua, was peacefully sworn in Thursday, 12 hours after the death of his predecessor. Mr. Jonathan had months ago assumed the duties of the ailing president and sidelined his loyalists. Mr. Yar'Adua's death ushers in what analysts say promises to be a period of intense political maneuvering
New York Times: Surprising Guests in a Russian Parade: American Troops
Never before in history have active-duty American troops been invited to march in the Victory Day parade, according to the United States military. The occasion is the 65th anniversary of the defeat of Nazi Germany in World War II, a date that carries an almost sacred meaning in Russia. Russian leaders have taken pains to explain that the Americans — along with contingents from Britain, France and Poland — were invited as representatives of the "anti-Hitler coalition." While more than half of Russians greeted the invitation with approval or enthusiasm, according to an April poll by the independent Levada Center, the sentiment was not universal. In a country that still regards NATO as its primary security threat, 20 percent of respondents said they disapproved and 8 percent were dead set against it.
BBC News: Russian forces storm tanker seized by Somali pirates
Russian forces have freed the crew of a Russian oil tanker seized by Somali pirates off the coast of Yemen, in a dramatic rescue operation. Forces based on the warship Marshal Shaposhnikov approached the tanker with 23 Russian crew [members] on board. The Russian forces then boarded the Moscow University tanker, freeing the crew who had locked themselves in a safe room after disabling their ship. As they did so, the pirates opened fire, sparking a shoot-out.
BUSINESS
For the latest business news: www.CNNMoney.com
CNNMoney: Glitches send Dow on wild ride
In one of the most gut-wrenching hours in Wall Street history, the Dow plunged almost 1,000 points Thursday before recovering to close down 348, as erroneous trading in Procter & Gamble and several other stocks sparked a massive selloff. Fears about the spread of the European debt crisis dragged on stocks through the early afternoon. But the selling picked up in intensity and the Dow reached its nadir at around 2:40 p.m. ET. The selling was a result of technical glitches that caused some stocks, including Dow component Procter & Gamble, to plunge 37% to $39.37 per share from the close of $62.12 Wednesday. The consumer products maker recovered most of that loss by the close, ending just 2% lower.
CNN: Asia markets tumble as fears spread
Asia markets opened sharply lower after a wild trading session on Wall Street punctuated by a trading glitch and rising fears the debt crisis in Greece may spread. The Nikkei has slid more than 760 points since opening Thursday for the first time this week due to a Japanese holiday. Japan's Prime Minister Yukio Hatoyama expressed concern for the market's sudden drop; Japan's central bank on Friday announced it would pump more than $21.6 billion into the markets to keep markets liquid in light of the global turmoil caused by the Greek crisis.
Business Week: SEC Said to Probe Causes, Exploitation of Stock-Market Turmoil
U.S. regulators plan to examine whether securities professionals triggered yesterday's stock- market plunge or exploited the turmoil to profit illegally, two people with direct knowledge of the matter said. The Securities and Exchange Commission aims to determine if market participants accidentally or maliciously entered orders that derailed normal trading, the people said, declining to be identified because the inquiry isn't public. The agency will also examine if controls to prevent the rout from snowballing weren't in place at exchanges and firms.
CNNMoney: Oil spill costs: What will BP really pay?
The Gulf oil spill is going to cost billions to clean up, a tab BP has publicly pledged to pay in full. But thanks to the unpredictable nature of the oil slick and the legal maze surrounding maritime law, what BP will pay and to whom is very much an open question. The truth is that no one has any idea yet.
Business Week: Britain Faces Worst Budget Deficit in the EU
Britain is hurtling towards the worst budget deficit in the European Union. The European Commission's latest forecast shows the Government faces a shortfall of 12 per cent of gross domestic product (GDP) this year: worse than Greece, Portugal, Ireland or any of the other troubled and heavily indebted eurozone members. In cash terms it equates to about £15bn more than the Chancellor has budgeted for.
CNNMoney: Goldman braces for shareholder fury
Hell may hath no fury like shareholders of Goldman Sachs scorned. On Friday, Goldman investors will converge on lower Manhattan for the firm's annual shareholder meeting. Typically a rather mild-mannered affair, the gathering is poised to turn contentious given the scrutiny Goldman has been under in recent weeks. More than that, shareholders will be looking for answers about the various legal woes the company is now facing.
Financial Times: Tarp stigma hit credit, says Paulson
The US Congress hurt credit flows when it "stigmatised" the $700bn bank bail-out programme, Hank Paulson, the former Treasury secretary and previous chief executive of Goldman Sachs, suggested on Thursday. The troubled asset relief programme was used to stabilise the economy in part by funnelling billions of dollars in direct capital investments into banks. But Mr. Paulson told the Financial Crisis Inquiry Commission that 2,000-3,000 banks should have held the government capital for three to five years. Instead, a few hundred banks rushed to repay because of the associated restrictions on pay levels and the political atmosphere.
CNNMoney: Jobs slowly returning on Main Street
Main Street's job hemorrhaging has slowed. Companies with fewer than 50 workers added a net 1,000 jobs in April, according to a report released Wednesday from payroll processor ADP. But the upswing actually began last month: ADP revised its March data to reflect a gain of 4,000 positions, marking the first month in nearly two years that small companies expanded their payrolls. But even as the pink slips have slowed, they've left behind a massive jobs shortfall. Small companies have shed 3 million workers since the recession began, by ADP's count.
CNNMoney: Wall Street reform stuck on consumer protection
As the Senate continues to debate Wall Street reform for the next few weeks, there is one issue that could threaten final passage: Consumer protection. The Senate voted 61-38 - mostly along party lines - to oppose a Republican consumer protection alternative on Thursday, signaling a political divide on the issue. Democrats and Republicans have been arguing about consumer protection for months without making any compromise. And this is the one area that, so far, neither side has shown any willingness to bend on.
In Case You Missed It
Music producer and songwriter Emilio Estefan says Latinos should boycott Arizona in response to the new immigration law.
CNN's Jeanne Meserve reports the Faisal Shahzad arrest reveals some apparent gaps in homeland security.
Subscribe to the CNN=Politics DAILY podcast at http://www.cnn.com/politicalpodcast
And now stay posted on the latest from the campaign trail by downloading the CNN=Politics SCREENSAVER at http://www.CNN.com/situationroom