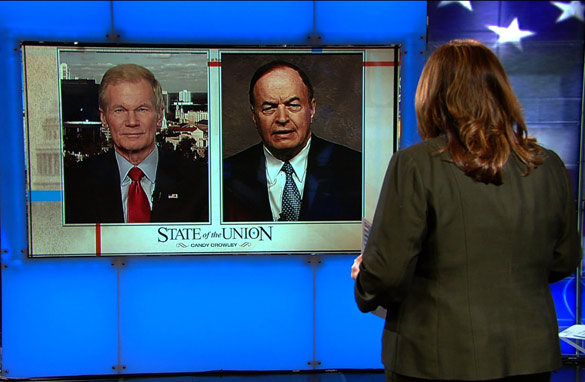 Two senators - one Democrat and one Republican - slammed the oil and gas industry Sunday along with the federal agency responsible for regulating the industry. (Photo Credit: CNN)
Washington (CNN) – A Democratic senator whose state is in the bulls' eye of the massive oil spill swirling around the Gulf of Mexico said Sunday that the oil and gas industry has used its political muscle to frustrate past efforts to tighten regulations and increase safety precautions.
Watch: Nelson, Shelby slam industry and its regulator
"'Big Oil' wants its way," Sen. Bill Nelson, D-Florida, said on CNN's State of the Union, "They've been trying to bully their way to drill off the coast of Florida." Nelson was responding to a suggestion from CNN Chief Political Correspondent Candy Crowley that Congress had failed in its oversight responsibility relating to the Minerals Management Service ("MMS"), the federal agency the regulates offshore drilling.
"'Big Oil' has had its way among the regulators, the senator said. Nelson said the relationship between the industry and MMS is a "cozy" one and the Florida Democrat referenced embarrassing revelations about the MMS which both regulates the safety of oil and gas exploration and manages the federal government's lucrative leases of federal land to the oil and gas industry.
Related video: MMS in bed with 'Big Oil'?
"But shouldn't Congress have some responsibility?" Crowley asked Nelson.

"You doggone right, Candy. You doggone right. That's exactly right and that's what a number of us have been calling for and we could never get to first base because 'Big Oil' would flex its muscle and call in its votes and we could never get anything done. And, tragically, it's going to take this disastrous oil spill to finally clamp down on them."
Republican Sen. Richard Shelby of Alabama suggested that perhaps the explosion that led to the massive oil spill had resulted from trying to cut corners in order to save money.
"But a lot of this could have been prevented. I don't know where the regulators were on this. They certainly were asleep," Shelby told Crowley. "Secondly, where's BP? Were they trying to do this on the cheap? This reminds me – in a sense, it's like a big truck on the Los Angeles freeway with no brakes. In other words, no safety."
On the issue of regulatory oversight, Shelby faulted the White House.
"We're not in charge of the regulators," he said. "We have oversight of the regulators. [But] The Executive Branch is in charge of the regulators."
But Shelby conceded that many of the oversight hearings that have been planned on Capitol Hill in the wake of the spill could have taken place earlier.
"Candy, you make a good point. This should have been long ago – every step."
He added that if there were shortcomings with the failed oil rig and gushing well that are the source of this spill, "This was probably done to save money and look where we are today."
After announcing prior to the spill that he was expanding the areas available for offshore oil drilling, President Obama stood by his new policy in the immediate aftermath of the spill. But late last week, the MMS announced that all plans for new offshore drilling under Obama's policy were on hold pending a government safety review.