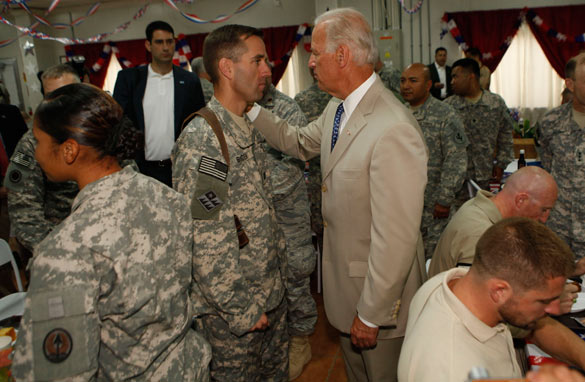 Vice President Biden's son Beau, pictured here in July 2009 file photo, is hospitalized, Biden's office said Tuesday. (Photo Credit: Getty Images/File)
Washington (CNN) - Delaware Attorney General Beau Biden - the son of Vice President Joe Biden - is undergoing treatment at Delaware's Christiana Medical Center, according to a statement from the vice president's office Tuesday.
"He is alert, awake, and communicating with his parents and his wife, who are with him," the statement said.
The statement did not indicate the nature of Biden's illness.
Biden, 41, was elected as Delaware's attorney general in 2006. He recently served in Iraq for one year as a captain with the Delaware Army National Guard. He was considered a front-runner to fill his father's former U.S. Senate seat this November, but in January he announced he had decided against a run for higher office.
Biden served as a prosecutor in the U.S. Attorney's Office in Philadelphia, Pennsylvania, from 1997 to 2002.
Updated: 11:24 a.m.