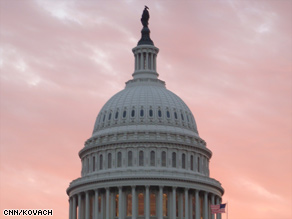 The CNN Washington Bureau's morning speed read of the top stories making news from around the country and the world.
WASHINGTON/POLITICAL
For the latest political news: www.CNNPolitics.com
CNN: Inhofe comes out against Kagan
Sen. James Inhofe, R-Oklahoma, said Monday he would vote against Elena Kagan's nomination to the Supreme Court, the first Republican to publicly express opposition to President Obama's choice to replace Justice John Paul Stevens. Inhofe voted against Kagan when her nomination to be solicitor general came before the Senate last year. Despite opposition from Inhofe and some other GOP senators, Kagan was confirmed.
CNN: Obama aide defends Kagan over DADT, military recruiting
A top aide to President Obama is pushing back on early Republican criticism of Elena Kagan for her opposition to allowing military recruiters on the Harvard Law School campus because of the "Don't Ask, Don't Tell" policy. While dean of the law school, Kagan tried to block military recruiters from the campus in protest of the Pentagon's policies preventing gays and lesbians from serving openly. Her position on this issue was criticized by the top Republican on the Senate Judiciary Committee soon after Obama nominated her to the Supreme Court.
CNN: Obama makes personal appeal to supporters
Just hours after President Obama named Elena Kagan as his pick to replace Justice John Paul Stevens on the Supreme Court, his political operation sent an e-mail to 13 million supporters featuring the president urging them to rally support for her nomination. Obama spoke directly to the camera in a four minute video accompanied by a note that was sent to his Organizing for America e-mail list. Readers were encouraged to click on a link in the e-mail that directed them to a campaign style website promoting Kagan's nomination.
CNN: Judiciary Republicans launch YouTube channel
Republicans on the Senate Judiciary Committee launched a YouTube channel Monday to act as a "hub of information" for the hearings of Supreme Court nominee Elena Kagan. The channel went live just hours after President Obama announced Kagan, his solicitor general, as his nominee for the high court. The videos feature interviews of Alabama Sen. Jeff Sessions discussing Kagan on news media outlets. Sessions is the ranking Republican on the committee.
The Hill: Sestak uses the Supreme Court announcement to his advantage
President Barack Obama may have handed Rep. Joe Sestak (D-Pa.) the issue he needs to win Pennsylvania's Democratic Senate primary. Sestak had been pulling ahead of Sen. Arlen Specter (D-Pa.) in recent polls, but Monday's Supreme Court announcement might help put the congressman over the top. The two-term congressman wasted no time in praising Elena Kagan's nomination to the high court. And he also pointed out that the then-Republican Specter voted against her nomination as solicitor general when it came before the Senate Judiciary Committee last March.
Wall Street Journal: Black Democrat Tacks to Center in Alabama
Rep. Artur Davis, the front-runner for the Democratic nomination for governor of Alabama and the first major African-American contender for the job ever, is taking a cue from President Barack Obama's strategy on race during his 2008 campaign: Don't bring it up. Since announcing his bid in February 2009, Mr. Davis has taken unprecedented steps to distance himself from the state's black political establishment while trying to build more credibility with white independents and conservatives. The 42-year-old four-term congressman from Birmingham voted against the president's new health-care law—the only black Democrat in Congress to do so—and was called by some black leaders a racial turncoat.
Las Vegas Sun: Can Brian Sandoval's star keep rising?
The label "rising Republican star" has been used so often to describe Brian Sandoval over the years that it seemed his name could scarcely appear in print without it. Despite more than a decade in public life, Sandoval was still a rising star when he left his lifetime appointment to the federal judiciary last year to run for governor. When he announced his candidacy in September, Sandoval became the Republican establishment's answer to its battered and deeply unpopular incumbent, Gov. Jim Gibbons. Yet in this political season, the interests that have helped fund and map out Sandoval's campaign bring a sizable liability. Republican primary voters are angry, and the anti-tax right is ascendant. A backlash against the establishment that has aligned itself with Sandoval appears to be coalescing. It poses perhaps the biggest challenge of Sandoval's career: winning the Republican primary when a vocal segment of the party favors outsiders and the most conservative candidates.
Detroit News: Varied field lines up for gov battle
Michigan's race for governor is shaping up as a historic scramble - perhaps the most wide open state contest ever, political experts say - as the final two Republicans filed Monday to run and one Democrat pulled out. The matchups for chief state executive promise a raft of choices for voters, exciting August primaries and heightened attention on the political process at an important point in Michigan history. There should be candidates to match just about any voter's political philosophy, and everyone will be barraged with TV and radio ads. For the candidates, the tight, multicandidate gubernatorial race means fierce competition for scarce donor dollars and a strain on a meager pot of earmarked public funding the Legislature tapped in previous years to help balance the state budget.
San Francisco Chronicle: GOP Senate hopefuls hustle to raise profiles
California's U.S. Senate campaign kicks into high gear this week as voters begin casting ballots by mail. But first, the Republican candidates must accomplish something basic – introduce themselves to voters. "Undecided/No Opinion" continues to poll about as well as each of the three major Republican candidates, former South Bay Rep. Tom Campbell, Assemblyman Chuck DeVore, R-Irvine, and former Hewlett-Packard CEO Carly Fiorina. As the candidates tussled during a debate broadcast Sunday over who had more conservative positions on immigration and taxes, they will now begin defining themselves largely by who they're not: Barbara Boxer, the three-term incumbent who does not face well-funded opposition in the Democratic primary.
Wall Street Journal: Bailout Battle Reshapes Arkansas Race
"Bailout Blanche" is fighting for reelection, and her local battle here could end up reshaping the national debate over financial regulation. Amid a wave of anti-incumbency that is hurting her party's prospects this fall, Democratic Sen. Blanche Lincoln is fighting to shake off the nickname bestowed by her more-liberal rival in the May 18 primary campaign. Her main weapon: a provision she wrote into the financial-overhaul bill that would trim the sails of Wall Street banks by strictly limiting their derivatives trading. Ms. Lincoln's provision aims to transform U.S. finance. But more parochially, it also stripped Bill Halter, the state's lieutenant governor and Ms. Lincoln's main opponent in the primary, of a potent talking point. He had been blasting Ms. Lincoln for close ties to Wall Street. Now he found himself supporting her provision—though his campaign credits Mr. Halter for Ms. Lincoln's tough language.
Politico: Ky. debate highlights GOP dilemma
Looking for an opening a week before the Kentucky Senate Republican primary, Trey Grayson used the final debate Monday night to hammer Rand Paul as weak on national security and unreliable on cultural issues. Grayson, who is trailing in the polls, was on the offensive for much of the hour-long session, saying Paul didn't believe a nuclear-armed Iran was a threat to America, once backed closing the detention center for suspected terrorists at Guantanamo Bay, Cuba, and was insufficiently opposed to abortion. Paul shot back by accusing Grayson of distorting his views and running a dishonest, failing campaign.
New Orleans Times Picayune: James Perry has racked up more than 100 traffic tickets in four years, House seat rival points out
Legislative candidate and mayoral also-ran James Perry has piled up more than 100 traffic violations over the past four years, including some for driving without insurance, a valid drivers license or no license at all that resulted in arrests in 2003 and 2008, public records show. Documentation of the infractions, including 90 parking tickets, was provided Monday to The Times-Picayune by former television news anchor Helena Moreno, Perry's opponent in a May 29 runoff for the 93rd District state House seat. Moreno made it clear Monday that she intends to use the information to question Perry's fitness to serve in the Legislature.
CQ Politics: Turnout Already High in Hawaii Special
Almost 30 percent of voters have already turned in their ballots for Hawaii's 1st district special election since they were mailed out 10 days ago. Given that ballots are due on May 22, the turnout is already relatively high for a House race. About 90,000 ballots have been turned in out of just over 317,000 that were mailed to registered voters, according to Hawaii Elections Office spokesman Rex Quidilla.
St. Petersburg Times: Decision on Tampa's 2012 GOP convention bid due Wednesday
The recommendation on where to hold the party convention is expected Wednesday, and the conventional wisdom is that it's Tampa's to lose. Still, local boosters remember how optimistic they were before Tampa lost out on the 2008 and 2004 GOP conventions. The choice is down to Tampa, Phoenix and Salt Lake City, and the Republican National Committee's site selection committee is scheduled to vote Wednesday between 2 and 3 p.m. at the Gaylord National Hotel and Convention Center in Prince George's County, Md. Area boosters intend to gather in Tampa and nervously await the phone call.
Washington Post: Republican senators pressing to end federal control of Fannie, Freddie
As the Senate resumed debate Monday on legislation to overhaul financial regulation, leading Republican lawmakers are pushing an amendment that would wind down the government-controlled mortgage finance giants Fannie Mae and Freddie Mac. The proposal by Sens. John McCain (Ariz.), Richard C. Shelby (Ala.) and Judd Gregg (N.H.) calls for the government to end its control of the companies within two years. Under the amendment, Fannie and Freddie would have to reduce the size of their mortgage portfolios and begin paying state and local sales taxes. Congressional aides say the amendment is unlikely to pass. But as Congress argues over what to do with Fannie and Freddie, the hole burns deeper at the companies. Fannie reported Monday that it lost $11.5 billion in the first three months of the year and needed $8.4 billion from taxpayers to stay afloat.
NATIONAL
For the latest national news: www.CNN.com
CNN: At least four killed by Oklahoma tornadoes
At least four people were killed and several others critically injured in Oklahoma on Monday after a severe weather system spawned multiple tornadoes across the state, including a massive twister recorded on video over Norman, Oklahoma. Three people died in Cleveland County, just west of Tecumseh, said Albert Ashwood, director of the state emergency management department, and another was reported dead near Choctaw, east of Oklahoma City.
CNN: Pals from student days remember a determined Elena Kagan
In the Hunter College High School yearbook of 1977, Elena Kagan is pictured in a judge's robe and holding a gavel. Next to the photo is a quote from former Supreme Court Justice Felix Frankfurter that says, "Government is itself an art ... one of the subtlest of arts." Now Kagan herself is a candidate to join the nation's highest court. Friends from her past say the 50-year-old Kagan's successful career and possible lifetime Supreme Court appointment came as no surprise.
Washington Post: Obama wants federal agencies to hit the gas on hiring
If you've spent months trying to get a job with the federal government, things are about to get easier. President Obama plans to instruct federal agencies to radically overhaul the process now used to hire government workers. The change is expected to cut in half the time it takes to fill vacancies and allow the government to better compete with the private sector for top talent. It's been a long time coming. The Government Accountability Office has been calling for changes since 2001, and a host of outside voices have criticized the byzantine nature of federal hiring, with its stacks of paperwork and endless rounds of interviews that can keep an applicant hanging for months.
Houston Chronicle: Spill hearing to bring out blame issues
As congressional hearings on the Deepwater Horizon disaster kick off today, lawmakers are likely to get a tangle of finger-pointing from the corporate leaders whose companies are being sued for negligence in connection with the disaster. In prepared testimony obtained by the Chronicle, the officials trade blame over what went wrong, with rig owner Transocean suggesting cement casing by Halliburton was key and Halliburton insisting BP is the ultimate responsible party.
INTERNATIONAL
For the latest international news: http://edition.cnn.com
Times of London: Brown quits as Labour leader to thwart Tory-Lib Dem pact
Gordon Brown made one last desperate attempt to keep David Cameron out of Downing Street tonight when he announced his own departure as Labour leader to help seal a "progressive" coalition with the Liberal Democrats. The Prime Minister detonated his bombshell after four days of negotiations between the Liberal Democrats and Tories failed to produce a post-election power-sharing deal acceptable to Lib Dem MPs. Mr Brown said in a statement delivered outside No 10 that he had been asked by Nick Clegg, the Lib Dem leader, to open up negotiations while his talks with the Conservatives continued and had agreed to do so "in the national interest".
CNN: U.S. military tries to reassure Pakistan amid Times Square probe
The top U.S. military officer is reassuring his Pakistani counterpart that the U.S. military is not pressuring the Pakistani army to increase its operations against the Taliban there, a senior U.S. military official said. The message comes as the United States has turned up independent evidence that ties the suspect in the attempted bombing in New York's Times Square to the insurgent group. It stands in sharp contrast to tough talk from U.S. Secretary of State Hillary Clinton, who warned of "consequences" if the Times Square plot is linked to elements in Pakistan.
Washington Post: China's crackdown on nonprofit groups prompts new fears among activists
The Chinese government in the past several weeks has intensified a subtle but steady tightening over the country's freewheeling civil society sector, with some nonprofit groups saying they are feeling increasingly harassed, targeted by tax investigations and subjected to new restrictions on receiving donations from abroad. China's Communist rulers have long had an ambivalent attitude toward non-governmental organizations, or NGOs, seeing them as necessary, and often helpful - as in helping in the aftermath of the recent earthquake in Qinghai province - but also viewing them with profound suspicion. The government is particularly wary of groups that receive foreign funding.
CNN: At least 85 killed, scores wounded in Iraqi violence
At least 85 people have been killed and nearly 300 wounded in a string of bombings and shootings across Iraq, the country's Interior Ministry reported late Monday. Attacks were launched in six provinces, including Basra, Wasit and Babil - which tend to be less violent than others - in violence reminiscent of what was typical during the height of the sectarian war. In the northern city of Mosul, a suicide car bomber killed two at a checkpoint manned by Kurdish Peshmerga forces. Many of the shootings and bombings targeted security forces.
CNN: Suspected U.S. drones kill 14 militants
At least 14 militants were killed and several others injured Tuesday when five suspected U.S. drones fired missiles in Pakistan's tribal region, officials said. The suspected drones fired 18 missiles at two vehicles and several compounds, according to officials. Targets pounded are believed to be used by militants in the Data Khel area in North Waziristan, one of seven districts bordering Afghanistan. Officials said the missiles were fired about 10 to 15 minutes apart.
CNN: Iran will allow hikers' families to visit
Families of three American hikers detained in Iran will be allowed to visit them, Iranian state media reported Monday. State-run Press TV did not indicate how it got the information, and the U.S. State Department said the families of Shane Bauer, Sarah Shourd and Joshua Fattal have not yet received visas that will permit their travel to the country.
BBC News: Afghanistan's Hamid Karzai set for crucial US talks
Afghanistan President Hamid Karzai has arrived in the US for four days of talks aimed at repairing rocky relations between Kabul and Washington. US envoy to Afghanistan Karl Eikenberry said he believed the visit would leave the two nations "well aligned". While the Afghan leader is expected to focus on civilians being killed by foreign troops, US officials are likely to tackle Mr. Karzai on corruption. He is scheduled to meet President Barack Obama on Wednesday.
CNN: Aquino holds lead in Philippine vote
Sen. Benigno Aquino III, the son of former Philippine President Corazon Aquino, led contenders for the Philippines presidency Tuesday morning, as authorities tabulated returns from the country's first automated national elections. With nearly 79 percent of the votes counted, Aquino surpassed his nearest challenger, former President Joseph Estrada, by more than 4.5 million votes out of the 30 million counted, according to figures from the national Commission on Elections. Two other candidates - Sen. Manny Villar Jr. and Gilberto Teodoro - ran far behind.
New York Times: Traces of Explosive Found on Sunken S. Korean Ship
Forensic experts investigating the wreckage of a South Korean warship that sank near the sea border with North Korea have found traces of an explosive component commonly used in torpedoes and mines, South Korea's defense minister said Monday. The 1,200-ton corvette, the Cheonan, sank on March 26 after a mysterious blast split the ship in half. The South Korean government has said a torpedo attack was the likely cause of the blast, and many South Koreans say they believe the North was responsible. North Korea has denied any involvement in the sinking.
BUSINESS
For the latest business news: www.CNNMoney.com
CNNMoney: Stocks: Best day in 14 months
Stocks rallied Monday after European officials approved a nearly $1 trillion rescue plan to contain the debt crisis in troubled nations and stabilize the euro. The Dow Jones industrial average gained 405 points, or 3.9%, the average's biggest one-day point and percentage gain since March 23, 2009.
CNNMoney: NHTSA: Toyota may have withheld recall info
The National Highway Traffic Safety Administration is launching an investigation into whether Toyota Motor Co. delayed telling investigators in 2005 that a known defect on compact trucks in Japan was also a problem in the United States. Toyota later recalled the trucks in the U.S. for a steering relay rod that was prone to cracking. The automaker had recalled trucks in Japan for the problem in 2004, according to the current probe. As required by law, the company reported the action to NHTSA. But in that notice, according to the agency, Toyota informed NHTSA that it had received no complaints of the problem in the U.S. and that differences between trucks sold in Japan and the U.S. - as well as different operating conditions - meant the issue wasn't a problem here.
Financial Times: Goldman and JPMorgan trading roars ahead
The trading operations of Goldman Sachs and JPMorgan Chase made money every single business day in the first quarter, a feat that was a first for the companies and underlines the boom in Wall Street's investment banking revenues. Goldman's trading desk recorded a profit of at least $25m on each of the quarter's 63 working days, making more than $100m a day on 35 occasions, according to a regulatory filing issued on Monday. The result, following a series of regulatory probes into Goldman's trading activities, could fuel criticism of its business model and market behavior.
New York Times: After S.E.C. Suit Warning, Traders Flee Moody's Shares
Shares of Moody's fell sharply on Monday after it disclosed that the Securities and Exchange Commission had warned that it might sue the firm for making "false and misleading" statements as part of its application as a ratings organization. The S.E.C. sent the New York-based company a Wells notice, the regulator's way of signaling that it was considering legal action against a firm. Moody's said it received the notice on March 18 and disclosed it in a quarterly filing on Friday.
Bloomberg: China's April Inflation Accelerates, Lending Surges
China's inflation accelerated, bank lending exceeded estimates and property prices jumped by a record, increasing pressure on the government to raise interest rates and let the currency appreciate. Consumer prices rose 2.8 percent in April from a year earlier, the fastest pace in 18 months, and property prices jumped 12.8 percent, the statistics bureau said in statements today.
Investors Business Daily: Priceline Tops On EPS But Guides Lower On Europe's Woes, Volcano, Thai Crisis
Priceline shares fell more than 12% in late trading Monday after the online travel firm missed analysts' first-quarter sales forecasts and beat profit views by the thinnest margin in at least 12 quarters. The company, the first big market leader to report earnings since last week's market sell-off, also expects current-quarter results to fall well below forecasts because of travel disruptions stemming from debt woes and volcanic ash in Europe and riots in Thailand.
CNNMoney: Oil company safety records: a black hole
Before you buy an oil stock, you can look at how it stacks up against its peers by pulling up the different companies' earnings growth estimates. You can compare their debt loads, production rates, and dozens of arcane measures of performance. But there's one crucial metric that you'll be hard pressed to find: safety records. When valuing stocks, analysts strive to quantify risk, or the likelihood that events that will adversely affect a company's performance will occur (and the impact it will have on shares). For the oil industry, that includes swings in commodity prices, political coups in third world countries, and accidents such as spills or explosions. When are oil companies trading safety for profits? Unknown.
In Case You Missed It
The Senate confirmed Elena Kagan once, but she might face a tougher fight for the Supreme Court. CNN's Dana Bash reports.
White House Senior Adviser David Axelrod talks to Wolf Blitzer about Pres. Obama's Supreme Court nominee, Elena Kagan.
Subscribe to the CNN=Politics DAILY podcast at http://www.cnn.com/politicalpodcast
And now stay posted on the latest from the campaign trail by downloading the CNN=Politics SCREENSAVER at http://www.CNN.com/situationroom