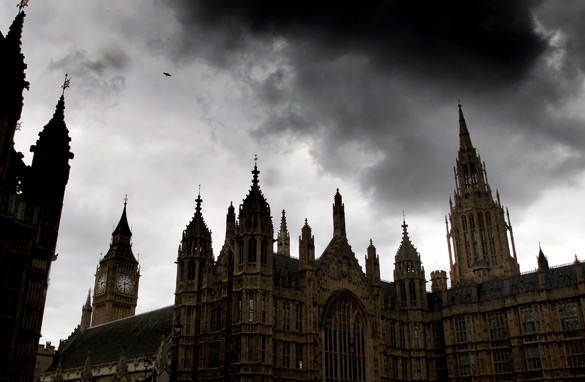 Clouds gather over Westminster in London on Tuesday. (PHOTO CREDIT: Getty Images)

LONDON, England (CNN) - British Prime Minister Gordon Brown has told Queen Elizabeth he intends to resign and will recommend that David Cameron be tapped as his replacement, he announced Tuesday.
A day after he said he would step down as leader of his party by the fall, he sped up the timetable, announcing he is quitting his party post immediately.
His party came in second, behind the Conservatives, in parliamentary elections last week, but no party won an absolute majority.
The Conservatives and Liberal Democrats have been in negotiations since the elections on Thursday. Together they would command a majority in the House of Commons, but they differ widely on many key policies.
In his brief resignation statement, Brown said he loved the job of prime minister not for pomp and ceremony, but "for its potential to make this country I love fairer, more tolerant, more green, more democratic, more prosperous and more just."