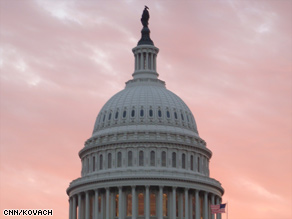 The CNN Washington Bureau's morning speed read of the top stories making news from around the country and the world.
WASHINGTON/POLITICAL
For the latest political news: www.CNNPolitics.com
CNN: Experts: Answers on oil spill in the Gulf, not Congress
As a Senate committee was grilling oil industry executives about the Gulf of Mexico oil spill, experts said there is an opportunity to learn from the catastrophe, but the lessons won't come from Congress. On Tuesday at a hearing before the Senate Energy and Natural Resources Committee, three companies took turns blaming each other for the April accident that left 11 workers dead and oil still spewing into the Gulf.
Politico: Elena Kagan heads to Senate for meetings
Supreme Court nominee Elena Kagan is slated to meet with several top senators Wednesday as she begins to prepare for her confirmation hearings this summer. Kagan, whose nomination was announced Monday, will meet with Majority Leader Harry Reid and Minority Leader Mitch McConnell, as well as the top two members of the Judiciary Committee Patrick Leahy and Jeff Sessions. The nominee also will meet with Senate Majority Whip Dick Durbin, and Judiciary Committee members Orrin Hatch, Herb Kohl and Dianne Feinstein on Wednesday afternoon. Supreme Court nominees typically make the rounds to all the top senators during the run up to their confirmation hearings — Justice Sonia Sotomayor visited nearly every Senate office during her confirmation process last summer.
CNN: Specter to CNN: No 'knee jerk reaction' on Kagan nomination
Sen. Arlen Specter, D-Pennsylvania, the only Senate Democrat to oppose Elena Kagan in the past, told CNN Tuesday he will not be pushed into declaring how he will vote on her Supreme Court nomination before Democratic primary voters decide next week whether to re-elect him. Specter voted against Kagan's nomination for Solicitor General last year. Back then, he was a Republican. Now he's in a neck and neck fight to keep his seat by winning the Democratic nomination in Pennsylvania's May 18 primary. Some polls show him now trailing his opponent, Rep. Joe Sestak, D-Pennsylvania.
New York Times: Court Nominee Figures in Midterm Campaigns
The Supreme Court confirmation hearings for Solicitor General Elena Kagan are weeks away, but her nomination is already becoming a flash point in midterm Congressional campaigns as candidates in both parties try to exploit the coming court fight. Republican strategists say the nomination is providing their candidates with another way to portray Democrats as out of touch by emphasizing Ms. Kagan's support of a policy at Harvard Law School that prohibited the military from officially recruiting on campus because of the Pentagon ban on gay men and lesbians serving openly in the military. At the same time, Democrats saw opportunity as well.
CQ Politics: Georgia Special Election Heads to June Runoff
As expected, the special election to replace former Rep. Nathan Deal (R) is headed to a June 8 runoff after no candidate in the crowded all-party field was able to break 50 percent Tuesday night. Former state Rep. Tom Graves (R) finished first Tuesday taking 34.7 percent with 100 percent of precincts reporting. Graves will be joined in the runoff by former state Sen. Lee Hawkins (R), who took 23.1 percent. Graves' strong performance on Tuesday will likely be viewed as another sign of vitality of the Tea Party movement. Graves, a developer, built much of his campaign around courting the Tea Party vote and touting his endorsement from the powerful anti-tax group the Club for Growth.
Atlanta Journal Constitution: Carter wins state Senate race
State election results show Atlanta attorney Jason Carter will follow in his grandfather President Jimmy Carter's political footsteps. Carter captured 5,559 votes - or 65.6 percent - in the race for Senate District 42 in DeKalb County on Tuesday. Carter will serve the remainder of former Sen. David Adelman's term, which expires at the end of the year. Although the General Assembly is no longer in session, state law requires the seat be filled, elections officials said.
CQ Politics: Mollohan Defeated in Primary
West Virginia Rep. Alan B. Mollohan was defeated Tuesday in a contentious Democratic primary in which the congressman's ethical behavior was the dominant issue. Mollohan lost to state Sen. Mike Oliverio by 56 percent to 44 percent in what was by far the toughest intraparty race for the congressman since he was first elected in 1982. Mollohan, who turns 67 on Friday, is the first House member this cycle to be defeated in a primary, but he likely will not be the last. His loss came just three days after Utah Sen. Robert F. Bennett lost his bid for the Republican nomination at a party convention. Oliverio, a conservative Democrat, will face former state Rep. David McKinley, the winner of a six-candidate Republican primary.
CNN: Conservative gives the candidate he backs in California an ultimatum
A prominent conservative is issuing an ultimatum, essentially telling the candidate he supports to do better in the polls – or lose his support. Erick Erickson, editor-in-chief of RedState.com, backs Assemblyman Chuck DeVore in the California Republican senate primary. DeVore is locked in a battle with former Hewlett-Packard CEO Carly Fiorina and former Rep. Tom Campbell for the right to face Democratic Sen. Barbara Boxer in November.
Boston Herald: Voters tap Republican for Scott Brown's empty seat
Republican Richard Ross claimed the state Senate seat formerly held by Scott Brown as his Democrat opponent conceded a GOP victory last night, in a contest viewed as a referendum on Brown's stunning U.S. Senate victory, experts said. Ross, a Wrentham state representative, defeated Democrat Peter Smulowitz, a doctor and political newcomer from Needham, not only reaffirming Brown's win but giving the GOP added momentum heading into the November election.
CNN: GOP's Sen. Bennett: No rush on deciding what's next politically
Utah Republican Sen. Robert Bennett got a standing ovation from his GOP colleagues in a closed lunch at the Capitol Tuesday, but it was probably little consolation for the 18-year Senate veteran after he failed to be re-nominated by his party over the weekend. Bennett said he won't rush a decision on what he might do next politically.
Salt Lake Tribune: Chaffetz: Hatch's 36 years in Senate might be enough
Rep. Jason Chaffetz zeroed in on Sen. Orrin Hatch's record-breaking longevity and his age in explaining why he may challenge Utah's highest profile politician in 2012. The first-term congressmen's remarks to Fox News on Tuesday were far from the first time Chaffetz has hinted that he may run for Senate, but they were surely the most pointed. "I respect everything that Senator Hatch has done, but the question is whether 36 years in the U.S. Senate might be enough. Orrin will be 78 in 2012," said Chaffetz, who expects the current anti-incumbent vibe to last. Hatch says he plans to run for re-election in two years. His office declined to respond Tuesday to Chaffetz's remarks, but Dave Hansen, Hatch's former campaign manager and the current chairman of the Utah Republican Party, weighed in.
Wall Street Journal: Riding Shotgun for Marked Men
The country's churlish political mood has managed to give top Democrats and Republicans at least one common goal—hustling to keep an anti-Washington wave from washing their preferred candidates out of next week's primary elections. President Barack Obama appears in an advertisement that began airing Tuesday in support of Sen. Arlen Specter, the Pennsylvania Democrat who trails his primary opponent in several polls. Mr. Obama has also taped an ad for Arkansas Sen. Blanche Lincoln, who also faces a stiff challenge from Democratic activists on the political left. Both elections will be held on Tuesday. Polling across the country shows that many voters in both parties disagree with their party leaders' choices of who should carry the mantle in November's general elections. That has created an unusual dynamic in which Messrs. Obama and McConnell find themselves going against the wishes of many of their own core supporters.
Honolulu Advertiser: Djou surges in fundraising
Honolulu City Councilman Charles Djou has seized the fundraising advantage in the special election for Congress, and likely has more cash available for the final two weeks of the campaign than Congressman Ed Case and state Senate President Colleen Hanabusa. Djou's fundraising surge may allow him to dominate in television ads and help him maintain his lead in public and private polls for the winner-take-all vote in urban Honolulu's 1st Congressional District. The Democratic Congressional Campaign Committee announced yesterday that it will halt television ads in Hawai'i, ceding the airwaves and, unless other Democratic groups step up, leaving Case and Hanabusa on their own to counter the Republican Djou.
Investors Business Daily: Dems Reject Push To Curb Fannie Mae, But GOP Sees A Winning Political Issue
Democrats may score a legislative victory by passing financial reform, but it's not clear if they will win the political battle. Republicans sought Tuesday to make dramatic changes to bailed-out mortgage finance giants Fannie Mae and Freddie Mac, quickly slashing their mammoth loan portfolios and severing government ties. The Senate rejected Ariz. Sen. John McCain's amendment, 43-56. But the GOP will accuse Democrats of ignoring a key cause of the financial crisis and a continuing drain on the taxpayer.
CNN: Beau Biden suffers apparent mild stroke, doctor says
Delaware Attorney General Beau Biden - the son of Vice President Joe Biden - has suffered what doctors believe to be a mild stroke, according to the hospital. Biden, 41, was elected as Delaware's attorney general in 2006. He recently served in Iraq for one year as a captain with the Delaware Army National Guard. He was considered a front-runner to fill his father's former U.S. Senate seat this November, but in January he announced he had decided against a run for higher office.
NATIONAL
For the latest national news: www.CNN.com
CNN: BP deploys second containment box
BP is lowering a second oil containment box in an effort to stop a weeks-long oil leak in the Gulf of Mexico, the oil company said. A larger containment vessel was unsuccessful in stopping the flow of oil from the gusher about 5,000 feet underwater. The spill is sending 210,000 gallons of crude into the Gulf of Mexico each day. Called "top hat," the 5-foot-tall, 4-foot-diameter structure weighs less than two tons. The structure is being deployed by the drill ship Enterprise. BP built the smaller dome after a much larger, four-story containment vessel designed to cap the larger of two leaks in the well developed glitches Saturday. Ice-like hydrate crystals formed when gas combined with water and blocked the top of the dome, making it buoyant.
CNN: Police: News reports may have spurred Times Square suspect to flee
Times Square bombing suspect Faisal Shahzad may have headed to the airport on the night of his arrest after hearing media reports, New York City Police Commissioner Ray Kelly said Tuesday. Kelly said the leaks were part of what he believes is an "inordinate amount of information given out by somebody" in the case, despite the fact that the investigation is ongoing.
CNN: Senator: Shahzad waives right to speedy arraignment
The man arrested on suspicion of attempting a car bomb attack on New York City's Times Square has waived his right to a speedy court appearance, the head of the Senate Intelligence Committee said Tuesday. Sen. Dianne Feinstein, D-California, told reporters after a classified briefing on the case that Faisal Shahzad waived his right to a speedy arraignment after his May 3 arrest on terrorism charges.
INTERNATIONAL
For the latest international news: http://edition.cnn.com
Times of London: Embracing change: Cameron forges historic coalition
David Cameron will begin today to forge the first peacetime coalition for more than 80 years after becoming Britain's 53rd Prime Minister. The Conservative leader opened a new political era by cautioning that "hard and difficult work" lay ahead for the new Government that will include five Liberal Democrats in Cabinet and some 15 others in ministerial jobs. Nick Clegg was last night confirmed by the Queen as Deputy Prime Minister. Mr. Cameron struck a businesslike tone devoid of triumphalism as he arrived in Downing Street to end five days of post-election uncertainty and become the first Tory for 31 years to depose a Labour prime minister. He and Mr. Clegg would "put political differences aside" as they moved to tackle the deficit, ease deep social problems, rebuild public trust in politics and bring about a more responsible society.
CNN: President Obama calls new British PM
President Barack Obama called new British Prime Minister David Cameron Tuesday to congratulate him on his successful campaign. In a statement released by the White House, President Obama said he emphasized the "special relationship" between the United States and the United Kingdom to Mr. Cameron.
Investors Business Daily: China's Hot Growth Stirs Worries Over Prices, Gov't Policy
Chinese stocks fell into a bear market Tuesday as bubbling inflation and real estate prices fueled expectations that Beijing will take further steps to slow the booming economy. But analysts said the government is taking appropriate measures to keep the world's main growth engine humming. The Shanghai composite fell 1.9% after the government said consumer prices rose 2.8% in April vs. a year ago, up from 2.4% in March. Meanwhile, home prices in 70 cities climbed 12.8% in April from a year ago, the most since records began five years ago. Bank lending jumped to $113 billion from $75 billion in March despite government efforts to curb lending.
CNN: Putting tensions aside, Clinton opens key talks with Karzai
Brushing recent public spats aside, the Obama administration welcomed Hamid Karzai to Washington on Tuesday, opening a round of partnership talks with the Afghan president. At a breakfast meeting, U.S. Secretary of State Hillary Clinton welcomed Karzai for several days of partnership talks. Later Tuesday, Clinton is expected to hold closed-door bilateral talks with Karzai. President Obama will host his Afghan counterpart at the White House on Wednesday. Clinton said Tuesday that the United States' commitment to Afghanistan remains strong and will continue long after U.S. combat troops have withdrawn. But she said it was unrealistic to expect the two nations to see eye to eye on every issue.
BBC News: Thailand PM gives 'final deadline' to red-shirts
The Thai government has told red-shirt protesters it will clear their camp and cut off water, power and telephones if they do not go home on Wednesday. Prime Minister Abhisit Vejjajiva has said that he will cancel a deal for an early election if the red-shirts refuse to clear the city. Mr Abhisit has threatened tough actions before and not followed through, since a failed, fatal crackdown on 10 April.
CNN: Seven children killed at Chinese school
Seven children were killed and at least 20 others wounded after an attack at a kindergarten in northwest China on Wednesday, local media reported. The attack took place in Shaanxi province, the Xinhua news agency said. No additional information was immediately available. China has seen a spate of attacks at schools in recent days.
Washington Post: U.S. risks China's ire with decision to fund software maker tied to Falun Gong
The State Department has decided to fund a group run mainly by practitioners of Falun Gong, a Buddhist-like sect long considered Enemy No. 1 by the Chinese government, to provide software to skirt Internet censorship across the globe. State Department officials recently called the group, the Global Internet Freedom Consortium, offering it $1.5 million, according to Shiyu Zhou, one of the group's founders. A State Department official, speaking on the condition of anonymity, confirmed the offer. The decision, which came as the United States and China have recently moved to improve ties after months of tension, appears likely to irritate Beijing just as the two are set to resume a dialogue on human rights Wednesday for the first time in two years.
CNN: Gates sees better U.S.-Pakistan ties, wants Iran sanctions now
In a wide-ranging interview with CNN, Defense Secretary Robert Gates said the relationship between the U.S. and Pakistan is much improved. And Gates said, in his opinion, the international community needs to move swiftly to pass a United Nations resolution backing sanctions on Iran. Using a scale of one to ten, Gates said he rates the relationship with Pakistan at a "six or a seven" now. The Pentagon head also told CNN Chief National Correspondent John King that the relationship was worse – a three on a scale of ten – just two years ago.
BBC News: Pakistan envoy to Iran 'attacked by Afghan' in Tehran
Pakistan's ambassador to Iran has been injured in an attack by an Afghan on his car in Tehran, officials say. The suspect was arrested, an Iranian foreign ministry spokesman quoted by state-run al-Alam TV said. Mohammad Bakhsh Abbasi was taken to hospital after the incident in the Iranian capital, although he was not reported to have been seriously hurt.
CNN: Burqa doesn't fit in France, says resolution
French lawmakers on Tuesday overwhelmingly approved a resolution that calls the full face-covering veil - in the form of the Islamic niqab or as part of a burqa - contrary to the values of the nation. The nonbinding resolution, which passed 434-0 in the French National Assembly, does not make the wearing of a full veil or burqa illegal, but gives public officials support when asking people to remove it.
BUSINESS
For the latest business news: www.CNNMoney.com
CNNMoney: 'No smoking gun' in flash crash
Last week's brief-but-historic stock market plunge was triggered by a combination of unusual factors, but its ultimate cause remains a mystery, executives from the nation's leading stock exchanges and market regulators told Congress on Tuesday. A House Financial Services subcommittee is investigating the causes of the so-called flash crash, in which the Dow Jones industrial average plummeted 1,000 points, representing about $1 trillion in market value, before rebounding in a matter of minutes on the afternoon of May 6.
Wall Street Journal: U.S. Probes Morgan Stanley
Federal prosecutors are investigating whether Morgan Stanley misled investors about mortgage-derivatives deals it helped design and sometimes bet against, people familiar with the matter say, in a step that intensifies Washington's scrutiny of Wall Street in the wake of the financial crisis. Morgan Stanley arranged and marketed to investors pools of bond-related investments called "collateralized debt obligations," or CDOs, and its trading desk at times placed bets that their value would fall, traders say. Investigators are examining, among other things, whether Morgan Stanley made proper representations about its roles. Among the deals that have been scrutinized are two named after U.S. Presidents James Buchanan and Andrew Jackson, a person familiar with the matter says. Morgan Stanley helped design the deals and bet against them, but didn't market them to clients. Traders called them the "Dead Presidents" deals.
CNNMoney: FCC looks to prevent surprise cell phone bills
If federal regulators get their way, you may soon be warned before you receive another unexpectedly high bill from your cell phone company. The Federal Communications Commission said Tuesday it is seeking public comment on proposed regulations that would require wireless phone companies to notify customers of any charges that exceed their monthly plans. Customers would therefore be alerted before being charged additional fees for extra data usage, roaming or text messaging, the FCC said in a statement.
New York Times: 4 Big Banks Score Perfect 61-Day Run
It is the Wall Street equivalent of a perfect game of baseball — 27 up, 27 down, the final score measured in millions of dollars a day. Despite the running unease in world markets, four giants of American finance managed to make money from trading every single day during the first three months of the year. Their remarkable 61-day streak is one for the record books. Perfect trading quarters on Wall Street are about as rare as perfect games in Major League Baseball. On Sunday, Dallas Braden of the Oakland Athletics pitched what was only the 19th perfect game in baseball history. But Bank of America, Citigroup, Goldman Sachs and JPMorgan Chase & Company produced the equivalent of four perfect games during the first quarter. Each one finished the period without losing money for even one day.
CNNMoney: Gold soars to record high
Gold settled at a new all-time high Tuesday, after building upward momentum during a volatile day for the stock market. Gold for June delivery rose $19.50, or about 1.62%, to $1,220.30 an ounce, surpassing its all-time high. Gold posted its last record high on another volatile trading day, Dec. 3, 2009, when it settled at $1,218.30 an ounce. Uneasiness about a volatile stock market boosts the appeal of safer investments like gold. Although the stock market has since recouped much of Thursday's losses, many investors remain nervous about the European debt crisis, despite the nearly $1 trillion euro zone bailout that was unveiled this weekend.
CNNMoney: Disney's higher earnings top forecasts
Walt Disney Co.'s profit and revenue surpassed analysts' expectations Tuesday, as the media giant's TV networks and movie studios outperformed its theme parks. Disney's net income for the three months ended April 3 rose to $953 million, or 48 cents per share, from $613 million, or 33 cents, a year earlier. The prior-year quarter included one-time items that reduced income by 10 cents a share.
In Case You Missed It
The White House responds to criticism over the Gulf oil explosion with plans for more oversight of offshore drilling.
CNN's Brianna Keilar reports on the finger-pointing between the major players involved in the Gulf Coast oil spill.
Subscribe to the CNN=Politics DAILY podcast at http://www.cnn.com/politicalpodcast
And now stay posted on the latest from the campaign trail by downloading the CNN=Politics SCREENSAVER at http://www.CNN.com/situationroom