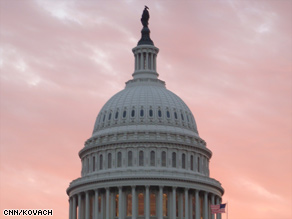 The CNN Washington Bureau's morning speed read of the top stories making news from around the country and the world.
WASHINGTON/POLITICAL
For the latest political news: www.CNNPolitics.com
CNN: Kerry, Lieberman team up to push climate change bill, talk politics
Two senators, one a former presidential nominee and the other a previous vice-presidential nominee, weighed in Wednesday on the nation's current political environment – and their bill to stem global warming and create energy-related jobs. Democratic Sen. John Kerry of Massachusetts and Independent Sen. Joe Lieberman of Connecticut talked about these and other issues in a wide-ranging interview with CNN Chief National Correspondent John King. Senior leaders in the Democratic and Republican parties told CNN that, while the sweeping energy and climate change bill is admirable, it's unlikely to garner enough Senate votes to pass this year. Both senators told King they disagree.
CNN: Tampa picked to host 2012 GOP convention
Tampa-St. Petersburg was chosen Wednesday to host the Republican National Convention, a weeklong political event that culminates in the official selection of the GOP's presidential nominee in 2012. Phoenix and Salt Lake City were the two other cities in the running for the right to host the convention. Both cities were notified of the decision to choose Tampa-St. Petersburg and indicated interest in hosting the 2016 convention, a Republican National Committee source tells CNN.
CNN: House Republicans unveil initiative to target government spending
House Republicans launched a new effort Wednesday designed to show their party is responding to voter backlash about excessive government spending. Dubbed "YouCut," the initiative invites the public to vote online, or text on their cell phone, which government programs they want to put on the chopping block. The House GOP will list five federal programs each week on a new website and ask people to vote for which one they think deserves to be cut. Republican leaders pledged that they will fight for a full vote each week on the House floor to eliminate the program that gets the most votes.
CNN: Polls: PA Dem primary a dead heat
With Pennsylvania's Democratic Senate primary less than a week away, the contest between Sen. Arlen Specter and Rep. Joe Sestak is now a statistical dead heat, according to separate polls released Wednesday by Quinnipiac University and Franklin and Marshall College. Specter, who is seeking a sixth term, left the GOP last year in part to increase his re-election prospects. But the former Republican is now facing a stiff primary challenge Sestak, a former Navy admiral who has sought to portray Specter as unreliable vote Democratic vote in the Senate.
CQ Politics: Different Power Bases Go Head-to-Head in Arkansas
Two traditional sources of political power will be facing off when Arkansas voters head to the polls May 18 to select a Democratic Senate nominee. The power of incumbency will go head-to-head against the power of big labor in a grudge match that got very nasty very quickly in the race between Sen. Blanche Lincoln and Lt. Gov. Bill Halter. Arkansas Republicans are also going through a highly competitive primary, so the general election is expected to be very close. But the race will also be a key test of the power of big labor, which has gone out on a limb to support Halter.
Washington Post: In Kentucky's Senate race, ties to Mitch McConnell could be helpful or harmful
When Senate candidate Rand Paul told a lunchtime crowd at Shearer's Buffet that "we have to do things differently" in Washington and "bring 'em home and send some different Republicans," it wasn't hard to make the jump from this rural area near the Tennessee border to the top Republican in the state, if not the country: Senate Minority Leader Mitch McConnell. McConnell, 68, is widely credited with building the Kentucky Republican Party - the GOP headquarters in Frankfort is even named for him. Just a few months ago, it seemed inconceivable that he couldn't push Grayson, his handpicked candidate, to victory Tuesday. Now, not only is Grayson in trouble - he trails in the polls by double digits - but his association with McConnell isn't helping.
Cleveland Plain Dealer: Gov. Strickland opens line of attack; challenger Kasich responds
Gov. Ted Strickland acknowledges he is in a close race for re-election with an opponent he says he isn't so sure Ohio voters know much about. So, the Democratic incumbent on Wednesday used his first major campaign speech of the year to go on the attack, painting a picture of former Republican Congressman John Kasich for voters. And the portrait was less than flattering. Kasich, traveling on a three-day bus tour to Southwest Ohio, called the governor's comments "pathetic" and a "smear" and said it was sad that after three years in office Strickland has nothing good to say for himself.
St. Petersburg Times: Charlie Crist changes voter registration and his mind about giving donor refunds
Gov. Charlie Crist personally renounced the Republican Party Wednesday, making over his voter registration to "no party affiliation" to match his remodeled U.S. Senate bid and spurning any requests from donors who want their money back. No law requires Crist to return money to disenchanted donors, but the GOP and prominent supporters of his Republican rival, Marco Rubio, have been heckling him to do so. Crist has $7.6 million in the bank, compared to Rubio with $3.9 million and Democratic front-runner Kendrick Meek with $3.7 million.
Politico: Utah: Orrin Hatch could be next casualty
The Utah Republican delegates who unceremoniously dumped Sen. Bob Bennett at their state convention last weekend also left an ominous warning for their longest-serving senator: You could be next. Sen. Orrin Hatch's expected bid for a seventh term won't happen until 2012 — a lifetime away in political terms. But while it's impossible to predict the level of anti-establishment fervor or the staying power of forces like the tea party movement two years from now, there are plentiful telltale signs that Hatch may have real reason to start worrying. Roughly half of Utah voters would vote for someone other than Hatch if he were up for reelection this year, according to a Mason-Dixon poll released Tuesday and commissioned by the Salt Lake Tribune.
CNNMoney: Fed scores wins in Wall Street reform
Congress is mellowing toward the Federal Reserve. Last fall, the Federal Reserve faced an onslaught of congressional efforts to curtail its powers. But this week, the Fed beat back two major checks on its authority in the Senate's Wall Street reform bill, which was tougher on the central bank than the House version. The Senate voted 90-9 on Wednesday to strip from the overall reform bill a provision reshaping the Fed as supervisor of only the nation's largest banks. The Senate, agreeing with chairman Ben Bernanke, now plans no change in the Fed's current regulatory power over banks - which includes large banks and smaller, state-chartered banks that choose the Fed as their regulator.
Washington Post: Republicans' House election strategy: Aim for chairmen
At age 78 and after 33 years in Congress, Rep. Ike Skelton (D-Mo.) has no intention of retiring. He is chairman of the House Armed Services Committee, considers himself a farming expert and wants to keep working for the people in his rural western Missouri district. Now, Skelton is campaigning harder than at any time in more than a decade. He's one of the targets whom Republicans eyed more than a year ago, when they started recruiting younger candidates to challenge entrenched House Democrats. In particular, the GOP has gone after half a dozen or more committee chairmen who had not faced stiff competition in years. It is a double-barreled approach: Republicans think the threat of energetic challengers will propel some veterans into retirement, making for easier pickup opportunities. Or, should they choose to run, the Democrats might find themselves with deteriorated campaign skills, making them vulnerable in what amounts to their first tough race in the YouTube era.
Wall Street Journal: Voters Shifting To GOP, Poll Finds
Republicans have solidified support among voters who had drifted from the party in recent elections, putting the GOP in position for a strong comeback in November's mid-term campaign, according to a new Wall Street Journal/NBC News poll. The findings suggest that public opinion has hardened in advance of the 2010 elections, making it tougher for Democrats to translate their legislative successes, or a tentatively improving U.S. economy, into gains among voters. Republicans have reassembled their coalition by reconnecting with independents, seniors, blue-collar voters, suburban women and small town and rural voters—all of whom had moved away from the party in the 2006 elections, in which Republicans lost control of the House. Those voter groups now favor GOP control of Congress.
Los Angeles Times: Schwarzenegger's revised budget plan is expected to eliminate health programs
Gov. Arnold Schwarzenegger is expected to present a revised budget plan Friday that would dismantle some of California's landmark healthcare programs after efforts to scale them back have been reversed by federal courts. The rulings, issued mostly over the last two years, have already forced the state to unwind roughly $2.4 billion in cuts approved by the governor and Legislature and have alarmed other financially strapped states seeking ways to balance their budgets. Schwarzenegger has lashed out at the federal judges, saying they've been "going absolutely crazy" and accusing them of interfering with the state's ability to get its finances in order. The rulings tie their hands, administration officials say, and they are asking the U.S. Supreme Court to intervene in a petition supported by 22 other states.
CNN: Obama administration begins legal defense of health care law
The Obama administration has launched its first legal defense of the new health care law, insisting the federal government has the power to force citizens to have health insurance. The government response was made in a lawsuit filed by the Thomas More Law Center, a Michigan-based law firm involved in conservative issues. The case names President Barack Obama, Health and Human Services Secretary Kathleen Sebelius, Treasury Secretary Timothy Geithner and Attorney General Eric Holder as defendants.
NATIONAL
For the latest national news: www.CNN.com
CNNMoney: BP knew of problems hours before blast
BP knew of problems with an offshore well hours before it exploded last month, spilling millions of gallons of oil into the Gulf of Mexico, a House committee chairman said Wednesday. Rep. Henry Waxman, D-Calif., said the oil company told the Energy and Commerce subcommittee on oversight privately that the well failed a key pressure test just hours before it exploded on April 20. The test indicated pressure was building up in the well, which could indicate oil or gas was seeping in and could lead to an explosion, said Waxman. Witnesses before the panel, which included executives from the three primary companies working on the well – BP, Transocean, and Halliburton – said the course of events and actions leading up to the explosion is still under investigation, and will come to light over time.
CNN: GOP senator: 'Not convinced' of Times Square suspect-Taliban link
The top Republican on the Senate Intelligence Committee says he doesn't yet see the evidence to support Obama administration claims that the Times Square bombing suspect was working on behalf of the Pakistani Taliban. Sen. Kit Bond, R-Missouri, also is criticizing Attorney General Eric Holder for launching what he calls a "hostile takeover" of the intelligence community. In a written statement released on Wednesday, Bond accused the Justice Department of violating the National Security Act by not allowing intelligence agencies to provide congressional oversight committees information the agencies had gathered about alleged Times Square bomber Faisal Shahzad.
CNN: Arizona bans ethnic studies in public schools
Fresh on the heels of a new immigration law that has led to calls to boycott her state, Arizona's governor has signed a bill banning ethnic studies classes that "promote resentment" of other racial groups. Gov. Jan Brewer approved the measure without public statement Tuesday, according to state legislative records. The bill was pushed by state school Superintendent Tom Horne, who has spent two years trying to get Tucson schools to drop a Mexican-American studies program he said teaches Latino students they are an oppressed minority. There was no immediate response from the Tucson Unified School District, the law's main target.
Los Angeles Times: L.A. City Council votes to ban travel and future contracts with Arizona because of tough new immigration law
The Los Angeles City Council, protesting Arizona's crackdown on illegal immigration, on Wednesday voted to ban most city travel to Arizona and future contracts with companies in that state. During a morning-long debate on the resolution, council members compared Arizona's action to Nazi Germany and the beginning of the Holocaust, as well as the internment and deportation of Japanese Americans during World War II. A new Arizona law, which will take effect July 23, will require police to determine whether people they stop are in the country illegally, which critics say will lead to racial profiling.
INTERNATIONAL
For the latest international news: http://edition.cnn.com
CNN: Karzai to honor U.S. soldiers who died fighting in Afghanistan
U.S. Secretary of State Hillary Clinton and Afghan President Hamid Karzai will speak at the U.S. Institute of Peace on Thursday during what has become a week of playing down tensions between Washington and Kabul. Earlier in the day, Karzai will travel to Arlington National Cemetery with U.S. Secretary of Defense Robert Gates, Adm. Michael Mullen, chairman of the Joint Chiefs of Staff, and Gen. Stanley McChrystal, the U.S. commander in Afghanistan, to visit the graves of Americans killed while fighting in Iraq and Afghanistan
CNN: British PM Cameron names new ministers
David Cameron, Britain's youngest prime minister for almost two centuries, began his first day at Downing Street by appointing Cabinet ministers from his own Conservative party and coalition partners, the Liberal Democrats. At a news conference in the garden of 10 Downing Street on Wednesday afternoon, Cameron said the new coalition government was "a five-year government." With Liberal Democrat leader Nick Clegg - who was named deputy prime minister - standing at his side, Cameron assured the public that new elections would not need to be called soon.
BBC News: Investigation begins into cause of Tripoli air crash
Aviation officials in Libya are investigating the plane crash that killed 103 people at Tripoli airport. The flight recorders have been recovered and handed over to analysts for clues on what brought down the Afriqiyah Airways flight on Wednesday. Police and rescue workers wearing surgical masks and gloves have been combing the wreckage of the Airbus A330 near the runway. The sole survivor, a child reported to be Dutch, is being treated in hospital. Dutch officials say 61 of their nationals were killed in the crash. Other passengers included nationals from Libya, South Africa, Germany, Britain and France. The plane – carrying 93 passengers and 11 crew – crashed as it arrived from Johannesburg, South Africa.
CNN: Thailand delays cutting off protesters
Thai authorities delayed carrying out their threat to shut off power, cut supplies and seal off at midnight Thursday a central Bangkok intersection where anti-government protesters have amassed by the thousands for the last month. The plan to shut facilities around the protest area was postponed from midnight (1 p.m. ET Wednesday) because the Centre for the Resolution of the Emergency Situation in Bangkok was working to limit the impact on area residents, said Panitan Wattanayakorn, acting government spokesman. No new deadline was set. The government's threat had come after demonstrators disregarded an ultimatum by Prime Minister Abhisit Vejjajiva to vacate the Ratchaprasong intersection by Wednesday.
Wall Street Journal: Estonian Bid to Join the Euro Proceeds, Despite Qualms
The European Commission endorsed Estonia's bid to join the euro zone, paving the way for the country to become a member later this year, despite reservations from the European Central Bank and broader concerns about the stability of the currency bloc. Governments have never overruled the commission on euro entry. Yet the politics of accession put the EU in a bind. Many Eastern European countries are eager to join the currency and the commission, the EU's executive arm, has encouraged them. But now, markets are questioning the viability of the union. But if the EU doesn't fulfill its commitment to allow in new members, Europe could face a backlash against the EU in the candidate countries, some of which have undertaken unpopular spending cuts in order to meet euro-zone entry requirements.
Der Spiegel: Open Season on Chancellor Merkel
Chancellor Merkel's political allies have never been shy about criticizing her. But this week, her party's dismal showing in a state election and the 750 billion euro package to prop up Europe's common currency have created more bile than usual. Some worry that she could become a lame duck with three years left in her term. Chancellor Angela Merkel has always absorbed her fair share of critique from presumed political allies. There has been periodic grumbling within the Christian Democratic Union (CDU) that her leadership style is too indecisive. Furthermore, many in the party's top echelons still haven't forgotten how she shoved them aside during her grab for power a decade ago. And her recent efforts to steer the party to the political center have not been universally popular. This week, though, has been particularly challenging for the German leader.
New York Times: Fifth Deadly Attack on a School Haunts China
Gates and cameras have been installed at schools. Security guards have been trained to fend off knife-wielding attackers. China's top security official convened a nationwide conference call, ordering underlings to protect children when they attend classes. But on Wednesday, the latest in a streak of copycat assaults was also the most deadly: a landlord with a kitchen cleaver barged into a kindergarten in central China, hacked to death seven children, their teacher and her mother and returned home while rescuers rushed to the scene before taking his own life. What prompted the attack — the fifth assault on schoolchildren since March — was as imponderable to many Chinese as the details were gruesome. They have all involved middle-aged men in small towns expressing violent grievances against the most vulnerable and cherished members of their communities, the children of families often limited to having only one.
BBC News: North Korea reports nuclear fusion success
North Korea has announced that it has made significant progress towards the development of thermo-nuclear power. It is a claim that is likely to be met with some scepticism. Despite hopes that the technology can produce large quantities of cheap, clean energy, no country has so far succeeded in making it work. North Korea is one of the world's poorest countries and struggles to generate enough electricity for lighting and other basic needs.
Wall Street Journal: Bill Offers New Power To Kazakh President
Lawmakers prepared to declare President Nursultan Nazarbayev, who has ruled Kazakhstan since just before the collapse of the Soviet Union in 1991, the lifetime "leader of the nation," and grant him immunity from prosecution and extensive powers whenever he chooses to step down. The bill was submitted to Parliament last week, a month after protesters in neighboring Kyrgyzstan ousted President Kurmanbek Bakiyev from power in deadly clashes. Mr. Bakiyev, who fled to Belarus, is wanted, along with his brothers and two sons, by the new government for mass killings and fraud. Kazakhstan, which has close economic, ethnic and cultural ties with Kyrgyzstan, has kept its border shut, fearing that instability could spread.
BUSINESS
For the latest business news: www.CNNMoney.com
CNNMoney: U.S. posts April deficit for 3rd time in 30 years
The government posted only its third April deficit in the past 30 years, according to data released Wednesday by the Treasury Department. The $82.7 billion shortfall, the most ever run in the month when Americans file their tax returns, brought the deficit for the first seven months of the fiscal year to $799.7 billion. The year-to-date deficit was down marginally from $802.3 billion in the same period a year earlier. It was the 19th consecutive monthly deficit and surpassed the $20.9 billion shortfall last April. Historically, April has been a surplus month for the government because of the April 15 tax filing deadline. But the bank bailout and stimulus spending has contributed to monthly deficits over the last two years.
CNNMoney: How NYSE plans to use "flash crash" to reclaim its glory
Last week's market swoon briefly shaved about $1 trillion dollars off of the value of U.S. equities. But it may have a much more lasting and beneficial effect on the NYSE Euronext - the exchange world's resident tortoise. Until last Thursday, the NYSE's gripes about the dangers of market fragmentation and opaqueness seemed like little more than the sour grapes of a former monopoly pining for the old days of fat spreads and easy living. But after a still-inexplicable near 1,000-point drop in the Dow Jones Industrial Average, even U.S. lawmakers are now parroting the Big Board's complaints.
Wall Street Journal: Wall Street Probe Widens
Federal prosecutors, working with securities regulators, are conducting a preliminary criminal probe into whether several major Wall Street banks misled investors about their roles in mortgage-bond deals, according to a person familiar with the matter. The banks under early-stage criminal scrutiny—J.P. Morgan Chase & Co., Citigroup Inc., Deutsche Bank AG and UBS AG—have also received civil subpoenas from the Securities and Exchange Commission as part of a sweeping investigation of banks' selling and trading of mortgage-related deals, the person says. Under similar preliminary criminal scrutiny are Goldman Sachs Group Inc. and Morgan Stanley, as previously reported by The Wall Street Journal. The Manhattan U.S. Attorney's office and SEC are working hand-in-hand. At issue is whether the Wall Street firms made proper representations to investors in marketing, selling and trading pools of mortgage bonds called collateralized debt obligations, or CDOs.
Investors Business Daily: Cisco's Q3 Results Top Analyst Views; Europe A Wild Card
Cisco Systems late Wednesday reported third-quarter results that beat analyst views and issued reassurances about the European market, but anxious investors may have sought a stronger outlook. Cisco (CSCO) said profit minus special items rose 40% to 42 cents a share for the quarter ended May 1 compared with the year-earlier period, topping the consensus of 39 cents by analysts polled by Thomson Reuters. Europe's financial woes remain a wild card that could dampen growth for Cisco and other tech firms. Further challenges involve the slow pace of economic recovery and high unemployment.
Business Week: Complex Smartphones Are the Latest Patent Battleground
The patent wars are raging in the mobile device market, and they could result in rising costs for handset makers and higher gadget prices for wireless carriers and consumers. So far this year, Apple and HTC—two of the most innovative smartphone makers—have become embroiled in more patent-related litigation than in all of 2007, and they are on track to beat their own 2008 and 2009 records, according to Bloomberg data. Patent holders want a larger slice of smartphone revenues, which grew 27 percent to $61 billion in 2009 and are on track to grow another 30 percent this year, according to Boston-based consultant Strategy Analytics. And the companies that want a slice come from not only the phone but also the PC and software industries, whose inventions and functions smartphones increasingly absorb.
CNN: Big banks slashed small business credit lines
The biggest Wall Street banks slashed their small business loan portfolios by 9% between 2008 and 2009, more than double the rate at which they cut their overall lending, according to a government report released Thursday. The Congressional Oversight Panel report spotlights the role banks, especially the largest ones, played in the credit crunch that has plagued small companies throughout the recession. Warren's oversight committee was established to keep tabs on the federal government's financial stabilization effort, the Troubled Asset Relief Program (TARP). The committee's May report focuses on the role TARP played in improving credit access for small companies.
Wall Street Journal: Bankruptcy Beauties: Once-Shunned Companies Look More Attractive
Being in bankruptcy court never looked so good. Shareholders and many creditors were expecting to lose their shirts after more than 200 large public companies sought debt relief from the courts. Now, with both corporate earnings and credit markets on the rise, the once-forsaken firms are looking more attractive. That has convinced low-ranking creditors and stockholders—who are almost always wiped out in bankruptcy filings—to keep fighting for recoveries. It has also encouraged outside suitors to jump into bidding wars to finance these companies' exits from court protection.
Bloomberg: CEO Pay Breaks Glass Ceiling as Bartz Gets $47.2 Million in '09
Chief executive officers' pay is shattering the glass ceiling. Boosted by a $47.2 million package for Carol Bartz of Yahoo! Inc. and $26.3 million for Irene Rosenfeld of Kraft Foods Inc., compensation for woman CEOs at the biggest U.S. companies is booming. Sixteen women heading companies in the Standard & Poor's 500 Index averaged earnings of $14.2 million in their latest fiscal years, 43 percent more than the male average, according to data compiled by Bloomberg News from proxy filings. The women who were also CEOs in 2008 got a 19 percent raise in 2009 - while the men took a 5 percent cut.
In Case You Missed It
Sen. John Kerry and Sen. Joe Lieberman discuss the contentious political environment and upcoming primary season.
Elena Kagan traversed the Capitol on Wednesday meeting Senators who could approve her nomination to the Supreme Court.
Subscribe to the CNN=Politics DAILY podcast at http://www.cnn.com/politicalpodcast
And now stay posted on the latest from the campaign trail by downloading the CNN=Politics SCREENSAVER at http://www.CNN.com/situationroom