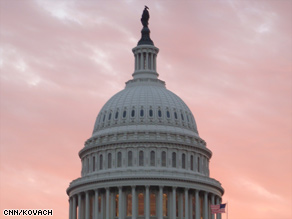 The CNN Washington Bureau's morning speed read of the top stories making news from around the country and the world.
WASHINGTON/POLITICAL
For the latest political news: www.CNNPolitics.com
CNN: Congressman to launch inquiry on how much oil is gushing into Gulf
A U.S. congressman said he will launch a formal inquiry Friday into how much oil is gushing into the Gulf of Mexico after learning of independent estimates that are significantly higher than the amount BP officials have provided. Rep. Edward Markey, a Democrat from Massachusetts, said he will send a letter to BP and ask for more details from federal agencies about the methods they are using to analyze the oil leak. Markey, who chairs a congressional subcommittee on energy and the environment, said miscalculating the spill's volume may be hampering efforts to stop it.
CNN: Hawaii can ignore repeated requests for pres. birth certificate
Hawaii would like for so-called "birthers" to stop asking to see President Obama's birth certificate. The state passed a law on Wednesday that allows state agencies to ignore repeated requests to view government records, including the president's birth document. Hawaii's Republican Gov. Linda Lingle signed the legislation into law. This will impact requests from a fringe movement dubbed the "birthers." Adherents question President Obama's constitutional eligibility to be commander-in-chief, suggesting he was not born in the United States despite proof that he was born in Hawaii in 1961.
Wall Street Journal: Congress Reins In Its Perks for Travel
House leaders are revamping the rules for lawmakers and aides who travel overseas on official government business, forbidding them to fly in business class on shorter trips, use taxpayer funds to buy gifts or pocket unspent cash, among other changes. The new travel rules, proposed by Speaker Nancy Pelosi of California, also strengthen accountability and oversight for taxpayer-funded trips. But the rules don't require lawmakers to disclose some of the biggest costs of such trips, including travel by military plane, which can double or triple the total costs. The changes are the first significant made to the House's travel rules in more than 30 years.
CNN: Moderate Republicans back Kagan on hot-button issues
Supreme Court nominee Elena Kagan received critical cover from moderate Republicans on Thursday on two issues likely to dominate her upcoming confirmation hearings: gays in the military and judicial experience. Kagan has been strongly criticized by GOP leaders for her efforts to block military recruiters from Harvard University during her time as the school's law school dean because of the military's "don't ask, don't tell" policy. The policy, opposed by President Obama, prevents gays and lesbians from serving openly in the armed forces.
Post and Courier: Palin backs Haley for S.C. governor
Sarah Palin, the GOP's nominee for vice president in 2008 and former Alaska governor, is endorsing state Rep. Nikki Haley in her bid to become governor. Haley's campaign announced Thursday that Palin will officially endorse the Lexington Republican at 5:30 p.m. today. Details still are being worked out, according to a Palin spokesman, but the event is scheduled to be at the Statehouse. Haley has served in the state House since 2005. Haley recently quit her job as assistant executive director of the Lexington Medical Center Foundation to devote more time to her gubernatorial campaign. Haley also has been endorsed by former first lady Jenny Sanford and 2008 presidential hopeful former Massachusetts Gov. Mitt Romney, among others.