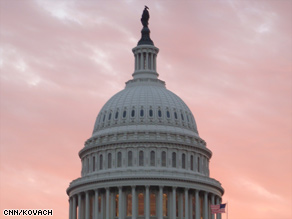 The CNN Washington Bureau's morning speed read of the top stories making news from around the country and the world.
WASHINGTON/POLITICAL
For the latest political news: www.CNNPolitics.com
CNN: Congressman to launch inquiry on how much oil is gushing into Gulf
A U.S. congressman said he will launch a formal inquiry Friday into how much oil is gushing into the Gulf of Mexico after learning of independent estimates that are significantly higher than the amount BP officials have provided. Rep. Edward Markey, a Democrat from Massachusetts, said he will send a letter to BP and ask for more details from federal agencies about the methods they are using to analyze the oil leak. Markey, who chairs a congressional subcommittee on energy and the environment, said miscalculating the spill's volume may be hampering efforts to stop it.
CNN: Hawaii can ignore repeated requests for pres. birth certificate
Hawaii would like for so-called "birthers" to stop asking to see President Obama's birth certificate. The state passed a law on Wednesday that allows state agencies to ignore repeated requests to view government records, including the president's birth document. Hawaii's Republican Gov. Linda Lingle signed the legislation into law. This will impact requests from a fringe movement dubbed the "birthers." Adherents question President Obama's constitutional eligibility to be commander-in-chief, suggesting he was not born in the United States despite proof that he was born in Hawaii in 1961.
Wall Street Journal: Congress Reins In Its Perks for Travel
House leaders are revamping the rules for lawmakers and aides who travel overseas on official government business, forbidding them to fly in business class on shorter trips, use taxpayer funds to buy gifts or pocket unspent cash, among other changes. The new travel rules, proposed by Speaker Nancy Pelosi of California, also strengthen accountability and oversight for taxpayer-funded trips. But the rules don't require lawmakers to disclose some of the biggest costs of such trips, including travel by military plane, which can double or triple the total costs. The changes are the first significant made to the House's travel rules in more than 30 years.
CNN: Moderate Republicans back Kagan on hot-button issues
Supreme Court nominee Elena Kagan received critical cover from moderate Republicans on Thursday on two issues likely to dominate her upcoming confirmation hearings: gays in the military and judicial experience. Kagan has been strongly criticized by GOP leaders for her efforts to block military recruiters from Harvard University during her time as the school's law school dean because of the military's "don't ask, don't tell" policy. The policy, opposed by President Obama, prevents gays and lesbians from serving openly in the armed forces.
Post and Courier: Palin backs Haley for S.C. governor
Sarah Palin, the GOP's nominee for vice president in 2008 and former Alaska governor, is endorsing state Rep. Nikki Haley in her bid to become governor. Haley's campaign announced Thursday that Palin will officially endorse the Lexington Republican at 5:30 p.m. today. Details still are being worked out, according to a Palin spokesman, but the event is scheduled to be at the Statehouse. Haley has served in the state House since 2005. Haley recently quit her job as assistant executive director of the Lexington Medical Center Foundation to devote more time to her gubernatorial campaign. Haley also has been endorsed by former first lady Jenny Sanford and 2008 presidential hopeful former Massachusetts Gov. Mitt Romney, among others.
The Hill: Anti-porn provision sinks Dem jobs bill
House Democrats had to scrap their only substantive bill of the week Thursday after Republicans won a procedural vote that substantively altered the legislation with an anti-porn clause. Democrats had labeled their COMPETES Act - a bill to increase investments in science, research and training programs - as their latest jobs bill. It was the only non-suspension bill Democrats brought up all week. But because of additional changes contained in the motion, Democrats decided to pull the bill from consideration immediately following the passage of the motion to recommit.
Detroit Free Press: GOP's Snyder to skip next TV debates
The Michigan Republican Party will sponsor two more televised gubernatorial debates, but GOP candidate Rick Snyder won't be part of them. Snyder declined the offer to appear June 24 in Grand Rapids and July 13 at Oakland University. The forums will include candidates Oakland County Sheriff Mike Bouchard, Attorney General Mike Cox, U.S. Rep. Pete Hoekstra and state Sen. Tom George of Kalamazoo. Snyder, an Ann Arbor businessman perhaps best known for his "tough nerd" TV campaign ads, told WJR-AM (760) talk host Frank Beckmann this morning that staged debates focus too much on "sound bite fireworks" with too little time to answer questions."
Politico: Inouye's sway may cost Dems a seat
In a staring contest with Sen. Daniel Inouye over the high-stakes May 22 Hawaii special election, national Democrats blinked first and bowed to the wishes of the Aloha State political titan. As a consequence, some Democrats say, it could cost the party a House seat next week. Republican Honolulu City Councilman Charles Djou appears poised to capture the heavily Democratic 1st District next week as a result of a three-way contest in which a split Democratic vote is making it increasingly unlikely that either former Rep. Ed Case or state Senate President Colleen Hanabusa can win enough votes to capture the seat. At the heart of the Democratic predicament is the role played by Inouye, a veteran of nearly a half-century in the Senate and the undisputed heavyweight champion of Hawaii politics.
Honolulu Advertiser: Union gives $100,000 to fight Djou, Case
The American Federation of State, County and Municipal Employees has donated $100,000 for an advertising campaign against Honolulu City Councilman Charles Djou, a Republican, and former congressman Ed Case, a Democrat, in the special election for Congress. The national union made the donation in late April to Workers For a Better Hawai'i, an independent labor group that backs state Senate President Colleen Hanabusa, a Democrat, in the special election. Workers For a Better Hawai'i has spent more than $73,250 on radio ads against Djou and Case so far, according to federal campaign finance reports.
CQ Politics: On, Wisconsin: Feingold Return No Sure Thing
When former Wisconsin Gov. Tommy Thompson (R) announced recently that he wouldn't enter the 2010 Senate race and challenge Democratic Sen. Russ Feingold , many of us crossed the state off our list of competitive races. Maybe we were a bit premature. Two more Republicans — former state Commerce Secretary Dick Leinenkugel and businessman Ron Johnson — are joining the two GOPers already in the contest, businessman Terrence Wall and Dave Westlake, and the newly expanded field is just one reason for reconsidering my knee-jerk judgment. None of these four hopefuls possesses all of the qualities of the ideal challenger. But this cycle, Republicans may not need ideal challengers to win, even in the Badger State.
The Hill: Deficit worries make it tough for Dems to move 'doc fix'
House Democrats are struggling with how to prevent cuts to physician payments under Medicare. The cuts are scheduled to go into effect next month if Congress does not take any action, and lobbyists say they've heard lawmakers might not fix the problem for more than seven months in the tax extenders package currently under discussion. Lawmakers failed to permanently overhaul the Medicare payment system in the health reform bill and have already had to pass three short-term "patches" this year to prevent the cuts. The current patch expires June 1 and if lawmakers do nothing, physicians will see a 21.3 percent drop in Medicare payments. The political problem for lawmakers is the cost of putting off the cuts in payments.
Politico: Pa. race 'a special interest' laboratory
Tuesday's high-stakes Pennsylvania special election to replace the late Democratic Rep. John Murtha has emerged as a proving ground not only for the two parties but also for their allied special interest groups — all of whom view the race as a unique opportunity to send a statement. If Critz wins in the district Murtha represented for 36 years, it will alleviate Democratic anxiety to an extent and halt the sky-is-falling narrative the party is grappling with six months before Election Day. But if Burns is victorious, it will reinforce — if not altogether cement — the notion that no Democratic seat is safe this year and that, after three recent statewide wins, Republicans are still on the march.
Pittsburgh Post-Gazette: Specter, Sestak focus on getting out the vote
In the final days of the Spandex-tight Senate Democratic primary race, ground operations focusing on voter turnout are crucial. And that's one area in which Sen. Arlen Specter, D-Pa., despite his flagging poll numbers, will have a likely advantage over his rival, Rep. Joe Sestak, D-Delaware County. After switching parties last year, Mr. Specter earned the support of the national and Pennsylvania Democratic establishment along with labor unions. Combined with his extensive familiarity with the state's political apparatus from a lifetime mounting campaigns statewide and in Philadelphia, Mr. Specter, 80, knows how to run a ground game.
Washington Post: Republican primary in Northern Virginia sounds familiar themes, with a twist
On the surface, it's a typical 2010 Republican primary: two candidates battling over who is more committed to cutting taxes and spending, with one vowing to stand up to "Washington insiders" and the other saying he is "frightened" by what's going on in the capital. What's atypical about the increasingly bitter contest in Virginia's 11th Congressional District is that those "insiders" are just a few miles away, and it's not clear whether the "more conservative" mantle will help the GOP nominee much in November against freshman Rep. Gerald E. Connolly (D).
St. Petersburg Times: Charlie Crist unleashed
Something peculiar is going on with Charlie Crist. He's on the cusp of losing public office, his lifelong party is attacking him mercilessly, and some of his closest friends are yanking their support now that he's running for Senate as a nonpartisan candidate instead of a Republican. And yet even by the relentlessly cheerful standards of Gov. Crist, he seems even more upbeat and relaxed than ever. The decision to drop out of the Republican U.S. Senate primary was about political survival as much as anything, considering the polls showed him trailing Marco Rubio by more than 20 points. But Crist is now talking like a man liberated from the constraints of partisan orthodoxy.
CNN: 2 mayors oppose Arizona immigration law, disagree on boycotts
Two big-city mayors have come together to issue a message: Arizona's immigration law is wrong and should be repealed. But the mayors disagree on the issue of boycotting Arizona in response to the law. Phoenix Mayor Phil Gordon and Los Angeles Mayor Anthony Villaraigosa, both Democrats, spoke with CNN Chief National Correspondent John King Thursday evening. Both men oppose Arizona's immigration law that requires law enforcement agents to "determine the immigration status" of anyone under "reasonable suspicion" of being an illegal alien. Essentially, the law provides police with the power and responsibility that is normally accorded only to federal immigration authorities.
NATIONAL
For the latest national news: www.CNN.com
CNN: Three arrested in Times Square probe
Three people from Pakistan were taken into custody Thursday in raids in the Northeast by federal agents in connection with the failed Times Square car bombing, sources close to the investigation said. Two individuals were taken into custody in Massachusetts, with a third arrested in Maine. One focus of the probe, according to a source close to the investigation, is a system of "cash couriers" who bring money into the United States from overseas, a method thought to help finance operations like the attempted Times Square attack.
CNN: Kagan used humor when arguing before the high court
Who says the Supreme Court does not have a sense of humor? The normally sober-minded justices, and those who argue before them, usually have their game faces on, but occasionally some light-hearted moments liven up the proceedings. Solicitor General Elena Kagan, nominated to the high court this week by President Barack Obama, has argued six cases before the high court since September, and has both zinged and been zinged by her potential future colleagues. She has shown an easy and conversational manner with the court, which might not have been expected since she had never previously argued a case before any court.
New York Times: E.P.A. Unveils Rule to Regulate Greenhouse Gases
The Environmental Protection Agency unveiled a final rule on Thursday for regulating major emitters of greenhouse gases, like coal-fired power plants, under the Clean Air Act. Starting in July 2011, new sources of at least 100,000 tons of greenhouse gases a year and any existing plants that increase emissions by 75,000 tons will have to seek permits, the agency said. In the first two years, the E.P.A. expects to issue about 550 permits covering the coal-fired plants, refineries, cement manufacturers, solid waste landfills and other large polluters, said Gina McCarthy, the agency's assistant administrator.
INTERNATIONAL
For the latest international news: http://edition.cnn.com
CNN: Thai Army says it did not shoot protest leader
Thailand's army had nothing to do with the shooting of an opposition leader in downtown Bangkok, a military spokesman said Friday. The Thursday incident is under investigation, said Col. Sansern Kaewkumnerd, an Army spokesman. Downtown Bangkok's Lumpini Park turned into a mob atmosphere amid gunshots and explosions Thursday as anti-government protesters massed there. Video footage showed one protester dead on the pavement. There was also footage of Red Shirt movement leader Maj. Gen. Khattiya Sawasdipol lying on the ground, bleeding from a gunshot wound near the neck, as frantic protesters attempted to move him and get help. The renegade general is better known as Seh Daeng, or Red Commander.
CNN: Haiti prosecutor seeks 6-month sentence for U.S. missionary
A Haitian prosecutor asked for a six-month prison sentence Thursday for an American missionary accused of trying to take nearly three dozen children out of the country after a devastating and deadly earthquake in January. Laura Silsby's attorney, Chiller Roy, said the judge is expected to make a ruling in the next few days. Silsby was charged with trying to arrange "irregular travel" for 33 children she planned to take to an orphanage she was building in the Dominican Republic. She was jailed January 29, along with nine other American missionaries who were later released.
CNN: New British government includes first Muslim woman minister
Chalk up another "first" for the new British government. Not only does it have the youngest prime minister in almost 200 years and the first peacetime coalition government in nearly 70, it has the first Muslim woman to be a full member of the Cabinet. She's Sayeeda Warsi, a Conservative who was named minister without portfolio. It's not immediately clear what her responsibilities will be, a spokesman for the government said.
Times of London: Cameron's coalition reaches out to Obama
Britain's coalition Government will open a new chapter in relations with Washington today, reassuring President Obama that there will be no weakening in its stance against Iran and offering early support over Afghanistan. William Hague, who tells The Times today that Tehran "needs to change course", will discuss both issues at his meeting with Hillary Clinton, the US Secretary of State. The visit, his first as Foreign Secretary and only three days into the new Government, is intended to send a signal that the coalition wants the relationship with the US to be as strong as ever.
Wall Street Journal: Poppy Blight Hurts Farmers, but Taliban Stand to Gain
Coalition commanders and Afghan officials are debating whether a mysterious blight that wiped out much of the nation's opium harvest this year will bolster or undermine the Taliban, who use the drug trade to help finance their operations. Afghanistan's poppy harvesting season just ended and, according to initial estimates by the United Nations, poppy yields shrank this year by 30% because of an unidentified plant disease; some U.S. military commanders expect a decline of as much as 50%. Afghanistan accounts for 90% of global opium production. Most of this is grown in Taliban-heavy southern provinces of Helmand and Kandahar. The Taliban derive a significant part of their income from the narcotics industry, both by taxing poppy farmers and by processing the raw opium into heroin and smuggling it through Pakistan. Afghan officials said they welcomed the news of the bad harvest.
New York Times: Kenyan Constitution Opens New Front in Culture Wars
The push to pass a new constitution in Kenya, a cornerstone of the effort to correct longstanding imbalances of power and prevent the kind of upheaval that followed deeply flawed elections here, has attracted some unexpected interference — from more than 7,000 miles away. Before Kenyan lawmakers had even finished drafting the proposed constitution, American Christians organized petition drives in Kenya against it, objecting to a provision recognizing Islamic courts. Now that the draft is done, three Republican members of Congress contend that it significantly expands abortion rights, and are accusing the United States Embassy in Kenya of openly supporting it in violation of federal rules.
CNN: Russia: 3 killed from subway bombings group
Three men involved in the Moscow subway bombings in March were killed when they fought back during an attempt to arrest them, the director of the Federal Security Service told the Russian president Thursday. The officials' meeting was shown on Russian state television. One of the three killed had accompanied the two female suicide bombers from Dagestan to Moscow and guided one of them to the subway, Alexander Bortnikov told President Dmitry Medvedev. The twin bombings struck the Moscow metro during morning rush hour March 29, killing 40 people and wounding more than 80.
BBC News: Bomb explodes outside Greek prison
A bomb has exploded outside a maximum security prison near the Greek capital, Athens, police say. The blast in Korydallos followed a telephone warning to an Athens newspaper, officials said. One report says a woman has been injured in the blast, but this has not been confirmed. There was no immediate claim of responsibility, but correspondents say suspicion will fall on left-wing Greek militant groups.
Wall Street Journal: Portugal Approves Tax Increases, Salary Cuts
Portugal followed in Spain's footsteps on Thursday by announcing new austerity measures to shore up investor confidence and avoid a Greece-style financial crisis. Just days after European Union leaders put together a giant euro-zone financial backstop that was designed in part to ease investor concerns about their debts, Portugal and Spain delivered on commitments to accelerate deficit reduction efforts. The government approved a value-added tax increase of one percentage point across all categories, to 6% for necessities, 13% for restaurants and to 21% for most other goods and services. Companies with profits of more than €2 million ($3.6 million) will pay an extra 2.5% tax on their profits. Government ministers and other top state employees will have their salaries reduced by 5% starting this year. All the new measures will last until the end of 2011.
Bloomberg: India Planning $11 Billion Infrastructure Fund, Ahluwalia Says
India is planning to set up a 500 billion rupee ($11 billion) infrastructure debt fund as it seeks to address a power shortage and upgrade its roads and ports, Montek Singh Ahluwalia, a top government adviser said. India, ranked below war-ravaged Ivory Coast and Sri Lanka for the quality of its infrastructure, spent 6.5 percent of its gross domestic product in 2009 on infrastructure, compared with about 11 percent by China, according to an Ernst & Young India report. Failure to lift investment may imperil Prime Minister Manmohan Singh's target of boosting economic growth to 10 percent needed to pull 828 million people living on less than $2 per day out of poverty.
BUSINESS
For the latest business news: www.CNNMoney.com
CNNMoney: Senate moves to curb ratings agency conflicts
The U.S. Senate approved two amendments to the sweeping financial reform bill Thursday that seek to curb conflicts of interest between ratings agencies and Wall Street banks. The goal of one of the proposals, called the "Restore Integrity To Credit Ratings" amendment, is to prevent the securities industry from shopping around among credit rating agencies for a security's initial rating. Separately, the Senate approved an amendment that would "remove the government seal of approval from investment ratings agencies" by eliminating legal protections for them, according to the amendment's authors. The aim is to end the "over-dependence" on ratings agencies as the financial industry's main risk auditor. That proposal is similar to one the House included in the Wall Street reform bill passed late last year.
Investors Business Daily: Wal-Mart Ramps Up To Boost Offerings In Mobile Electronics
Discount king Wal-Mart is beefing up its electronics offerings to feed consumers' growing appetite for bargains on tech gear. Starting this month, the retailer says it will offer in stores and online more deals on an expanded lineup of mobile devices and home entertainment products, many designed to help consumers connect wirelessly inside the home and on the go. Wal-Mart is the world's largest retailer, and it's the No. 2 consumer electronics retailer in the U.S. behind Best Buy.
CNNMoney: Big banks slashed small business credit lines
The biggest Wall Street banks slashed their small business loan portfolios by 9% between 2008 and 2009, more than double the rate at which they cut their overall lending, according to a government report released Thursday. The Congressional Oversight Panel report spotlights the role banks, especially the largest ones, played in the credit crunch that has plagued small companies throughout the recession.
CNNMoney: 4 ways to stop the oil spill
As oil continues to gush into the Gulf of Mexico, BP and an assortment of other engineers are racing to stop the spill. But stanching a flowing oil well 5,000 feet below the water's surface is no easy task. Imagine trying to put a cap on a fire hydrant flowing full blast, in the dark, under immense pressure, with near freezing temperatures. When the well first exploded, it had three different leaks. But earlier this month, BP successfully plugged one of those leaks, however that didn't reduce the overall volume of oil spilling into the ocean. Now BP has come up with four solutions it is trying simultaneously to stop the two leaks that remain.
Washington Post: Foreclosure continue to rise as banks work on backlogs
More people lost their homes to foreclosure in April as banks worked through a backlog of troubled borrowers, according to data released Thursday. The number of homes repossessed, the final stage of the foreclosure process, reached 92,432 in April. That is flat from March, up just 1 percent, but represents a jump of 45 percent from April 2009, according to RealtyTrac, an online service that estimates it tracks about 90 percent of the housing market. Foreclosures have been suppressed over the past year by government and industry efforts to keep people in their homes. But those efforts have largely faltered, leaving millions of distressed borrowers facing foreclosure. Now more people are expected to lose their homes as lenders work through a backlog of delinquent borrowers.
Investors Business Daily: ObamaCare Tax Law Is Bad Prescription For Small Business
A little-noticed provision in the new health care law may not only dramatically increase paperwork for small businesses, but also put them at a disadvantage against their larger competitors. At issue is the law's Section 9006, which is supposed to generate tax revenues by expanding the reporting requirements for 1099 tax forms. Under current law, a company has to file a 1099 only when it pays an independent contractor more than $600. Beginning in 2012, a company will have to file a 1099 every time it makes cumulative purchases of $600 or more from any business.
CNNMoney: Goodbye thrift? Luxury is back
So much for consumers buckling down and pinching every single penny. Several companies that cater to more extravagant tastes have been reporting strong increases in sales as of late, a sign that people may no longer feel the need to be thrifty. Whole Foods, the grocery store chain featuring organic goods so pricey that some customers call it Whole Paycheck, reported Wednesday that sales were up 13% from a year ago. The stock surged 6% on the news Thursday.
In Case You Missed It
CNN's Anderson Cooper talks to professor Steve Wereley, who believes the oil spill leak is worse than expected.
Car dealers are pushing for a loophole in the Wall Street reform bill to exempt them. CNN's Dana Bash reports.
Subscribe to the CNN=Politics DAILY podcast at http://www.cnn.com/politicalpodcast
And now stay posted on the latest from the campaign trail by downloading the CNN=Politics SCREENSAVER at http://www.CNN.com/situationroom