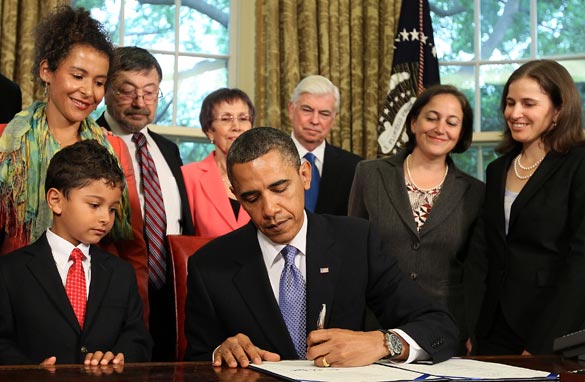 President Obama signs the Daniel Pearl Freedom of Press Act while widow Mariane Pearl (L) and son Adam Daniel Pearl (2nd-L), stand nearby. (Getty Images)
Washington (CNN) - President Barack Obama signed legislation Monday expanding the federal government's role in monitoring global freedom of the press.
Obama signed the Daniel Pearl Freedom of the Press Act, which requires a greater examination of the status of press freedoms in different countries in the State Department's Annual Country Reports on Human Rights Practices.
Among other things, the State Department will now be required to "identify countries in which there were violations of press freedom; determine whether the government authorities of those countries participate in ... or condone the violations; and report the actions such governments have taken to preserve the safety and independence of the media," according to a statement from Sen. Chris Dodd, D-Connecticut, one of the bill's primary sponsors.
This is a "piece of legislation that sends a strong signal about our core values when it comes to freedom of the press," Obama said shortly before signing the bill in the Oval Office. It "puts us clearly on the side of journalistic freedom."
The measure is named for Daniel Pearl, a Wall Street Journal reporter who was murdered by extremists in Pakistan shortly after the September 11, 2001, terrorist attacks. Members of Pearl's family attended the signing ceremony.
Pearl's death "reminded us of how valuable a free press is, and reminded us there are those who would go to any length to silence journalists around the world," Obama said. There are "enormously courageous journalists and bloggers ... (on) the front lines against tyranny and oppression."
The Committee to Protect Journalists reports that 811 journalists have been killed worldwide while doing their jobs since 1992, the year the organization started keeping track of such incidents. Most of the casualties have come in Iraq, where 142 members of the media have lost their lives.