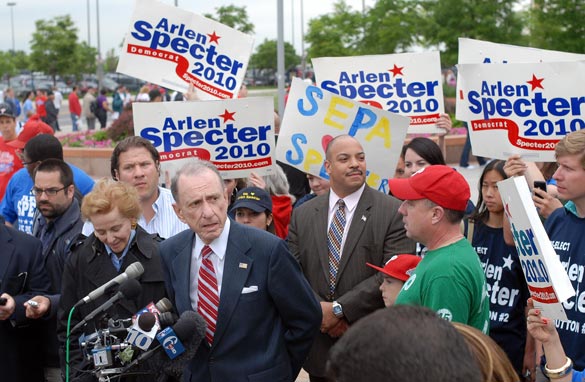 Arlen Specter is in a fight for his political life. (Getty Images)
Washington (CNN) – The rain is falling 150 miles north of the nation's capital on this Tuesday, likely dampening the much needed get-out-the-vote effort for Pennsylvania Sen. Arlen Specter, who is in jeopardy of being swept out office after serving 30 years on Capitol Hill.
The winds of anti-incumbency blew into Pennsylvania over the past few weeks and Specter watched his once-commanding lead over Democratic primary rival Rep. Joe Sestak disappear.
Why the weather analogies? Because there hasn't been a member of Congress who has had a more stormy 12 months on Capitol Hill than Specter, the gruff and unpredictable Pennsylvania Republican-turned-Democrat who is known in Washington and beyond as "Snarlin' Arlen."
Specter is 80 years old, but for Democrats in 2009 he was the new 60, the parliamentary crowbar Democrats needed to help muscle President Obama's controversial policies past Republican opposition in the Senate.
Specter's decision to abandon the GOP in April 2009 effectively gave Democrats that 60th vote. Democrats would have to wait until the contested Minnesota Senate race was resolved in early summer, but that was more of a formality. Democrat Al Franken's victory over GOP Sen. Norm Coleman in Minnesota handed Democrats the 59th vote – it was Specter's defection that made the GOP by and large powerless.
Specter was quickly embraced by the White House and the Democratic establishment.
"I have told him that he will have my full support in the Democratic primary," Obama said the day after Specter switched his party affiliation. "Joe Biden has said the same thing. We are confident that Arlen Specter is going to get a sixth term in the Senate and the American people are going to be better off for it."
A week in politics is a lifetime, let alone a year ago when Obama made the prediction that Specter would win re-election. What Obama and Democrats didn't count on was a primary challenge from Sestak, who had been actively recruited to run against Specter, until, of course, Specter switched parties.
Sestak, a retired Navy admiral, was not deterred and launched a longshot bid to dethrone one of Pennsylvania's most powerful political figures in recent time. But public polling shows that Sestak has surged as Specter has fallen and now the Democratic Senate nomination is up for grabs.
If Specter loses, expect a major storyline Wednesday to be whether Obama has lost his golden political touch. His track record as of late has not been so good.
Despite the president's 11th-hour visit to Massachusetts in January, Attorney General Martha Coakley lost the special election to fill the late Sen. Edward Kennedy's seat. Another trip a few months earlier to try and save New Jersey Gov. Jon Corzine also failed. And while Obama resisted heading north to Pennsylvania on a late rescue mission for Specter, he is still tied to this former Republican-turned-Democrat and Republicans are itching to highlight it.
But Specter can still win. You don't count out a centrist Republican, who has survived 30 years standing in the crossfire of GOP and Democratic politics.
The question Tuesday will be whether Sestak's plea for change will be propelled by the anti-incumbent winds. And Specter, who acknowledges the African-American vote in Philadelphia is key to his victory, must be praying for the rain to stop or that everyone has an umbrella.