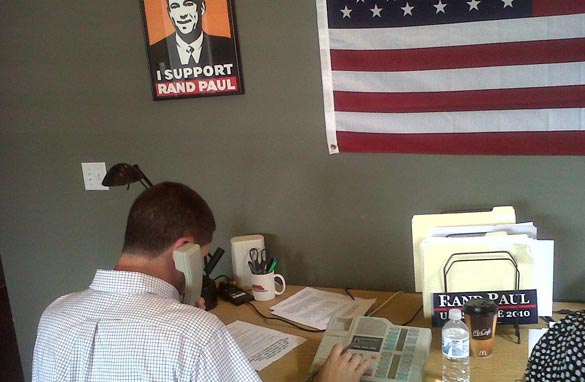 Volunteers are making a last-minute get-out-the-vote push for Rand Paul in Kentucky. (Peter Hamby/CNN)
Bowling Green, Kentucky (CNN) - A small group of volunteers at Rand Paul's campaign headquarters in Bowling Green are making last minute get-out-the-vote calls to undecided voters in Kentucky.
Among those dialing voters is a Paul supporter from England named Tim, who said he traveled to Bowling Green from London a few days ago to volunteer for the campaign. He called it "an important cause."
He said the Kentucky voters he's reached today have in some cases been surprised to hear a British accent on the other end of the line urging them to vote for Paul, but said the Republicans he's spoken with over the last several days have been "very kind."