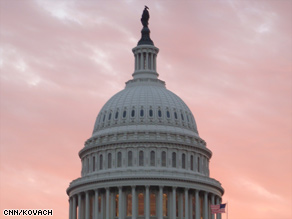 The CNN Washington Bureau's morning speed read of the top stories making news from around the country and the world.
WASHINGTON/POLITICAL
For the latest political news: www.CNNPolitics.com
CNN: Primaries put incumbents on the line
Tuesday's primary contests will put the nation's anti-Washington mood to the test as voters choose between incumbents and anti-establishment candidates. The races come in the wake of some tough blows to sitting lawmakers: Sen. Bob Bennett, a three-term senator, failed to advance at the Utah GOP convention, and Rep. Alan Mollohan didn't win over fellow Democrats in last week's West Virginia primary. Leaders of both parties agree - it's a tough year for experienced politicians.
CNN: Cornyn weighs in on key Senate races, explains bailout vote
The man responsible for getting Republicans elected to the Senate said Monday that he was confident his party would pick up seats in November in Kentucky, Pennsylvania, and Florida. And Sen. John Cornyn, R-Texas, also weighed in on a potential liability for Republican incumbents – the passage of the Wall Street bailout package in late 2008 when the economy was teetering on the brink of collapse. Appearing on CNN's John King, USA, Cornyn, the chairman of the National Republican Senatorial Committee, discussed a number of races including the GOP Senate primary in Kentucky.
CNN: Specter, Sestak court African-American vote in Pennsylvania
With little fanfare, Rep. Joe Sestak walked into Mount Ephraim Baptist Church on Sunday and quickly headed for a pew near the back of this African-American church. Few of the 70 members of the congregation would have noticed the congressman if not for the handful of reporters who hustled in right behind him to record this moment of time-honored Democratic campaigning: a plea for the black vote.
CNN: Lincoln courts black vote as an NAACP leader gives her an 'F'
Sen. Blanche Lincoln is campaigning across Arkansas Monday, one day ahead of a potentially pivotal Democratic primary. But as the Democrat looks for votes, she faces grumblings from one key constituency that has overwhelmingly supported her in the past: African-Americans. Lincoln is locked in a tight race with Arkansas Lieutenant Gov. Bill Halter. A third candidate, Arkansas businessman DC Morrison, has very little name recognition in the state and is registering low in the polls.
Lexington Herald-Leader: All eyes are on Kentucky's U.S. Senate race
The national media are flocking to Kentucky to see whether Tea Party movement favorite Rand Paul can capture the Republican nomination for the U.S. Senate Tuesday and rattle the state's GOP establishment. Meanwhile, the Democratic race for U.S. Senate in the state between Lt. Gov. Daniel Mongiardo and Attorney General Jack Conway is going down to the mire as well as the wire. Kentucky voters will go to the polls Tuesday to select their party nominees for the Nov. 2 general election. They will be voting on congressional races, dozens of state legislative races a handful of judicial races and numerous local races, included mayoral primaries in Lexington and Louisville.
Politico: President Obama steers clear of shaky Arlen Specter
President Barack Obama says he loves Sen. Arlen Specter (D-Pa.) — just not quite enough to hazard an 11th-hour political trip to Pennsylvania for an ally of convenience increasingly viewed as unlikely to win. Just last year, the White House was crowing about Specter's conversion to the Democratic Party, and Obama pledged, "He will have my full support. . ." Tuesday's primary is telling a different story: Once thought to be an unalloyed asset for most any Democratic candidate, Obama's personal involvement is no longer guaranteed – or guaranteed to succeed.
CNN: Allegations about Blumenthal's military service rock race
A New York Times story alleging that Democratic candidate Richard Blumenthal lied about serving in Vietnam added fuel to a contentious Connecticut senate race Tuesday. Blumenthal's campaign criticized the story as an "outrageous distortion," while political opponents demanded answers. Reached by phone Monday night, Blumenthal told a reporter that he had always said he was a "Vietnam-era" veteran, and that his intention was always to be straightforward about his military service, according to an article published on the website of the Greenwich Time, a newspaper in Connecticut.
Las Vegas Sun: Danny Tarkanian: Sue Lowden breaking campaign law by accepting donated RV
Sue Lowden, a leading Republican contender to challenge Sen. Harry Reid, is being accused by a chief competitor of breaking campaign finance law for accepting a luxury campaign bus as a campaign contribution. A campaign contributor is "leasing" to Lowden the RV she is using as her campaign bus, according to her campaign. But Lowden's name is on the title along with the name of the supporter, Carl Giudici, seemingly indicating they co-own the bus. Campaign finance rules allow in-kind contributions of $2,400 — equal to the cash limit. The contribution of a luxury RV, which commonly costs more than $100,000, would be a violation of the law. Danny Tarkanian, who narrowly trails Lowden according to polling of the Republican U.S. Senate primary field, has called into question whether Lowden is breaking the law.
Seattle Times: Candidate who bashes U.S. aid got thousands in subsidies for farm
Republican U.S. Senate candidate Clint Didier likes to bash bloated government as he courts support of the conservative tea-party movement for his primary-election campaign. A former NFL player turned farmer, Didier has repeatedly called the federal government "a predator." He vows to oppose the "Marxist utopia" he says Democrats want to create — "where everyone is taken care of from womb to tomb." But Didier himself has cashed in on one big government aid program. He has received nearly $273,000 in federal farm subsidies since 1995, according to a database of U.S. Department of Agriculture subsidies maintained by the Environmental Working Group.
The State: Republicans suggest Democrat Spratt losing his memory
The National Republican Congressional Committee issued a statement Monday saying U.S. Rep. John Spratt of South Carolina, the York Democrat who recently was diagnosed with Parkinson's disease, is losing his memory. The statement calls the 67-year-old House Budget Committee chairman "Amnesiac John Spratt" and contained six bold-lettered allegations that he's forgetting what's happening in Washington. Spratt, who is in a tough re-election battle this year, has spoken more slowly in recent months and his posture is more stooped, prompting questions about his health. He announced he was suffering from Parkinson's on March 30 as he filed to run for a 15th term. He says the disease is in its early stages and progressing slowly, and he insists it doesn't affect his ability to work.
The Hill: Dems prepare to pass war funding bill without Republican support
House Democrats are preparing to pass an Afghanistan war-spending bill on a party-line vote as Republicans balk at extra provisions the White House wants in the measure. Passing such a spending bill through the lower chamber will be difficult because some anti-war Democrats routinely vote no on war bills. Moreover, Speaker Nancy Pelosi has vowed not to lean on her caucus on this year's war supplemental after whipping the measure in 2009. House Democratic leaders are planning to take up the package funding President Barack Obama's troop increase in Afghanistan after it passes the Senate. Senior Democrats in the upper chamber and the Obama administration are looking to attach to the war bill a $23 billion fund to help state and local governments stave off teacher layoffs.
CNNMoney: Wall Street reform finale expected this week
The Senate is entering the final stretch of its work on the Wall Street reform bill, which aims to stop bailouts, shine a light on complex financial products and strengthen consumer protection. Senate Majority Leader Harry Reid, said on Monday that he would consider forcing a final vote later this week. The legislation, which has been through numerous ups and downs over many months, remains a moving target. But many lobbyists and veteran congressional watchers say they expect it to pass the Senate by Friday. If that happens, leaders of the Senate and House - which passed its own bill in December - would likely hole up behind closed doors to negotiate differences between the two bills next week.
Wall Street Journal: Senators Seek Curbs on Foreign Bailouts
The Senate approved Monday a measure that could make it harder to deploy U.S. funds in rescuing foreign governments, signaling Congress's unease with the sort of global economic aid recently given to Greece. The measure, adopted by a 94-0 vote as an amendment to the financial regulatory overhaul bill the Senate is considering, would require the Obama administration to certify that any future loans made by the International Monetary Fund would be fully repaid. Absent such as certification, U.S. representatives to the IMF would be required to oppose the lending. The U.S. is a major funder of the IMF, which provided loans to Greece as part of a larger support package.
Investors Business Daily: Calif. Pension Woes Leading The Nation To Fiscal Purgatory
Gov. Arnold Schwarzenegger set off a firestorm Friday with his plan to close a $19.1 billion budget gap in the fiscal year starting July 1. But even if Democratic lawmakers were to go along with his prescriptions, the state would have a big budget hole to fill again next year. While California, with the lowest credit rating of any state, is in tougher straits than many, states and localities across the country are bracing for a long uphill trudge. Even as tax revenue gradually recovers from recessionary levels, officials face the end of federal stimulus along with rapidly escalating retiree pension and health obligations. The public pensions bill is coming due as policymakers try to rightsize an overstretched federal budget. Solving both problems at once will make each more difficult.
New York Times: Illegal Immigrant Students Protest at McCain Office
In an escalation of protest tactics, five immigrants dressed in caps and gowns held a sit-in on Monday at the Tucson offices of Senator John McCain, calling on him to sponsor legislation to open a path to legal status for young illegal immigrants. Four of the protesters, including three who are in the country illegally, were arrested Monday evening on misdemeanor trespassing charges. The three were expected to face deportation proceedings. It was the first time students have directly risked deportation in an effort to prompt Congress to take up a bill that would benefit illegal immigrant youths.
CNN: Civil rights groups file challenge to Arizona immigration law
A broad coalition of civil rights groups filed a class-action lawsuit Monday challenging Arizona's controversial new immigration law, saying, among other things, that the measure violates the U.S. Constitution and will lead to racial profiling. The coalition includes the American Civil Liberties Union, the Mexican American Legal Defense and Educational Fund, the National Association for the Advancement of Colored People and the Asian Pacific American Legal Center.
NATIONAL
For the latest national news: http://www.CNN.com
CNN: Source: Obama to set up panel to investigate oil spill
President Barack Obama will sign an executive order establishing a presidential commission to investigate the Gulf of Mexico oil spill, an administration official said Monday. The official, who did not want to speak on the record ahead of an announcement, said it hasn't been determined when Obama will make the announcement or when he'll sign the executive order. Last week, Obama harshly criticized the companies involved in the spill, which threatens to become one of the nation's worst environmental disasters, and pledged to break up what he called the cozy relationship between regulators and the oil industry.
CNNMoney: Gulf spill: 'beyond what we anticipated'
BP did not have a plan to deal with the kind of oil rig rupture that is now spewing thousands of gallons of crude into the Gulf of Mexico, the president of the company's U.S. operations told Congress on Monday. Lamar McKay, president of BP America, stressed that BP began working immediately to contain the spill that developed after the drill rig, Deepwater Horizon, exploded and sank last month, killing 11 employees. The company's efforts have been hindered by the difficulty of working at depths of 5,000 feet below the surface.
CNN: E-mails paint Times Square suspect as frustrated Muslim
Faisal Shahzad, the suspect in the failed car bombing in New York's Times Square, was frustrated with the state of the Muslim world and sought a way to "fight back." Two e-mails obtained by CNN help piece together a portrait of the Pakistani-born naturalized U.S. citizen. They also may shed some light on what propelled his failed terror plot. CNN obtained the e-mails from Dr. Saud Anwar, a Connecticut physician who is active with the American Muslim Peace Initiative and also serves on an FBI multicultural diversity council. Anwar got them from one of the original recipients, and in turn, provided copies to the FBI. The FBI has interviewed at least one of the recipients of the e-mails. Anwar said he made the e-mails public to offer some understanding of Shahzad's motivations.
CNN: Prosecutor: Former Harvard student faked prestigious academic career
A former Harvard University student compiled world-class academic credentials - including perfect grades and two prestigious Harvard prizes - by fabricating his own history and plagiarizing others' work, according to a Massachusetts prosecutor. Adam Wheeler, 23, of Delaware is scheduled for arraignment Tuesday in Woburn, Massachusetts, on 20 counts including larceny, identity fraud, falsifying an endorsement or approval and pretending to hold a degree, according to Middlesex County District Attorney Gerry Leone.
INTERNATIONAL
For the latest international news: http://edition.cnn.com
CNN: Iran to resume uranium enrichment despite Turkey deal
Iran appeared to make a concession in its long-running dispute with the international community Monday, only to throw a potential spoiler into the mix soon after. Tehran said it had agreed to send thousands of pounds of low-enriched uranium, which was produced in Iran, to Turkey in exchange for highly-enriched uranium. But then Iran said it intended to continue enriching uranium to the level that can sustain nuclear reactions, a move the United States and its allies do not want Tehran to make. The deal between Iran and Turkey had been designed to answer international concerns that Iran was secretly trying to build nuclear weapons - a charge it has long denied.
CNN: U.N. official calls for Thai talks
Escalating violence in Thailand between protesters and government forces prompted the U.N.'s top human rights official to implore both sides to resume talks and work toward a peaceful resolution before the situation spirals "out of control." Clashes between the Red Shirt protesters and security forces continued to wreak havoc in central Bangkok late Monday, turning residential and tourist areas into a scene of chaos. At least 36 people have been killed since the fighting broke out Thursday, including two soldiers. Despite a government-ordered deadline for demonstrators to leave their protest site by 3 p.m. (4 a.m. ET), members of the Red Shirt movement continued to defy the government through the night.
CNN: Chinese tycoon sentenced to 14 years in prison
Huang Guangyu, once China's richest man, was sentenced Tuesday to 14 years in prison, state media reported. Huang - the head of Gome, one of China's leading retail chains - was charged with stock-market manipulation, insider trading and bribery. The sentence, handed down Tuesday, also fines Huang 600 million yuan ($87.8 million) and confiscates property worth 200 million yuan ($29.2 million), said the Xinhua news agency. The 41-year-old Huang went on trial in late April.
BBC News: US missionary convicted of Haiti child smuggling
A US missionary has been convicted of trying to illegally take 33 children out of Haiti in the aftermath of a devastating earthquake in January. The judge sentenced Laura Silsby, 40, to the time she had already spent in jail on remand, and said she was free to leave the country. Silsby, from Idaho, was caught with nine other Americans trying to take the children into the Dominican Republic. The other missionaries were not charged and returned to the US. They claimed they were trying to help destitute orphans. But it emerged that the children were not orphans. Some of the parents said they had handed them over because they thought they would get better care in US hands.
CNN: Taliban claim Afghan blast attack
A suicide car bomb exploded near a registration center for Afghan Army recruits Tuesday, an Afghan defense ministry spokesman said. There was no official confirmation on casualties. But a witness on the scene said at least 30 people were killed or wounded.
Wall Street Journal: French Pension-Reform Plan Stirs Union Ire
The French government said it plans to increase the retirement age, setting up a battle with unions who want the French to continue retiring earlier than most other Europeans. The government said it plans to introduce a bill to raise the retirement age from the current minimum of 60—though it didn't say to what age—and create a new tax on high earners, to try to fix the nation's debt-choked pension system. Unions have scheduled a nationwide demonstration on May 27 to protest the proposed overhaul. The sparring comes as France and other European countries are under pressure to rein in their budget deficits after the Greek debt crisis caused financial chaos. France has the same high credit rating as Germany, but some economists are concerned that Paris could suffer a downgrade unless it demonstrates budget discipline.
BBC News: Portugal's president to ratify same-sex marriage law
Portugal's President Anibal Cavaco Silva says he will sign a law legalizing same-sex marriage passed by parliament earlier this year. The law had been fiercely opposed by conservatives in the Catholic country. The ratification will make Portugal the sixth country in Europe to allow same-sex marriage after Belgium, Spain, Norway, the Netherlands and Sweden. The announcement comes days after Pope Benedict, on a visit to Portugal, told pilgrims they should oppose the law.
Times of London: Message to new minister: 'There's no money – good luck!'
The new Treasury team accelerated moves to reduce the national deficit as they seized on an ill-judged joke from a departing minister to brace the country for deep cuts. George Osborne, the Conservative Chancellor, and David Laws, his Liberal Democrat deputy, used their first joint appearance to make common cause of an aggressive timetable for cuts, savings, and spending targets. To underline the extent of the task, Mr. Laws made political capital from a letter left for him on his Treasury desk by Liam Byrne, his Labour predecessor. The note — dated April 6, the day that Gordon Brown called the election — read: "Dear Chief Secretary, I'm afraid there is no money. Kind regards — and good luck! Liam." Mr. Byrne said yesterday that the letter had been intended as a joke.
BUSINESS
For the latest business news: www.CNNMoney.com
CNNMoney: FDA widens Tylenol probe
The Food and Drug Administration said Monday it is expanding its investigation of a Johnson & Johnson manufacturing division tied to the recent recall of children's drugs. On May 1, Johnson & Johnson's McNeil Consumer Healthcare unit recalled some 50 children's versions of non-prescription drugs, including Tylenol, Motrin and Benadryl. Then on May 6, the FDA issued a scathing 17-page inspection report of McNeil's Fort Washington, Pa., plant that produced the drugs.
CNNMoney: GM back in the black
General Motors returned to profitability in the first three months of the year, the automaker reported Monday. It was GM's first profit since 2007. GM, which emerged from bankruptcy last July, earned $865 million on revenue of $31.5 billion. A year ago, GM's predecessor company lost nearly $6 billion on revenue of only $22.4 billion, as sales plunged and the company hurtled toward bankruptcy. GM had reported losses the two previous quarters since emerging from bankruptcy. But the profit in the first quarter was expected. The company was able to cut costs as part of its bankruptcy reorganization. Sales have also improved due to an improving U.S. economy and problems at Toyota Motor.
CNNMoney: Washington pushes for free credit scores
People who are denied credit or a job because of their credit history may soon be able to get their credit score free of charge, thanks to an amendment passed by the Senate Monday evening. The measure, part of the massive Wall Street reform bill being debated in the Senate, would expand an existing law that, in December 2003, gave consumers the right to one free credit report every year from each of the top three consumer reporting agencies - Equifax, Experian, and TransUnion.
CNNMoney: Bad news for Europe, good news for U.S. tourists
The troubled euro zone is being eyed by Americans as this summer's hot spot. Rioting in Greece and a looming debt crisis in much of Europe are leading to a weaker currency and steep discounts designed to lure in more dollars. In the past six months alone, the euro has dropped nearly 17% against the buck, making travel more affordable for visitors with U.S. dollars. Not only will you get more for your buck, but now is a great time to book hotels, buy plane tickets and find shopping bargains because of the euro zone's down economy.
Washington Post: Boeing, anticipating recovery, to speed production of 737
Boeing Co. said Monday that it will speed up production of its 737 in 2012, betting that demand by airlines will increase as the economy recovers. The 737 is a workhorse for airlines around the world, and Boeing builds more than one a day - 31.5 a month. It says it will increase that to 34 per month in early 2012. The plane is made at Boeing's factory in Renton, Wash. Boeing is predicting that airlines will be profitable in 2011 and that demand for planes such as the 737 will increase in 2012. Boeing already has a backlog of 2,000 of the planes, from more than 80 customers. Boeing said this year's financial results will not be affected.
Bloomberg: Samsung May Be 'Uncatchable' With $15.6 Billion Capex
Samsung Electronics Co.'s record 18 trillion won ($15.6 billion) capital spending plan may widen its lead in the memory-chip and flat-screen industries to the extent rivals can't catch up, investors and analysts said. Samsung will invest 11 trillion won this year to expand its capacity to manufacture chips, 5 trillion won on liquid-crystal displays and 2 trillion won on televisions and mobile-phones, the Suwon, South Korea-based company said yesterday. Combined with research and development, spending will increase to 26 trillion won, 67 percent more than in 2009.
Business Week: Adidas' Big Money Defense Against Nike
It's hallowed ground for global sporting goods makers like Adidas. Soccer, or football for purists outside North America, is the most popular sport on the planet. Adidas spends $125 million a year on sponsorship deals with the FIFA global league and its six top teams, according to German sports marketing consultant SPORT+MARKT. Nike spends $75 million per year for the right to sell the game-related gear of five leading teams. The company, sponsor of 10 teams, hopes to expand the Nike brand's $1.7 billion soccer business. Adidas had soccer sales of about $1.8 billion in 2008 and has to spend big on the World Cup to counter its rival's lead in basketball and running gear, says Christopher Svezia, a sporting goods analyst at Susquehanna Financial Group. "They will fight tooth and nail" to stay tops in soccer, he says.
In Case You Missed It
Sen. John Cornyn tells CNN's John King that a Republican filibuster of Supreme Court nominee Elena Kagan is unlikely.
CNN's John King goes to the Magic Wall to show us where the keys to victory in Tuesday's decisive primaries are located.
Subscribe to the CNN=Politics DAILY podcast at http://www.cnn.com/politicalpodcast
And now stay posted on the latest from the campaign trail by downloading the CNN=Politics SCREENSAVER at http://www.CNN.com/situationroom