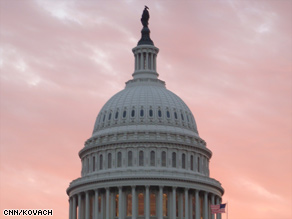 The CNN Washington Bureau's morning speed read of the top stories making news from around the country and the world.
WASHINGTON/POLITICAL
For the latest political news: www.CNNPolitics.com
CNN: Specter's projected loss, Paul's win shake up political landscape
Voters sent mixed signals in Tuesday's primary elections in Pennsylvania, Kentucky and Arkansas. They tossed out a veteran senator, nominated a Tea Party-backed candidate and also chose a longtime aide to fill the U.S. House seat vacated by the death of Democratic Rep. John Murtha. In another closely watched race, Democratic Sen. Blanche Lincoln failed to win more than 50 percent of the vote and faces a June 8 runoff in the Arkansas Senate primary to decide the party's candidate in November. The results reinforced the perception of anger across the country against Washington politics-as-usual, but also showed the public discontent may be aimed at both Democrats and Republicans
Lexington Herald Leader: Paul thumps Grayson; Conway edges Mongiardo
Republican Rand Paul, a political phenomenon making his first bid for public office, rode a wave of support from the Tea Party movement into Kentucky's fall election, where Democratic Attorney General Jack Conway promises to turn back the small-government movement. After a sweeping victory over Secretary of State Trey Grayson Tuesday in the GOP primary election, Paul pledged to remain true to his conservative values in the fall campaign against Conway.
CNN: McConnell praises Paul, says Kentucky GOP will 'unite'
Senate Minority Leader Mitch McConnell congratulated Rand Paul in a statement released Tuesday. McConnell backed Paul's opponent in the Kentucky Republican Senate primary, but said that Kentucky Republicans will "unite in standing against the overreaching policies of the Obama Administration."
Pittsburgh Post-Gazette: Sestak bucks the odds, party regulars in U.S. Senate primary win
Two-term U.S. Rep. Joe Sestak likened his defeat over veteran Sen. Arlen Specter to his experience as an admiral in the Navy. "In the Navy we're held accountable for our actions, and we should expect no less, no less, from our politicians in Washington, D.C.," Mr. Sestak said as he accepted the Democratic nomination late Tuesday night. Mr. Sestak had trailed by double digits in early polls but made up ground in the last few weeks, campaigning across the state and running attack ads that criticized Mr. Specter as a political opportunist who put his own livelihood ahead of constituents.
CNN: Rendell weighs in on Obama effect in PA
Some political observers have wondered why the White House opted not to send President Obama or Vice President Biden to Pennsylvania to campaign with Sen. Arlen Specter in the final weeks before Tuesday's Democratic Senate primary. Pennsylvania Gov. Ed Rendell, a Democrat, offered one theory during an appearance on CNN's "Campbell Brown." Asked about Obama's and Biden's notable absence from the Pennsylvania campaign trail in recent weeks, Rendell said it might be "because their last minute appearances in New Jersey and Virginia and Massachusetts didn't serve too much good."
Arkansas Democrat-Gazette: Lincoln, Halter advance to runoff for U.S. Senate
Sen. Blanche Lincoln and the state's lieutenant governor, Bill Halter, both Democrats, will advance to a runoff as they vie for the U.S. Senate. Both Lincoln and Halter characterized the tight race as a positive sign in enthusiastic speeches to supporters at downtown Little Rock hotels. Flanked by her husband, her two sons and Attorney General Dustin McDaniel, Lincoln entered a ballroom full of supporters at the Holiday Inn Presidential Center shortly after 10:30 p.m. Lincoln told her supporters she surged to win more votes than Halter after being "written off" a month ago.
CNN: Voting snafu snags Lincoln
Politicians can usually count on at least one vote on Election Day: their own. But Sen. Blanche Lincoln ran into a bit of trouble Tuesday in Arkansas. During the Election Day rite-of-passage photo opportunity in which candidates cast a vote – presumably for themselves – Lincoln hit a snag. The candidate was asked to produce her driver's license and voter ID card before voting at a polling station in Little Rock, because records indicated she had already voted absentee. Lincoln's campaign staff was aware of the problem, and the candidate was allowed to fill out a provisional ballot.
Washington Post: Indiana Rep. Mark Souder resigns after admitting affair
Rep. Mark Souder, an Indiana Republican known for his support of traditional family values, announced Tuesday that he will leave office, ending a tense week in which a key staffer confronted him with rumors about his alleged extramarital affair with a part-time aide. Souder, who won Indiana's May 4 Republican primary, acknowledged to his chief of staff on May 12 that he was in a romantic relationship with Tracy Meadows Jackson, who has worked in various capacities in his district office. The allegations surfaced during the primary campaign when anonymous tipsters called Souder's aides and his opponent, according to sources familiar with the events. The eight-term congressman immediately made plans to resign, according to the sources.
CQ Politics: Old Pro Will Face Tall Rookie for Oregon Governor
Oregon Democratic primary voters gave a big thumbs up to former two-term Gov. John Kitzhaber's bid to reclaim the state's top job that he held from 1995 to 2003, while Republicans turned to a newcomer candidate, Chris Dudley, whose name ID comes from the world of sports and not politics. Votes in the primary were cast by mail and were counted Tuesday night. Kitzhaber, a 63-year-old former physician who recently headed a medical education foundation in Colorado, was strongly favored throughout his campaign for the nomination to succeed term-limited Democratic incumbent Ted Kulongoski.
Politico: Midterm fury might leave Nancy Pelosi safe
Even if Democrats drop by the dozens in the midterm elections, Speaker Nancy Pelosi's hold on power will be as safe as ever if Democrats retain a thin majority in the House. In a smaller majority, Pelosi will be even more surrounded by loyalists, because most of the losers on the Democratic side of the ballot would likely be moderates and conservatives who have been the least reliable Pelosi supporters. In interviews with more than two dozen Democratic lawmakers, none suggested Pelosi should be replaced, and nobody predicted a serious challenge to Pelosi's authority, provided Democrats hold onto power.
Des Moines Register: Biden: Iowans "blessed" to be ahead of national recovery
Vice President Joe Biden told a Democratic audience in Cedar Rapids that Iowa was ahead of the national recovery. "You're blessed in Iowa," Biden said at Greene Square Park. "Things are not as nearly as bad as they are in the rest of the country." Biden was campaigning for Iowa Gov. Chet Culver, a Democrat facing a challenging re-election fight for a second term this year. Biden spoke at noon in the downtown park, appearing with Culver, first lady Mari Culver and Lieutenant Gov. Patty Judge. The event comes a day after Culver kicked off his bid for a second term. Three Republicans, including former Gov. Terry Branstad, are running in the June 8 primary.
New York Times: Colleague Says Blumenthal Claims Grew in Time
Former Representative Christopher Shays of Connecticut found it puzzling: over time, his friend Attorney General Richard Blumenthal kept revising how he talked about his military service during the Vietnam War. At first, in the 1980s, he was humble. He played it down, Mr. Shays recalled, characterizing it as humdrum desk work. Over the last few years, however, more sweeping claims crept into Mr. Blumenthal's descriptions, he said: that Mr. Blumenthal had served in Vietnam and had felt the sting of an ungrateful nation as he returned. Mr. Shays said he became alarmed enough by the discrepancies that he at times considered mentioning the issue to Mr. Blumenthal, who on Tuesday said he took "full responsibility" for the occasions when he "misspoke" about his military history.
CNN: Kagan worth nearly $1.8 million
Supreme Court nominee Elena Kagan declared a net worth of nearly $1.8 million in documents released Tuesday by the Senate Judiciary Committee. Kagan, 50, reported almost $740,000 in cash on hand and in banks, as well as more than $820,000 in retirement funds. She reported no financial liabilities. The financial disclosure was included in a several-hundred-page response submitted by Kagan to the committee's bipartisan questionnaire, a document exploring every high court nominee's academic, legal, and financial record, among other things.
CNNMoney: Derivatives ban may be softened
Wall Street is poised to score a victory in its efforts to beat back a crackdown on banks that trade the complex financial products known as derivatives. On Tuesday, Senate Banking Committee Chairman Christopher Dodd, D-Conn., proposed a compromise change to the Wall Street reform bill that would water down a proposed ban on derivatives trading by many financial firms. Sen. Blanche Lincoln, D-Ark., has been a driver of the push on the swaps ban. Her measure ranks among the top hangups threatening final passage of the overall reform bill.
NATIONAL
For the latest national news: www.CNN.com
CNN: Times Square bomb suspect eyed other targets, official says
The man accused of attempting to set off a car bomb in Times Square considered other targets in and around New York before the failed attack, an investigator said. Faisal Shahzad, 30, pondered attacks on Rockefeller Center, Grand Central Terminal, the World Financial Center and Connecticut helicopter manufacturer Sikorsky, going so far as to case some of the targets, a senior counterterrorism official with oversight of the investigation said Tuesday. Dressed in a gray sweatsuit, free of handcuffs, Shahzad appeared before a federal magistrate on Tuesday afternoon to hear the charges against him.
CNN: Report: Agencies failed to connect dots in attempted airline bombing
A Senate Intelligence Committee report released Tuesday sharply criticized the National Counterterrorism Center for failing to properly coordinate intelligence activities to detect the botched Christmas Day airline bombing. Two Republican committee members, Saxby Chambliss of Georgia and Richard Burr of North Carolina, wrote an additional section to the report in which they accused the National Counterterrorism Center (NCTC) of failing to carry out its basic mission.
CNN: Researchers: Unlikely Keys tar balls stem from Gulf oil spill
Tar balls found on a Florida Keys beach Monday, while not believed to be from a massive Gulf of Mexico spill, are nevertheless raising fears that oil will spread along the coastlines of Florida and beyond. Researchers said it's unlikely - although not impossible - that the oil could have spread from the spill, off the coast of Louisiana, to the Keys so quickly. Additional tar balls were found on Keys beaches Tuesday, the Coast Guard said. But they and federal officials seem to agree that a plume of oil is in the process of getting dragged into the Gulf of Mexico's Loop Current.
INTERNATIONAL
For the latest international news: http://edition.cnn.com
CNN: Thai Red Shirt leaders call off protests
Several Red Shirt leaders called off their anti-government protests in Bangkok Wednesday after a large military offensive routed their supporters from a city park where they had amassed. The leaders could be seen on television addressing a crowd in Lumpini Park saying they wanted to avoid further bloodshed and wanted to turn themselves in. Seven anti-government protest leaders had been taken into custody, while several others fled, authorities said. Officials asked protesters, residents and foreigners to head to a nearby stadium if they want to leave. Still, about 1,000 protesters remained in the park listening to speeches in an area called the main stage.
CNN: Five Americans among 18 killed in Afghan suicide attack
A suicide bomb in Afghanistan's capital killed at least a dozen civilians, five U.S. troops and a Canadian service member on Tuesday, officials said - a bloody strike claimed by the Taliban and deplored by the coalition. The blast, which occurred on a busy road near a NATO-led military convoy and a registration center for the Afghan Army, rocked an area close to government buildings fortified with security. A U.S. defense official confirmed the five U.S. troop deaths, and Canadian forces confirmed the death of their soldier.
CNN: U.S., Mexico leaders to talk drugs, Arizona, trade
When President Obama sits down with Calderon and when members of his Cabinet have separate meetings around Washington, they will certainly talk about drug violence and the Arizona immigration law. But they also will discuss a whole host of other issues, including trade and economic challenges. It will be the fourth time the two presidents have met for bilateral meetings. Washington experts agree the visit is a chance for both sides to polish an increasingly important relationship. Part of the relationship is the shared concern about illegal drugs and related violence.
CNN: Will South Korea blame the North for sinking warship?
As South Korea awaits the results of a probe into the sinking of a warship, expected to be made public Thursday, debate is already underway over the policy options open to Seoul if the investigation holds North Korea responsible. The Cheonan sank the evening of March 26 following a mysterious explosion that blew her in half. Forty-six sailors were lost as the 1,200-ton vessel went down near disputed waters in the Yellow Sea. Seoul has convened a multinational team - including American, Australian, British and Swedish as well as South Korean members - to investigate the cause of the disaster. Their findings will be revealed to reporters Wednesday, and the committee will announce its findings Thursday.
BBC News: North Korea calls rare second parliamentary session
North Korea is to hold a rare second parliamentary session, amid rising tensions with the South. The North's official news agency said the Supreme People's Assembly would meet on 7 June but did not say why. The assembly usually meets just once a year to approve proposals from the governing party. It has not held a second annual session since 2003. Analysts say the meeting may be linked to increasingly strained ties with the South.
Daily Telegraph: Nick Clegg: tell us the laws that you want scrapped
The public will be asked what laws they want ripped up, in far-reaching reforms designed to put back "faith in politics", the Deputy Prime Minister will say. The reordering of power will sweep away Labour legislation and new criminal offences deemed to have eroded personal freedom. It will involve the end of the controversial ID cards scheme, the scrapping of universal DNA databases – in which the records of thousands of innocent people have been stored – and restrictions placed on internet records. The use of CCTV cameras will also be reviewed. Dubbed the "Great Reform Act", the measures will close down the ContactPoint children's database. Set up by Labour last year, it includes detailed information on all 11 million youngsters under 18.
CNN: Reluctant Russia, China have agreed on Iran sanctions, Clinton says
The United States, Russia, China and other key nations have reached agreement on a "strong" Iran sanctions resolution, Secretary of State Hillary Clinton said Tuesday. Speaking before the Senate Foreign Relations Committee, Clinton said the United States has been "working closely" with its international partners - the so-called P5 plus 1 - on a resolution to present to the United Nations Security Council.
Washington Post: 1 dead, 5 wounded in latest China rampage attack
A cleaver-wielding man killed one woman and wounded five before jumping to his death, police said Tuesday, in the latest in a series of rampage attacks in China. The attack follows five separate assaults by lone assailants against schoolchildren in recent weeks that have left 17 dead and more than 50 wounded. According to a police news release, Sunday night's attack began around 7:00 p.m. when 20-year-old Xie Yulin hacked at a woman outside a restaurant in the southern city of Foshan.
CNN: France releases assassin of former Iran PM
A French court has authorized the release and deportation of Ali Vakili Rad, the convicted assassin of former Iranian Prime Minister Shahpour Bakhtiar, the French prosecutor's office said Tuesday. Vakili was convicted in 1994 of the bloody stabbing death of Bakhtiar and his personal secretary at Bakhtiar's suburban Paris villa in August 1991. He was sentenced to life in prison with a minimum of 18 years, the Paris High Court said. Vakili had appealed last year to be released, and the court Tuesday granted him a 56-day reduction of his 18-year minimum sentence, the court added.
BBC News: Three Darfur aid workers are kidnapped
Three aid workers, including a US woman and two Sudanese nationals, have been kidnapped in Sudan's troubled Darfur region, officials say. The victims were stopped by an armed gang near the town of Nyala, capital of South Darfur state, government minister Abdelbagi Gailani told the BBC. He said the kidnappers made off with the group's two vehicles, and that they were probably being held for ransom. This is the latest in a series of kidnappings of aid workers in Darfur.
Wall Street Journal: Russia Seeks Cooperation With U.S. in Space Effort
Russian leaders are trying to use the current thaw in relations with the U.S. to enhance cooperation in space, pushing for joint exploration efforts extending past the life of the international space station. Russian Deputy Prime Minister Sergei Ivanov spoke over the weekend with Charles Bolden, head of the National Aeronautics and Space Administration, and gave the Kremlin's strongest indication to date that it wants to team with the U.S. to explore more deeply into the solar system. In a speech and brief interview Monday, Mr. Ivanov said the time is right for the two countries to share financial and engineering resources on possible ventures that would be launched past 2020 and travel beyond low-earth orbit. The two countries already collaborate on the space station, an international consortium that includes Russia, the U.S. and several other countries. The station is slated to continue for at least another decade.
BUSINESS
For the latest business news: www.CNNMoney.com
CNNMoney: SEC moves to expand stock circuit breakers
The Securities and Exchange Commission proposed new rules Tuesday that would pause trading in certain stocks that experience extreme swings. The move is in response to the brief but historic stock market crash of May 6, in which the Dow Jones industrial average fell nearly 1,000 points, its biggest intra-day drop on record, before the index rebounded within a matter of minutes. Under the proposed rules, trading in an individual stock would pause across all U.S. stock markets for a five-minute period in the event that the stock experiences a 10% change in price over the preceding five minutes.
CNNMoney: Yahoo to buy Associated Content
Yahoo announced Tuesday that it has agreed to buy media network Associated Content. Though terms of the deal were not disclosed, several news reports put the value at between $90 million and $100 million. A spokeswoman from Yahoo would not comment on the finances of the deal. Yahoo said the deal for Associated Content will provide "high quality, personally relevant content" for its 600 million online users. The Internet company has shifted its focus toward providing online content - and away from search, where it was losing significant share to Google and Microsoft.
Wall Street Journal: Home Prices Projected to Begin Rebound in 2011
U.S. home prices will begin a gradual recovery by next year, according a survey of 92 economists and other housing analysts by MacroMarkets LLC. Separately, the U.S. Census Bureau reported that single-family housing starts in April surged to a seasonally adjusted annual rate of 593,000, up 10.2% from March. Ivy Zelman, chief executive of research firm Zelman & Associates, said builders stepped up production ahead of the April 30 deadline for sales qualifying for a federal tax credit, but since then have cut back. The analysts surveyed by MacroMarkets on average expect home prices, as measured by the S&P/Case-Shiller national index, to rise about 12% in the five years ending Dec. 31, 2014. As of Dec. 31, that index was down about 28% from its peak level in mid-2006.
Bloomberg: Goldman Sachs Advice Hands Clients Losses in 7 of 9 Top Trades
Goldman Sachs Group Inc. racked up trading profits for itself every day last quarter. Clients who followed the firm's investment advice fared far worse. Seven of the investment bank's nine "recommended top trades for 2010" have been money losers for investors who followed the New York-based firm's advice, according to data compiled by Bloomberg from a Goldman Sachs research note sent yesterday. Clients who followed the tips lost 14 percent buying the Polish zloty versus the Japanese yen, 9.4 percent buying Chinese stocks in Hong Kong and 9.8 percent trading the British pound against the New Zealand dollar. The results show the difficulty of predicting market movements as widening government deficits, a fragile global economic recovery and tighter financial regulations increase volatility.
CNNMoney: Financial watchdog: More disclosures, fewer hidden fees
Consumers are close to getting their own financial regulator. What would it mean to them? More disclosures and fewer hidden fees. The proposal, a signature piece of the Wall Street reform bill slated to pass the Senate as soon as this week, would create a federal agency in charge of setting rules to curb unfair practices in consumer loans and credit cards. Bills in both the House and Senate would establish the position of an independent, presidentially-appointed regulator, funded by fees paid by banks and other financial firms.
Investors Business Daily: Wal-Mart And TJX Beat Q1 Forecasts, Yet Outlooks Weak
Discount king Wal-Mart, Dick's Sporting Goods and off-price retailer TJX topped Wall Street's Q1 earnings forecasts on Tuesday. But they offered guarded Q2 outlooks as they face high unemployment and other head winds. Shares of Wal-Mart rose 2% but Dick's and TJX fell more than 3%. The S&P Retail Index lost 2.5% as stocks overall sold off. High gas prices and unemployment continue to pressure its customers, Wal-Mart said. The economy, deflation in categories such as food and a competitive environment all affected sales and traffic.
Business Week: Google Pushes Software Onto TVs, Steps Up Rivalry With Apple
Google Inc., owner of the most-used Web search engine, is teaming up with Intel Corp. to get its software onto televisions in a bid to succeed where rival Apple Inc. has struggled. At a conference that starts today, Mountain View, California-based Google plans to announce a partnership with Intel and Sony Corp. that will put Android software on TV sets and other home-entertainment equipment, people familiar with the matter said earlier this month. Google aims to expand beyond the online advertising business that makes up almost all its sales, while benefiting from rising demand for Web-connected TVs.
New York Times: Toyota Pays Its $16.4 Million Fine Over Pedals
The Transportation Department said Tuesday that Toyota Motor had paid a $16.4 million civil fine, the largest allowed, over a recall of sticking accelerator pedals on 2.3 million vehicles. The department said the proceeds would go to the Treasury's general fund. The transportation secretary, Ray LaHood, announced the fine in early April, saying Toyota had failed to promptly notify the government when it learned of similar problems with vehicles elsewhere in the world. Toyota said on April 19 that it would pay the fine, but it did not admit fault. It had 30 days to make the payment. Toyota still faces dozens of lawsuits.
In Case You Missed It
Rand Paul gives a victory speech after winning Kentucky's GOP Senate primary nomination.
Rep. Joe Sestak celebrates his win over Sen. Arlen Specter in the Pennsylvania Senate Democratic primary.
Subscribe to the CNN=Politics DAILY podcast at http://www.cnn.com/politicalpodcast
And now stay posted on the latest from the campaign trail by downloading the CNN=Politics SCREENSAVER at http://www.CNN.com/situationroom