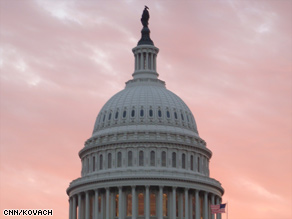 The CNN Washington Bureau's morning speed read of the top stories making news from around the country and the world.
WASHINGTON/POLITICAL
For the latest political news: www.CNNPolitics.com
CNNMoney: Wall Street reform fails test
After months of negotiation and debate, far-reaching legislation to overhaul the rules of Wall Street failed a key test vote in the Senate on Wednesday, casting a shadow over Democratic efforts to push the effort forward. The measure aims to stop bailouts, shine a light on complex financial products and strengthen consumer protection. The vote was 57 to 42. Under Senate rules, Democrats needed 60 votes to move ahead to a final vote. Two Democrats opposed the bill, and two Republicans voted for it. Senate Majority Leader Harry Reid, D-Nev., plans to bring up the bill for another vote on Thursday at 2:30 pm ET. He had wanted a final vote by Friday, but that appears unlikely now.
CNN: Reid accuses Scott Brown of breaking word on vote
Moments after narrowly losing a key vote on the hotly contested Wall Street reform bill Wednesday, Senate Majority Leader Harry Reid told a news conference that another senator "broke his word with me." It was a rare public rebuke of a fellow senator, and while Reid, D-Nevada, and his aides refused to identify the individual or provide specifics about the charge, other Senate aides from both parties said Reid was referring to Scott Brown, the new Republican senator from Massachusetts. An aide to Brown confirmed that the senator had signaled to Reid he would vote for the motion to end debate on the financial regulations bill, but said it was conditioned on changes that had not been made by the time of the Wednesday's procedural vote.
Wall Street Journal: Ban on Pet Provisions Proves Too Much for Lawmakers
They said they wouldn't. They tried to stop themselves. But they're doing it anyway. As they debate a more than 1,500-page bill intended to overhaul Wall Street and prevent the next financial crisis, senators from both parties are inserting pet provisions into the legislation. Buried among more than 300 amendments to the bill are efforts to keep Social Security numbers off documents processed by U.S. prison inmates; regulate the oil, gas and mining industries; condemn Myanmar for human-rights violations; and control the sale of minerals from war zones. In order to smooth passage of a high-priority bill, congressional leaders said they would ban any provisions that didn't have something to do with the financial industry.
New York Times: Democrats See Hope for Fall in Victory in House Race
Congressional Democrats on Wednesday seized on their special election victory in a Pennsylvania House district and other primary results as evidence that they can stem Republican political momentum, as both parties sifted through Tuesday night's returns for lessons to learn and mistakes to avoid heading to November. After hearing for months that they were on the verge of losing control of the House, Democrats said the decisive victory by Mark Critz, a Democrat, in the blue-collar district formerly represented by the late John P. Murtha, showed they remain competitive in the kinds of hotly contested regions Republicans need to win to have a real chance of capturing the House.
CNN: House Republicans grumbling over loss in PA special election
Two Republican sources at Wednesday's House GOP Conference meeting tell CNN that there was a lot of grumbling about the party's loss in a special election Tuesday for the vacant House seat in Pennsylvania's 12th congressional district. Both sources, one a Republican lawmaker and one a senior GOP staffer, said National Republican Congressional Committee chairman Pete Sessions took responsibility for the loss and promised to study the results and learn the lessons of the Burns' defeat.
Pittsburgh Post-Gazette: Murtha successor looks to what's next
Sipping a Pepsi and looking disoriented when an aide called him "congressman," Mark Critz on Wednesday cast about for an answer to a question he now gets to ask himself. "I've been chasing this for 85 days now," said Mr. Critz, who had just been elected to fill out the term of his late boss, U.S. Rep. John P. Murtha. "There is that sense of, OK, what next?" In a campaign that delineated the space between politics and governance, Mr. Critz and his Republican opponent, Tim Burns, spent the past three months hammering each other with charges that sometimes strained credulity. Both parties effectively nationalized the election.
CNN: After primary win, Dem luminaries dialing Sestak's number
If Rep. Joe Sestak's recent call log is any indication, Pennsylvania's newly minted Democratic Senatorial nominee is moving up in the world. Before an appearance on CNN Wednesday, cameras in the Russell Senate Office Building caught Sestak accepting a call from former President Bill Clinton.
CNN: Come to Kentucky, Rand Paul tells Obama
Fresh off his win in Kentucky's Republican Senate primary, Dr. Rand Paul is welcoming the attention from national Democrats that his insurgent, Tea Party-backed candidacy is generating. Tim Kaine, chairman of the Democratic National Committee, took a shot at Paul during a press conference in Washington Wednesday. Kaine said Paul "represents the most extreme elements of the Republican Party – a candidate who has vowed to abolish the Departments of Education and the Federal Reserve; who vows to oppose, oppose, oppose at a time when we need constructive solutions to the challenges we face." Asked about Kaine's comments in an interview set to air on CNN's John King, USA, Paul told Democrats to "bring it on."
Washington Post: In Arkansas, U.S. Senate candidates scramble to take stock for June runoff
Now they have to do it all over again. U.S. Sen. Blanche Lincoln and Lt. Gov. Bill Halter woke up Wednesday after a short night's sleep to find themselves in a June 8 Senate runoff, a contest likely to be every bit as punishing as the Democratic primary fight they waged for 11 weeks. The candidates immediately began studying voting patterns, including a series of projection-defying surprises, while hitting up donors for a three-week battle they each vowed to win.
CQ Politics: June 8 Races Next Big Test of Tea Party Strength
Those eagerly anticipating the next opportunity to take the pulse of the anti-establishment sentiment of the country won't have long to wait. Within the next three weeks, a pair of highly touted Republican Senate candidates will try to avoid going the way of Kentucky Secretary of State Trey Grayson by becoming the next victim of a suddenly energized tea party movement out to punish all insiders. In Nevada, former state party Chairwoman Sue Lowden is clearly the establishment pick to take on Senate Majority Leader Harry Reid (D). But that fact never did much to help her clear the primary field — which is set at an even dozen — and it has also served as an avenue of attack for her opponents.
Salt Lake Tribune: Write in? Endorsement? Bennett to announce choice
After flirting with the idea for 12 days, Sen. Bob Bennett is expected to announce Thursday whether he will mount a write-in campaign to keep his seat. Bennett, denied the Republican nomination by delegates at the state GOP convention, has scheduled a news conference at the National Republican Senatorial Committee offices just north of the U.S. Capitol to make public a decision he's weighed since a tearful May 8 loss. The options are many: Bennett could announce he's going to finish out his seven months left in the Senate and ease into a comfy business or government role. He could rock the establishment and use the Republican Senate campaign arm podium to say he's not leaving without a fight. Bennett could swing his arm around challenger Tim Bridgewater - who is in Washington this week - and endorse him over Mike Lee. Or he could do a combination of the above.
San Francisco Gate: Whitman holds single-digit lead over Poizner
Despite spending $68 million of her fortune on a half-year torrent of TV ads, billionaire former eBay CEO Meg Whitman's once-robust lead over Insurance Commissioner Steve Poizner in the Republican race for governor has dwindled from 50 points to just nine points, according to a new statewide poll. In the GOP primary for U.S. Senate, another wealthy businesswoman, former Hewlett-Packard CEO Carly Fiorina, is holding onto a narrow lead over former South Bay Rep. Tom Campbell, Wednesday's poll by the nonpartisan Public Policy Institute of California shows. At the same time, about one-third of likely Republican primary voters in the races remain undecided three weeks before the June 8 election, the poll shows.
CQ Politics: Duffy Gets Promised Prize From Pawlenty
Minnesota Gov. Tim Pawlenty made good Wednesday on his pledge to promote the campaign of House hopeful Sean Duffy. Calling the Wisconsin county prosecutor "one of the rising stars in the Republican Party" with a "commonsense vision to tackle the economic problems and reckless spending our country faces," Pawlenty sent a mailer to his Freedom First PAC's e-mail list announcing that the two would co-host a Facebook town-hall on Friday. The mailer and online session are two out of the three prizes Pawlenty, a potential 2012 presidential candidate, promised to Duffy as the winner of an online promotional event.
Detroit Free Press: GOP's Souder latest politician with sex troubles
Republicans are scrambling to hold onto Rep. Mark Souder's seat following the evangelical Christian's decision to resign over an extramarital affair with a staffer with whom he made a video touting the benefits of abstinence education. Gov. Mitch Daniels has said he will call a special election this summer to determine who will serve the remainder of Souder's eighth term — just two weeks after he won a bruising primary in the Republican-leaning district. Souder's revelation Tuesday of the affair follows the resignation of Democratic Rep. Eric Massa of New York in March amid an investigation into whether he sexually harassed male staffers and admissions of extramarital affairs by South Carolina Gov. Mark Sanford and Nevada Sen. John Ensign — both Republicans who have held onto their offices.
CNN: BP told feds it could handle massive spills
Oil company BP told federal regulators it could handle an oil spill more than 50 times larger than the one it is now struggling to contain in the Gulf of Mexico, according to documents and congressional testimony Wednesday. BP America Chairman Lamar McKay told the House Transportation and Infrastructure Committee that the company's worst-case estimate of a possible spill from the well that was ripped open by an explosion in April was 250,000 barrels a day for 30 days. Meanwhile, an exploration plan BP filed with in 2009 estimated an uncontrolled blowout could release between 162,000 and 300,000 barrels a day. But with the company still trying to cap a leak estimated at 5,000 barrels (210,000 gallons) per day and syrupy, brown fingers of crude starting to seep into the Louisiana marshes, McKay faced another day of pointed questions about the disaster.
NATIONAL
For the latest national news: www.CNN.com
CNN: Obama's second state dinner has Mexican flair
The United States' first couple welcomed their Mexican counterparts Wednesday to the second state dinner of the Obama administration, a night of pomp and ceremony that both leaders hope will demonstrate the important relationship between the North American neighbors. President Obama and first lady Michelle Obama, dressed in a flowing blue gown, welcomed Mexican President Felipe Calderon and his wife at the White House steps as a military honor guard saluted and media cameras clicked and whirred. The more than 200 invited guests, including diplomats, White House officials and celebrities, including actresses Whoopi Goldberg and Eva Longoria-Parker, arrived through a separate entrance for the Mexican-themed dinner and musical performances.
CNN: Nation remains vulnerable, 9/11 commission chiefs say
Almost six years after issuing a landmark report on terrorism, the heads of the 9/11 Commission on Wednesday expressed frustration that more progress hasn't been made on several of the commission's key recommendations. Of special concern: roadblocks to sharing intelligence, the inability of first responders to communicate on common radio frequencies and the plethora of congressional committees that oversee the Department of Homeland Security. All of the problems are bureaucratic in nature, but threaten public security, said former commission Chairman Thomas Kean and Deputy Chairman Lee Hamilton.
CNN: BP touts containment efforts; heavy oil reaches Louisiana wetlands
BP said Wednesday that efforts to contain and clean up oil gushing from a ruptured pipe in the Gulf of Mexico have made a "measurable difference" even as Louisiana's governor announced that thick, heavy oil has begun polluting the state's wetlands and estuaries. Doug Suttles, BP's chief operating officer for exploration and production, said at a news conference that the company is "very pleased" with the performance of an insertion tube that was put in place over the weekend to suck crude oil from the well and funnel it to a surface vessel. The flow rate from the tube has reached 3,000 barrels of crude (126,000 gallons) and 14 million cubic feet of gas a day, Suttles said, adding that crews hope to increase those numbers in coming days.
INTERNATIONAL
For the latest international news: http://edition.cnn.com
CNN: North Korea denies sinking warship; South Korea vows strong response
The president of South Korea has vowed "resolute" measures against North Korea for its alleged attack on a South Korean warship, South Korea's Yonhap News Agency reported Thursday. A five-country committee announced Thursday morning in Seoul that they had concluded a North Korean submarine fired a torpedo that sunk the South Korea warship in March. Investigators recovered a propeller from the torpedo that blew the Cheonan in half on March 26, Yoon Duk-yong, the committee's co-chair, told reporters.
CNN: Violence unabated in Thailand
Thailand's government extended its curfew until Saturday, as violence continued Thursday in the country besieged by anti-government protests. Officials changed the time of the curfew to 9 p.m. to 5 a.m. Bangkok turned into a war zone Wednesday, as Thai military forces cracked down on anti-government protesters, ending a tense standoff that has troubled the capital for weeks.
CNN: U.S. allies say integrating gays in military was nonissue
The U.S. and its military allies agree on many things, from the size of bullets for their rifles to the design of future fighter jets. But on the issue of gays in the military, the United States stands alone among its Western allies. Representatives from Great Britain, Canada, Australia, Israel and the Netherlands gathered Wednesday at the Brookings Institution, a think tank in Washington, to describe how the militaries in those countries handled allowing homosexuals to serve openly. The consensus was that, in spite of concerns before the change, it became a nonissue once gays and lesbians were allowed to serve.
CNN: Iran dismisses proposed U.N. sanctions
With a fresh set of tough sanctions on the table, Iran lashed out Wednesday against U.S. efforts to punish the nation for its nuclear program. Ali Akbar Javanfekr, an adviser to Iranian President Mahmoud Ahmadinejad, told CNN that U.S. Secretary of State Hillary Clinton's statement that key nations had reached agreement on strong U.N. sanctions will not hurt Iran but instead will alienate the United States.
BBC News: Mothers of three detained US hikers arrive in Tehran
The mothers of three American hikers being held in Iran on espionage accusations have arrived in Tehran to visit their children. The women are expected to see the detainees on Thursday. They are also seeking talks with Iranian officials to press for their children's release. Shane Bauer, 27, Sarah Shourd, 31, and Josh Fattal, 27, were seized last July after entering Iran from Iraq. Their families say they crossed the border unintentionally. Tehran also accuses the hikers of entering Iran illegally and having links to US intelligence. The Americans have not been publicly charged.
CNN: Turkish miners remain trapped
The desperate effort to save 30 miners who have been trapped in a northern Turkish coal mine suffered a setback Wednesday, when officials announced that rescue workers had encountered rubble separating them from the victims. The head of Turkey's state coal company said it could take four more days to cut through the 20-meter, or 65-foot-long, pile of rubble. Thirty miners have been trapped 540 meters, or more than 1,770 feet, underground in a massive state-run coal mine near the Black Sea port of Zonguldak since Monday, when a mysterious explosion rocked the complex. Since then, rescue workers say, they have had no communication with the miners.
BBC News: Kyrgyzstan ethnic clashes kill two
The interim government of Kyrgyzstan has declared a state of emergency in the southern city of Jalalabad after two people died in clashes. Shots were fired as police tried to stop ethnic Kyrgyz protesters from storming an Uzbek university. The clashes followed violence last week between supporters of the interim authorities and backers of ousted President Kurmanbek Bakiyev. He was overthrown last month in deadly protests in the capital Bishkek.
Times of London: Fury as TV advert for abortion advice gets go-ahead
An advert offering abortion services will be shown for the first time on British television next week. Marie Stopes International, a charity that carries out about 65,000 terminations a year at its British clinics, said that it wanted to encourage people to speak more openly about abortion, and reach the widest possible audience with information about its services. However, the move started a row with anti-abortion campaigners who accused the charity of breaking advertising codes to "sell abortion" as if it were a consumer product. They said that they were considering what action to take to prevent further screenings.
Washington Post: France moves to fine Muslim women with full-face Islamic veils
The French government decided Wednesday to impose a $185 fine on women who wear a full-face Islamic veil in public, pushing ahead with a controversial ban despite signs of tension between France's Muslims and the Christian-tradition majority. President Nicolas Sarkozy said his government was forwarding the legislation to parliament because it had a "moral responsibility" to uphold traditional European values in the face of an increasingly visible Muslim population, estimated at more than 5 million, the largest in Western Europe. He called the course chosen by his government "demanding" but "just," and he said the law was not intended to stigmatize Muslims.
Der Spiegel: Germany Forges Ahead on Reforming the Euro
Berlin means business. In addition to pushing for increased regulation of hedge funds and of the financial markets, Chancellor Angela Merkel's government has drafted a list of proposals to revamp the European common currency. From suspending voting rights to national bankruptcy proceedings, the plan is far-reaching. The offensive now seems to have started in earnest. On Tuesday, European Union finance ministers announced efforts to both rein in hedge funds operating in Europe and to introduce a tax on financial transactions. Overnight, the German financial services regulator BaFin slapped a ban on certain types of short selling. Chancellor Angela Merkel has also been working with her finance minister and economics minister on far-reaching changes to the treaty underpinning Europe's common currency, the euro.
BUSINESS
For the latest business news: www.CNNMoney.com
CNNMoney: Continental recalls some furloughed pilots
Continental Airlines is recalling some of the pilots it furloughed several years ago, as the company ramps up international flights and replaces retiring older pilots. Continental spokeswoman Julie King said the airline is recalling 15 of the 147 pilots it furloughed in 2008. In addition, it is putting more than 100 pilots back on active status from the voluntary leaves of absence that they took in 2008. Some of these pilots will be flying the company's two recently acquired Boeing 777s, which will be used for international flights, King said.
Wall Street Journal: Oil Trade With Iran Thrives, Discreetly
None of the current sanctions proposals in the United Nations or the U.S.—including the latest ones agreed to this week by the U.S., Russia and China—would target Iran's oil-export business, which generates about half of its government revenues. Doing so, experts say, likely would drive up the commodity's price world-wide and result in higher gasoline prices in the U.S., of as much as $1 more a gallon, even though the U.S. doesn't import any Iranian oil. U.S. officials also fear that targeting Iranian crude could wreak havoc on the recession-ravaged economies of allies like Japan, which last year imported about 421,000 barrels of Iranian crude a day, just behind China and India. As a result, companies like Shell and BP PLC continue to do a brisk business buying Iranian oil products. BP declined to comment.
CNNMoney: The coming gold bust
When gold prices turn skyward, like they did for the past two weeks before some recent flattening, some mix of greed, fear and uncertainty are likely ruling the market. What better time to remember what really drives prices over the long-term: market fundamentals. Through that lens, gold might not be such a hot investment. The gold market works much like any other, with supply and demand eventually equalizing, and runaway prices returning to long-term averages. Since 1980, the price of gold has averaged about $440 an ounce in U.S. dollars. But much like U.S. home prices over this decade, it can take some time for prices to return to normal.
Wall Street Journal: Inflation at 44-Year Low
U.S. inflation slid last month to its lowest level in 44 years, highlighting a potentially troublesome unevenness in the global recovery. Inflation has sped up in booming economies such as China and Brazil, while in many developed nations like the U.S., prices remain tame, even flirting with deflation in some cases. The U.S. government reported Wednesday that consumer prices, excluding volatile food and energy, rose a meager 0.9% in April from a year earlier. It is the latest sign that high unemployment and excess production capacity are holding down wages and prices in much of the developed world. At the same time, emerging economies are taking steps to contain high inflation in their booming markets—moves that some economists worry could dampen demand for exports, which many developed countries are depending on to help fuel their recoveries.
Bloomberg: Japan Economy Grows Less Than Forecast, Putting Pressure on BOJ
Japan's economy grew less than forecast in the first quarter as an export-led recovery failed to stoke consumer spending, putting pressure on the central bank to do more to end deflation as it begins a two-day meeting. Gross domestic product rose 4.9 percent in the three months to March at an annualized rate, up from 4.2 percent in October to December, the Cabinet Office said in Tokyo today. Unadjusted for price changes, so-called nominal GDP gained 1.2 percent on a quarterly basis, the most in a decade, as trade rebounded. Stocks fell and Finance Minister Naoto Kan said he expects the Bank of Japan to support an economy that's not yet in a self-sustained recovery.
Investors Business Daily: Amazon's Cloud Out-Rising Google, Others
Amazon.com rules as the No. 1 online retailer, but its reputation is rising in a different field, where it's beating some of the largest tech companies at their own game. The e-tailer is the market leader in delivering both Web-based infrastructure and storage services to business clients, says the 451 Group, which tracks these and other areas of cloud computing. Cloud computing involves the delivery of software and services over the Web, or "the cloud." Cloud services can run computer processing, data storage and software development from remote servers.
Amazon is using the expertise it's developed as the e-tail king to become a force in areas of cloud computing.
Wall Street Journal: Delinquent Loans Plateau at High Level
The number of American households behind on mortgage payments appears to have reached a plateau at a high level as the economy recovers, a survey showed Wednesday. At the same time, people who fall behind on their mortgages are staying in their homes longer as banks struggle with huge volumes of calls for help and with the complexities of federal and state foreclosure-prevention programs. The Mortgage Bankers Association, a trade group, reported that 14% of mortgage loans on one-to-four-unit homes were 30 days or more delinquent or in the foreclosure process as of March 31. That represents about 7.3 million households. The rate was 12% a year earlier. The portion of borrowers between 30 and 60 days overdue—mostly representing newly delinquent homeowners—declined to 3.45% as of March 31 from 3.77% a year earlier. Jay Brinkmann, chief economist of the MBA, said the number of borrowers falling behind has dropped modestly partly because of recent job growth.
In Case You Missed It
CNN's Gary Tuchman gives us a look at a class that has been banned by Arizona lawmakers.
A second grader, the First Lady, and the Arizona immigraton law were all part of the Mexican state visit at the White House.
Subscribe to the CNN=Politics DAILY podcast at http://www.cnn.com/politicalpodcast
And now stay posted on the latest from the campaign trail by downloading the CNN=Politics SCREENSAVER at http://www.CNN.com/situationroom