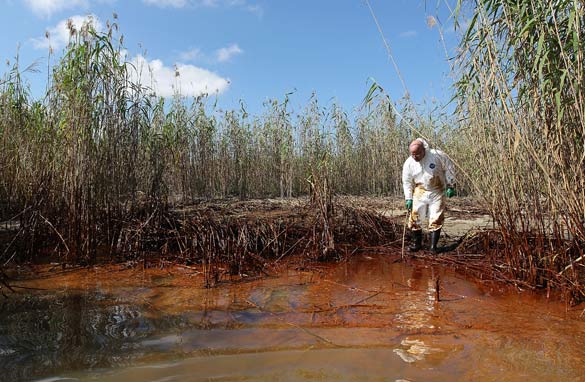 After this weekend's official formation, the commission will have six months to issue a report with recommendations on how to prevent spills from offshore drilling. (Photo Credit: Getty Images)
Washington (CNN) - President Obama has named former Florida Sen. Bob Graham, D-Florida, and former Environmental Protection Agency Administrator William K. Reilly to head a new bipartisan commission tasked with investigating how to prevent future oil spills.
Obama announced the formation of the panel in his weekly radio and Internet address Saturday.
"Friday, I signed an executive order establishing the National Commission on the BP Deepwater Horizon Oil Spill and Offshore Drilling. While there are a number of ongoing investigations, including an independent review by the National Academy of Engineering, the purpose of this Commission is to consider both the root causes of the disaster and offer options on what safety and environmental precautions we need to take to prevent a similar disaster from happening again," he said in his Saturday address.
The formation of the commission comes as the administration faces a growing chorus of criticism about whether it is putting enough pressure on BP to clean up the massive oil spill in the Gulf of Mexico.
On Friday, for the second straight day, White House Press Secretary Robert Gibbs faced a barrage of questions at his daily briefing about why the federal government is not intervening to take over responsibility for the cleanup from BP.

"Again, we are overseeing the response, OK?" Gibbs said just hours before the news about the commission broke. "I don't know what you think - we're - we're working each and every day. That's why Secretary (Steven) Chu - the Department of Energy - it sounds technical. The Department of Energy doesn't have purview over oil, oil drilling. That's not in their governmental sphere. But Secretary Chu has been down there working through a whole host of ideas, including enhanced imaging to get a better look at a disaster that's 5,000 feet underneath the water."
Gibbs added: "We have taken every step. We have pushed relentlessly for BP to do what is necessary to contain what is leaking, to deal with both the environmental and the economic impacts of what, as the president said today, is unquestionably a disaster."
In announcing the commission Saturday, Obama said of two co-chairs, Graham and Reilly, "I can't think of two people who will bring greater experience of better judgment to the task at hand."
Five other people will soon be selected to serve on the commission. Obama said they would include "scientists, engineers, and environmental advocates." Administration officials have said the other panel members would likely be people outside government because of allegations that leaders at the federal, state and local levels have been too cozy with the oil industry.
After this weekend's official formation, the commission will have six months to issue a report with recommendations on how to prevent spills from offshore drilling.
Before the recent spill, Obama had opened the door to potential expansion of offshore drilling as part of a comprehensive energy reform plan. He has since faced a storm of criticism from fellow Democrats in states like Florida, who now want him to scrap those plans.
Graham hails from Florida, which has been under threat from the current spill. He served two terms as governor followed by 18 years in the U.S. Senate. Since retiring from the Senate in January 2005, he has served on several federal panels, including as chairman of the Commission on the Prevention of Weapons of Mass Destruction Proliferation and Terrorism.
Reilly served as EPA chief in the administration of President George H.W. Bush from 1989-93 and is chairman emeritus of the board of the World Wildlife Fund. His credentials in the environmental community could be important for the commission amid fears within those circles that the Gulf spill will cause unprecedented damage to wildlife and fisheries.
Administration officials have previously said that this commission will be modeled after the federal panels that were formed after the Three Mile Island nuclear disaster in 1979 and the Challenger space shuttle tragedy in
1986.
–CNN's Ed Henry contributed to this report.