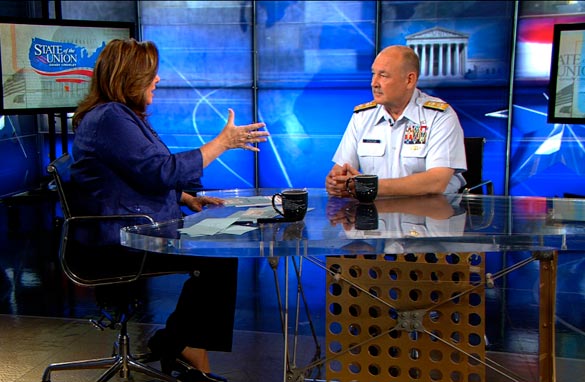 "I trust [BP CEO] Tony Hayward. When I talk to him, I get an answer," Coast Guard Commandant Adm. Thad Allen said. (Photo Credit: CNN)
Washington (CNN) – The point man for the Obama administration's response to the massive oil spill in the Gulf of Mexico is defending the government's relationship with energy giant BP.
"Well, what is happening is there is - it's really a collaboration, including the rest of the oil industry as well," Coast Guard Commandant Adm. Thad Allen said in an interview broadcast Sunday on CNN's "State of the Union."
Allen, the National Incident Commander for the Obama administration's coordinated response to the spill, added: "So there is a lot of oversight going on there."
Asked by CNN Chief Political Correspondent Candy Crowley why BP – rather than the federal government – is leading the effort to stop the gushing well at the sea floor, Allen said the unique resources necessary to deal with situation are in private hands.
"I don't think it's an issue of control," Allen said. " … Access to the discharge site is controlled by the technology that was used for the drilling, which is owned by the private sector. They have the eyes and ears that are down there."
He added: "Our responsibility is to conduct proper oversight to make sure they do that."
In the interview, Allen also provided a window into the government's working relationship with BP.
Watch: Allen on BP
"When I give them direction or the federal on-scene coordinator gives them direction, we get a response," he said. "I've got [BP CEO] Tony Hayward's personal cell phone number. If I have a problem, I call him. Some of the problems we have had that we've worked through are more logistics and coordination issues."
"When asked by Crowley if he trusted BP, Allen said: "I trust Tony Hayward. When I talk to him, I get an answer."
FULL POST