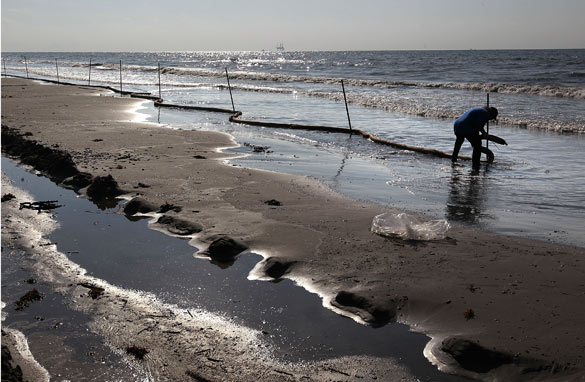 A BP cleanup worker lays out an oil-soaked boom on an Elmer's Island, Louisiana beach Sunday. (Photo Credit: Getty Images)
(CNN) - Saying BP has "from day one, frankly not fulfilled the mission it was supposed to fulfill," Interior Secretary Ken Salazar expressed frustration Sunday with the delay in stopping an underwater oil gusher 33 days after an oil rig exploded and sank in the Gulf of Mexico.
"I have no question that BP is throwing everything at the problem," Salazar said. "Do I have confidence that they know exactly what they're doing? No."
Watch: 'I am not confident in BP,' Salazar says
But he and other federal officials likened the task to an "Apollo 13" mission. Marcia McNutt, director of the U.S. Geological Survey, told reporters that while BP has failed to meet its own schedule for stopping the gusher, their schedule was probably not feasible from the outset, given that the tasks involve construction, mobilizing equipment and fabricating new devices.
"I think everyone has to understand that the kinds of operations they're doing in the deep sea have never been done before," said McNutt, who is helping lead a team of scientists from the Department of Energy, NASA and others in helping find a solution to the leak.