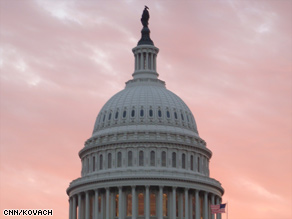 The CNN Washington Bureau's morning speed read of the top stories making news from around the country and the world.
WASHINGTON/POLITICAL
For the latest political news: www.CNNPolitics.com
CNN: Poll: Anti-incumbent sentiment remains strong
Anti-incumbent sentiment is as strong as it was in 1994, when the GOP swept the Democrats from power on Capitol Hill, but according to a new national poll, Americans may not be desperate for change in Congress. A CNN/Opinion Research Corporation survey released Tuesday indicates that 47 percent of the public is more likely to vote for a challenger rather than an incumbent running for re-election at the federal, statewide, or local level, with 30 percent saying they are more likely to back the incumbent.
CNN: Poll: Nearly 8 in 10 favor gays in the military
Most Americans say people who are openly gay should be allowed to serve in the U.S. military, according to a new national poll. A CNN/Opinion Research Corporation survey released Tuesday indicates that 78 percent of the public supports allowing openly gay people to serve in the military, with one in five opposed. The poll's release comes just hours after Congressional Democrats reached an agreement Monday with the White House and possibly the Pentagon on a key legislative step toward repealing the "don't ask, don't tell" policy that bars openly gay soldiers from the military.
The Hill: Obama heckled over 'Don't ask, don't tell' - again
President Barack Obama was heckled by a protester Tuesday night while at a fundraising event for Sen. Barbara Boxer (D) in San Francisco. The protester was upset with the pace of the repeal of the "Don't ask, don't tell" policy barring openly gay military service members. The interruption was the second-time Obama was stopped during remarks for Boxer over the course of about a month.
CNN: Obama blasted in meeting with GOP senators
A top Senate Republican accused President Barack Obama of engaging in hypocritical political posturing Tuesday after a closed door meeting between the president and Senate Republicans on Capitol Hill. The meeting was portrayed by the White House as the latest in a series of presidential attempts to reach across the aisle despite Washington's harshly polarized political climate.
CNN: McConnell: Paul's said quite enough
The top Senate Republican says it's time for Kentucky Senate candidate Rand Paul to stop talking to the national press. The comments come after a string of potentially damaging interviews with national media outlets, in which Paul criticized parts of the 1964 Civil Rights Act, took aim at the American with Disabilities Act, and suggested President Obama's criticism of oil giant BP was "un-American." Following those appearances Paul pulled out of an interview on NBC's Meet the Press.
Wall Street Journal: GOP Rivals Bash California Icon
California's major GOP gubernatorial hopefuls, Meg Whitman and Steve Poizner, aren't just running against each other in the June 8 primary. They are also running against the Republican they want to succeed, Gov. Arnold Schwarzenegger. The Whitman and Poizner campaigns are so eager to distance themselves from Mr. Schwarzenegger that they use the former movie star's name to attack their opponents. They have taken turns labeling each other a "Schwarzenegger," which in this race has come to mean "bad Republican." A poll last week showed Ms. Whitman leading Mr. Poizner, 38% to 29%. The winner is expected to face Democrat Jerry Brown, the state's attorney general and a former governor, in November.
CNN: McCain camp: Hayworth among the 'dumbest'
Sen. John McCain's campaign is out with a scathing new ad against the senator's Republican primary opponent, calling J.D. Hayworth among the "dumbest" people previously in Congress. Now Hayworth's campaign is firing back, suggesting the ad is shameless. Hayworth's campaign also claims that McCain – a celebrated war veteran – is using America's World War II heroes "as a political tool." The Web ad from the McCain campaign, titled "Hayworth History Lesson," was released Tuesday and is presented in a style reminiscent of an old, black-and-white newsreel.
Washington Post: Sens. John McCain and Tom Coburn propose cuts to offset war spending
Republican senators on Tuesday unveiled two $60 billion proposals that cut government salaries and operational costs to help pay for the wars in Afghanistan and Iraq and for earthquake relief for Haiti. Sens. Tom Coburn (Okla.) and John McCain (Ariz.) said they will not vote for the $59 billion war spending bill unless lawmakers come up with ways to offset its costs. Their first proposal would cap the number of workers at each federal agency and implement a one-year freeze on pay raises, bonuses and other salary increases for civilian federal workers, saving $2.6 billion.
CNN: Union slams Lincoln as D.C. insider in new ad
A political ad featuring a moving truck and miles of highway made its debut Tuesday on Arkansas airwaves, painting incumbent Arkansas Sen. Blanche Lincoln as an out of touch Beltway insider who has left her constituents behind and moved to Washington. The 60-second spot comes courtesy of the American Federation of State, County and Municipal Employees, a major labor union and supporter of Arkansas Lieutenant Gov. Bill Halter, Lincoln's Democratic opponent.
CQ Politics: Boehner's Money Machine Gets Busy in 2010
K Street is starting to see red. With House Republicans poised to make major gains in November and Minority Leader John A. Boehner working to become the next Speaker, lobbyists are not-so-quietly cozying up to the Ohio Republican. Several GOP lobbyists said they are advising their clients to try to make inroads with Boehner before the 112th Congress, even though a Republican takeover next year is far from assured.
Las Vegas Sun: Misdeeds are front, center in race for Senate District 7 seat
Assemblywoman Kathy McClain, who is running for the state Senate, would seem to have a fatal political wound — she violated the law by using campaign funds to pay into her public employee retirement plan and for health care benefits while serving in the Legislature. Yet McClain has an impressive level of support from legislative colleagues and much of the political establishment. Twenty of the Assembly's 28 Democrats allowed their names to be used in fundraising appeals on her behalf. McClain's ability to attract such support might say more about her opponent in the District 7 race — Assemblyman Mark Manendo — than her record.
Charleston Post and Courier: Folks says he has proof of affair
Nikki Haley said she's done talking about allegations that she had an adulterous sexual relationship. But the political blogger making the claims isn't. Will Folks said Tuesday he was in contact with Haley's gubernatorial campaign for two weeks about how to handle any fallout over his claim that he had an "inappropriate sexual relationship" with the married mother of two. Haley, a state representative from Lexington leading in the GOP race, has vehemently denied Folks' allegations, and he has yet to provide any proof that he is telling the truth.
CQ Politics: Ohio: GOP Recount In 18th, But Gibbs Prepares For Space
A recount of the May 4 Republican primary in Ohio's 18th district will be needed to officially determine an opponent for Rep. Zack Space (D). Ohio Secretary of State Jennifer Brunner (D) ordered the recount Tuesday, after a canvass of votes in the 16 counties had state Sen. Bob Gibbs leading former Ohio Agriculture Director Fred Dailey by 156 votes out of 52,700 cast, 20.94 percent to 20.65 percent, a margin of just less than three-tenths of one percentage point in a race that included six other candidates. Under Ohio law, recounts are required when the margin of victory is less than one-half of one percentage.
Boston Globe: Brown says no to repeal of 'don't ask'
Republican Senator Scott Brown said yesterday that he will vote against repealing the law that bars gays from serving openly in the military, dealing a setback to efforts by gay rights advocates and Democrats to overturn the "don't ask, don't tell'' law this year. Brown's highly anticipated decision — following meetings in recent days with gay rights groups and military leaders and service members — came after President Obama and Democratic leaders agreed Monday night that repeal of the law, if passed, would not go into effect until the Pentagon completes a review Dec. 1. That agreement was made to help assuage concerns of Secretary of Defense Robert M. Gates over the timing of repeal. But Brown said that he believes a vote on repeal should be put off longer — until the Pentagon formulates a plan for implementing openly gay service.
NATIONAL
For the latest national news: www.CNN.com
CNN: BP will continue live video feed during 'top kill' attempt
BP says it will continue to provide a live video feed of the ruptured pipe gushing oil into the Gulf of Mexico during Wednesday's planned top kill procedure to seal the well. Earlier Tuesday, there had been some consternation on Capitol Hill when it wasn't certain BP would maintain the live feed. Democratic Rep. Edward J. Markey of Massachusetts expressed concern that BP might terminate the images during the top kill attempt.
CNN: Obama to send more troops to Southwest border region
President Barack Obama will deploy up to 1,200 more National Guard troops to the U.S. border with Mexico, an administration official told CNN on Tuesday. In addition, Obama will request $500 million to supplement current spending for enhanced border protection and law enforcement activities, the official said. The National Guard troops will help with drug enforcement efforts and intelligence efforts until Customs and Border Protection can recruit and train additional officers and agents to serve on the border, the official said.
INTERNATIONAL
For the latest international news: http://edition.cnn.com
CNN: North Korea freezes relations with South Korea
Mounting tensions on the Korean Peninsula reached a new level Tuesday as a North Korean agency announced that the communist nation is severing all ties with its neighbor to the south and will "abrogate the agreement on non-aggression." A spokesman for North Korea's Committee for the Peaceful Reunification of Korea accused South Korean President Lee Myung-bak of falsely blaming Pyongyang for the sinking in March of the South Korean warship Cheonan, according to the state-run Korean Central News Agency.
CNN: Clinton pledges support for South Korea
U.S. Secretary of State Hillary Clinton pledged Washington's support for South Korea and called on North Korea to end belligerent actions after meetings with President Lee Myung-bak and Foreign Minister Yu Myung-hwan on Wednesday. The meetings come at a time of high tensions on the Korean peninsula after Seoul blamed North Korea for the sinking in March of the South Korean warship Cheonan.
CNN: Pakistan makes Times Square-linked arrest
Pakistani officials have detained a 10th person in connection with the investigation into the failed May 1 car bombing of New York's Times Square, a Pakistani intelligence source told CNN Tuesday. The intelligence source, who asked not to be identified because he is not authorized to speak to the media, identified the man as Shoaib Mughal. He is suspected of having served as an intermediary between the bombing suspect, Faisal Shahzad, and the Pakistani Taliban, the source said.
CNN: Dozens killed in Jamaican violence
At least 29 people, most of them cilivians, have been killed in Jamaica's capital amid an all-out police assault on a suspected drug lord's stronghold, the island's government reported. Two police officers, one soldier with the Jamaican Defense Force and 26 civilians have died in a protracted push that began Monday, Information Minister Daryl Vaz said. Another 25 civilians have been wounded, along with six Jamaican troops.
BBC News: Italy joins euro austerity drive
The Italian government has approved austerity measures worth 24 billion euros (£20bn; $29bn) for the years 2011-2012. The announcement makes Italy the latest eurozone country to announce cuts in an effort to reduce the gap between spending and earnings. The UK and Danish governments also this week announced plans to curb spending. Italy will take measures to reduce public sector pay and will put a freeze on new recruitment.
CNN: Airstrikes wound 17 in Gaza
At least 17 people were wounded Monday in a pair of airstrikes launched by the Israel Defense Forces in retaliation for mortar shells fired into Israel from Gaza. No injuries were reported in an airstrike near Gaza International Airport in the southern Gaza city of Rafah, Hamas police said, but a medical source at Abu Yousef al-Najjar Hospital in northern Gaza said 17 people were wounded in a second strike in the city of Beit Hanoun in the northeast of Gaza.
BBC News: Air India strike enters second day
India's state-run airline Air India has cancelled 76 flights on the second day of strike action by its employees. The strike comes days after an Air India Express Boeing 737 from Mumbai crashed into a gorge in southern Mangalore city, killing 158 people. Some 20,000 employees have struck work against a management order not to talk to journalists. They are also protesting a delayed payment of wages and shortage of cabin crew, union leaders say.
CNN: Thaksin facing Thai terrorism charges
A Thai court issued a warrant Tuesday against the country's ousted prime minister on terrorism charges connected with the violent clashes that crippled Bangkok for weeks, the former prime minister's lawyer said. Thai investigators claimed former Prime Minister Thaksin Shinawatra, who was ousted in a bloodless military coup in 2006, helped mastermind and fund the anti-government Red Shirt protests, according to Thailand's state news agency. Thaksin's attorney issued a statement claiming the charges showed that the current government, led by Prime Minister Abhisit Vejjajiva, lacked legitimacy.
Der Spiegel: Crisis Hits Greek Tourism as Cancellations Soar
The Greek tourism industry, which was hoped to contribute to the country's recovery, is in crisis. Hundreds of hotels are for sale, and visitor numbers are in sharp decline. The cash-strapped government is hardly in a position to help. Reservations are down by an average of about 30 percent nationwide since last summer, and experts expect a large number of cancellations. The Association of Greek Tourism Enterprises (SETE) reported that in the first 24 hours after the general strike in early May, more than 5,800 reservations were cancelled in 28 Athens hotels. According to SETE calculations, at least 300,000 Germans will decide not to make their usual trips to Greece this year.
BBC News: Oil leaks from tanker collision off Singapore
Emergency teams are working to contain a crude oil spill after two ships – a tanker and a bulk carrier – collided in waters off Singapore. Port officials said no injuries had been reported but the Malaysian-registered tanker had ruptured one of its tanks. An estimated 2,000 tonnes of crude oil are leaking into the sea. The collision happened in the Strait of Singapore, one of the most important shipping lanes in the world.
Times of London: EU sets toughest targets to fight global warming
Europe will introduce a surprise new plan today to combat global warming, committing Britain and the rest of the EU to the most ambitious targets in the world. The plan proposes a massive increase in the target for cutting greenhouse gas emissions in this decade. The European Commission is determined to press ahead with the cuts despite the financial turmoil gripping the bloc, even though it would require Britain and other EU member states to impose far tougher financial penalties on their industries than are being considered by other large economies.
BUSINESS
For the latest business news: www.CNNMoney.com
CNNMoney: Tylenol recall: Serious side effects investigated
The Food and Drug Administration is looking into reports of at least 775 serious side effects from drugs recalled by McNeil, a division of Johnson & Johnson, according to a source close to a Congressional investigation. Included in the reports were 30 deaths, nearly all of which were found to not be tied to McNeil's recall of Tylenol, Motrin and Benadryl drugs from Jan. 1, 2008 through April 30, 2010, according to another source close to the investigation. The FDA is also investigating reports of several hundred serious side effects - or "adverse events" - and seven deaths since May 1, when McNeil recalled 50 children's versions of these non-prescription medicines because of serious quality and safety concerns.
CNNMoney: NYC sinks $300,000 into tech startup
Shove over, venture capitalists, there's a new tech investor in town: New York City. Mayor Michael Bloomberg made a surprise appearance Tuesday at the TechCrunch Disrupt conference to unveil the debut investment from the NYC's new Entrepreneurial Fund, which will take stakes in promising technology startups. The fund's first recipient is My City Way, which creates location-aware city guides with info on nearby restaurants, landmarks, transit and other services. My City Way will get a $300,000 investment in return for an undisclosed equity stake in the company. With the cash, the startup plans shift its offices from New Jersey to New York City, hire two more employees, and fund its expansion into new cities, said Sonpreet Bhatia, My City Way's co-founder. She declined to comment on how much capital his company has raised so far.
Fortune: Think housing is recovering? Think again.
Americans purchased homes at a surprising clip in April, but don't let that fool you into thinking the housing market is back. Although economists were expecting a month-over-month increase of 5.5%, the National Association of Realtors reported yesterday that sales of previously owned homes rose an unexpected 7.6%. That continued a yearlong rise in housing activity and marked the highest number of sales recorded since November of last year. It also follows a drumbeat of similarly rosy economic news signaling the possibility that the United States may be on the economic mend. But prospective home buyers, particularly those tempted to think of real estate as an investment again, should tread with caution. One critical obstacle to a housing recovery remains intact: supply. Until the number of empty homes starts to shrink, prices could still fall further.
Wall Street Journal: Banks Trim Debt, Obscuring Risks
Three big banks—Bank of America Corp., Deutsche Bank AG and Citigroup Inc.—are among the most active at temporarily shedding debt just before reporting their finances to the public, a Wall Street Journal analysis shows. The practice, known as end-of-quarter "window dressing" on Wall Street, suggests that the banks are carrying more risk most of the time than their investors or customers can easily see. This activity has accelerated since 2008, when the financial crisis brought actions like these under greater scrutiny, according to the analysis.
Washington Post: Marriott to double its footprint in China
Marriott International said Tuesday that it plans to double the number of its hotels in China during the next five years, the latest evidence that the hospitality industry is looking overseas for its best shot at growth. Marriott said it was attracted by China's robust tourism industry, which is expected to reach 2.1 billion domestic and international visitors this year. Analysts said the growth strategy is expected, given the growing middle-class populations in China and India, which have more than 1 billion people each.
Investors Business Daily: China Signals End To Tightening As Debt Crisis Weakens Europe
China talks ended in Beijing Tuesday with no breakthroughs on such divisive issues as currency and North Korea. But behind the scenes, Beijing appears to be refocusing its domestic economic policies once again. In the last two years, Chinese officials have toggled back and forth between encouraging growth and discouraging speculative excess. Now, with Europe reeling, they seem ready to drop recent efforts to dampen real estate speculation and focus on keeping their growth engines humming. The shift carries huge implications for Chinese equities, commodities and the global economy. Hopes that China would revert to promoting growth helped trigger strong gains in copper, zinc and nickel on Monday.
Business Week: Facebook Privacy Woes Make Little Impact on Site's Popularity
Facebook Inc. has rankled politicians from Amsterdam to Washington for failing to protect personal privacy. Yet for all the criticism, users are flocking apace to the world's largest social network. Facebook had 519.1 million users last month, up from 411 million in September, according to ComScore Inc. And the site continued to add traffic this month, even as U.S. lawmakers, the American Civil Liberties Union and 30 European countries lodged complaints that Facebook has been reckless with personal data.
In Case You Missed It
White House Senior Adviser David Axelrod and Rep. Joe Sestak discuss whether Sestak was offered a White House job.
Louisiana Gov. Bobby Jindal is frustrated with the delay of cleanup efforts by government permits.
Subscribe to the CNN=Politics DAILY podcast at http://www.cnn.com/politicalpodcast
And now stay posted on the latest from the campaign trail by downloading the CNN=Politics SCREENSAVER at http://www.CNN.com/situationroom