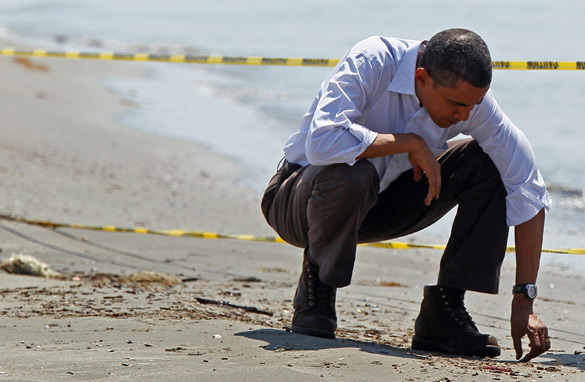 President Obama picks up balls of tar while touring a beach in Port Fourchon, Louisiana on Friday. (PHOTO CREDIT: Getty Images)
Grand Isle, Louisiana (CNN) - President Barack Obama returned from a tour of the oil-stricken Gulf Coast on Friday and vowed to do all he could to help area residents and businesses clean up the mess and recover financially.
"We want to stop the leak, we want to contain and clean up the oil, and we want to help the people in this region return to their lives and livelihoods as soon as possible," the president told reporters.
Flanked by more than a dozen Gulf-area politicians and officials, the president - the sleeves of his shirt rolled up - called the oil spill that began April 20 and continues today "an assault on our shores, on our people, on the regional economy and on communities like this one.
"This isn't just a mess that we have got to mop up. People are watching their livelihoods wash up on the beach."

Full story