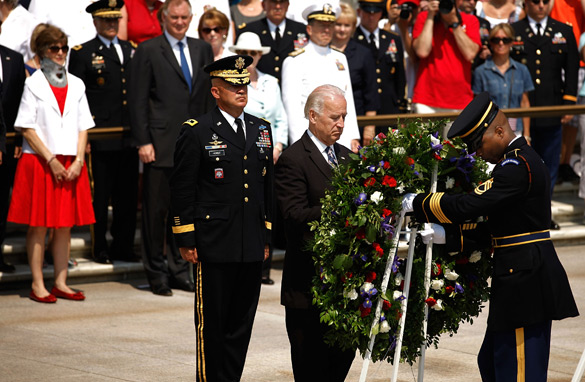 Vice President Joe Biden lays a wreath at the Tomb of the Unknowns during Memorial Day ceremonies at Arlington National Cemetery on Monday. (PHOTO CREDIT: Getty Images)

Arlington, Virginia (CNN) - Vice President Joe Biden led Americans in every corner of the country and around the world Monday morning in pausing to remember the sacrifices of those who have fallen in military service to the country.
The vice president marked Memorial Day with a tradition wreath-laying ceremony at Arlington National Cemetery, followed by remarks in which he praised "the finest military the world has ever produced."
President Barack Obama was scheduled to spend the day in his home state of Illinois, marking the holiday with remarks at the Abraham Lincoln National Cemetery, about an hour outside of Chicago.
"Today is a day [in] which sorrow mixes with incredible pride," Biden said. "We mourn those we lost and we hold fast to their memories. ... May God continue to bless the memory of all those who have died [so] that we may live."

Full story